Please select your dates to see prices:
---
Lake Austin Spa Resort in Austin, Texas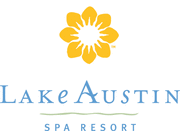 Tucked away in the beautiful Texas Hill Country, Lake Austin Spa Resort is an all-inclusive luxury spa resort that offers guests a truly unique experience - where well-being is catered to you, where rest and renewal is a given. Our all-inclusive resort packages feature luxurious accommodations, daily healthy gourmet meals, a variety of fitness activities, with the option to participate in special programs and events offered. For those opting more towards rest and renewal, our on-site LakeHouse Spa at Lake Austin Spa Resort offers over 100 unique spa treatments to choose from.
Whether choosing to dine with fellow guests at our Friendship Table, or quietly savoring each bite alone, we have several dining options for you to choose from. Our gourmet cuisine consists of a blend of the freshest of ingredients, the boldest of flavors, combined, all while being mindful of our guests wellness - offering food that nourishes the body. Guests will be so impressed with our menus that they will opt to joining our Cowgirl Chef Ellise Pierce, in the experience of preparing guilt-free crępes and pancakes during December's Culinary Experience Week.
Location of Lake Austin Spa Resort
Lake Austin Spa Resort
1705 South Quinlan Park Road
78732
Austin, Texas
Nearest Airport: AUS
Amenities for Lake Austin Spa Resort
General Information
40 Guest Rooms
Pet Friendly
Handicap Accessible Rooms
Dining
Restaurant
Cafe
Room Service
Healthy Cuisine
On-Site Amenities
Beauty Salon
Spa Services
WiFi
Wellness Center
Personal Trainers
Patio
In-Room Amenities
Bathrobes
In-Room Safes
iPod Docks
Luxury Linens
Coffee & Tea Facilities
Luxury Bath Amenities
Private Gardens
Complimentary WiFi
Activities
Excursions
Kayaking
Pilates
Cooking Demonstrations
Stargazing
Nature Walks
Tai Chi
Yoga
Fitness Classes
Meditation
Wellness Programs
Paddleboarding
Interests
All Inclusive
Hotels
Spa & Wellness
Reviews for Lake Austin Spa Resort
---
Lake Austin Spa is amazing and I will most definitely be back for more. The workers put in a lot of effort to make it a relaxing and stress free experience for all guests. If I could, I would come here as often as my credit card would allow.
---
Four ladies from my family visited the resort the first week of April. It was amazing! Our ages: 18, 32, 48, and 74, and there was plenty for all of us to do. We all took advantage of the included fitness classes: stretch, yoga, Pilates, circuit training, spinning, strength training, light hiking and more. A fun crafty class was offered every day, plus equipment for playing on the lake. The setting was private, serene, and offered a beautiful view of the water and forested bluff across the way. The service was friendly and always made you feel like you were a VIP. The food was delicious (and I'm a very picky eater!), and there were plenty of choices at every meal. Servings were on the small side but you could always order more than one entree - or dessert- and we did! The rooms we had were very comfortable and clean. The spa is at a slight remove from the resort itself. It is a gorgeous luxurious facility, but be warned: the treatments are not included in the resort price, and are VERY expensive. Still, the pampering there was worth it. We all left feeling like this was a magical vacation in a magical place, and would love to go back again!
---
Lake Austin Spa is a very peaceful and relaxing environment. I hadn't been in a few years and the grounds have transformed. Everything from the rooms to each meal and amazing massages were wonderful. I was in spa mode the entire time - loved the water bikes, hiking, yoga and other activities during our work retreat. The staff was very accommodating and never replied without a smile. Love it there and will be back for may more visits in the future.
---
Very relaxing grounds on the Colorado River. Awesome spa amenities, pools, cozy rooms, and water activities. We had a large group and had private events planned during our stay. The resort did an awesome job with these private events, which included taking the pontoon boat to Austin and then shuttled to an awesome restaurant in downtown Austin, 5 course dinner with wine pairings prepared by the chef of the resort (the chef was awesome!!) followed by s'mores by the fire, and our last event was a tequila tasting with the owner of the tequila company along with a team cook off challenge. The spa was amazing and relaxing and the yoga classes and Bootcamp classes were great. One thing that was surprising to me was that there was NO liquor at the resort. We had to stop on the way in after being told by our friends that got there a day earlier. The ride from the airport was about 45mins.
mpeterson214 - Wilmington, North Carolina
---
My trip to Lake Austin Spa got off to a weird start and really never got better. I spent 4 nights there in mid-March. The Spa arranged my car service from Austin's airport to the Spa. The first hiccup was that the Spa hadn't alerted me that the driver had not been paid. They had run through several thousands of dollars on my Amex prior to my arrival, charging me for all booked spa appointments, private sessions, etc. so I assumed that the car service had been pre-paid as well. Well, it wasn't. That, in and of itself wasn't a huge deal, but I did resent the fact that no one also told me that the $95 car service fee included gratuity; not the Spa ahead of time obviously, not the driver, nor the Spa rep who greeted me upon arrival and observed the entire mix-up and verified that the car service payment had not been taken care of. I didn't learn that until my return trip to the airport when the honest driver then informed me. Every arriving guest is assigned a spa employee to orient you to the property. My greeter kept getting up during the middle of my orientation to answer the phone, check people out, answer random questions, etc. It was unbelievable!!! I've never paid so much money to be treated so poorly in my life! No one ever gave me a tour of the spa, despite my saying I'd never been there before to 3 different spa employees. They also gave minimal directions, e.g., Spa employee: "Your masseuse will meet you in the blue room." Me: "Where's that? This is my first visit." Spa: "Upstairs". Me: "Directly ahead, do I turn right or left...?" Then the employee finally gave me complete directions, but STILL did not offer a tour or even an explanation of all of the spa amenities and their locations. While all staff was relatively pleasant, none of that southern charm was on display anywhere on site. Everyone answered my questions with the least amount of detail and info as they possibly could. This was shortly after DLST began and the spa had only reset about half of their clocks to the new time. That, coupled with their policy of no cellphone usage outside of the guestrooms, made it a little difficult to figure out what time it was. I took a couple of exercise classes every day during my stay and only once saw an instructor clean off the exercise/yoga mats or equipment before putting them away. That's just nasty! The food was generally good, but the lunch menu at the main dining room was way too limited. My room was pretty, a good size, and quite comfortable. The Spa itself is beautiful, the food served there is delicious, and it has superior amenities. All of my spa treatments were great except for the "Starry Night in Texas" massage I had on my last night. The masseuse didn't do half of the stuff the description of the massage said it included. Then she wanted to massage my scalp, which was NOT included in the description. When I decliined the scalp massage, it basically rocked her world and she was never able to overcome it. She had a surly attitude, brought it up 3 times!!! and just acted pissed off at me for not wanting the scalp massage. Ridiculous! The yoga and meditation, tai chi, etc. type classes I took were good. The exercise classes I took were just weird. They played music like the sound track from "Ghost Buster"(????) and teachers were offbeat. Bottomline, this cost way too much money to be so weird. But I guess they're doing their part to "keep Austin weird".
KSydelle - Washington DC, District of Columbia
---