Please select your dates to see prices:
---
Dreams Riviera Cancun Resort & Spa in Cancun, Mexico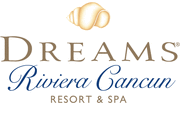 With its enviable location just a half hour from the energetic city center, yet isolated enough to boast its own serene beachfront, Dreams Riviera Cancun Resort & Spa is where the best of both worlds comes together. The resort's signature Unlimited-Luxury® approach means everything is taken care of, from basic necessities to lavish amenities - dining, entertainment, concierge services, and more. Dreams Riviera Cancun Resort & Spa features stylish, octagonal rooms that optimize views of the ocean and scenery, and provide ultimate comfort and space. Cool marble flooring, warm textured accents, and clean bright design welcome you to a private sanctuary, where everything you desire is at your fingertips. Private furnished terraces, whirlpool bathtubs, DVD players, and satellite television, and a regularly refreshed mini bar will ensure your happiness at all hours of the day. And should you need something more, call on the 24-hour room service to greet you around the clock.
Step out into the sunshine at one of the resort's multiple shimmering pools. Whether you swim up to Manatees Pool Bar, or choose to order a cool beverage from the comfort of your plush sun chair, the expansive outdoor deck and garden areas at Dreams Riviera Cancun Resort & Spa are visions of vacation bliss. Inside, the world-class Dreams Spa by Pevonia mimics the same sublime atmosphere with its massage and treatment suites, hydrotherapy rooms, cascading outdoor whirlpool, steam rooms, and a full fitness facility. Additional activity options are robust, with an array of water sports and recreation, including snorkeling, kayaking, cooking classes, bicycling, and even an ocean trampoline. Complimentary green fees at the nearby Grand Coral Riviera Maya golf course will have the players in your party content, and other off-site excursions such as visits to the local Mayan ruins can be arranged through the accommodating concierge. Work up an appetite yet? The sound of nine international restaurants and six bars is decidedly delicious, as the resort's culinary offerings are highly impressive. Expect much more than you have ever experienced from an unlimited dining plan, with highly acclaimed fare and spectacular settings. You will find the best of taste in everything - from the food to the style and service - at Dreams Riviera Cancun Resort & Spa.
Location of Dreams Riviera Cancun Resort & Spa
Dreams Riviera Cancun Resort & Spa
Carretera Federal 307 Chetumal-Puerto Juarez, Benito Juarez
77580
Cancun, Mexico
Nearest Airport: CUN
Amenities for Dreams Riviera Cancun Resort & Spa
General Information
485 Guest Rooms
Connecting/Adjoining Rooms
Dining
Outdoor Dining
Private Dining
24-Hour Room Service
Swim-Up Bar
Cafe
8 Restaurants
Pool Wait Service
Juice Bar
On-Site Amenities
Beauty Salon
Concierge
Spa on Property
Fitness Center
WiFi
Currency Exchange Service
Live Entertainment
Outdoor Spa Treatments
Outdoor Whirlpools
2 Outdoor Pools
In-Room Amenities
Air Conditioning
Direct Dial Telephones
DVD Players
Hair Dryers
Flat-Screen Televisions
Coffee & Tea Facilities
Activities
Kayaking
Tennis
Snorkeling
Yoga
Beach Volleyball
Business
Business Center/Services
Meeting Rooms
Family
Cribs
Babysitting
Kids Club
Interests
All Inclusive
Beach
Family
Spa & Wellness
Summer Getaways
Reviews for Dreams Riviera Cancun Resort & Spa
---
My sister and I just returned from an 8 night stay at this resort. I was sad to leave. Our room was nice. Since this resort is pretty small we could see the ocean without having to pay for upgrade. I loved that the swim up bar was in a HUGE infinity pool that was not super shallow. Spent all our time at the pool due to the sea grass explosion...yes it's bad as everyone else has reported yet they try so hard to keep up with it. Sorry to say, but as nice as this resort is, if a gorgeous beach is a deal breaker you may want to want till another time to try it out. That being said, Dreams makes up for that one problem in so many ways, large and small. The food is awesome, the grounds are lovely, the pools are clean and the entertainment is great. We ate at ala carte restaurants each night except for one. They are really good. Our favorite was the Italian (hit that one twice) Steakhouse, Bordeaux and the Mexican...all should NOT be missed. We agreed that the buffet was just ok. It's so much smaller that what we are used to at the Riu's but that's because this resort was smaller. So there were less options/choices. That takes it down a peg. There was a stage show every night but we usually missed that because it started at 8:30 and we like to eat late. But that was ok because we were always just in time to enjoy the live music in the lobby bar. Some of it was really good. All up beat, a great time to strike up a conversation with other guests and sip delicious martini's...fun! Last but certainly not least, I have to talk about the staff. They are stellar. The perfect combination of professional, polite and funny. I have to name a few...the guys at the Beach Bar: Roman--Rosalino--Reyes--Sergio-.they were so fun to talk with while making us the best cocktails. And Victor who watches over the Preferred Club Beach area was great too. Our 4th floor housekeeper, Ines, was a gem. Our room was spotless every day and she took care of everything with a smile. I wish I could remember names of some of our servers in the ala carte restaurants and the gals delivering those yummy cocktails to us in the Lobby Bar at night because they were all fab. Enough from me, just wanted to chime in and say Dreams was, most definitely, everything we hoped it would be. We would recommend it and return in a heartbeat.
---
I recently had the pleasure of visiting this lovely resort, I have stayed at several AMR resorts, which I happen to be a fan of because of how accommodating they always are. However, this visit to Mexico was exceptional . Let me repeat exceptional . From the moment we arrived not one employee seemed annoyed to be working. It was warm smiles all around, we were taken to the preferred lounge for check in and taken care of by the staff there. Sebastian, was very nice and efficient and made sure we knew all about this beautifully manicured resort. We had a plunge pool room on the corner that had some magnificent views in the morning. The grounds are not huge like some of the other resorts, but boy they make up for it with how well it is maintained and you see the employees working diligently to keep it so pristine. Victor from security was a lovely gentleman who made sure we were always okay when on the beach. All the waitstaff went above and beyond. Especially at Seaside Grill and Los Patios. You couldn't go wrong here with the food choices. So much to choose from. Definitely try the Japanese as you will be pleasantly surprised with the sushi there. The preferred area on the beach was well maintained we always had a spot without having to reserve one so early in the morning. Plenty available. I read an earlier review that said no bacon... Never that.. simply ask your waiter, they will bring you as much as you desire. Ask and you shall receive was the way this resort made us all feel. The pool was a good size and gave a very relaxing setting. Housekeeping came twice a day and was always thorough. Making sure to restock everything. The service here was the true standout. Kudos to all the staff here. Top notch. It was the star of the mini vacation. Karla O was phenomenal and very knowledgeable about the hotel and the grounds. Keep up the excellent work here. You guys are truly stars and made everyone in our party feel like royalty. We will be back!!
---
Amazing resort. Outstanding service and great people. I felt I was in paradise. I recommend it to everyone. You won't regret it. Love Cancun. I Will def be back soon to enjoy of another great experience at this place.
---
I visited the resort for 5 days in May 2018 with some friends and enjoyed our stay. I wouldn't travel there with my kids (11 and 13) but for coupes or friends it's fine. My kids would splash/wrestle too much in the pool and they're not large enough for tweens/teens. I loved the size of the hotel, one of the few hotels where you can see the beach from the lobby. There was seaweed on the beach like most other resorts in Riviera Maya so we just hung out at the pool. Thanks to our poolside waiter Mario for excellent service. The food was good and the staff was great. I just wish they offered nightly shows. There were performers in the lobby bar but I didn't see a theater for performances or comedy shows.
---
I have just returned from a 10 day stay at Dreams Riviera Cancun having travelled there with my wife, her elder sister and the sister's husband. This was our 3rd stay in Mexico and proved to be as good as, if not better, than our two other all-inclusive holidays. There was only one area where the resort let itself down and this was the buffet restaurant. If they could get this sorted out the 4 star rating I have given it would certainly go up to a 5. Without checking what other recent comments have been posted I would be surprised if anyone could have been satisfied with the quality or range of food available for breakfast or, on the one occasion we tried it, dinner. In my opinion it's a poor state of affairs when, 9 days out of 10, there was no bacon available for those that prefer a substantial cooked breakfast. There was another problem that caused a problem for guests but the hotel itself was certainly not to blame, and this was the massive issue that seaweed being washed ashore created. To the credit of the resort there were significant efforts to clear it up but this was a battle that just couldn't be won. The impact to visitors was that the seawater was murky and brackish, and the smell given off by the drying weed was pretty unpleasant. Until mother nature decides otherwise this particular coastline has got itself a real and unwinnable problem. On to the good stuff of which there was plenty, and I am setting these down as they occur to me and are in no particular order of significance:- The rooms were huge and well appointed although somewhat quirky in design. The glass doors to the w.c. and the shower aren't something you see everyday and whoever thought that they were a good idea was having a really bad day at the office. The shower itself was easily controllable, incredibly powerful and could be as hot as you could stand it. Just right for getting rid of a day's worth of suntan lotion. There were loads of sparkling white towels and they were of a high quality. There were also numerous pillows and as many blankets as anyone could ever have needed. There was a two seater sofa if you needed to spend a little time in air-conditioned luxury and read a good book. There was a large jaccuzzi type bath in the room and also 'his' and 'hers' washbasins. There were just about enough coat hangers in the wardrobe but we have always put a dozen or more wire hangers in the suitcases to ensure that clothes can be hung individually. There was also a steam iron available if the creasing was too severe to show clothing at its best. There was plenty of drawer space on offer. Outside our ground floor room was a plunge pool and patio which had a table, chair and a single sunbed. Whilst this was perfectly adequate for us it begs the question as to what would happen if more than one of us had wanted to sunbathe at the same time on the balcony. It wasn't just our room that only had a single sunbed - other balconies were equipped in exactly the same way. There was a no wristband system in place - this was certainly a bonus to those that feel uncomfortable at having to wear one for the duration of the stay. Equally there were no pool towel cards needed to get as many of the high quality pool towels as were needed each day. The pools were immaculately clean and in a great state of repair, and the surrounding pavings were just as clean. The gardens were in spectacular condition and constantly being tended. Bar service throughout the facility was top class - we never had to wait more than a few moments to get served good quality beers, cocktails or soft drinks irrespective of which bar we were using at the time. The staff were lovely. They had a great command of the English language and were keen to help those of us that didn't have the skills to log into the free wifi available throughout the property. The wifi itself wasn't always as good as one could wish for and there were occasions where you needed several attempts before you could get online. We went on a half day catamaran trip which we organised with Guest Services. This wasn't cheap but allowed us to sail out to coral reefs and snorkel above the spectacular marine life. We also organised a taxi trip into the not so nearby town of Playa del Carmen where the 'bar street' action was just as compelling as the other two occasions we had visited it. Finally, and for us most importantly, the food in the various specialist restaurants was spectacularly good. The no-booking arrangement suited us fine as we preferred to dine quite early and always had immediate access to the venue we had chosen. Just a note of caution here as the Japanese show cooking did need pre-booking and not all of the restaurants were open each evening. A daily news sheet pre-warned as to what restaurants were available on each given night. My apologies as to the length of this posting but I always like to report in detail my observations. If only they could get the quality of the buffet sorted out................
Phil C - Wigan, United Kingdom
---