Please select your dates to see prices:
---
Dreams Riviera Cancun Resort & Spa in Cancun, Mexico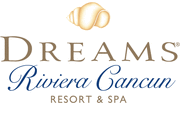 With its enviable location just a half hour from the energetic city center, yet isolated enough to boast its own serene beachfront, Dreams Riviera Cancun Resort & Spa is where the best of both worlds comes together. The resort's signature Unlimited-Luxury® approach means everything is taken care of, from basic necessities to lavish amenities - dining, entertainment, concierge services, and more. Dreams Riviera Cancun Resort & Spa features stylish, octagonal rooms that optimize views of the ocean and scenery, and provide ultimate comfort and space. Cool marble flooring, warm textured accents, and clean bright design welcome you to a private sanctuary, where everything you desire is at your fingertips. Private furnished terraces, whirlpool bathtubs, DVD players, and satellite television, and a regularly refreshed mini bar will ensure your happiness at all hours of the day. And should you need something more, call on the 24-hour room service to greet you around the clock.
Step out into the sunshine at one of the resort's multiple shimmering pools. Whether you swim up to Manatees Pool Bar, or choose to order a cool beverage from the comfort of your plush sun chair, the expansive outdoor deck and garden areas at Dreams Riviera Cancun Resort & Spa are visions of vacation bliss. Inside, the world-class Dreams Spa by Pevonia mimics the same sublime atmosphere with its massage and treatment suites, hydrotherapy rooms, cascading outdoor whirlpool, steam rooms, and a full fitness facility. Additional activity options are robust, with an array of water sports and recreation, including snorkeling, kayaking, cooking classes, bicycling, and even an ocean trampoline. Complimentary green fees at the nearby Grand Coral Riviera Maya golf course will have the players in your party content, and other off-site excursions such as visits to the local Mayan ruins can be arranged through the accommodating concierge. Work up an appetite yet? The sound of nine international restaurants and six bars is decidedly delicious, as the resort's culinary offerings are highly impressive. Expect much more than you have ever experienced from an unlimited dining plan, with highly acclaimed fare and spectacular settings. You will find the best of taste in everything - from the food to the style and service - at Dreams Riviera Cancun Resort & Spa.
Location of Dreams Riviera Cancun Resort & Spa
Dreams Riviera Cancun Resort & Spa
Carretera Federal 307 Chetumal-Puerto Juarez, Benito Juarez
77580
Cancun, Mexico
Nearest Airport: CUN
Amenities for Dreams Riviera Cancun Resort & Spa
General Information
485 Guest Rooms
Connecting/Adjoining Rooms
Dining
Outdoor Dining
Private Dining
24-Hour Room Service
Swim-Up Bar
Cafe
8 Restaurants
Pool Wait Service
Juice Bar
On-Site Amenities
Beauty Salon
Concierge
Spa on Property
Fitness Center
WiFi
Currency Exchange Service
Live Entertainment
Outdoor Spa Treatments
Outdoor Whirlpools
2 Outdoor Pools
In-Room Amenities
Air Conditioning
Direct Dial Telephones
DVD Players
Hair Dryers
Flat-Screen Televisions
Coffee & Tea Facilities
Activities
Kayaking
Tennis
Snorkeling
Yoga
Beach Volleyball
Business
Business Center/Services
Meeting Rooms
Family
Cribs
Babysitting
Kids Club
Interests
All Inclusive
Beach
Family
Spa & Wellness
Summer Getaways
Reviews for Dreams Riviera Cancun Resort & Spa
---
This is my husband and I 3rd stay at a dreams resort. This time we decided to invite my sister and her boyfriend (their first big vacation) As always, the staff at Dreams resorts are EXCELLENT! They go above and beyond to take care of every detail. Jorge Luis Morales at the world cafe was such a super star. He served and helped us with breakfast every morning, engaging and polite. HE even went out of his way to bring us a snack food we were searching for only found in Mexico and brought it to us the next day. Who does that? only a true angel. Luis at the Barracuda barefoot bar was an excellent bartender and kept the palomas flowing, super attentive and polite as well, by the end of the trip we felt like family, calling everyone by name and they did to us we were preferred club members (THE ONLY WAY TO GO) and Lorena in the preferred lounge was an excellent bartender and sweet as well. The property is absolutely gorgeous, kept clean, smells beautiful, and you can tell they take pride int he property. During our stay we went to a near by hotel for a timeshare presentation(to get the discount for our chichenitza trip), and we were able to compare properties. Dreams resorts are definitely the most beautiful and every detail counts. From the colors to the decor to the chair choices, it is visually gorgeous. Unfortunately one of the pools was under construction when we were there (no ones fault) and there were far to many children in the pools with us. That really is my only complaint. Our next trip will probably be at a Secrets resort. Eat at EL PATIO go Snorkeling Drink Palomas Dance at Rendezvou Make friends with the Bartenders and dont forget to TIP and your stay will be perfect.
---
We recently went to Dreams Riveria Cancun with 67 friends and family members for my sisters wedding and it was truly UNFORGETTABLE! They are the most organized wedding staff I have ever seen and went above and beyond to make the wedding truly perfect! Even with a last minute change in weather, and location they didn't skip a beat! My favorite part of the hotel is the HEATED Infinity pool! This is where the bar is as well! SANTIAGO POOT was our daily server there and he EXCEEDED all of our expectations! He even went out of his way to get special birthday drinks custom made for the family members celebrating birthdays! Even when the weather was took a turn, the staff still made sure we all had a blast! ALEJANDRO VILLALOBOS took care of us even in the pouring rain to ensure Sunday Funday was just that! The restaurants sometimes had a little wait, but only because of our big groups, and they made sure to take care of us the best they could. We have an absolute blast at El Patio with family, ALFREDO brought smiles to all of our faces and the Mariachi Band was a great touch! If you go there do not miss the new Pizza place in the garden... its a hidden gem! Also would like to give a shout out to the ENTERTAINMENT staff... they make everyday even more fun and the live entertainment at night can't be missed!
---
Was there in Feb 2017 for a week with wife, 2 yr old and 5 month old. See list below: Pros: - Very friendly staff for the most part, especially 'Chicken Little' in the entertainment crew, who took the time to remember my son's name and take him on the trampoline after hours on his own time - thanks again buddy, REALLY appreciated. - Great food, although we found it heavy on the salt everywhere - Great pools, especially for young kids - shallow and lots of space Cons: - beach was not swimmable due to a tremendous amount of algae washing up on shore and in the wading distance. We didn't go into the ocean once due to red flags and advisory that there could be fish or jellyfish in the surf algae that could bite. The staff said it was only for a couple of weeks but we've been on the mayan in Nov as well and experienced similar things. - entertainment & weddings had VERY loud music well into the night, I would expect maybe until 11pm but this ran to 12am, 1am, 2am, etc. most nights. Very loud to sleep with young kids and for a resort geared towards families - Food was quite salty all around All around, good resort but we wouldn't return on account of the beach being inaccessible and loud music past 11pm. Cheers, CW
calsarhun - Ottawa, Canada
---
I just got back from a week trip to Dreams and can't say enough things about it. The beach was amazing, the hotel was amazing, and we even got a really inexpensive room upgrade. Upon going on this trip, I was really nervous about the food situation as my boyfriend and I are both vegans. I honestly thought I was going to be hungry the whole week haha. Much to our surprise, the staff was amazing as creating us delicious vegan food and never making us feel like a pain for asking. We simply explained our diet when we went into the restaurants, and every time they made us something (most of the time not things on the actual menu) that was crazy delicious. We even went to the seafood place (as non seafood eaters haha) Oceano and our waiter Enrique ran all around the hotel to make us a 4-course meal! I would definitely recommend Dreams if you have a specific diet, they were so helpful and accommodating.
---
Just got back from staying at Dreams Rivera 3/14 - 3/18 and had a wonderful time with family. Your choice of restaurants are many and the selection of food was good. Particularly impressed with Freddy who waited on us at the Italian Restaurant. The entertainment team was outstanding, and they had activities for both kids and adults throughout the day. We highly recommend the bike ride into town. A special shout out to Carlos on the entertainment team for being there for the guest.
---