Please select your dates to see prices:
---
Dreams Riviera Cancun Resort & Spa in Cancun, Mexico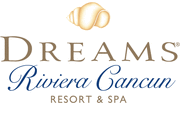 With its enviable location just a half hour from the energetic city center, yet isolated enough to boast its own serene beachfront, Dreams Riviera Cancun Resort & Spa is where the best of both worlds comes together. The resort's signature Unlimited-Luxury® approach means everything is taken care of, from basic necessities to lavish amenities - dining, entertainment, concierge services, and more. Dreams Riviera Cancun Resort & Spa features stylish, octagonal rooms that optimize views of the ocean and scenery, and provide ultimate comfort and space. Cool marble flooring, warm textured accents, and clean bright design welcome you to a private sanctuary, where everything you desire is at your fingertips. Private furnished terraces, whirlpool bathtubs, DVD players, and satellite television, and a regularly refreshed mini bar will ensure your happiness at all hours of the day. And should you need something more, call on the 24-hour room service to greet you around the clock.
Step out into the sunshine at one of the resort's multiple shimmering pools. Whether you swim up to Manatees Pool Bar, or choose to order a cool beverage from the comfort of your plush sun chair, the expansive outdoor deck and garden areas at Dreams Riviera Cancun Resort & Spa are visions of vacation bliss. Inside, the world-class Dreams Spa by Pevonia mimics the same sublime atmosphere with its massage and treatment suites, hydrotherapy rooms, cascading outdoor whirlpool, steam rooms, and a full fitness facility. Additional activity options are robust, with an array of water sports and recreation, including snorkeling, kayaking, cooking classes, bicycling, and even an ocean trampoline. Complimentary green fees at the nearby Grand Coral Riviera Maya golf course will have the players in your party content, and other off-site excursions such as visits to the local Mayan ruins can be arranged through the accommodating concierge. Work up an appetite yet? The sound of nine international restaurants and six bars is decidedly delicious, as the resort's culinary offerings are highly impressive. Expect much more than you have ever experienced from an unlimited dining plan, with highly acclaimed fare and spectacular settings. You will find the best of taste in everything - from the food to the style and service - at Dreams Riviera Cancun Resort & Spa.
Location of Dreams Riviera Cancun Resort & Spa
Dreams Riviera Cancun Resort & Spa
Carretera Federal 307 Chetumal-Puerto Juarez, Benito Juarez
77580
Cancun, Mexico
Nearest Airport: CUN
Amenities for Dreams Riviera Cancun Resort & Spa
General Information
485 Guest Rooms
Connecting/Adjoining Rooms
Dining
Outdoor Dining
Private Dining
24-Hour Room Service
Swim-Up Bar
Cafe
8 Restaurants
Pool Wait Service
Juice Bar
On-Site Amenities
Beauty Salon
Concierge
Spa on Property
Fitness Center
WiFi
Currency Exchange Service
Live Entertainment
Outdoor Spa Treatments
Outdoor Whirlpools
2 Outdoor Pools
In-Room Amenities
Air Conditioning
Direct Dial Telephones
DVD Players
Hair Dryers
Flat-Screen Televisions
Coffee & Tea Facilities
Activities
Kayaking
Tennis
Snorkeling
Yoga
Beach Volleyball
Business
Business Center/Services
Meeting Rooms
Family
Cribs
Babysitting
Kids Club
Interests
All Inclusive
Beach
Family
Spa & Wellness
Summer Getaways
Reviews for Dreams Riviera Cancun Resort & Spa
---
There were so many great things about this property! -We loved the layout of the resort. Everything is easy to get too. Having 2 restaurants outside along with the burgers and pizza for quick lunch was great! -Loved the trees and flowers everywhere, and everything was very well taken care of. -Lots of restaurant options -staff is so friendly! We loved getting to know them! - HANDS DOWN BEST ENTERTAINMENT STAFF!! We can not say enough positive things about Carlos and Atena! They were always looking for our kids to participate in any of the activities. They were so fun and my kids loved them. Cons -only one, but unfortunately it is the reason we won't come back. Multiple weddings a day. Certain restaurants, bars, hot tubs, and misc. sections of the resort will be closed. With only 2 hot tubs it was often disappointing to head to a hot tub to find it closed and then the other packed. The noise was so loud! Often 2 receptions happening at a time and the noise just bounced off the buildings. As guest we were really put off by this. I felt for the bride as non of the weddings felt or appeared authentic. The staff just cranked them out! If the resort limited their weddings we would definitely consider visiting this resort again!
---
We had a very nice week at this resort. Don't bother renting the beach Bali beds unless you love the sun all day long. We also didn't receive all the amenities that was advertised. There are much nicer thatched roof Bali beds around the pool that are free and have bar service. Also we did the hydrotherapy as a couple and my husband was left in the sauna for 45 minutes. I had to ask where he was and the attendant ran to get him! No apology! But, except for those two glitches the resort is beautiful, food is good. If you go to Portofino ask for Eddie, he was great. We love the Cancun area and will be going to this resort again.
---
We were visiting this resort for a destination wedding and with a large group (week of April 14th). The resort itself was very family friendly with a "family pool" with basketball hoops, volleyball nets, and water games/activities. The other pool was more "adult friendly" with a swim up bar. There was a fair selection of restaurant options. No reservations were accepted at the restaurants with the exception of the fancy french restaurant. Wait times were around 30 to 40 minutes but that was not a problem since there was a wonderful main lobby with a bar and nightly entertainment while you waited. The rooms were nice - I agree with most other reviews that you either love or hate the set up. The bathroom and bedroom area was an open design so did not leave much privacy if you were sharing the room with friends, etc. Our door faced the street-side of the property so it was noisy in the morning when trucks were delivering and they piled all the landscaping and construction debris near our door in garbage bags so it wasn't the prettiest. The beach was nice, but in many areas of Mexico they are having to deal with large amounts of seaweed, so if you are looking for crystal clear ocean waters my suggestion would be don't get your hopes up anywhere in Cancun. If I could label one most frustrating things regarding the whole trip would be the Wifi. It is AWFUL! It is constantly going out. I feel this is a much needed upgrade if they want effective social media postings about their resort. Pros: pools, food options (although some restaurants are closed certain nights.. ask ahead), destination wedding spot (they do a great job!); spa was affordable for a resort Cons: WiFi
pheatherton - Providence, Rhode Island
---
The main lobby is beautiful and is my favorite of anywhere I've stayed. We spent time there having drinks before dinner each day. I also really liked the design of our room, although my husband felt it was a bit small. I felt the use of space was quite effective. We also made daily use of the Preferred Club, which was nice for an easy snack or drinks. There is seaweed (sargassum) coming in throughout the day right now, but they kept it cleaned up and, most importantly, it didn't smell like we've experienced at other places/times of the year. They have a tractor/trailer that picks it up that works well. The chef's table at the Asian restaurant made for a very enjoyable dinner and they easily accommodated our vegetarian needs. Highly recommend that. We also enjoyed their evening shows and appreciated that they start earlier in the evening than other places we've stayed. Our big disappointment and the reason for my 3 stars was agreeing to go to their Secrets Playa Mujeres location for a sales pitch, which was supposed to be followed by a day pass to enjoy that resort. We were interested in perhaps trading in our current timeshare, so we agreed to go. They stressed repeatedly it was in Cancun and would be 90 minutes. It was actually on the other side of Cancun and lasted hours once we got there. I was extremely unhappy to have wasted an entire vacation day on that debacle. We left Dreams at 10am and returned around 4:30 in the afternoon and did not do anything but travel to/from Secrets, walk the property with a salesperson and then sit in their sales office for hours. Sadly, it really impacted our enjoyment of our vacation. I would also suggest you verify what you're all inclusive rate will be if you're staying there on RCI points because it seemed to change from when we checked in to when we checked out, although fortunately, it was in our favour.
---
Our family dream came true when we stayed at the Dreams Riviera Resort & Spa for six days of pure pleasure. Everyone at the resort went out of their way to make our stay memorable. The resort's comfort, cleanliness, friendliness, and dining were nothing short of fantastic. Our special thanks to BD Travel for arranging excursions that made our them worry-free. All of us learned a lot about Mexico and its rich culture. Would we return to Dreams Riviera Resort & Spa? You bet!
penman17 - Virginia Beach, Virginia
---