Please select your dates to see prices:
---
Dreams Riviera Cancun Resort & Spa in Cancun, Mexico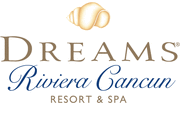 With its enviable location just a half hour from the energetic city center, yet isolated enough to boast its own serene beachfront, Dreams Riviera Cancun Resort & Spa is where the best of both worlds comes together. The resort's signature Unlimited-Luxury® approach means everything is taken care of, from basic necessities to lavish amenities - dining, entertainment, concierge services, and more. Dreams Riviera Cancun Resort & Spa features stylish, octagonal rooms that optimize views of the ocean and scenery, and provide ultimate comfort and space. Cool marble flooring, warm textured accents, and clean bright design welcome you to a private sanctuary, where everything you desire is at your fingertips. Private furnished terraces, whirlpool bathtubs, DVD players, and satellite television, and a regularly refreshed mini bar will ensure your happiness at all hours of the day. And should you need something more, call on the 24-hour room service to greet you around the clock.
Step out into the sunshine at one of the resort's multiple shimmering pools. Whether you swim up to Manatees Pool Bar, or choose to order a cool beverage from the comfort of your plush sun chair, the expansive outdoor deck and garden areas at Dreams Riviera Cancun Resort & Spa are visions of vacation bliss. Inside, the world-class Dreams Spa by Pevonia mimics the same sublime atmosphere with its massage and treatment suites, hydrotherapy rooms, cascading outdoor whirlpool, steam rooms, and a full fitness facility. Additional activity options are robust, with an array of water sports and recreation, including snorkeling, kayaking, cooking classes, bicycling, and even an ocean trampoline. Complimentary green fees at the nearby Grand Coral Riviera Maya golf course will have the players in your party content, and other off-site excursions such as visits to the local Mayan ruins can be arranged through the accommodating concierge. Work up an appetite yet? The sound of nine international restaurants and six bars is decidedly delicious, as the resort's culinary offerings are highly impressive. Expect much more than you have ever experienced from an unlimited dining plan, with highly acclaimed fare and spectacular settings. You will find the best of taste in everything - from the food to the style and service - at Dreams Riviera Cancun Resort & Spa.
Location of Dreams Riviera Cancun Resort & Spa
Dreams Riviera Cancun Resort & Spa
Carretera Federal 307 Chetumal-Puerto Juarez, Benito Juarez
77580
Cancun, Mexico
Nearest Airport: CUN
Amenities for Dreams Riviera Cancun Resort & Spa
General Information
485 Guest Rooms
Connecting/Adjoining Rooms
Dining
Outdoor Dining
Private Dining
24-Hour Room Service
Swim-Up Bar
Cafe
8 Restaurants
Pool Wait Service
Juice Bar
On-Site Amenities
Beauty Salon
Concierge
Spa on Property
Fitness Center
WiFi
Currency Exchange Service
Live Entertainment
Outdoor Spa Treatments
Outdoor Whirlpools
2 Outdoor Pools
In-Room Amenities
Air Conditioning
Direct Dial Telephones
DVD Players
Hair Dryers
Flat-Screen Televisions
Coffee & Tea Facilities
Activities
Kayaking
Tennis
Snorkeling
Yoga
Beach Volleyball
Business
Business Center/Services
Meeting Rooms
Family
Cribs
Babysitting
Kids Club
Interests
All Inclusive
Beach
Family
Spa & Wellness
Summer Getaways
Reviews for Dreams Riviera Cancun Resort & Spa
---
I had won a trip through my work and went with my son. We had a really good time. This was our first time at an all inclusive resort. I mean I knew what to expect, I read about it, I was told about how things work, but even then I was blown away. The staff are friendly, The resort is surely a dream. It has all the amenities you would want in a hotel. Now they will still try to sell you more, but we enjoyed the whole time in the hotel and we also did the market trip which was fun also. I could go on and on about it, but I think this will prove how much I enjoyed it... I just booked ANOTHER vacation with my family. Yes, this time I'm paying for it myself, but it's worth every bit.
---
Definitely will choose Dreams again for our family vacation! The service was excellent! Food very very good! Very clean ! Felt very safe .... we all had an wonderful time, had pictures taken on the beach, and watched as my son proposed to his girlfriend by the LOVE sign . Thank you! Maybe a destination wedding resort😉
---
Stayed recently with family. I would say our stay was acceptable, at best. Breakfast buffet is nice and the food is decent and the staff working there and at the pool are very friendly. Lunch and dinner options for food are borderline inedible. Terrible coffee, so mentally prepare yourself for that. Alcohol is what should be expected from an all inclusive. The staff also gets less friendly, somewhat understandably, as the hours wear on. Grounds and pools are nice. Rooms are ok, but could use an update. Had several things break and the beds are very uncomfortable. Bring your own toiletries! Also, use the in-room safe. Staff clearly ignored the privacy request signs I hung on the door and helped themselves into the room whenever they wished, which to me is a big no no. We had a good time on our trip, but were not impressed by any means. One last thing - Rude people snag all of the pool chairs and cabanas around 6:30 in the morning and then go back to bed.
---
We travelled to this resort during March break and had a fantastic time. Check in was fast and easy and rooms were available right away. We requested a room with a king size bed Erika went out of her way to accommodate our request. The room was stunning and very luxurious. The turndown service was just a treat. Food was very good all over the resort. The buffet had a great selection and plenty of options and the food quality was always very good. The Italian restaurant and the Mexican restaurant did not need reservations and we had to wait about an hour for tables for our group. Not a problem for us once we realized the wait time. One of us would go reserve our table and they gave you a pager so that you can enjoy the bar in the lobby. The restaurant under the lobby was very quaint and we really enjoyed the food here as well. The Japanese restaurant was a real treat although you needed reservations. The cafe had amazing snacks and sandwiches and coffee. The service was a bit slow throughout the resort however we were traveling during March break and the resort was at 100% capacity. Everyone was trying their best and was extremely pleasant and courteous. The pools in this resort are amazing and great for kids. The infinity pool is gorgeous and it was unusually cool for this time of the year and all the pools were heated!! Very nice and relaxing around all the pools and the pool service was great. Waiters would drop by very frequently which was good considering the bars were so busy. The lobby area is where most of the evening entertainment was set up. It was a great area just to relax and enjoy the music. The lobby bar service was top notch and if you were sitting around the lobby area during the entertainment the wait staff were very prompt and attentive. Unfortunately the Riviera had a sea weed problem during our stay and we did not swim in the ocean at all. The town is about a 20 minute walk on the beach and there are a few nice public beaches along the way that were very nice. Overall a great resort and I would highly recommend it.
hitespan2015 - Toronto, Canada
---
We returned to the Cancun / Mayan Riviera area after 8 years. In the meantime we'd visited other areas of Mexico and enjoyed our stays at other Dreams so decided to try it here. And they delivered as usual. If you've not stayed at Dreams - just a few reasons why we love it in general - no wrist bands, no towel cards, no limits to going to specialty restaurants, premium alcohol only and overall great service. We really feel no need to upgrade when staying at Dreams because everyone is provided with a luxury experience. We went as a couple and had a lovely time. All staff we encountered were kind and very helpful. We had rather an unpleasant experience with the lobby gift shop which proved to us commitment Dreams has to guest service. I purchased cough drops which I realized upon return to my room had an active ingredient that I had previously reacted to. I immediately returned with the unopened (sealed) package, only to find out that all sales are final. And yes this is stated on the receipt however this is in Spanish and there is a sign in the store behind the counter, (again in Spanish) in font so small no one could possibly ever read it. The clerk / manager was willing to exchange for another brand that I could take but the price differential was 140 pesos (approximately $10.00 Cdn). Long story short I was very unhappy with the service and the attitude - they told me in essence that I should have known about their final sale policy. When I brought my issue up with the manager on duty at the hotel (sorry I cannot remember her name!) she was absolutely lovely. My goal was to simply let her know that it would be helpful to have the issue of "final sale" clear to non-Spanish speaking visitors (I'm guessing at least 75% of their guests) and to point out how rude the staff had been. She explained that the gift store was a sublet by a non-Dreams company but she went and spoke to the staff in the gift store and suffice to say that she facilitated a fair outcome - although I will say that the staff remained indignant and somewhat rude. The point here is that the Dreams manager handled it with kindness and grace and I believe she was planning to bring this issue forward to the gift shop owners. The buffet restaurant food was always beautifully presented, plentiful, fresh with great variety and quite delicious at all times of day. Our favorite specialty restaurant was the French restaurant. Given the context this was as close to a fine dining experience as I believe one might expect in a resort of this type. The service was very professional, including wine selections which were quite impressive. And yes you must pay for bottles if you want anything beyond house wines, but the selection allows for all budgets. The food - well I'd give it a 6.5 out of 10 - flavors and quality was slightly lacking in the appetizers and desserts but my duck confit was very tasty and there are nice touches such as amuse bouche and sampler house martinis upon seating. A rating of 6.5 here is not bad at all remembering that they are doing their best within the context of an all inclusive environment. We had a standard room facing a central courtyard which provided a partial view of the ocean and the beautifully kept grounds. The room was well appointed, impeccably clean and as per Dreams provided well thought out touches such as mosquito repellent, larger than usual sizes of toiletries, robes and slippers. Turn down service is provided. The shower is very large, almost a small room, with a small bench and a rain shower head and each standard room comes with a jacuzzi bathtub. For those who desire a bit more quiet and privacy there are about 15 Bali beds available (mattresses, with backrests on platforms covered by palapa roofs) in various locations around the pool area, some quite secluded and private. As I had a cold we took full advantage and loved having this comfortable option. Also poolside service was fantastic and each day there was a "big Pan" gourmet offering for lunch such as paella, tacos el pastor, Mexican style pulled pork sandwiches etc. as well as the regular lunch bar which provided oven fired pizza, burgers, fries, hot dogs and self serve nachos (our favorite with fresh pico de gallo, guacamole, chili beans, cheese sauce). Different here was that melamine dishes were provided in bamboo baskets so guests could eat poolside...a wonderful option. All entertainment was top notch and provided options for families (fire dancers, magic shows) as well as adults of all ages (great live music as well as a disco). For a superior all-inclusive experience Dreams does provide good value overall.
---