Please select your dates to see prices:
---
Secrets The Vine Cancun in Cancun, Mexico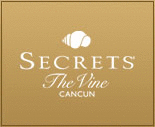 Where the emerald jungle meets the shimmering Caribbean, between swaying palms and soothing surf, Secrets The Vine Cancun invites you to enjoy complete beach bliss in sunny Cancun, Mexico. Step in from the vibrant beach, and enter your ultramodern room, crafted in a sleek, geometric style with the illusion of simplicity creating a truly elegant space. Bright and inviting, sunlight streams through walls of glass, while a sweeping view will take your breath away. Step out through sliding doors onto your stunning private terrace, and relax as you watch the waves roll ashore. With an elegant bathroom, wrapped in white glass, plush king or queen sized beds or two queen size beds, and all the modern entertainment and care options, enjoy the comfort and serenity of modern luxury inside, with the golden sands and surf beckoning just outside your door.
As the sun warms the coast, dive into the Caribbean for an early morning swim and let the soothing waters wake you to a fabulous day. After your swim enjoy a hearty buffet breakfast at Market Café, then head out for a scenic round of golf at Playa Mujeres Golf Course. In the afternoon, relax and stretch out beside one of the three infinity pools, sipping your favorite refreshing cocktail, or make your way to Secrets Spa by Pevonia to pamper yourself with a massage and beauty treatment. Enjoy a fascinating day tour to the nearby Mayan ruins of Tulum, Coba, or Xel-Ha, or discover Cancun's amazing diving with an excursion to the vibrant sites along the Mesoamerican Reef. In the evening visit the resort's Wine Cellar, or Enoteca, and enjoy a wonderful wine tasting event before the perfect dinner. Sit down to elegant Asian cuisine at Dragons Restaurant, or relax under the stars on the outdoor patio of Sea Salt Grill, listening to the waves rolling ashore and dreaming of your next amazing day at Secrets The Vine Cancun.
Location of Secrets The Vine Cancun
Secrets The Vine Cancun
Blvd. Kukulcán Km. 14.5, Lote. 38, Zona Hotelera
77500
Cancun, Mexico
Nearest Airport: CUN
Amenities for Secrets The Vine Cancun
General Information
495 Guest Rooms and Suites
Non-Smoking Property
Adults Only
Handicap Accessible Rooms
Dining
Poolside Dining
Outdoor Dining
Private Dining
24-Hour Room Service
Wine Cellar
Cafe
Piano Bar
7 Bars
Beach Wait Service
8 Restaurants
Pool Wait Service
Lounge
Oceanfront Dining
On-Site Amenities
Concierge
Spa on Property
Laundry Service
Library
Fitness Center
WiFi
Currency Exchange Service
Sauna
Live Entertainment
Gazebo
Boutique
Beach Access
Outdoor Whirlpool
Car Rental
Steam Room
Outdoor Spa Treatments
24-Hour Concierge
Infinity Pools
In-Room Amenities
Turndown Service
Air Conditioning
Direct Dial Telephones
Hair Dryers
In-Room Safes
Mini Bar
Satellite Television
iPod Docks
Iron/Ironing Boards
Flat-Screen Televisions
Luxury Linens
Luxury Bath Amenities
Bottled Water
Private Terraces
Activities
Deep Sea Fishing
Excursions
Wine Tasting
Scuba Diving
Snorkeling
Yoga
Beach Volleyball
Fitness Classes
Cultural Tours
Table Tennis
Bird Watching
Zip-Lining
Golf
Dance Lessons
Soccer
Water Sports Programs
Business
Meeting Rooms
Business Center
Conference Facilities
Nearby
Historic Sites
Shopping
Restaurants
Golf
Nightlife
Beaches
Monuments
Market
Interests
All Inclusive
Beach
Honeymoons & Romance
Spa & Wellness
Summer Getaways
Reviews for Secrets The Vine Cancun
---
Eduardo Santos was our waiter and we were given A+service. There were 8 of us for dinner. Can't wait to come back. Chef Maribel was the best, she took care of all of our wishes. Best dinner ever! Thank you for everything!
---
My husband and I spent 6 days here at the end of March. We were a little skeptical about going to Cancun, but we thought we would give it a try. Property was gorgeous, and the room was nice and spacious. Upgraded to Preferred Club and were able to use the Preferred Club pool and had lunch at Olio's one day. Erick at the pool was very friendly and accommodating. The entire staff is definitely the hotel's strongest asset. Food across the board was mediocre at best. Maybe a bit better than average all-inclusive resorts, but definitely not "gourmet." Best things we had were breakfasts (Green Juice was delicious), burgers at the Sports Bar, mini tuna sandwich at the snack shop. It was a bit of a disappointment as we felt that, since we paid for an all-inclusive, we shouldn't spend more money to go out to eat. We did not get caught up in the whole timeshare thing. Other couples that we talked to had been roped in and not too happy about it, and we saw many others being led around the resort by the timeshare reps. Spent most nights at The Piano Bar as Migue and Eduardo were SO MUCH FUN! Migue, your Key Lime Martini was phenomenal! We did not go in the water as it was so choppy, and it was VERY windy every day. Each day was warm and mostly sunny...a great break from Chicago's cold weather. The biggest negative that I have about the resort was how loud it was in our room because of noise in the hallways. I had read that this was an issue, and it was. Requested a room away from the elevators, but we unfortunately got one directly across from it. Woken up every night several times from the noise. Again, beautiful grounds and pools, nice, spacious rooms with pretty views, and a fabulous staff.
tmurphy27 - Orland Hills, Illinois
---
This was the best vacation. The most relaxing, tastiest food, best staff, and beautiful beaches. The Resort is about 20 minute shuttle ride from the Airport. The Resort facility is outstanding, Very Beautiful and has a nice inviting relaxing feel from the time you enter. The Started off by greeting us with a cool towel and a glass of champagne! We had a preferred junior suite, which you get a special check in with your butler. Jorge was out butler, and greeted us and checked us in. Very helpful, explained everything very well. Leti was also our butler in the evenings. Both Leti and Jorge helped us through out our stay and made it easy and enjoyable. Our Room was a Junior preferred suite. It is worth booking a preferred for the extras, and the suite for the larger room. It is spacious/luxurious and has large was of windows with an incredible view. The view overlooked some of the other resorts, but has the beach and ocean on the left, and the lagoon on the right. Our house keeper Alejandra was impeccable, she was polite and always keep our room clean and tidy. She would come twice a day, one to do a clean and tidy up, and then back again in the evening do a turndown service. Over all the resort had excellent food and service everywhere! We we by the preferred pool and lounged multiple days. The poolside hostess Erick was very friendly and made small talk with us, which made it easy to relax and enjoy ourselves. We had quick and courteous food and drink service at the pool from Christabel one day, and Sergio another day. One of our favorite restaurants was Nebbiolo, because of the food and the staff. The food was outstanding, we came back and ate at there at least 3 times during our week long stay. The hostess Jessica was friendly and came to know us by name and greet us. We were celebrating our honeymoon, and our Server Sergio made us a special desert and presented it in special fashion by igniting some alcohol and swirling it around then pouring it over the top. The food here was Italian, and it tasted amazing, and was presented beautifully. The Market morning buffet was where we ate every day. The hostess Lizbeth was friendly. The food selection and quality was outstanding. It was honestly was the best buffet I've ever eating at. After we are done in the morning, we would typically go to the Coffee bar for a latte or mocha. During the Dinner time, they switch the market cafe to a mexican restaurant. We had dinner one time, and our Server Julio was so kind and polite. The VIP services, helped us plan things during our stay. Lisa helped us a lot, she was helpful, and talked to us everytime we passed. Lisa arranged our private dinner on the beach. The dinner was worth it. We had a table on the beach around sunset. The dinner was fantastic 4 course meal. It was served by Caesar and Louis, both did an excellent job. The Resort also did a excellent job of providing entertainment. The have events and things to do listed on tablet in your room, or a printed version if you wanted. The offered all kinds of things, drink tasting, dancing, yoga, water aerobics, and nightly shows of all varieties. The entertainment team would walk around and play games and let you know what was going out through the day. One day we were in the pool and joined in water aerobics, it was surprisingly fun and harder than it looked. Valeria made the water aerobics so much fun, and got everyone involved, she had a positive energy that was infectious. She also at the end went around and remembered everybody's name(around 25 people). Guillermo was a newbie, only been working a day or two, but he was around helping with everything, it was also very nice and had a great smile. Alonso entertained us with a margarita lesson, his mood was uplifting, and instructions were great. Raquel did a paella lesson, she had a great time instructing us, give all the people chefs hats, She was so nice. Luis came and played a game, and got us to go to vegas night, he was fun and upbeat. We can thank this resort and it's staff enough for how wonderful is to stay there. It is a beautiful well oiled machine, with all the people kindness and hard work that really shows.
matthewaron - Renton, Washington
---
Just came back from a great week at the Secrets. everyone was great, from the moment we checked in, kudos to Debir who greated us warmly, oliver by the pool was always one step ahead of us, makeing sure we didn't lack anything. The beach is cleaned daily if not twice daily...restaurants are all great, food excellent, and a great choice of beverages of high quality.
Tara G - Quebec City, Canada
---
Where to start...resort itself looks absolutely stunning. Rooms are one of the best features, big spacious and clean. However, on arrival our first room had a leak and we had to move instantly. Not the end of the world just a slight inconvienience. We also had an issue with brown water coming from the tap in our room. This really put us off and lasted about a day until it started looking clear again. The worse thing about the resort was the Food and drink-so disappointing and hit and miss. Food in the restaurants was often bland, lukewarm or just unedible. Only restaraunt we loved was olio and the buffet for breakfast and lunch was good too. The rest of the restaurants were highly disappointing and we had a really bad tummy for the majority of the stay. We met many others with similar issues too. Drinks were also bleuh and you have to make sure you request top shelf liquor to have a decent drink. The best thing about this resort are the staff, from check in to leaving I cannot praise them enough. My personal favourites were Alberto at the activity pool, he was amazing and Frederico at sea salt grill (think thats his name-he has a bad/glazed eye to put it bluntly but I want to make sure the right person gets the kudos they deserve). He had such a lovely aura and seemed so genuine and friendly. Racquel and Monica who were part of the entertainment team were really friendly too. All in all a good trip but not sure I would return. Its a shame as I really wanted to love secrets but something seemed off. Others we had met, who had been there before commented that the resort had been much better in the past, so I am hoping that things improve and maybe we will take the chance to try and visit again.
Doms871uk - London, United Kingdom
---