Please select your dates to see prices:
---
Secrets The Vine Cancun in Cancun, Mexico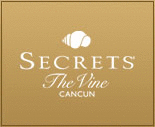 Where the emerald jungle meets the shimmering Caribbean, between swaying palms and soothing surf, Secrets The Vine Cancun invites you to enjoy complete beach bliss in sunny Cancun, Mexico. Step in from the vibrant beach, and enter your ultramodern room, crafted in a sleek, geometric style with the illusion of simplicity creating a truly elegant space. Bright and inviting, sunlight streams through walls of glass, while a sweeping view will take your breath away. Step out through sliding doors onto your stunning private terrace, and relax as you watch the waves roll ashore. With an elegant bathroom, wrapped in white glass, plush king or queen sized beds or two queen size beds, and all the modern entertainment and care options, enjoy the comfort and serenity of modern luxury inside, with the golden sands and surf beckoning just outside your door.
As the sun warms the coast, dive into the Caribbean for an early morning swim and let the soothing waters wake you to a fabulous day. After your swim enjoy a hearty buffet breakfast at Market Café, then head out for a scenic round of golf at Playa Mujeres Golf Course. In the afternoon, relax and stretch out beside one of the three infinity pools, sipping your favorite refreshing cocktail, or make your way to Secrets Spa by Pevonia to pamper yourself with a massage and beauty treatment. Enjoy a fascinating day tour to the nearby Mayan ruins of Tulum, Coba, or Xel-Ha, or discover Cancun's amazing diving with an excursion to the vibrant sites along the Mesoamerican Reef. In the evening visit the resort's Wine Cellar, or Enoteca, and enjoy a wonderful wine tasting event before the perfect dinner. Sit down to elegant Asian cuisine at Dragons Restaurant, or relax under the stars on the outdoor patio of Sea Salt Grill, listening to the waves rolling ashore and dreaming of your next amazing day at Secrets The Vine Cancun.
Location of Secrets The Vine Cancun
Secrets The Vine Cancun
Blvd. Kukulcán Km. 14.5, Lote. 38, Zona Hotelera
77500
Cancun, Mexico
Nearest Airport: CUN
Amenities for Secrets The Vine Cancun
General Information
495 Guest Rooms and Suites
Non-Smoking Property
Adults Only
Handicap Accessible Rooms
Dining
Poolside Dining
Outdoor Dining
Private Dining
24-Hour Room Service
Wine Cellar
Cafe
Piano Bar
7 Bars
Beach Wait Service
8 Restaurants
Pool Wait Service
Lounge
Oceanfront Dining
On-Site Amenities
Concierge
Spa on Property
Laundry Service
Library
Fitness Center
WiFi
Currency Exchange Service
Sauna
Live Entertainment
Gazebo
Boutique
Beach Access
Outdoor Whirlpool
Car Rental
Steam Room
Outdoor Spa Treatments
24-Hour Concierge
Infinity Pools
In-Room Amenities
Turndown Service
Air Conditioning
Direct Dial Telephones
Hair Dryers
In-Room Safes
Mini Bar
Satellite Television
iPod Docks
Iron/Ironing Boards
Flat-Screen Televisions
Luxury Linens
Luxury Bath Amenities
Bottled Water
Private Terraces
Activities
Deep Sea Fishing
Excursions
Wine Tasting
Scuba Diving
Snorkeling
Yoga
Beach Volleyball
Fitness Classes
Cultural Tours
Table Tennis
Bird Watching
Zip-Lining
Golf
Dance Lessons
Soccer
Water Sports Programs
Business
Meeting Rooms
Business Center
Conference Facilities
Nearby
Historic Sites
Shopping
Restaurants
Golf
Nightlife
Beaches
Monuments
Market
Interests
All Inclusive
Beach
Honeymoons & Romance
Spa & Wellness
Summer Getaways
Reviews for Secrets The Vine Cancun
---
This was our 3rd stay at Secrets of the Vine and it won't be our last. Everything was perfect. Great service, great food and great rooms. Definitely go with the preferred club, they have an infinity pool on the 12th floor that looks down over the resort and beach, plus premium liquor. All of the food was good.
Denise W - Alvin, Texas, United States
---
We had the best service of our life thanks to Alejandro Hernández at Bluewater Grill. If you are fortunate enough to receive the Special Moments dining....just WOW!!!! He was a true professional...and we will continue to go back OVER AND OVER again because of him. Sometimes it takes just one person to make a difference...and even though the whole the whole team and staff was fabulous...it really was exceptional because of Alejandro!
Krista M - Kelowna, Canada
---
We had a fabulous trip. Secrets The Vine was FABULOUS! The staff was beyond excellent. The work ethic commendable! The facilities were gorgeous and clean. The view was marvelous. We loved the gym and the entertainment. We met some great people; both staff and guests alike. We can't wait to get back! Fernando was extremely helpful, as was Lisa. Both should be commended!
barrerajacquie - Hillsboro, Ohio
---
My husband and I stayed at Secrets May 15-19. We really enjoyed our visit. The gym is awesome. Most of the food is good with a some exceptions. Coffee bar is awesome! Service great. I have Celiac Disease and was aware I would be able to find something to eat before we went but had no idea just how accommodating each restaurant, chef, and staff member would be. They went above My husband and I vacationed at Secrets May 15-19 and really enjoyed our stay. We don't have much to complain about! The staff is extremely friendly. I have Celiac Disease, and the entire staff went above and beyond to make sure I didn't just find something I could eat but that I had exactly what I wanted to eat. We notified concierge about my Celiac, and they sent a message to all of the chefs. We also always told the servers at each restaurant we went to. If you have Celiac Disease, you will be thrilled to know their chips are fired separately! I wish I could remember every server's name, but I do want to give a shout out to Hector the manager at Market Cafe. Every single morning, he found me and took my order and had the chef prepare it separately instead of grabbing things from the buffet line to ensure it's safety. He even made sure I had gluten free tamales one morning. I can't rave enough about the staff as far as gluten free safety goes. I felt safer eating there at any restaurant than I do here back at home. Overall, I didn't meet one unfriendly staff memeber in the entire resort. Each person was extremely happy to help. We felt like they truly enjoy their jobs. The second thing I want to commend the resort on is its cleanliness. I am VERY apprehensive about hotels and picky when it comes to what I think is clean, and this entire resort did in fact seem very clean. The only negatives we have about this resort would be the following: 1) we did not exactly love the food we had at Sea Salt. The chicken quality seemed less than Olio and Bluewater Grill. This was the same with Dragons. The chicken was a little soggy and an interesting texture. Those two restaurants we did not visit again. 2) The pool area gets very crowded and lawn chairs are pretty much all taken by 7:45 am (the ones that face the ocean or are on the lower pools). This can be frustrating when you are paying as much as you do to be on the beach. It seems for the size of property they have and the fact that it's narrow, they have too many residents for the amount of chairs/ space. 3) The pool waiters are extremely understaffed and busy. There are too many people for just a handful of servers to tend to. We did not get great service outside. This was not their fault. They were always friendly! It's the staffing that is the issue. One last issue we had was noise at night. We were near the elevators for our first night and didn't sleep a wink. My husband can usually sleep through ANYTHING and he didn't even sleep. However, we were given another room for the rest of our stay, and it was much better. They were very happy to move us. Overall, we had a really great experience! While we think some of the food quality could increase, we really did enjoy most of the food, and you can't beat the impeccable service.
ljedison - Oklahoma City, Oklahoma
---
We had a lovely holiday here. We were on floor 23. The room was lovely with a great balcony overlooking the lagoon and the ocean. Lots of storage and separate shower and toilet. There is a coffee machine butv Carmen one of our maids brought me a kettle as I don't like coffee. Alex our butler kept me supplied with tea and fresh milk. The staff were wonderful and the restaurants were superb. Special thanks to Alberto , Cruz ,Lizabeth and Fernando in the Market cafe. I have a gluten intolerence and the gluten free selection in the market cafe was excellent. The steaks in the Blue Grill were the best. The resort activities from wine tasting to yoga were excellent. Evening entertainment was good. We enjoyed our stay so much we recommended it to our daughter and her fiance as a honeymoon destination. They have made their reservations and will be there 13 June. We are confident they will not be disappointed
Maureen10453 - Glasgow, United Kingdom
---