Please select your dates to see prices:
---
Secrets The Vine Cancun in Cancun, Mexico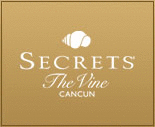 Where the emerald jungle meets the shimmering Caribbean, between swaying palms and soothing surf, Secrets The Vine Cancun invites you to enjoy complete beach bliss in sunny Cancun, Mexico. Step in from the vibrant beach, and enter your ultramodern room, crafted in a sleek, geometric style with the illusion of simplicity creating a truly elegant space. Bright and inviting, sunlight streams through walls of glass, while a sweeping view will take your breath away. Step out through sliding doors onto your stunning private terrace, and relax as you watch the waves roll ashore. With an elegant bathroom, wrapped in white glass, plush king or queen sized beds or two queen size beds, and all the modern entertainment and care options, enjoy the comfort and serenity of modern luxury inside, with the golden sands and surf beckoning just outside your door.
As the sun warms the coast, dive into the Caribbean for an early morning swim and let the soothing waters wake you to a fabulous day. After your swim enjoy a hearty buffet breakfast at Market Café, then head out for a scenic round of golf at Playa Mujeres Golf Course. In the afternoon, relax and stretch out beside one of the three infinity pools, sipping your favorite refreshing cocktail, or make your way to Secrets Spa by Pevonia to pamper yourself with a massage and beauty treatment. Enjoy a fascinating day tour to the nearby Mayan ruins of Tulum, Coba, or Xel-Ha, or discover Cancun's amazing diving with an excursion to the vibrant sites along the Mesoamerican Reef. In the evening visit the resort's Wine Cellar, or Enoteca, and enjoy a wonderful wine tasting event before the perfect dinner. Sit down to elegant Asian cuisine at Dragons Restaurant, or relax under the stars on the outdoor patio of Sea Salt Grill, listening to the waves rolling ashore and dreaming of your next amazing day at Secrets The Vine Cancun.
Location of Secrets The Vine Cancun
Secrets The Vine Cancun
Blvd. Kukulcán Km. 14.5, Lote. 38, Zona Hotelera
77500
Cancun, Mexico
Nearest Airport: CUN
Amenities for Secrets The Vine Cancun
General Information
495 Guest Rooms and Suites
Non-Smoking Property
Adults Only
Handicap Accessible Rooms
Dining
Poolside Dining
Outdoor Dining
Private Dining
24-Hour Room Service
Wine Cellar
Cafe
Piano Bar
7 Bars
Beach Wait Service
8 Restaurants
Pool Wait Service
Lounge
Oceanfront Dining
On-Site Amenities
Concierge
Spa on Property
Laundry Service
Library
Fitness Center
WiFi
Currency Exchange Service
Sauna
Live Entertainment
Gazebo
Boutique
Beach Access
Outdoor Whirlpool
Car Rental
Steam Room
Outdoor Spa Treatments
24-Hour Concierge
Infinity Pools
In-Room Amenities
Turndown Service
Air Conditioning
Direct Dial Telephones
Hair Dryers
In-Room Safes
Mini Bar
Satellite Television
iPod Docks
Iron/Ironing Boards
Flat-Screen Televisions
Luxury Linens
Luxury Bath Amenities
Bottled Water
Private Terraces
Activities
Deep Sea Fishing
Excursions
Wine Tasting
Scuba Diving
Snorkeling
Yoga
Beach Volleyball
Fitness Classes
Cultural Tours
Table Tennis
Bird Watching
Zip-Lining
Golf
Dance Lessons
Soccer
Water Sports Programs
Business
Meeting Rooms
Business Center
Conference Facilities
Nearby
Historic Sites
Shopping
Restaurants
Golf
Nightlife
Beaches
Monuments
Market
Interests
All Inclusive
Beach
Honeymoons & Romance
Spa & Wellness
Summer Getaways
Reviews for Secrets The Vine Cancun
---
Awesome location and property. Was completely in love with the property, The Sales is horrible making the stay sub-par. Its worth paying for the upgrade rather than deal with sub-par sales techniques. Was sold before they tried to sell me. If I received the price I could make a better decision and/or quicker and not take more than the allotted time.
---
I go to the concierge to ask for questions on trip planning. Ana Pascual helped me and she is super warm and helpful. I could feel she cares my needs and tries her best to help. The hotel is also satisfying in other aspects.
---
This is our 4th Secrets hotel, 5th Secrets stay (Silversands x2, Huatulco and Los Cabos). I'm truly convinced I will never leave the AMResort brand hotels! From start to finish, I am always impressed with everything the hotels have offered, from food to top shelf drink, to entertainment and service... nothing has ever fallen short for us! Check in was seamless (late arrival and no one else was checking in). I had contacted the hotel about a king bed room and asked again on check in. Unfortunately, this request was not granted, but this didn't really affect us either way. King bed is just nice to have. Our room on the 20th floor had a great view of the pool area and somewhat ocean view. The balcony was a little strange at first, as it is "slats" that separate each rooms balcony. Although most balconies aren't overly private, this really took away privacy. Again, not a major issue for us as we have spent very little time our there in previous stays (which stayed true here as well). Although the "double rooms" list 2 double beds, we're pretty certain they were queens. The bathroom area is nice though the frosted glass door while using the facilities does make some uncomfortable, not an issue here. Lots of dresser/closet space, should you wish to unpack everything. The restaurants were all fantastic (did not eat at the seafood restaurant or italian). We really enjoyed the service from Santiago at Olio (Mediterranean) on back to back nights. Service was prompt at all the restaurants, food was delicious and served hot. We did the breakfast buffet at both Dragons and the Market. Both offered similar menus, however Dragon's is quieter for those looking for that. We only had lunch at the Barefoot Grill, as we never wanted to get out of the sun to eat. The cook there will make up individual sized pizzas upon request. The wait staff around the pools is amazing. They are running all day long to keep drinks flowing and do a fantastic job at it. Special shout out to Adolfo and Dani, who were above the rest, which was tough to do here! Drinks of the day were always good but I fell back to margaritas for most of my stay! Can't say enough for the entertainment staff, who do a great job trying to motivate guests to participate in various activities, from spanish lessons, to "guessing game", from beach to water volleyball. Norby, Alonso and Bernardo were all great guys to participate, always came by when they arrived to say good morning or good afternoon and were great for a mid-day laugh. On the final day of our stay, some other entertainment staff were seeking suggestions on how to improve what they do. We suggested focus more activities on a single pool. The activities seem to switch pool to pool and change location from day to day. This makes it more difficult to determine where you want to sit, based on if you participate or don't, whereas other Secrets had a "quiet pool" where no activities happened. I found this very different not having the consistency. Although we did our fair share of drinking, we did not sit at a specific bar and only on a few occasions did I get my own drinks. In those instances, bartenders were always very pleasant and efficient at what they did. No specific standouts, but, great work by all of the bartenders who serve the pools! Room service and turndown service was nice and efficient. I still can't grasp or understand the creepy video when you come in after turndown but, whatever. We did couple massages, which were very nice. The spa offers water and fruits while doing the hydrotherapy (included in massage price). We actually did the hydrotherapy just prior to leaving, instead of when we did the massage, to get a bit more relaxation in and utilize the showers before leaving. There always seems to be complaints about the beach and ocean. The hotel has ZERO control over either of these. The beach was nice, although depending on the wind got quite a bit of seaweed (which they interestingly bury). The area seems safe with police patrolling regularly. There are quite a few walking venders, who will accept no as an answer, however, purchase one item and they are like seagulls on you. As with one of my prior reviews, make sure you get through the Cancun airport and OUTSIDE before talking to anyone. The first sliding doors after security and immigration are all timeshare sellers. I'd been had before which landed me in the Ultimate Vacation Club presentation. I avoid and walk through now. We did the UVC presentation here again (previously did it at Los Cabos) for the free gifts. The presentation people are very nice, until you say no. Then "I don't understand why you wouldn't do this?!" "Look at what you pay to come here, this would be cheaper." Tell them no again and then their bitterness really comes out. Ah well, walk away with the gifts and move on. All around, an absolutely amazing week with great service, great food, great drinks and great company!
---
Everything was very good. Food, accommodations, beach, pool. During the weekdays it was easier to get a seat at the pool or beach. It's a little busier Friday-Sunday. You have to ask for the good booze.
lph04 - Minooka, Illinois
---
My husband and I are visiting Secrets right now. It's been 3 years since our last visit to Secrets. Our first visit was amazing and wonderful. We had a baby 2.5 years ago so we decided it was time to reconnect and spend some adult time together, we knew exactly the place, Secrets The Vine Cancun. Boy were we wrong. This experience has been very disappointing. We accidentally booked a double bed room. Upon check in we told the front desk, she said they would try to switch up the next day when many of their guest checked out. Nope, nothing. So this morning we asked about it, the front desk asked like we were putting them out. It took three people to stand over a computer and type like those airline commercial to tell us they only had one option on the 11th floor. The hotel is less than half full but yet it took 20 minuets of my vacation time for them to find the worst option to offer me. That goes against all the service they are supposed to offer. Again, this place isn't even half full.
Ruth Woods T - Mechanicsville, VA, United States
---