Please select your dates to see prices:
---
Secrets The Vine Cancun in Cancun, Mexico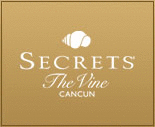 Where the emerald jungle meets the shimmering Caribbean, between swaying palms and soothing surf, Secrets The Vine Cancun invites you to enjoy complete beach bliss in sunny Cancun, Mexico. Step in from the vibrant beach, and enter your ultramodern room, crafted in a sleek, geometric style with the illusion of simplicity creating a truly elegant space. Bright and inviting, sunlight streams through walls of glass, while a sweeping view will take your breath away. Step out through sliding doors onto your stunning private terrace, and relax as you watch the waves roll ashore. With an elegant bathroom, wrapped in white glass, plush king or queen sized beds or two queen size beds, and all the modern entertainment and care options, enjoy the comfort and serenity of modern luxury inside, with the golden sands and surf beckoning just outside your door.
As the sun warms the coast, dive into the Caribbean for an early morning swim and let the soothing waters wake you to a fabulous day. After your swim enjoy a hearty buffet breakfast at Market Café, then head out for a scenic round of golf at Playa Mujeres Golf Course. In the afternoon, relax and stretch out beside one of the three infinity pools, sipping your favorite refreshing cocktail, or make your way to Secrets Spa by Pevonia to pamper yourself with a massage and beauty treatment. Enjoy a fascinating day tour to the nearby Mayan ruins of Tulum, Coba, or Xel-Ha, or discover Cancun's amazing diving with an excursion to the vibrant sites along the Mesoamerican Reef. In the evening visit the resort's Wine Cellar, or Enoteca, and enjoy a wonderful wine tasting event before the perfect dinner. Sit down to elegant Asian cuisine at Dragons Restaurant, or relax under the stars on the outdoor patio of Sea Salt Grill, listening to the waves rolling ashore and dreaming of your next amazing day at Secrets The Vine Cancun.
Location of Secrets The Vine Cancun
Secrets The Vine Cancun
Blvd. Kukulcán Km. 14.5, Lote. 38, Zona Hotelera
77500
Cancun, Mexico
Nearest Airport: CUN
Amenities for Secrets The Vine Cancun
General Information
495 Guest Rooms and Suites
Non-Smoking Property
Adults Only
Handicap Accessible Rooms
Dining
Poolside Dining
Outdoor Dining
Private Dining
24-Hour Room Service
Wine Cellar
Cafe
Piano Bar
7 Bars
Beach Wait Service
8 Restaurants
Pool Wait Service
Lounge
Oceanfront Dining
On-Site Amenities
Concierge
Spa on Property
Laundry Service
Library
Fitness Center
WiFi
Currency Exchange Service
Sauna
Live Entertainment
Gazebo
Boutique
Beach Access
Outdoor Whirlpool
Car Rental
Steam Room
Outdoor Spa Treatments
24-Hour Concierge
Infinity Pools
In-Room Amenities
Turndown Service
Air Conditioning
Direct Dial Telephones
Hair Dryers
In-Room Safes
Mini Bar
Satellite Television
iPod Docks
Iron/Ironing Boards
Flat-Screen Televisions
Luxury Linens
Luxury Bath Amenities
Bottled Water
Private Terraces
Activities
Deep Sea Fishing
Excursions
Wine Tasting
Scuba Diving
Snorkeling
Yoga
Beach Volleyball
Fitness Classes
Cultural Tours
Table Tennis
Bird Watching
Zip-Lining
Golf
Dance Lessons
Soccer
Water Sports Programs
Business
Meeting Rooms
Business Center
Conference Facilities
Nearby
Historic Sites
Shopping
Restaurants
Golf
Nightlife
Beaches
Monuments
Market
Interests
All Inclusive
Beach
Honeymoons & Romance
Spa & Wellness
Summer Getaways
Reviews for Secrets The Vine Cancun
---
I have stayed at palace resort hotels and the service and food quality is almost similar. Save your money and don't stay at this hotel because it's 5 star . Moon palace is really good with much more friendlier staff. We checked in this hotel which they claim is one of the best and 5 star hotels in the strip. From the beginning the lady at front desk ( Michelle) gave us hard time with a very bad attitude. My reservation was for a king bed which was confirmed. She pushed us to upgrade to a preferred room because no king bed was available in our room class. Then the rep in our floor ( George) who gave us a tour told us as preferred guests we have 2 pieces of laundry that are complementary per guest . At the check out date, they charged us for the Laundry charges!! Michelle and George completely denied what they have told us as perks for the upgraded room. I am Very upset with this experience and wont stay at any of the secret hotels. I recommend management to change Michelle from front desk as she is very unfriendly and has unwelcoming tone. This is not a way to greet guest and send them home. Also , can't believe managements led forced to pay for the dry cleaning service when they said it was included and didn't remove the charges!!!
Ssanii - Vancouver, Canada
---
It's a fantastic resort! I found the resort to have excellent service and the drinks to be fantastic. The pools are relaxing and the beach is accessible and gorgeous. I've been to a lot of high end places and this meets the mark in terms of service and shared facilities, hands down. I travel solo. On this trip, I spent a week North of Cancun at another five star inclusive resort before spending 5 days at Secrets. It's an interesting comparison. They are different experiences for sure. I was actually wanting to get the larger suite at Secrets but I hesitated to pay $900/night for it, that is excessive. I would have been more comfortable but the price-to-room ratio was way off. I pay for luxury, but not stupid money. The base room is nice though! It's a very modern euro style, if I were to name it. It made me think of an improved Aloft hotel, although I know that doesn't sound particularly flattering. (Be sure you get floor 20 or higher and facing North) For comparison. At the five star resort North of Cancun I had a full one bedroom suite, that was basically a 1000 sq ft apartment, with hammock on the balcony that was extremely nice for $1900/7 nights, all-inclusive for one person (add $500 per person). The experience at Secrets is much more of a city feel. You don't have any space really. It's all concrete, no grass, no walkways/paths. A city person wouldn't notice. But it is a compact resort. The guests at Secrets were much more younger than the other resort. A lot more eye candy for sure. Secrets had more diverse guests in terms of what countries people were from. You will get company events and retreats at Secrets with you. Being adult only, people did seem to engage more with each other than they did at the other resort which was more complete families together. Although, as someone who doesn't care for kids much I wasn't bothered by the families/kids. The other resort was so much larger in terms of space. You will get more of a Hawaii feel up North. The other resort had several restaurants as well and I found the menus to have a better variety and food to be a higher quality than Secrets. Secrets doesn't really score super high on the food. That was a shared sentiment. I ended up mostly ordering room service because that was the only menu that had something I wanted. If you don't eat seafood, you're screwed at Secrets. It's basically pasta and burgers for you. The gym at Secrets is super solid. The spa at Secrets is ludicrously expensive. Even for a resort. Although that seems to be an overall Cancun resort thing. I found other off resort options. I personally like to spend half the day sprawled out on the balcony in peace and to have a more traditional sitting space in the evening. So, if I come back I probably won't return to Secrets. Only because the price relative to the room. You get the same level of service at other five star places. If you don't leave the resort to walk to the bars/clubs, the location is pretty irrelevant. Even then, there are taxis. The beach is pretty nice up North. So. In summary. I was definitely more comfortable in terms of accommodations and food up North. But Secrets had moments where it was more fun. Stay at Secrets if you want to pay a premium to be around a younger crowd of vacationers. But, look outside the hotel zone if you are looking to be more comfortable and pay less.
---
We were there for our annual retreat with my company (approximately 90 people) and it was a great experience. The resort is awesome, premium alcohol, nice swimming pools, beach was also pretty cool and overall the food was extremely good, particularly for breakfast. The rooms were also exceptional, with all needed amenities. The only item that we felt was not acceptable, for such a resort was that some employees were not nice or pleasant with us. Being a big group and arriving at the bar, asking for a few drinks and having a bartender denying to serve some types of drinks or alcohol (when it is an all inclusive and we were a huge group here) is not acceptable nor worth of such an establishment. It was the only thing to reproach to the resort, but it happened at the bar a few times and I have never seen that in all the all-inclusive I have been to.
---
Well, let me just say that my husband and I felt that this was the best vacation we have ever had...together or separately! It was our first time in Cancun, and it won't be our last. We really liked that the resort is more compact and vertical rather than spread out. The food and drinks were excellent, but the staff was the best of all. Everyone had a smile and wonderful attitude. I wish I could remember everyone's name, but sadly I can't. I can offer a few names like Guillermo, Valeria, Hugo, and Norby from the entertainment staff. Itzel was an awesome server at poolside! Luis served us well also! Miguel was a great bellhop. I can't express enough how EVERY STAFF MEMBER excelled at their job!! Our only negative experience was the relentless sales pitch to become members of the Unlimited Vacation Club. We were told the presentation would be 90 mins tops with half of that time being breakfast. Well, we started at 9am and ended at 1pm. They were determined! We did ultimately become members, but not the really expensive package, so we feel pretty good about what we did buy. My husband wanted to dock them one star based on the hight pressure sell even though he loved the resort and the staff. Just not into high pressure sales. Other than that 1/2 day, we thoroughly LOVED the resort and our stay! Our room was awesome too! I think our stay there has spoiled us for other resorts. Even though taxes and tips are included in these all-inclusive resorts, the STAFF WORKS HARD AND DESERVES ADDITIONAL TIPS and we made sure we gave them. We really look forward to our next visit!
---
My new wife and I stayed here from the 10th to the 18th of April as the last stage of our honeymoon which has taken us to New York, Las Vegas and Houston. This was the first time I have stayed at a secrets resort and also the first time in Cancun but we will definitely be back again. The hotel is absolutely beautiful and we have stayed in a few "5 star" rated properties over the last few years but this was truly the only real 5 star resort I have stayed in. The resort is beautiful and I would highly recommend upgrading to the preferred club and also to a junior suite. We stayed in room 2711 which overlooks the pool areas, the ocean and the bay. What a beautiful view and balcony. Pools There are 3 pools in this resort but we spent everyday at the infinity preferred club pool on the 12th floor which was quieter. The staff at this pool especially the towel man couldn't do enough for you. The other pools looked livelier with plenty of activities but we preferred the quiet pool. Food The breakfast and lunch buffet in the Market Cafe area was very good with plenty of choice and the omelette and pancake stations at breakfast were brilliant. There are 6 a la carte restaurants in the hotel but we only went to the Asian which was good but nothing to shout about and the bluewater grill steak house which was absolutely brilliant and definitely 5 star. We went to the steakhouse 4 nights in a row and had an absolute gentleman of a waiter called Arturo who served us every night and knew our names and would always make a point of meeting us at the door even though he was extremely busy with other tables. On our last night when we arrived the host on the door said that she was glad we had come because Arturo was waiting for us and was thinking we had went somewhere else. We thought this was a nice touch but at the end of the meal Arturo gave us a selection of desserts which said he "hoped we has a nice trip back home and had our names on it". This was a fantastic touch and I want to thank Arturo for making our last night so special. He is a credit to the resort. He also order room service quite a lot and this was excellent. Bars The only criticism I have here is that every bar serves different drinks and only a few have a cocktail menu. This was ok for me as I drink gin (there are plenty of choices) but my wife likes a cocktail. Overall this resort is fantastic and I would recommend it to anyone. Thanks again for a great stay.
---