Please select your dates to see prices:
---
Rendezvous in Castries, Saint Lucia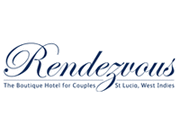 Rediscover life's pleasures—together, at Rendezvous resort in Saint Lucia. Set on a two-mile stretch of white sand beach with the clear, calm Caribbean Sea in the distance, Rendezvous is an all-inclusive, yet intimately romantic retreat unlike any other. A lazy river pool meanders gently through the resort creating small nooks and private hideaways in which to steal away, seven lush acres of surrounding tropical garden, and brand new spa offer endless opportunities to relax and reward yourselves with some well-earned pampering. At Rendezvous every level of luxury awaits with rooms, suites, and cottages individually designed to complement your dream vacation. Airy and bright, accommodations boast hardwood floors, comfortable furnishings, mahogany four-poster beds, and superior sleep comfort mattresses. Pristine bathrooms feature both shower and romantic claw-footed soaking tubs, and large vanity areas. Rendezvous is committed to offering unmatched experiences like the In Room retreat, which makes each room a unique sanctuary with personalized extras such as soft music, flower petals, and chocolate truffles upon request.
Rendezvous understands that great food is essential to any romantic escape, with four eateries that range from quick and casual at The Terrace Bar, with calming views of the water and sunrise snacks for early risers, to upscale and dreamy at The Trysting Place. Fine bone china, crystal, and damask linens set the scene while the flavorful menu—a fusion of tastes influenced by French and Caribbean flavors—delights every palate. At Rendezvous experience the joys of being together and reconnecting with activities designed specifically for couples including spa treatments, bike tours, sunset hikes and walks, and exciting mixology classes. Sporty couples hit the beach for cricket, volleyball, and water sports, or stay low-key with a dip in one of the resort's three sparkling pools, group yoga classes, and cleansing tai chi. Enjoy every moment together at Rendezvous, St. Lucia's premier couples resort made for just the two of you.
Location of Rendezvous
Rendezvous
Malabar Beach
Castries, Saint Lucia
Nearest Airport: SLU
Amenities for Rendezvous
General Information
100 Guest Rooms
Adults Only
Dining
Outdoor Dining
2 Restaurants
3 Bars
Swim-Up Bar
Piano Bar
On-Site Amenities
Concierge
Pool
Spa on Property
Library
Gift Shop
Fitness Center
Sauna
Tennis Courts
Gardens
Laundry Facilities
In-Room Amenities
Air Conditioning
CD Players
Direct Dial Telephones
Hair Dryers
In-Room Safes
Coffee & Tea Facilities
Activities
Bicycling
Hiking
Kayaking
Sailing
Tennis
Water Skiing
Windsurfing
Scuba Diving
Fitness Classes
Archery
Volleyball
Interests
All Inclusive
Beach
Honeymoons & Romance
Spa & Wellness
Summer Getaways
Reviews for Rendezvous
---
If you fancy the perfect honeymoon then here is the place to go. The rooms are beautiful especially by the pool, which also looks out over the sea. The food in all three restaurants is exceptional and high class for an all inclusive. The staff are so friendly, helpful and professional. The tours to the Pitons, rum tasting, whale watching and Hotel Chocolat/volcano/sunset cruise we will never forget. The beach is fabulous and hidden places to rest and enjoy your honeymoon were plentiful. What we didn't expect were the lovely other couples we met from all ages who were so friendly and welcoming. It will be one of the most memorable holidays we will ever have.
Lottiev - Farnham, United Kingdom
---
We have recently returned from our latest stay at Rendezvous over the Easter period. This was our 6th visit and yet again we had a great time. As you enter the resort you immediately get a feeling of calmness and relaxation. We were taken to reception and were met by the lovely Rhea who organised a welcome drink after the drive from the airport. It was lovely to be welcomed back by staff members that we had met on previous visits. There were to many to single out however special thanks to everyone that looked after us who ensured we had a wonderful holiday. There is plenty to do within the resort and the evening entertainment was very good. The champagne bar was a great place to start the evening with Gilbert keeping you entertained on the piano and sampling a special glass of bubbly during the nightly happy hour. The meals in all the restuarants was excellent and caters for all tastes. There was never any problems getting a sun lounger by the 2 pools or on the beach. The pool and beach staff also on hand to keep refreshing your drinks and it doesnt take them long to know your tipple. In our opinion the resort gets better. Thanks again for a great holiday and we will be back
Rudders66 - Hopeman, United Kingdom
---
We choose this hotel to host our wedding. It could not have been more perfect. Our day and entire stay was stress free all the way. We stayed in a beach front cottage which was wonderful. It's a little way along the path away from the main area, which is peaceful and with the added benefit of your own two loungers on the beach in front. There was a beach service of drinks and cold towels until 4:30pm. A big thanks to Gio and Lana for knowing our orders and always keeping us comfortable. An amazing buffet breakfast was served on the terrace overlooking the beach every morning until 10:30am. The service was incredible, I've never experience anything like before. Buffet lunch was served on the terrace from 11:30am until 2:30pm and the choice was excellent. Alternatively you could have a set menu lunch at the Malabar restaurant. Here you would take her shoes off to experience your toes in the sand. Lunch was served from 11:00am here and although there was no booking needed, you did have to put your name on a waiting list. We tried to get in here for lunch twice and failed. Dinner gave you a choice of three restaurants: the Malabar, the Trysting and the terrace. You had to book for everywhere but the terrace.we tried the Trusting and although it was an air conditioned room with no view, it was lovely. Dinner on the terrace alternated between buffet meals and set menus. They would often lay on special meals e.g. Caribbean cuisine, Indian food and fish. Afternoon snacks were set up at 4:30 pm on the terrace where you could grab a pastry or savoury snack. Alcoholic and non alcoholic drinks and cocktails were available throughout the day and you were never left wanting! There were a vast array of activities available throughout the day if you wanted to be more active. This included: walks to the lighthouse, bike rides into Castries, archery, steep pan lessons, mixology lessons, yoga, pilates, dance lessons and every kind of water sport. In the evenings entertainment included: African drumming, steel pans, cinema on the beach, casino tables, being serenaded by a sax player on the beach while sipping champagne and a fantastic performance by the Royal St Lucia Police Band. You could arrange unique experiences like breakfast in bed on the beach (yes they pull a four post or bed onto the beach and serve you) or private dining for two in the gazebo. Nothing was ever too much trouble. The spa was very nice, treatments like waxing, tinting and massage were very much on par with English prices. The facials were very expensive, I'd expect to come out looking twenty years younger for those prices! We choose to have our wedding on the beach. They only have one wedding per day so you are given undivided attention. I would highly recommend the hairdresser and make up artist as they know how to make you look good in those hot humid conditions. Hair drooping and make up sliding off your face is not a good look! If you want to make the wedding more personalised, have four songs in mind for ceremony. They will download them for you. Also I can not recommend highly enough the photography and filming of the ceremony. It's like watching a movie! A big thank you to Sandra and Tamara who organised a perfect day and make it look effortless. A five star isn't high enough for this resort and I can't wait to go back on our anniversary.
Laurie19327 - London, United Kingdom
---
We are reasonably seasoned travellers and our 10 night stay at Rendezvous was our most perfect holiday yet. There were many positives which other 5 star reviewers have already mentioned and we appreciated too. Both the management and every single member of staff make sure that you regularly feel welcome and appreciated for being guests . Anyone who has posted negative comments about the resort is really missing the point, we thought really hard and there was absolutely nothing to complain about. Simply put - an idyllic setting with fantastic staff. We took part in some of the activities which were all professionally delivered and sometimes with good banter e.g. pilates, yoga, aquarobics, volleyball, Hobie cat sailing and water skiing. There were plenty more which we passed on as we we either chilling or enjoying those above. Boy blue improved my Hobie sailing skills with on beach demonstration of wind dynamics across the sail and how to tack in high wind. We liked the rekindling philosophy and especially the turndown service. There were so many little thoughtful touches during our stay. The food was excellent in all three restaurants, A la carte choice was great and imposed portion control which we failed when we visited the Terrace buffet. The gardens are immaculately manicured. The botanical tour with explanation of the species and their local history was memorable . Plenty of guests were revisiting and we understand now why as it is so good. Without doubt - very highly recommended, we will be back. Sue & Nick
Rawhide_Allez - Reading, UK
---
We revisited Rendezvous to celebrate our 25th wedding anniversary as we were married here (Then Couples) it has changed and grown with extra restaurants Malabar WOW what fantastic food and service as well as the Trysting place which was so relaxing with great food and wine. We were spoilt by the hotel with regards to our anniversary with champagne in our room which was an amazing beachfront cottage right on the beach with beautiful sea views. The staff are a credit to the hotel and management everyone always said hello, were so polite and the ladies in the terrace restaurant can certainly sing so well, as they sang happy birthday to my wife whilst we were drinking bucks fizz at breakfast, thank you truly memorable. Sorry but cannot remember all the staffs names but a few did make our holiday so special and they were Harry in the Trysting Place such a gentleman, Glen who looked after us at the poolside with regular drinks and finally Denson what a lovely young man who will be a great asset to the company he is so friendly and full of charm but always remembered our names. To summarize this hotel and staff make this a truly relaxing and enjoyable holiday, if you have not been then don't hesitate book now. We will not leave it 25 years again we will see you again much sooner. Thanks again.
Andrew P - Spalding, United Kingdom
---