Please select your dates to see prices:
---
Rendezvous in Castries, Saint Lucia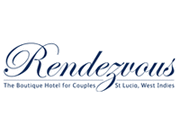 Rediscover life's pleasures—together, at Rendezvous resort in Saint Lucia. Set on a two-mile stretch of white sand beach with the clear, calm Caribbean Sea in the distance, Rendezvous is an all-inclusive, yet intimately romantic retreat unlike any other. A lazy river pool meanders gently through the resort creating small nooks and private hideaways in which to steal away, seven lush acres of surrounding tropical garden, and brand new spa offer endless opportunities to relax and reward yourselves with some well-earned pampering. At Rendezvous every level of luxury awaits with rooms, suites, and cottages individually designed to complement your dream vacation. Airy and bright, accommodations boast hardwood floors, comfortable furnishings, mahogany four-poster beds, and superior sleep comfort mattresses. Pristine bathrooms feature both shower and romantic claw-footed soaking tubs, and large vanity areas. Rendezvous is committed to offering unmatched experiences like the In Room retreat, which makes each room a unique sanctuary with personalized extras such as soft music, flower petals, and chocolate truffles upon request.
Rendezvous understands that great food is essential to any romantic escape, with four eateries that range from quick and casual at The Terrace Bar, with calming views of the water and sunrise snacks for early risers, to upscale and dreamy at The Trysting Place. Fine bone china, crystal, and damask linens set the scene while the flavorful menu—a fusion of tastes influenced by French and Caribbean flavors—delights every palate. At Rendezvous experience the joys of being together and reconnecting with activities designed specifically for couples including spa treatments, bike tours, sunset hikes and walks, and exciting mixology classes. Sporty couples hit the beach for cricket, volleyball, and water sports, or stay low-key with a dip in one of the resort's three sparkling pools, group yoga classes, and cleansing tai chi. Enjoy every moment together at Rendezvous, St. Lucia's premier couples resort made for just the two of you.
Location of Rendezvous
Rendezvous
Malabar Beach
Castries, Saint Lucia
Nearest Airport: SLU
Amenities for Rendezvous
General Information
100 Guest Rooms
Adults Only
Dining
Outdoor Dining
2 Restaurants
3 Bars
Swim-Up Bar
Piano Bar
On-Site Amenities
Concierge
Pool
Spa on Property
Library
Gift Shop
Fitness Center
Sauna
Tennis Courts
Gardens
Laundry Facilities
In-Room Amenities
Air Conditioning
CD Players
Direct Dial Telephones
Hair Dryers
In-Room Safes
Coffee & Tea Facilities
Activities
Bicycling
Hiking
Kayaking
Sailing
Tennis
Water Skiing
Windsurfing
Scuba Diving
Fitness Classes
Archery
Volleyball
Interests
All Inclusive
Beach
Honeymoons & Romance
Spa & Wellness
Summer Getaways
Reviews for Rendezvous
---
Firstly, if you're thinking of eloping to Saint Lucia then me and my husband can't recommed the rendezvous anymore. The resort is secluded, peaceful, the food, staff, activities, wedding team (Sandra) are amazing! We stayed in a luxury beachfront room on ground floor, room was great, I wish it had a bath but I know for most people that's not a problem. Each day we would stroll onto the beach and the lovely Geo would bring us mango lime and ginger and jug of water and we would only move to be fed or maybe partake in an activity (we tried yoga and archery which was great fun) We are in our 30s but admittily we like the peaceful life, therefore the low key entertainment each night (saxophonist on the beach, live Caribbean band, etc) was perfect but we were asleep by 11ish most nights so don't expect a late night party. We also enjoyed the carribean bbq! The food was amazing, we didn't really like the Trysting place as it was a bit formal for us but the food in Malabar was amazing, we ate there most lunch and dinner times. I want to mention a special thanks to Yanik for his attentiveness and shared passion for wine! Also to Joel and Tristan for looking after us on the Terrace restaurant and Michaela at the bar! But the best part of all was our wedding day, Sandra from the wedding team made EVERYTHING easy for us and made our dream wedding come true, from arranging the (amazing) makeup artist and hairdresser in the room, a separate room for my other half and even wine, champagne and snacks as we got married over lunch and would miss it. I explained the extras I wanted for the beach and she 'got it' straight away and it looked amazing! Also Ashley the photographer that some how made my husband feel at ease in front of the camera and we had such a giggle create some cheesy, romantic and funny pictures of our day! We also enjoyed the daily champagne tasting with Shaun the bar man, that was a great start to the night. And big thanks to Paula for her morning yoga as it really helped my bad back. I have read the previous review about the 'premium drinks'....yes, it would have been nice for a couple more wine and spirit options but with everything else being so amazing we didn't even notice! My only piece of advice is to book direct with hotel and not a virgin package, virgin were useless butthe hotel are spot on! See you all for our 20 year anniversary if not before!
sofiaalbohaithi - Manchester, United Kingdom
---
My husband and friends are halfway through our holiday here. First of all, this hotel deserves 5 star plus for almost everything about it. Beautiful, peaceful, WONDERFUL staff who deserve the topmost praise for their professionalism, attentiveness and friendliness. We are well travelled people who research a holiday to get the best out of what we want for our time away. We are always respectful of the different cultures we meet and though we are the paying customer, we respect the hard work that each and every member of the staff play in our day to day enjoyment. We just like to do our own thing, and enjoy what the hotel promises to offer on their website. Having said all that, one thing has happened that has made us upset and very angry. I like Bombay sapphire gin and a good tonic. It took a few days before i found out that they served this in the champagne bar. At the other 2 bars, it is Gordons, London dry or something called Takka. Once I knew they did have Bombay sapphire, I requested it at the Terrace bar, only to be told they don't stock it there, only in the champagne bar which does not open until 7. I love to watch the sunset from the terrace, sipping a 'good' G&T. I didnt think that was too much too ask. How wrong could I be. 4 times I, or one of my party spoke to Joseph, Food and Beveridge manager. He would not budge on my request insisting it was 'policy' not to serve Bombay Saphire anywhere other than the champagne bar. His manner was arrogant and condescending. Speaking to the 2 managers, Jasmine and Brenda on subsequent days, they assured me that the quality of the drinks should be the same which ever bar we chose and that they would sort it. Today, having spoken to Brenda earlier in the morning, I was just walking to lunch when Joseph stopped me in the dining room in front of other guests and staff and said I asked to speak to him. I said I had not asked as I had spoken to Brenda earlier. He then proceeded to lecture me on why I could not have the gin i wanted anywhere other than Champagne bar and he was like a school teacher lecturing a child as to why they couldn't have their own way. My husband joined me and together we pointed out that on the hotel website, it clearly says that premium drinks ar all inclusive and the bar tender will 'mix any drink you want'. Joseph just kept sayin "it is policy". We asked him to show us the policy but he kept hedging and being defensive. His customer service was abysmal and lowering. Everyone in the restaurant was aware of the exchange and some of the guests and the staff asked if we were ok. I would NEVER post a bad review on trip adviser unless I had brought it up with management first in order to give them a chance to sort it themselves. How hard can it be to grant one simple request, just to have the drink that I like. It has taken just 1 person to destroy this. Joseph food and beveridge manager.
chrisphil69 - Leicester, United Kingdom
---
Can't speak highly enough of this hotel and every single member of staff seemed to genuinely love working here! The food was outstanding & the champagne bar especially between 7-8 for the tasting is well worth a visit. Everything was perfect. We can't wait to come back here again!!!
---
We Arrived on the 30th March and stayed for two weeks, what a wonderful hotel,from the minute you check in you are treated with the highest of hospitality the staff are out of this world nothing is too much trouble for them, special mention to Densil and Guildford such hard working and very friendly lads, also Francis and Trista who greet you at breakfast, Lunch and Dinner such lovely ladies Our room was lovely and very clean the maid done an outstanding job The restaurants were also a high standard and the food was also great overall we had a great holiday and would recommended this hotel anyone
225Bradley - Newcastle upon Tyne, United Kingdom
---
absolutely brilliant hotel and staff. We got married and Sandra was just wonderful at arranging our day and listened to and delivered everything that we asked. It was perfect, a million times better than we expected. Our room (garden room) was fresh and clean, huge comfortable bed. The staff keep the room spotless, going in twice a day to straighten up/change towels. Bar, Beach and restaurant staff treat you as if you're the only person there. Very approachable and easy to talk to. The guys at waterspouts are good fun. The food at rendezvous is delicious. Best standard I've had at an all inclusive. The terrace restaurant provides a mixture of buffet and a la Carte. I had previously seen reviews saying about cats in the restaurants, there were two ginger ones when we were there that's all we saw in a two week stay. They are friendly but do not get on chairs/tables and they didn't really 'beg' for food. I think they just wanted to lay somewhere shaded! We booked with virgin and their rep came every morning, very friendly and knowledgeable. We did a couple of excursions with virgin and went out once on our own. The excursion was booked via the hotel rep, easy to do and a good day out (catamaran, mud bath, waterfall, plantation trip) The beach isn't private (apparently there are no private beaches in St Lucia) but locals do not come near the sun lounges or give you any hassle. There wasn't many people on the beach, the odd dog walker early evening. If you're looking for somewhere to be treated like royalty, good food and friendly staff this is the place for you. I couldn't recommend it enough and look forward to a return.
moozoe - Canterbury, United Kingdom
---