Please select your dates to see prices:
---
Rendezvous in Castries, Saint Lucia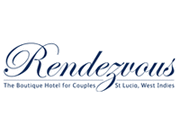 Rediscover life's pleasures—together, at Rendezvous resort in Saint Lucia. Set on a two-mile stretch of white sand beach with the clear, calm Caribbean Sea in the distance, Rendezvous is an all-inclusive, yet intimately romantic retreat unlike any other. A lazy river pool meanders gently through the resort creating small nooks and private hideaways in which to steal away, seven lush acres of surrounding tropical garden, and brand new spa offer endless opportunities to relax and reward yourselves with some well-earned pampering. At Rendezvous every level of luxury awaits with rooms, suites, and cottages individually designed to complement your dream vacation. Airy and bright, accommodations boast hardwood floors, comfortable furnishings, mahogany four-poster beds, and superior sleep comfort mattresses. Pristine bathrooms feature both shower and romantic claw-footed soaking tubs, and large vanity areas. Rendezvous is committed to offering unmatched experiences like the In Room retreat, which makes each room a unique sanctuary with personalized extras such as soft music, flower petals, and chocolate truffles upon request.
Rendezvous understands that great food is essential to any romantic escape, with four eateries that range from quick and casual at The Terrace Bar, with calming views of the water and sunrise snacks for early risers, to upscale and dreamy at The Trysting Place. Fine bone china, crystal, and damask linens set the scene while the flavorful menu—a fusion of tastes influenced by French and Caribbean flavors—delights every palate. At Rendezvous experience the joys of being together and reconnecting with activities designed specifically for couples including spa treatments, bike tours, sunset hikes and walks, and exciting mixology classes. Sporty couples hit the beach for cricket, volleyball, and water sports, or stay low-key with a dip in one of the resort's three sparkling pools, group yoga classes, and cleansing tai chi. Enjoy every moment together at Rendezvous, St. Lucia's premier couples resort made for just the two of you.
Location of Rendezvous
Rendezvous
Malabar Beach
Castries, Saint Lucia
Nearest Airport: SLU
Amenities for Rendezvous
General Information
100 Guest Rooms
Adults Only
Dining
Outdoor Dining
2 Restaurants
3 Bars
Swim-Up Bar
Piano Bar
On-Site Amenities
Concierge
Pool
Spa on Property
Library
Gift Shop
Fitness Center
Sauna
Tennis Courts
Gardens
Laundry Facilities
In-Room Amenities
Air Conditioning
CD Players
Direct Dial Telephones
Hair Dryers
In-Room Safes
Coffee & Tea Facilities
Activities
Bicycling
Hiking
Kayaking
Sailing
Tennis
Water Skiing
Windsurfing
Scuba Diving
Fitness Classes
Archery
Volleyball
Interests
All Inclusive
Beach
Honeymoons & Romance
Spa & Wellness
Summer Getaways
Reviews for Rendezvous
---
My wife and I stayed at the Rendezvous for a week having stayed in Barbados the week before. We found this to be a very comfortable "Couples Only" resort with excellent facilities close to the local airport and only a short walk away from the centre of Castries. Please note that the hotel is very convenient if you are flying into the local airport as it is just a few minutes drive to the hotel. However if arriving into the International airport at the south of the island the transfer time can be in excess of an hour. Despite the hotel's proximity to the local airport we were not at any time troubled by aircraft noise as the airport only caters for smaller inter-island aircraft. The resort covers a wide area so it never felt crowded. There are essentially two beaches with plenty of sunloungers as well as two pools and the "wading river" which can be an oasis of peace and quiet. There are three restaurants on the resort. The Terrace restaurant serves breakfast, lunch, afternoon tea and dinner with a mix of buffets and table d'hote menus with a good selection of food options available. For a more formal dining experience there is The Trysting Place which has more of a French feel. Finally there is the less formal Malabar beach restaurant which serves lunch and dinner overlooking the beach. The all-inclusive package has no restrictions on how many times you can eat in each restaurant. There are bars in the Terrace restaurant and a swim-up bar at the main pool. However drinks are available throughout the resort including on the beaches and elsewhere on the resort. I would particularly recommend the Caribbean Sizzle cocktail! We were allocated a ground floor Garden View room which was very comfortable and provided all of the facilities we needed for an enjoyable and relaxing week including our own small outside patio. Evening entertainment was a little uninspired, a week earlier we had been at the Sugar Bay Hotel in Barbados which was much better but at the end of a tiring day it was adequate. As the local tours and excursions were very expensive we opted instead to hire a car for two days to enable us to explore the island under our own steam and we particularly enjoyed Marigot Bay as well as our drive south to Soufriere, albeit along a very windy road. Unfortunately during our stay the hotel beaches had been inundated with seaweed on an unprecedented level which coupled with the strong winds limited our ability to swim in the sea during our stay. Our only criticism was that the check in process was somewhat disjointed. The hotel representative assigned to us became distracted on a number of occasions during the check in process by queries from other colleagues. However this was only mildly irritating and overall we had a most enjoyable week.
Robin S - Taunton, United Kingdom
---
We have just returned from our second visit here. This hotel is absolutely paradise. The people who moan about the beach location and staff need to get a life..... The beach is gorgeous yes if you walk to the left their is a cemetery but what a perfect place to be laid to rest. The right is unused buildings but this does not affect the tranquility as you don't really see them as you're looking out to sea. And as for calling the staff grumpy this outrages me we have never been to a hotel with more attentive and caring staff they know you're name after a few hours. This is the most perfect adult only hotel fantastic pools grounds and rooms. You could not wish for better staff. The food is amazing at all restaurants.The evening entertainment great especially the police band. We cannot find any fault and will definitely be returning for a 3rd visit. So please do not let petty negative reviews dissuade you from visiting here. I give this 5* on all aspects. Staff that were exceptional were Imran Guildford and Cato.
---
We're just back from 11 nights. The Rendezvous certainly lived up to its reputation for complete relaxation. Very friendly staff in the main, great food with a wide choice of 3 restaurants and buffet/bbq/table d'hote as well as 3 bars - and beach service for any beverage you choose. We tended to stay n the lovely beach during the day - quiet, good swimming, although the pol areas are lovely. You might need to choose the pool area where you want to sit carefully as some areas might be shaded as the sun moves. There was some yellow seaweed washed in one morning, but we saw all the gardeners busy removing it all and I had a friendly chat with a couple of them about where it came from (It's not a usual occurrence). The gardens are immaculate, the team work non-stop every day to maintain and the Botanic guided walk, learning about many of the plants, is worthwhile. The weather - like any destination - is the great unknown. We did have some rain, but the hotel does lay on a big range of activities - and its' not too much of a hardship reading a book under the sun umbrella on the beach in warm rain compared to the snow at home.. I loved the water sports and did my scuba dive, while my wife burned off some calories with swimming and aqua aerobics. Food is great, and plenty of choice. The 3 restaurants don't limit the number of visits you make, which really gives flexibility. We liked them all but eating barefoot on the beach in the Malibar on a warm evening is something special. Also open during the day for lunch, a real bonus. We never used the complimentary afternoon tea , but then again we tend to eat healthy and light and we were very happy. Libby knows her stuff in the Terrace if you enjoy top quality wines, and Sean in the Champagne Bar is a star. The Trysting Room is a fantastic evening experience. Denson kept us topped up with drinks on the beach and all staff are clearly trained to a high level. Our Garden Room had a great balcony, with very modern and clean inside with the huge bed that features in America/Caribbean. We also did the evening Champagne sunset cruise for 2 - many thanks to Byron and Sean on the speedboat!! Would we go back? Definitely. Hope to see you soon.
Macfromscotland - Edinburgh, United Kingdom
---
We stayed here for 10 days and wish we had booked 14 now! We chose Rendezvous as we don't like large resorts and we definitely made the right choice. The room (we had the basic) was a great size, very clean and had a large comfy bed, didn't need to upgrade at all. The 3 restaurants all have different vibes, we liked the Malabar Beach Bar best but also loved the other two as well. A great variety and selection of fresh food...never got bored! Went to the Champagne Bar every night, loved sampling the different varieties and listen to Sean describe each one. The resort itself is set in lush gardens and is teeming with bird life, everywhere is really clean and well kept, our favourite place was sunbathing next to the lazy river, it felt like our own private area as not many people found it. The staff here are all fantastic, so friendly and always ready to help. A special mention goes to Pauline the activities lady as she is hilarious but also runs great classes, which we attended on average 3 a day! Libby the Sommelier who certainly knows her stuff! We did the wine tasting both the inclusive and off inclusive sessions and learnt lots- she makes the tasting interesting and we could have listened to her all night. Lastly Chantelle who arranged the tours for us and accompanied us on one before being taken ill, so friendly and helpful and always smiling. But too be honest every member of staff knew our names after a couple of days and remembered what we liked etc.....the staff here simply make the resort. We are in our early 40s and were one of the youngest couples, we loved the atmosphere as it was so chilled but if you are wanting lively party style atmosphere this is definitely not for you. We are already looking at prices for next year......highly recommend!
---
Disappointing beach, sandwiched between a graveyard and disused buildings. This beach area is not maintained by the hotel. Noise from airport next door, emergency vehicles and motor bikes on road. Effluent smells around the hotel grounds. Rough sea.
---