---
Sandals Halcyon Beach in Castries, Saint Lucia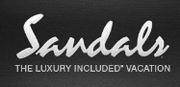 Ada
pted For Physically Challenged, Pricing, Access To Other Nearby Sandals Properties. Sandals Halcyon fits perfectly into the stunning Caribbean setting, providing a calm, tropical vacation like no other. The beachfront honeymoon butler suite is now available.
Location of Sandals Halcyon Beach
Sandals Halcyon Beach
Choc Bay
P.O. Box GM 910
Castries, Saint Lucia
Nearest Airport: UVF/SLU
Amenities for Sandals Halcyon Beach
Interests
All Inclusive
Beach
Holiday
Honeymoons & Romance
Reviews for Sandals Halcyon Beach
---
WE are so glad to have made the right choice in choosing HALCYON for our special day From the moment we arrived the whole team made it so memorable !!! HALCYON managers NEVER let Shandulla your wedding co-ordinator go and Dilon her assistant !!!! both amazing and supportive and made our day full of fantastic memories Our room was kept perfect by our attendant Kellys made our wedding meal unique and personal Hair / bridal attendant kept me calm Joseph the multi tasker always on hand to give support Our wedding service in the gazebo was all we could wish for and more So we thank the whole resort team for giving us wonderful memories Xx Peaceful even with a bit of occasional traffic noise Food amazing so glad we chose HALCYON Beach Resort Sheena and Garry Byrne
sbyrne2018 - Southampton, United Kingdom
---
Having been to a number of Caribbean hotels over the years we thought we would try Sandals as there was a very good offer on. We were really looking forward to our relaxing holiday arriving 1st March which was my birthday. The holiday did not start off well as we were sat on the tarmac for 4hrs at Gatwick so by the time we got to the hotel we were tired and just wanted to get to our room. Check in was done on an iPad whilst sat in reception drinking sparkling wine. The rain was coming down so there was a little delay in taking us to our room but when we got there the room was a nice size and looked very pleasant. We then went to get some food, 1of the other guests that was on our mini bus said the main restaurant was not doing food anymore so we were to eat at the bistro. It was about 10pm at this time and we were told the chef was opening early for us. We later found out from the manager that this is supposed to open at 9.30pm so you can always get food at sandals irrelevant of the time of day. The holiday started off well apart from finding out that to get a bed round the quiet pool with a sun shade, you needed to put towels on beds before 7in the morning so not as relaxing as I was hoping for. Part way through our holiday we discovered a leak in our bathroom. My husband called maintenance and they came out and fixed it straight away. We had some other issues with our room which we eventually spoke to the manager about. He was very courteous and apologetic and we were happy happy with the outcome. The staff are great. Very friendly if you are nice to them. We do find that certain guests just treat staff as 2nd class citizens so of course the staff are going to take offence and not be as friendly to them. The grounds are lovely. The things that let this down for us as a luxury holiday were: Reservation of sun beds Traffic noise around quiet pool from main road Quality of sun beds round quiet pool and not enough shades Only 1 buffet night during the week all restaurants are a la carte No quiet bar to have a drink in the evening Slowness of getting drinks with meals We have been told by the manager that there are going to be improvements over the year so we are going to see if these have been made and if they have we will try the hotel again. I could go into loads more details but would only be repeating what others have said
HandSi34 - Northampton, United Kingdom
---
Summary: it is the 4th Sandals resort we have visited and we have never experienced less than a 5 star rating. Had this been my first visit I would never return to Sandals again!!! Arriving: Apart from a 2 hrs 40 min drive from the airport we were then asked to complete a detailed check in on an iPad providing information already completed on line. Why? 4 couples, complete with luggage loaded randomly on a hand cart, then had to follow the porter to different locations on site. At each stop he would carry the case for that couple to the room, sometimes up a flight of stairs, and provide an inadequate induction to room services. Guests merely stood and waited. For our room the safe did not work and nor did the telephone so we had to walk back to reception. The room: less than 30 meters from the busiest highway in St Lucia much like a motorway service station). Loud music from passing cars in the middle of the night. Hideaway in the Sandals dictionary means as far as possible from services and poolside means within walking distance but you can't see it. Site facilities: It is important to understand the sun bed system; standard practice is the towels are put on 2 sets of bed, one for morning sun the second for the afternoon. If this is not done before 8 am forget it. At 14.45 I counted 57 poolside beds of which 5 were occupied; (Antigua has a 3 hr limit on unoccupied beds before towel removal). The site has been overdeveloped maximising rooms at the expense of facilities and gardens. Beach very narrow and at high tide there is no space. Bars are understaffed and the quality of staff was poor. Duties such as washing glasses, filing ice machines, topping up shelves, etc. took priority over serving guests. Restaurants: Not up to Sandals standards, food mediocre and the top restaurant was in a dark almost window less room. The Management: On arrival I was unhappy with the room and asked to see the Manager. I was told that I would be contacted the next morning. 3 days later I was still chasing. At the end of the holiday we realised that no requests is refused but nothing happens. There was no evidence of any real supervision on the site
TravellerG2171TI - Henley-on-Thames, United Kingdom
---
My wife and I decided to go into town to do some shopping and sightseeing while we were visiting St.Lucia. We took just enough money to buy a few things and left the rest of our money back in our room in my luggage. I decided to hide the money in my luggage because I had a bad experience using a safe during a vacation to Mexico. I locked money in the safe and it was broken into. Some of our money and a few personal belongings were stolen so I was skeptical of using the safe again. This time I decided to hide the money in my hat bag and then I put that inside of my luggage. The next morning I went into my bag to get money because we were going on an excursion and, it was gone, every dollar I had. We went to the front desk to inform them of what happened. They sent security over to check the room and go through our belongings to "make sure we didn't misplace it" after they did that twice, they informed us that they could check the key scanner on the door to know exactly who was in our room. We gave them specific details about the time frame in which it had to have happened. The next day we were told that 3 people had been in our room between the time the money was last seen and when we noticed it was missing and that they had contacted the police and a full investigation was going to be conducted. In the same breath the head of security also said that Sandals is not responsible for anything outside of the safe but if they find reason to believe that it might have happened they would take further measures. We understand that it wasn't in the safe but, one of their employees rifled through our things and stole our money. Sandals is responsible for their employees right? Needless to say, nothing came out of the investigation and they said it was my fault. Yes, it's my fault your staff went through my personal belongings and took every dollar I had. And yes it's my fault that I had to spend the last two nights on the resort not able to do anything because I didn't have the means to do so. Needless to say we tried to make the best out of our situation. I just wish they would've been more professional and handled this better. There is no such thing as a coincidence. My money went missing and THREE people were in my room. How would we have known people were in our room if we were gone??
mikey062 - Monessen, Pennsylvania
---
First the hotel. If you want a nice relaxing pool holiday then you wont be disappointed. The room was fine, the food was good. The staff in Kellys Dockside and Marios are outstanding. The gardens and pools a delight. We had a great round of golf at Le Toc BUT the shuttle is few and far between at some times of the day so we had to take a taxi. That's the good bits... the truth is otherwise its expensive for an average hotel. The big let down is the water sports. My party of 6 were my crew from my last sailing cruise in the BVI. I have been a canoe instructor and a water safety officer in the forces and we love to snorkel and we were looking forward to having fun with small boats, paddle boards etc. Day 1 we trot off to the water sports centre and enquire about the snorkelling. They informed us that the snorkelling at the beach was poor just a sandy bottom but for $75 each they would take us in the motor boat for a snorkelling trip from 4pm to 6 pm. So much for all inclusive... nothing else to pay. After we protested we were told we could book up for the snorkelling excursion which was inclusive.... Yes please..... The next day the phone rang saying we now could not go in the morning as they had to many divers but we could go in the afternoon. We waited for the shuttle and took the 15 min ride to the dive center where we were loaded on a superb dive boat with a dive group. Round the bay to a very poor snorkelling site and called back out after 20 mins. Bit of a waste of an expensive holiday day. Back to the water sports centre at the hotel to voice our displeasure to be offered a nice excursion to a good snorkelling spot for $75 each. My blood pressure was not good. Other people have commented on red flags curtailing water sports. If it isn't like a mill pond the red flags go up. We managed 2 mini sails in 2 weeks. There is 1 paddle board for the whole hotel....its a tight squeeze. True you can use the other Sandals facilities Le Toc and the Grande are well worth visiting but..... 1. The shuttle service is not adequate 2. When you arrive you will not be able to find a sunbed 3 You cant book so its first come first served. Just don't think about paddle boarding.... Another good point is that you can book on the beach for a good trip up to good snorkelling, the volcano for a mud bath and a good power boat trip which lasts a whole da. Hotel good. Watersports provision absolute disaster. Much better elsewhere for less money. They were good once.....shame. Won't go back ever.
---