---
Sandals Regency La Toc in Castries, Saint Lucia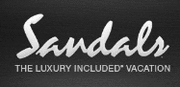 Gol
f Course, Extravagant Room Options, 27 Dining Options. Sandals Regency La Toc stands apart given the luxurious accommodations. Extravagant rooms, golf course, and delicious dining options make La Toc the perfect luxury resort.
Location of Sandals Regency La Toc
Sandals Regency La Toc
La Toc Road
Castries, Saint Lucia
Nearest Airport: UVF/SLU
Amenities for Sandals Regency La Toc
Interests
All Inclusive
Beach
Honeymoons & Romance
Hotels
Reviews for Sandals Regency La Toc
---
We were there for 10 nights, didn't have a butler and in all honesty didn't feel that we lost out on anything. We stayed in the emerald honeymoon room in the building behind the main reception. We were on the 4th floor and had a balcony with a table and chairs and 2 sun beds. View was fantastic and we really enjoyed watching the cruise ships coming and going each day. All staff are great but special mention to Curticia who was ever so friendly and really looked after us whilst we spent our days at the middle, quiet pool at the Pitons restaurant. We tried all 3 pools and this one was our favourite spot. Curticia has only been working at Sandals for 2 weeks but we felt that it seemed that she had been there for a while as she has a great personality and really loves her job. It shows! We were able to book into all the restaurants that we wanted to (in fact we managed to book into La Toc twice). We enjoyed all the resaturants but our favourite was The Pitons. Food was good, not exactly gourmet but above average. Really enjoyed everything we had. Agnes at breakfast is so positive every morning with her warm greetings for the day ahead - and her omelettes are the best. Other stand out guys during our stay John at the Cricketers and Dudley at the bar by Neptunes, but in all honesty everyone is great. We did the stay at one and play at 3, visiting Halcyon for a meal at Kelly's and we went to the Grand for the day and loved the beach and had a meal at Gordon's. Absolutely loved the pancakes at Josephine's at the Grand. Met lovely fellow travellers and had great chats with them (it was funny how we all seemed to be on the same shuttle buses on our trips out of the resort with no planning). In summary fantastic time away and would love to return one day.
top-traveller123 - South Wales
---
Our first Sandals experience and it was a home run. La Toc is one of 3 Sandals on Saint Lucia and, from what we could see, by far the best (you can use each resort on a daily basis when staying at one). The setting is on a north westerly cove so sunsets are amazing every night. Our room was ocean front with a balcony and had a view of the whole cove. The room itself was spacious, comfortable and spotless (maid service every day and turn down service every night). Food was fresh, plentiful and very well prepared. Liquor is top shelf at the bars and, of course, all you can handle. And the service was amazing. No matter who you're around, they are friendly and always ready to help. If you happen to ask a question someone didn't know the answer to, you were not left in the dust, the person with the answer was found immediately. We will go back to a Sandals, but not this island. Saint Lucia, for a lush Caribbean island, is a pit. Roads are horrible, trash everywhere and the capital city of Castries is like being dropped into a Mad Max movie. Don't make the mistake of going there for the "spectacular spice and crafts market". We did and went back to the resort within 35 minutes. You know you're in trouble when there are signs posted that reminds the populous not to urinate in the streets.
cutter634 - Orange County, CA
---
This was the MOST AMAZING trip. We had the most amazing butlers ever. Just amazing. We celebrated our 25th wedding anniversary and it was incredible. I can't wait to go back, we will be going back for our 30th anniversary for sure.
BSoden - Horatio, Arkansas
---
We just spent our honeymoon in a hideaway at Regency La Toc. If it were not for our honeymoon, we might have skipped the butler service. Do NOT skip the opportunity for such an incredible experience. From the moment we arrived, we were treated with the utmost graciousness and friendly service from Combie and Lola, specifically, and from the entire staff and team here at La Toc. During our time we took advantage of the spa services, travel adventures - we HIGHLY recommend a private excursion - our guide crafted a day that was perfectly suited for us. Be sure to book through the hotel and not from the vendors on the beach. Our experience was incredible while we heard from other guests who booked through outside parties that they had a less pleasant experience. If you are allergic to cats - this is not the place for you. The cats are plentiful on the resort and while they didn't really bother us too much they are noticeable and would be uncomfortable for those with a fear or allergy. Other than that, there is nothing we can say short of praise for this special and once in a lifetime (so far) vacation we just had. We travelled to another Sandals resort during our time - the Grande. While it was a great place to visit, we are so glad we chose La Toc. For the rolling hills and the spread out nature of the resort, this was a perfect quiet setting or us. If you prefer a more rowdy, party-like atmosphere, and perhaps a flatter terrain, the Grande would be a perfect choice. We cannot say enough good things about the hospitality and service here. We also cannot say enough about how incredible the butler service was. We are people who work very hard in our day to day life and the luxury of this vacation was on such a different level of relaxation because of our decision to take advantage of this service. If you come to La Toc, request Combie, Lola and Tyla - a truly incredible team of people who care so much about their guests and ensuring they have ANYTHING they need to make the experience as enjoyable as possible.
jessygross - Baltimore, Maryland
---
This was our first visit to Sandals La Toc, or indeed any Sandals. We absolutely loved it. We were collected at the airport in a car driven by Frederick who was a most knowledgeable guy and made the long journey enjoyable. Our Butler suite was room 883 and faced the ocean, had been modernised and was amazing. We found the staff at La Toc amazingly friendly regardless of what they did. Our assigned Butler(s) were Skyler and Roger. Roger was ok but was in your face too much and wanted to plan your day but sometimes he didn't always follow through. On the other hand Skyler was amazing and we wish we could have taken her home! She did all the thoughtful things like having a hot tub ready on your return, lovely messages written in petals and palm leaves and arranging good times for dinner. Of the restaurants at La Toc our favourite was Pitons, the staff, food and Manager Charmene (?) was so attentive. Armandos was very good also and we tended to do breakfast there. Our least favourite was La Toc French Rest. which was so hyped up but failed to deliver. The tannoy music was ill chosen and so loud that conversation was inhibited and the food was mediocre compared to Pitons - personally I wouldn't bother with it. The food in the self service Pavilion was good but not anywhere as good as the same restaurant at Sandals Halcyon. The constant annoyance of birds was bad and we even saw them walking amongst the meat displays eating food! The beach at La Toc is amazing and much better than the other Sandals resorts. Th entertainment was top notch especially Shervon Sealy the Country & Western singer. The only reason that we did not award more marks was the resort, in our view, was looking tired and needed a facelift. Finally a word on the Club Concierge staff - Mary, Toni, Rod and Mervyn were so helpful and welcoming. However the real star was Marcus M. he was amazing and kept us so amused and entertained as well as doubling as a relief Butler. Just remember that all his time estimates are 45 minutes! Sandals management would do well to promote him to Butler status full time.
catmum67 - London, England
---