Please select your dates to see prices:
---
Windjammer Landing Villa Beach Resort in Castries, Saint Lucia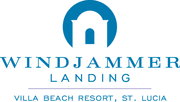 The superb Windjammer Landing Villa Beach Resort on the Caribbean island of Saint Lucia evokes the atmosphere of an exotic Mediterranean-style village, coupled with all the services and amenities needed to impress the most seasoned of travelers. Noted Caribbean architect Ian Morrison is responsible for designing the sprawling 55-acre resort, which fronts a private crescent-shaped beach, featuring a collection of whitewashed villas, many boasting their own private plunge pools. Discover common appointments of fully-equipped kitchens, bedrooms with ocean views, rattan furnishings and elegant open floor plans.
This lush West Indies resort features an abundance of recreation, including water activities such as a PADI-certified scuba diving, water skiing, windsurfing, snorkeling and sailing. As a guest you can feel free to indulge yourself in the resort's sublime Serenity Spa, enjoy a tropical massage on the beach or even in the privacy of your own villa. Windjammer's all-inclusive program features unlimited ŕ la carte dining and top shelf premium beverages. It runs the gamut from casual to elegant, with five restaurants for you to choose from. You will also find lighted tennis courts, nearby golf, daily activity classes and the Jacquot Fun Club for children—one of several services that make Windjammer Landing an exceptionally family-friendly resort.
Location of Windjammer Landing Villa Beach Resort
Windjammer Landing Villa Beach Resort
Labrelotte Bay
Castries, Saint Lucia
Nearest Airport: SLU
Amenities for Windjammer Landing Villa Beach Resort
General Information
256 Guest Rooms
Dining
Bar
Room Service
5 Restaurants
On-Site Amenities
On-Site Car Rental
Shuttle Service
Spa on Property
Laundry Service
Fitness Center
Live Entertainment
Multilingual Staff
Tennis Courts
24-Hour Front Desk
In-Room Amenities
Air Conditioning
Ceiling Fans
DVD Players
Hair Dryers
In-Room Safes
Satellite Television
Fully-Equipped Kitchen
Coffee & Tea Facilities
Private Pools
Activities
Excursions
Kayaking
Sailing
Tennis
Water Skiing
Windsurfing
Scuba Diving
Snorkeling
Fitness Classes
Family
Children's Programs
Babysitting
Kids Pool
Kids Club
Teen Club
Playground
Children's Menus
Nearby
Shopping
Beach
Golf
Interests
All Inclusive
Beach
Family
Kids' Club
Spring Break
Summer Getaways
Reviews for Windjammer Landing Villa Beach Resort
---
We booked a premium double room with limited sea view, a roof terrace and a Juliet balcony. The room had good views but looked over the staff entrance but then towards the sea. The room was a bit rustic (a fellow guest said a bit like the Flintstones house) and one of the double windows was broken and difficult to open. I raised this on the first day and was only asked on check out if anything had been done. (it hadn't). There was also an open stairway to the room below (the door was at the bottom of the steps) which could have been a bit dangerous. That aside the bed was comfortable, the shower, safe and a/c worked fine and the room was spacious. (another guest had problems with the safe that took for ever to sort out and in fact was not resolved by the time they left). The room was regularly cleaned and fresh linen etc. supplied. One point to raise is that although St Lucia works on 220v and UK sockets this room had only 110 volts and American style sockets but on request the hotel supplied an adaptor. It should be noted that this resort is primarily a villa resort and the impression I got was that the villas are much classier than the single rooms. We did get some badgering for time share sales but nothing too serious. The hotel had 5 restaurants but not all were open every night and some needed booking. Generally food was good particularly the Upper Deck. Steaks were excellent and fresh fish of the day very good. Twice a week there were buffet theme evenings, one a fish barbeque and the other a Caribbean night. One minor annoyance was that as not all guests are all inclusive (a lot of Americans and Canadians were board only) all items ordered whether a drink or a bottle of water or a meal had to be signed for and booked to the room. So the ease of just wandering to a bar to order drinks was slowed down by the need for a bill to be prepared and signed for. The beach was pleasant but quite small and a bit rocky/seaweedy in places. Sun beds were aplenty but a bit lacking in shade. Quite a few birds used the shade there was as places to sit and so one had to be careful of falling droppings. Another annoyance was the male beach toilet was out of action for just about the entire two weeks we were at the resort. When I raised the issue a member of staff said the maintenance team were too busy with the villas to repair the toilet although it did eventully get fixed two days before we left. There as no real entertainment at the resort except for some music and on one night a limbo dancer.with fire eaters. Consequently by 21.00hrs most people had returned to their rooms. Perhaps the fact that there were quite a few families present with young children also contributed to the early nights. The hotel had facilities to arrange trips but we tended to use Exodus who had a beach pitch for no other reason than they were where we spent most of our time. The hotel arranged taxis but fares were expensive. To Casteries (capital of St Lucia) it was EC$67 from the hotel but only a negotiated EC$30 back. This was our first trip to the Carribbean (for my wife's special birthday) and perhaps expectations were too high based on how much it cost. After all the room was spacious, the important things worked, the food was generally good and the people were generally friendly. In my view it was just missing a bit of the magic I was expecting of a top rated resort.
Alan_Paige - Caterham, United Kingdom
---
Our room was tired but had spectacular views. We had some maintenance problems which on the whole were remedied promptly. Our room was close to the gated entrance to the hotel. This meant that when all the staff arrived for work in the morning they talked loudly and cheerfully which woke us up! Upside was that it was a short but steep walk up from the main hotel but only a short walk to Papa Don' s where there was a quiet pool, restaurant and bar which served good Italian style food. The tropical gardens around the hotel were immaculately kept . The filletmignon in the Upper Deck restaurant was excellent and I ate it on two successive nights! We preferred this restaurant but liked to sit as high up as possible when there was live entertainment as it was much quieter . The scuba diving was expensive but competently organised. The hotel offered us golf at $175US each but we booked for half that on line! (The course was disappointing but Sandals have just bought it and plan to do a very necessary upgrade.) We had strong winds and seaweed which limited our swimming in the ocean. The beach although narrow, had plenty of loungers and umbrellas /palm trees for sunbathing. The onsite shop sold all the basics for self catering but was very expensive. The majority of the staff were friendly and helpful but some less so.
Elisabeth H - Bristol, United Kingdom
---
CONS Way over priced. 25 dollar deposit per towel. 10% "Service fee" for everything. Breakfast and lunch will cost you 100 US minimum. All drinks are $8 minimum. For a family of 3 for 10 days our bill was 2500 US. For an extra 500 we could have went "all inclusive. Must be physically fit. Villas are on the side of a mountain. Very steep steps, and you will probably need to take a shuttle to and from the room if you are older. Staff is not very friendly. As SAC626 said they will talk to you if spoken too but thats it. Don't expect a fast dining at some of the restaurants, you will be waiting as they are in no hurry to serve you. The water sport people didn't even flinch when two of the girls in our party were having problems. Also there are no life guards... anywhere. Rooms have bugs. Although our room(1 bedroom villa) had windows, our friends had a 2 bedroom with a pool. Only curtains on the windows. Both kids and adults had bug bites. There are also several wild cats running around but you get that at most Caribbean islands Beach was mostly coral. There was a only one area that had a sandy part that you could go up to your head in. The part that they show that has the hammocks would require water shoes to get to. PROS Food was above average. The fish(Tuna, Mai Mai, etc.) was delicious. Drinks were mostly name brand with top shelf items as well. The rooms were very peaceful to sit out in the morning or evening. You never have to fight for a chair. There are plenty of chairs at the pools and the beach with palapa. Spa was fantastic. My wife and I got a massage and the facility and service were excellent. Snorkeling was okay right at the resort. Non resort comments Do the boat tour to the pitons with the mud bath, natural waterfall, and lunch. The street party was fun but don't recommend bringing kids
---
We have just returned from a fabulous 9 night stay at Windjammer Landings. We received the best and friendliest service that we've ever received in the Caribbean. It all started with an upgrade to a 1 bedroomed villa - room 122 - 150 steps rewarded with fabulous views! There is lots to do from a lovely gym to a variety of daytime activities and the fantastic water sports team. Stanley and Adioniah were always happy to help my husband with his sailing and water-skiing adventures. The choice of food and drinks are endless, and Nona in the Beach Bar makes fabulous cocktails from 11.00 to sunset. All of the restaurants are great - our favourite was Upper Deck with amazing steak and fish. We also liked Papa Dons and June Edwards was the Queen of customer service. This is definitely a 5 start resort and we can't wait to return!
---
We paid top dollar as we are a family of 5, opting for a 2 bedroom villa with kitchen and pool. The accommodations are good and spread over 3 floors. The view was breathtaking and we enjoyed every angle. The cleanliness is "ok." We had a constant steam of ants and mosquitos anywhere and everywhere. It's the tropics so bugs are to be expected but resort has to fog daily, not every 3-4 days, and offer more options for pest control in each room. Non motorized water sports are included which is great. Staff aren't overtly friendly but respond politely when spoken to. Expect to be gauged in every other way - $10US for an ice cream cone, an average of $200US for meals on property and $10 round trip per person to get to Rodney Bay...which was lack-lustre and nowhere near other small Caribbean ports or towns. Our trip went well and we enjoyed our stay overall....because we wanted a great villa, cook some meals and have privacy. We went over March Break and were pleasantly surprised that it wasn't crowded. Windjammer has work to do to rate itself 5-star...we would say it is 3.5-4 right now.
---