Please select your dates to see prices:
---
Secrets Aura Cozumel in Cozumel, Mexico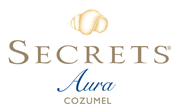 A brand new beacon of luxury, Secrets Aura Cozumel is a slice of beachfront heaven. Located on the island of Cozumel, just 12 miles off the coast from Playa del Carmen, this magnificent resort hosts guests with its signature Unlimited-Luxury® approach. Gourmet dining, top-notch entertainment, endless drinks, and pool & beach wait service are all included - so leave your cares at home and truly unwind. Each of the 168 suites is a stylish haven with the best in amenities. The cool and contemporary décor will have you at ease from the moment you step into your space, which includes a private terrace or balcony, daily refreshed mini bar, satellite television, and complimentary Internet access. Relish in views of the surrounding ocean, or take advantage of the waters right at your door with Secrets Aura Cozumel's unique swim-up suites. Whether your goal is complete serenity, or full-throttled fun, this dynamic resort is an ideal place to stay and play.
Indulge your senses at Secrets Spa by Pevonia, a world-class sanctuary and the largest full-service spa on the island of Cozumel. A variety of treatments - from hydrotherapy to indigenous-inspired massage - are offered in state-of-the-art facilities, including a well-equipped fitness center. Each day, the resort hosts activities to make the most of your time and place, so start off with some snorkeling, grab a game of tennis, or head out on the water with a sea kayak or Hobie cat sailing boat. A set of gorgeous freeform swimming pools create an idyllic retreat area, including waterslides, whirlpools, swim-up bars, and a lazy river. Nearby, golf at Cozumel Country Club, shop downtown San Miguel, or visit one of two national parks in the area. Scuba diving is a highlight here, and Secrets Aura Cozumel has you set and ready to go on underwater adventures that explore the second largest coastal reef system in the world. Through all your pleasure and fun, five restaurants and three lounges provide gourmet dining with a breezy oceanfront atmosphere, and options continue off-site with the Sip, Savor & See Dining Experience where you can enjoy dinner and live entertainment at nearby participating resorts as well. Everything you need is here, and everything you want is Secrets Aura Cozumel.
Location of Secrets Aura Cozumel
Secrets Aura Cozumel
Carretera Costera Sur KM. 12.9
77600
Cozumel, Mexico
Nearest Airport: CZM
Amenities for Secrets Aura Cozumel
General Information
87 Suites
Adults Only
Dining
2 Restaurants
3 Bars
Room Service
On-Site Amenities
Concierge
Pool
Spa on Property
Fitness Center
Currency Exchange Service
Boutique
Lazy River
Car Rental
Lap Pools
Complimentary WiFi
In-Room Amenities
Turndown Service
Air Conditioning
Direct Dial Telephones
Hair Dryers
In-Room Safes
Mini Bar
Satellite Television
iPod Docks
Iron/Ironing Boards
Marble Bathrooms
Flat-Screen Televisions
Luxury Linens
Coffee & Tea Facilities
Luxury Bath Amenities
Mini Refrigerators
Private Terraces
Bathrobes & Slippers
Activities
Fishing
Kayaking
Sailing
Scuba Diving
Snorkeling
Business
Business Center/Services
Nearby
Historic Sites
Shopping
Restaurants
Golf
Interests
Active & Adventure
All Inclusive
Beach
Honeymoons & Romance
Summer Getaways
Reviews for Secrets Aura Cozumel
---
We stayed at Secrets Aura Cozumel from April 14th to the 21st and our experience was amazing. I have not one complaint. Our room, 823 Preferred Club Tropical View, was clean, modern, and well appointed. We had a three room suite: bath, sitting, and bedroom. The bath was very clean and modern with a HUGE tub and rainfall shower. Many other reviews mention a lack of hot water but that was not the case for us as we had hot water at all times of the day. We had all the toiletries that you could need, sun block included. Our room was cleaned and restocked daily by Elizabeth. The mini bar was restacked daily and the turn down service each night was nice as well. The beach and pools were excellent. We had a storm Sunday which brought in a LOT of Sargasum, but the maintenance crew did a great job of clearing the beach several times a day. Pool/beach service was AMAZING. Eugenia and Zitlaly were so nice and always checking to make sure we didn't need anything. I can say that our cups were NEVER empty. The bartenders were always friendly and made the best drinks, try their mojito. Milly was the Preferred Pool Concierge. She was most helpful and answered all of our questions. She also asked if we needed anything from her each time she saw us. The food was great. We ate at all the restaurants and I can honestly say that I enjoyed them all. The food was delicious. The wait staff really go out of their way to make you feel welcome and leave full and happy. A few of our favorites were: Margarito and Carolina at Windows, Gilberto and Sergio at Market Café, and Erick and Luis at Oceana. The entertainment was fun and interactive. Random parties would happen throughout the day. There was a foam party at the one pool, a beach BBQ, an AMAZING fire show, and a dance party with drinks served in pineapples and coconuts. Winnie The Pooh, who leads the entertainment team, was fantastic. He was very upbeat and funny and always got the crowds primed for each of the events. We highly recommend this resort and can't wait to go back!
Ken F - Horsham, Pennsylvania
---
We just came home from a 7 night stay at this resort. This was our second time in Mexico, but our first time in Cozumel. My fiancee loves to dive (scuba) so Cozumel was just the place for him! Although he went off resort to do his diving excursions, there was a ton of sea life to see right at the resort. You can rent (for free) snorkeling gear from the resort right on the beach and spend time exploring right around the nearby waters. We saw starfish, barracuda, and so many other fish! The ocean was like five different shades of blue, which was absolutely beautiful. We loved sitting at the Market Cafe (buffet) and staring off into the abyss of the ocean while eating fresh fruit and drinking green juice. Our favorite restaurant was Bordeaux. We ate there three times, each time having the filet mignon, chicken cordon bleu, and the salmon... yum! The food at Windows was not our favorite, but the service there was! Thank you Fabian. The Market Cafe is awesome for breakfast and lunch, but we never made it there for dinner. The room was cleaned daily and no issues there, however the water from the shower was inconsistent. The first couple of showers had no hot water, the next couple of showers had no cold water. It's really uncomfortable to take a hot shower with a sunburn! Ouch. The pillows in the room are horrible. They are so lumpy and big that we actually slept without them, and it was much more comfortable than waking up with a stiff neck. Also, when we booked the room it said we would have a tub (which we didn't) and a hammock on the balcony, which we also didn't. The room was NOT what we expected. Some things we didn't enjoy was the lack of "security" we felt around the resort. Anyone from Sunscapes could come over to Secrets, and there were no identifying bracelets to tell guests from Secrets and other resorts apart. The nightclub Devine, was super sketchy and played music from the 90's. I asked the DJ if he took music requests and he said no. There was also a very sketchy group of men at the nightclub, who didn't look like they were guests at the resort. This made me feel extremely uncomfortable. Again, more security would have been key to ensuring guest safety. The pools were okay. We are beach people so we didn't spend much time there. Our room overlooked the pool bar Manatees, that played music only geared toward the older guests. The ocean was absolutely beautiful, but very rocky. It was hard to get into the water without falling and bruising yourself over the rocks. We went up on the dock and jumped off to get into the water, but instead when we jumped we hurt ourselves by hitting our head on the coral. There should be signs that tell the depth of the water so guests don't dive in head first and get hurt. Mixing this with alcohol can be very dangerous. We also sat through a 90+ presentation so we could receive coupons, but because my fiancee had to go pick up a jeep we rented, we lost out on the coupons but still sat through the whole presentation! Luckily the girl who gave us the presentation was cool to talk to, but it was a waste of our time. They tell you that it will only be 90 minutes, but then make you go to their office and blah, blah, blah. DON'T DO IT! It is not worth it. We lost two hours of a beautiful day. Overall, we had a great vacation. The resort was nice and the island of Cozumel is beautiful! We will definitely be returning back to Cozumel.
sparklez7 - Boston, Massachusetts
---
Compared to other secret resorts this one is pretty basic. Nothing stands out. We upgraded to a swim out room and the room needs a lot of updating. Definitely not worth what they charge you to upgrade. There is a lot of bingo going on and it seems to cater more to an older crowd. The food was not bad but not great. Overall this resort is subpar and I would not recommend this place if you are looking to be wowed.
gemeyer514 - Whitecourt, Alberta
---
This was our second Secrets vacation. Our first was Secrets Akumal 2 years ago when it was brand new, so hard to compare some things. Some of the negative concerns we had read about were not issues for us, like the smell, which we only caught a few times when closer to the lobby area of resort. Not a problem where we were staying with construction or noise. It was always quiet after 10pm - again, may have been our wonderful room location. Check in: Always a treat to be taken to the Preferred Club lounge for check in - snacks and drinks await you and it gets you out of the busy lobby area. Shout out to Mily, who was helping out with check-in on a busy Saturday, and finding out we were celebrating our 32nd anniversary was able to get us an amazing room. We had paid for oceanfront, but it was a perfect room on the 2nd floor corner - WOW! While we waited for our room, we went to the preferred club pool and ordered some food and drinks. Yummy mixed ceviche, guacamole, chips, and margaritas. Preferred Club pool (the only one we used) - pretty busy in the afternoons and we only used a little to wind down after being on beach and snorkeling all day. Shout out to Mauricio who would fix whatever you wanted - and was always upbeat and pleasant! Swim up bar was fun. Again Mily, who was the concierge for the preferred pool/beach was always ready to assist when we needed anything - as well as Vididiana (?spelling). They could have maybe used another waitress, and perhaps should get room numbers when serving beach to make sure preferred club guests only. Spa - at Sunscapes - was fantastic - started our week with a couples massage - Hydrotherapy was great - and Paula had us in a group and kept us moving through all of the stations which we probably would not have done completely without her guidance and providing water to drink and instruction! It was great! Biggest suggestion for Spa - The nice relaxation room should have been for AFTER the massage. There wasn't much time to "enjoy the vibe" after the massage. ALSO, should offer dry robes after massage or allow to get rid of wet suit after hydro therapy - chilly putting on damp robe after a warm, relaxing massage. Beach: As mentioned in other reviews, to enter the water is tricky. Find the sandy spots, then get low fast and swim out to avoid the rocks. We entered the water just to the left of the preferred chair section where sandy. There's also a sign on the beach that marks where entry is a little better. The hammocks look cool, but aren't easy to get to due to rocks. If the water is clear and you snorkel, there are some neat fish to see near the rocks just off the beach. We are avid snorkelers, and saw fish, even a camouflage scorpion fish and several yellow stingrays, a barracuda pretty shallow which was exciting! Angelfish around the structure out in front of Sunscapes if you like to swim. Tons of fish around dock, but have to be aware of boat traffic as it stays busy all day. We did one snorkel excursion with Dive Palancar on site, and it was pretty good - very clear water, but pretty deep reefs so a little harder to dive down and get close to fish/coral as well as you move pretty quickly with the current. Guides were fun! **Getting a chair in the preferred beach area was difficult, and they do not monitor this. If you are paying Preferred Club and want a chair on this beach, be prepared to get up early - 6am and hit the beach! Food: Same variety of restaurants as we had at Secrets Akumal. Favorites were Bordeaux - good filet of beef. Windows was a great surprise! We ate there the last night and Fabian was our wonderful waiter and did quite the show for dessert. The food was very good! Market Cafe definitely the place for breakfast, and yes, Maritza is a master omelet maker. Muesli very good too! Orlando - great waiter and covered Oceana too! It was nice to be able to access Sunscapes Sabor next door, El Patio Mexican and Sunny Side Grill pretty good. Didn't try Portofino this time. Started the day with cappacinos from CoCo Cafe - yummy! Room - Fabulous! Always clean and fresh, and snacks/fridge restocked - always had plenty of water bottles. Great job by housekeeping for room 124! Room service - Carlos brought breakfast several times and was so pleasant and made sure we had what we needed. We didn't participate in much of the night entertainment but there was always something going on if you were interested. We always took our time with dinner. Grounds were well kept, Loved the beach walk path. But be aware it can be slippery with sand. Overall, we had a wonderful time, and were so pleased that the negative concerns in the prior reviews were not issues for us, and it was a much needed time of R&R so we were grateful!
thedreamweavers - Charleston, South Carolina
---
We just returned from a 5-night stay at the resort. Be aware that the photos of rooms are misleading. We booked a preferred ocean view junior suite, but the view of the ocean was only from the balcony and was very limited. The view was primarily of the pool. In addition, the room had a terrible sewage smell coming from the plumbing, especially at night. This is obviously a consistent problem because there were incense provided in the bathroom for us to burn to camouflage the odor. When we asked if another room was available, the preferred concierge gave us the option to move to an oceanfront room for an additional charge of $200 per night (an additional $1000 total), which we felt was excessive, so we declined. As for the "preferred" areas, they are, in reality, open to anyone. No staff member at the preferred pool or at the area of the beach reserved for preferred members ever asked us for our room number, nor did we ever see anyone else being asked for their room number. And although the resort states that people cannot reserve lounge chairs, by 7:30 or 8:00 a.m., people had placed towels on virtually all of the chairs. On the plus side, we felt that the food was mostly quite good--especially at Bordeaux. Watching sunsets at the Sky Bar was another highlight. Also, the staff members, for the most part, were very friendly. Based on our mixed experience, I don't know that we would choose to return to this resort.
rcd47 - Centennial, Colorado
---