Please select your dates to see prices:
---
Secrets Aura Cozumel in Cozumel, Mexico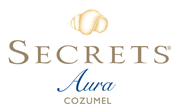 A brand new beacon of luxury, Secrets Aura Cozumel is a slice of beachfront heaven. Located on the island of Cozumel, just 12 miles off the coast from Playa del Carmen, this magnificent resort hosts guests with its signature Unlimited-Luxury® approach. Gourmet dining, top-notch entertainment, endless drinks, and pool & beach wait service are all included - so leave your cares at home and truly unwind. Each of the 168 suites is a stylish haven with the best in amenities. The cool and contemporary décor will have you at ease from the moment you step into your space, which includes a private terrace or balcony, daily refreshed mini bar, satellite television, and complimentary Internet access. Relish in views of the surrounding ocean, or take advantage of the waters right at your door with Secrets Aura Cozumel's unique swim-up suites. Whether your goal is complete serenity, or full-throttled fun, this dynamic resort is an ideal place to stay and play.
Indulge your senses at Secrets Spa by Pevonia, a world-class sanctuary and the largest full-service spa on the island of Cozumel. A variety of treatments - from hydrotherapy to indigenous-inspired massage - are offered in state-of-the-art facilities, including a well-equipped fitness center. Each day, the resort hosts activities to make the most of your time and place, so start off with some snorkeling, grab a game of tennis, or head out on the water with a sea kayak or Hobie cat sailing boat. A set of gorgeous freeform swimming pools create an idyllic retreat area, including waterslides, whirlpools, swim-up bars, and a lazy river. Nearby, golf at Cozumel Country Club, shop downtown San Miguel, or visit one of two national parks in the area. Scuba diving is a highlight here, and Secrets Aura Cozumel has you set and ready to go on underwater adventures that explore the second largest coastal reef system in the world. Through all your pleasure and fun, five restaurants and three lounges provide gourmet dining with a breezy oceanfront atmosphere, and options continue off-site with the Sip, Savor & See Dining Experience where you can enjoy dinner and live entertainment at nearby participating resorts as well. Everything you need is here, and everything you want is Secrets Aura Cozumel.
Location of Secrets Aura Cozumel
Secrets Aura Cozumel
Carretera Costera Sur KM. 12.9
77600
Cozumel, Mexico
Nearest Airport: CZM
Amenities for Secrets Aura Cozumel
General Information
87 Suites
Adults Only
Dining
2 Restaurants
3 Bars
Room Service
On-Site Amenities
Concierge
Pool
Spa on Property
Fitness Center
Currency Exchange Service
Boutique
Lazy River
Car Rental
Lap Pools
Complimentary WiFi
In-Room Amenities
Turndown Service
Air Conditioning
Direct Dial Telephones
Hair Dryers
In-Room Safes
Mini Bar
Satellite Television
iPod Docks
Iron/Ironing Boards
Marble Bathrooms
Flat-Screen Televisions
Luxury Linens
Coffee & Tea Facilities
Luxury Bath Amenities
Mini Refrigerators
Private Terraces
Bathrobes & Slippers
Activities
Fishing
Kayaking
Sailing
Scuba Diving
Snorkeling
Business
Business Center/Services
Nearby
Historic Sites
Shopping
Restaurants
Golf
Interests
Active & Adventure
All Inclusive
Beach
Honeymoons & Romance
Summer Getaways
Reviews for Secrets Aura Cozumel
---
This is an older resort with my room needing many repairs. Arrived no alarm clock, room service menu, hammock, and punctured tv. My first complaint was about hammock which was resolved next day when they could grab one from someone leaving. Other items I notified desk early am am and had around mid day. Shouldn't these items be taken care of ahead of time ? The guest shouldn't have to deal with obtaining these as they are all standard.... Not to mention this is a secrets!!!!! Many other all inclusive with better service. Don't waste your time!!! Also to mention Beach is hard to get into water due to rocks need to go down Pier to ladder. Entertainment is wonderful and something for everyone. Food just so so..
---
We like to go to the south side of the island to dive. The location is great, however the rooms are in serious need of upgrading. Additionally management has staff constantly selling their membership program a And upgrades. It becomes quite a nuisance. We will likely pick another place next time.
ColoradoSwiss - Littleton, CO
---
We recently stayed in one of there updated rooms in the preferred area. The room was spacious with a large tub plus a separate area with a rain shower and a hand sprayer. I love the robe and slippers! Our room was an ocean view over looking the pool with perfect sunsets. The hotel is spread out so we never felt like there was a crowd. A don't miss was the foam party in the Manatee pool area. The Entertainment Team of Javier and Winnie the Poo made this event fun fun fun !! There was so much foam then they broke out balloons- this adults only resort suddenly made us feel like kids again! My only complaint was that the level of service was spotty. They were understaffed so they didn't offer the level of service I expect when staying at a Secrets- this is my fourth time at a Secrets. There were some notable exceptions- Erick and Orlando in the market cafe really hustled every morning and make certain to see Maritza at the omelette station- she's a sweetie! Some our best evening service was at Bordeaux with Vivas and oceana with Luis. Both were attentive and informative without being intrusive.
djcoates2 - South Haven, Michigan
---
I had a beautiful spacious room with an A+ view of the pool and beach. Definitely one of the best beaches on Cozumel. The staff was super although busy. I was entertained by the birds noisy fighting and I loved watching the Pelicans diving into the ocean. Snag a seat in the hammock swinging over the water... it's prime. The one big negative was the terrible sewer smell in the preferred section..... both the beach and pool section. It was very noticeable and got worse as the afternoon worn on. Don't pay for a preferred suite until this issue is fixed .... you will enjoy yourself much more in tropical suite at the back of the property. The smell was also unmistakable in the lobby, Rendezvous lounge, and Windows restaurant.
---
This was our first trip to Cozumel and we loved the feel of the island and found the people we met there to be welcoming and helpful. This smaller resort is just about the right size. There are areas that are quiet and if you are looking for higher energy pools and bars you can easily find those too. We spent everyday on the beach under a palapa and really appreciated the beach service, The beach itself is nice. There are places that you can manage to get in swimming in bare feet, but there is a lot of rock....which is why it is so good for snorkelling. Lots of people spent many hours in the water snorkeling....we were happy in our charis! We did get lots of exercise, finding it quite comfortable to walk the road behind the resort. If you do this you will meet "Scuba Steve" and friends...just wait. Our room was fantastic. We decided that beachfront was a priority for us and I am glad that we spent the extra money. We sat on out balcony and watched the sunset every day. The room itself was comfortable, spacious and spotless. Thank-you to Marco for doing such a great job...when our air conditioner started dripping water he helped to ensure that it was fixed by the end of the day...and also did a great job taking care of our room. The food was (mostly) just right...not too much or too little and lots of choice. We felt as those we had lots of choice but weren't gorging ourselves. It was a nice balance of "good" and "good for you". Our favourite dinners were at Oceana and WIndows...We ate at Bordeaux once and didn't love it...super tiny food and not a lot of choice...at least not for us. The Market Cafe is where we had most of our morning meals and also enjoyed that. Adrian and Angel were two servers who we feel need special mention because of their positivity and attentiveness. We made good use of the room service...loved the nachos and I remember at least one late-night burger. We never had to wait longer than 25 minutes for things to arrive...Alejandro was fantastic...thank-you. We went into town one day. Taking a cab in is very easy and costs 15 USD each way. There were 8 cruise ships in port that day so it was busy, but we enjoyed the adventure and the change of pace. On a return trip we would likely rent a vehicle and do a little wandering on our own, and would likely give in and go snorkeling. I am sure that I have missed something. We had a really good time and the service was exceptional. I am puzzled by people who have significantly negative things to say about a place like this...it's as though they were staying somewhere else! I would definitely recommend this resort.
jennyboo67 - Muskoka District, Canada
---