Please select your dates to see prices:
---
Secrets Aura Cozumel in Cozumel, Mexico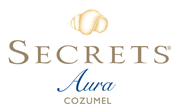 A brand new beacon of luxury, Secrets Aura Cozumel is a slice of beachfront heaven. Located on the island of Cozumel, just 12 miles off the coast from Playa del Carmen, this magnificent resort hosts guests with its signature Unlimited-Luxury® approach. Gourmet dining, top-notch entertainment, endless drinks, and pool & beach wait service are all included - so leave your cares at home and truly unwind. Each of the 168 suites is a stylish haven with the best in amenities. The cool and contemporary décor will have you at ease from the moment you step into your space, which includes a private terrace or balcony, daily refreshed mini bar, satellite television, and complimentary Internet access. Relish in views of the surrounding ocean, or take advantage of the waters right at your door with Secrets Aura Cozumel's unique swim-up suites. Whether your goal is complete serenity, or full-throttled fun, this dynamic resort is an ideal place to stay and play.
Indulge your senses at Secrets Spa by Pevonia, a world-class sanctuary and the largest full-service spa on the island of Cozumel. A variety of treatments - from hydrotherapy to indigenous-inspired massage - are offered in state-of-the-art facilities, including a well-equipped fitness center. Each day, the resort hosts activities to make the most of your time and place, so start off with some snorkeling, grab a game of tennis, or head out on the water with a sea kayak or Hobie cat sailing boat. A set of gorgeous freeform swimming pools create an idyllic retreat area, including waterslides, whirlpools, swim-up bars, and a lazy river. Nearby, golf at Cozumel Country Club, shop downtown San Miguel, or visit one of two national parks in the area. Scuba diving is a highlight here, and Secrets Aura Cozumel has you set and ready to go on underwater adventures that explore the second largest coastal reef system in the world. Through all your pleasure and fun, five restaurants and three lounges provide gourmet dining with a breezy oceanfront atmosphere, and options continue off-site with the Sip, Savor & See Dining Experience where you can enjoy dinner and live entertainment at nearby participating resorts as well. Everything you need is here, and everything you want is Secrets Aura Cozumel.
Location of Secrets Aura Cozumel
Secrets Aura Cozumel
Carretera Costera Sur KM. 12.9
77600
Cozumel, Mexico
Nearest Airport: CZM
Amenities for Secrets Aura Cozumel
General Information
87 Suites
Adults Only
Dining
2 Restaurants
3 Bars
Room Service
On-Site Amenities
Concierge
Pool
Spa on Property
Fitness Center
Currency Exchange Service
Boutique
Lazy River
Car Rental
Lap Pools
Complimentary WiFi
In-Room Amenities
Turndown Service
Air Conditioning
Direct Dial Telephones
Hair Dryers
In-Room Safes
Mini Bar
Satellite Television
iPod Docks
Iron/Ironing Boards
Marble Bathrooms
Flat-Screen Televisions
Luxury Linens
Coffee & Tea Facilities
Luxury Bath Amenities
Mini Refrigerators
Private Terraces
Bathrobes & Slippers
Activities
Fishing
Kayaking
Sailing
Scuba Diving
Snorkeling
Business
Business Center/Services
Nearby
Historic Sites
Shopping
Restaurants
Golf
Interests
Active & Adventure
All Inclusive
Beach
Honeymoons & Romance
Summer Getaways
Reviews for Secrets Aura Cozumel
---
We just returned from our 14th visit to Cozumel (currently Secrets property but many owners in the past) and had an amazing time. We stayed in the Preferred section and had a great room (3rd floor) with a view of the ocean. We often enjoyed sitting on our deck in the evenings to watch the sunset before going to dinner. We annually come back because of the location, snorkeling and the incredible staff, many we have known since we began coming in 2001. Specifically we would like to spotlight Marcos, Orlando, Adrian and Gaudencio who took excellent care of us in the restaurants. This year we met Isaac, Vickey and Vivi who were very attentive to us while spending our days on the beach. We truly look forward to seeing the staff, many we consider to be good friends, each year. We feel fortunate to get to come every year and consider it our "home away from home."
---
We have stayed at the Secrets Aura Cozumel several times, and we have never been disappointed. We keep going back there because the staff is amazing! Please do not base your decision to stay at the Secrets or not strictly on a few negative reviews. There is no way we would return year after year to Secrets if it was even partially as bad as some people make it sound. This stay was the first time we stayed in one of the swim up rooms. It was really fun, and different from any room we have stayed at, at an hotel. I find that this option is one of the many things that makes Secrets unique. The restaurants are very good with a variety of options, including vegetarian.(Which we are). I think over the years this is something they have really improved on. Our favorite waiter was Adrian in the Oceana restaurant. He was very friendly, and interacted with our group very well. We actually had dinner at the Oceana several times, mainly because of his customer service. He even asked the chef to make some special vegetarian meals that were not on the menu, just so we didn't have to eat the same thing over and over. He also made a Mayan coffee dessert that was both delicious and entertaining to watch him make. The waiter in the Bordeaux restaurant was also very good, but regretfully we are not remembering his name as we write this. We know a few people mentioned how long it takes at dinner, and yes it does take a little while. However, we didn't mind it at all. We got to sit and enjoy talking to the friends we were on vacation with, without feeling like we were getting rushed out of the restaurant. Sometimes the situation is just what you make out of it. Your on vacation...what's your hurry? Another thing that makes Secrets unique, is the coffee shop. We love it. It is so nice to stop by and grab a coffee or two, or three, and maybe a snack. The ladies in the shop are very nice. The area outside the coffee shop is also a nice area to sit and chat with friends while drinking your coffee. The entertainment team works endlessly to provide a fun time. We especially enjoyed playing bocce ball on the beach with Danny. It was his 2nd day on the job, and he was still learning the ropes. We think he is a great addition to the Secrets team. He was very enthusiastic and remembered our names the rest of the week. Each time we ran in to him he would greet us by name, and try to get us involved in whatever activity they were doing next. The bell services team works very hard, are friendly and helpful. We always feel bad about how heavy our baggage is with all our dive stuff, and separate bag of everything else. Not only do the get our baggage to the room, but they are also very helpful with getting a taxi, and giving directions to exactly where we want to go. We really appreciate each of them. We can't imagine how hard their job is, and they all do it with a friendly attitude. We cannot say enough about Nelly Baas. She always goes above and beyond to make our stay incredible. We really appreciate every thing she does to make our vacation special. We see she how hard she works for all of the guests at Secrets and Sunscape, to make sure their stay is also enjoyable and special. Nelly is one the main reasons we return each time to the Secrets. Thank you Secrets staff for helping us have another great vacation. Hope to see all of you again soon! C & D
GoBroncos-Cubs - Wheat Ridge, Colorado
---
We just got back from 9 nights at the Secrets Aura Cozumel. We are a member of UVC and have been for the past 4 years and we are very dissapointed. This hotel is not to the standards of a SECRETS resort. The hotel is very old and not well maintained. We had a flooding in our bathroom from the ceiling one night when it rained a lot. My husband went to the front desk to ask for help or to change room, the poor guy was overwhelmed and alone. After 2 hours (11PM) 2 cleaning ladies came to evacuate the water and told us this happens often, we had to complain again the next day before someone from maintenance came to try to fix things.When the maintenance guy removed the ceiling protection in the bathroom it was covered by black mold. Same flooding problem in the restaurants, people had to move to avoid being soaked. The hotel has only 3 restaurants open at night and 3 for lunch. If you want the
vwarners - Atlanta, Georgia
---
Could use more bar tenders. Sometimes it took very long to get a drink. Everything is spaced out at this resort and can be confusing to find your destination. Would like some better quality shows at night. Overall very nice trip and would go again.
jrshirey86 - Claysburg, Pennsylvania
---
Food and quality of service greatly uneven from one restaurant to another. Food, soup in particular, is constantly not warm enough at Bordeaux restaurant. Air conditioning was a disaster in our room. Sky Bar is an amazing location. Very clean resort. No sollicitation on whole resort is greatly appreciated. Scuba diving in Coz is just the best...
amosbernier - Gatineau, Canada
---