Please select your dates to see prices:
---
Thanda Safari in Hluhluwe, KwaZulu-Natal, South Africa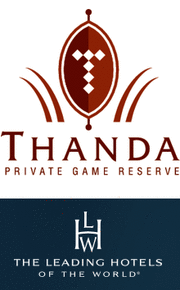 The bold wilderness of Africa comes together with supreme luxury and romance at the highly awarded Thanda Private Game Reserve. This impressive South Africa resort is comprised of Thanda Safari Lodge with nine suites, as well as the separate Villa iZulu residence and 15 private game reserve tents including Jabula honeymoon tent. The suites are completely self-contained and spectacular in design, with circular structure and thatched game- viewing decks. Each abode is furnished with private outdoor splash pool, as well as indoor/outdoor showers and individual bomas for intimate dining experiences. Relish in the views of the surrounding game reserve, and stretch out in your more than 2,300 square feet of space. For a truly unique and authentic African adventure, the private game reserve tents provide an unforgettable time. Each of the 15 tents in the Thanda Tented Camp has its own canvas bathroom, accommodations are comfortable yet rustic, and there are only a few hours of electricity each day - truly integrating you into the bush and providing a completely hands-on nature experience.
The star of the show at Thanda Private Game Reserve is of course the abundant wildlife, of which there is no shortage in this South African destination. Early morning and late afternoon game drives will have you peering for the Big Five - lion, elephant, leopard, buffalo, and rhino - journeying in open-air Land Rovers under the guidance of experienced rangers and wildlife trackers. The reserve even offers opportunities to travel to another reserve to interact with the elephants - an experience of a lifetime. Embrace the Zulu culture through a "living museum," and experience Zulu traditions throughout your stay. Dining at the resort can be done in the main boma, fireside and under the brilliant setting sun, or in the privacy of your villa. The chefs work tirelessly to create versatile and delicious cuisine using freshly grown herbs and ingredients, all complemented by a superior selection of wines. Elevate your safari experience and come for the very best in everything, to Thanda Private Game Reserve.
Location of Thanda Safari
Thanda Safari
D242, Off N2 Between Hluhluw and Mkuze-Hluhluwe
Hluhluwe, KwaZulu-Natal, South Africa
Nearest Airport: DUR
Amenities for Thanda Safari
General Information
13 Tents
Dining
Outdoor Dining
Wine Cellar
On-Site Amenities
Spa Services
Library
Cigar Lounge
In-Room Amenities
Outdoor Showers
Private Pools
Viewing Decks
En-Suite Bathrooms
Activities
Hiking
Whale Watching
Bird Watching
Game Drives
Bush Walks
Family
Babysitting
Children's Amenities
Children's Menus
Interests
Active & Adventure
All Inclusive
Luxury Tents & Open Air
Reviews for Thanda Safari
---
Thank you for a unforgettable experience. We enjoyed this luxury bush experience tremendously. From the most amazing game drives with Zakes and Matthew to the friendly and most professional service of Lynda, Fikile and Fikile 'Elephant ' at the lodge. This is a bucket list holiday for anyone. Not only are you treated like kings and queens, Thanda furthermore does amazing things for the upliftment of the local community and its people. We need more companies contributing to South Africa like Thanda. Congratulations and thank you for this great holiday. My wife truly had the time of her life and a wonderful 40th birthday experience.
---
Our stay at Thanda Safari Lodge was truly amazing. The staff are extremely friendly and the guides excellent. The accommodation is extremely comfie and the attention to detail, like the ribbon wrapped around the toilet roll really impressed me. The game was great as was the food. The only complaint was the boat cruise down the estuary at St Lucia. Not to be recommended at all, in fact a total waste of time which could have been spent at the lodge instead. We hope to be back real soon.
---
A very well run Safari Lodge. The rooms are spacious with private bomas, plunge pools and a glorious day bed. Good quality food and very friendly staff. We were lucky to experience the elephants coming up to the pools to drink.
Pam B - Hertfordshire, United Kingdom
---
We will certainly be back. We absolutely loved Thanda and had amazing guides and trackers. The facilities are fantastic and all the staff are extremely helpful. The food and drinks are of high standard. We would love to have stayed longer. Thank you Kyle and Madibe.
MarinaSamsjo - Gothenburg, Sweden
---
Our stays at Thanda are always just out of this world. The attentiveness of staff, the inviting and luxuriously finished accommodation and not to mention the food that is consistently on another level, all these and more just keep us yearning for out next visit. When you want to get off the merry-go-round and submerge yourself in Gods amazing and wonderful creation and get a real sense of true relaxation and rejuvenation - this is the place to do it - and the place that you will fall in love with time and again!
Cindy R - Mtunzini, South Africa
---