Please select your dates to see prices:
---
Zoetry Villa Rolandi Isla Mujeres Cancun in Isla Mujeres, Mexico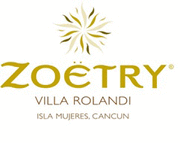 If the mention of "Cancun" conjures images of endless parties fueled by those neon yardsticks of questionable alcohol, consider this: Cancun tops the list of hot destinations for wellness retreats, thanks to Zoëtry Villa Rolandi Isla Mujeres Cancun, which debuts on its namesake island in late 2014. Here Olani Thalassotherapy spa treatments and yoga classes happen in an environment that values serenity and "Endless Privileges" means top-shelf cocktails and gourmet meals made from organic, locally grown ingredients.
Greet the day on your suite's private balcony looking out across the Yúcatan Peninsula's emerald seas. Catch a morning pilates class, snorkel on the second largest coral reef in the world, and unwind on the private dock jutting far into the Makax Lagoon. Order a personalized, unforgettable dinner for two served seaside, raising a glass of chilled zinfandel to a perfect retreat. Keep the wine flowing late into the night with complimentary room service.
Location of Zoetry Villa Rolandi Isla Mujeres Cancun
Zoetry Villa Rolandi Isla Mujeres Cancun
Fracc. Laguna Mar SM 7 Mza 75 Lotes 15 y 16 Carretera Sac-Bajo, Isla Mujeres
Isla Mujeres, Mexico
Nearest Airport: CUN
Amenities for Zoetry Villa Rolandi Isla Mujeres Cancun
General Information
35 Ocean Front Suites
Dining
Outdoor Dining
Room Service
On-Site Amenities
Spa on Property
Laundry Service
WiFi
Currency Exchange Service
Sauna
24-Hour Front Desk
Private Whirlpools
Outdoor Pools
Steam Room
Wedding Planning Services
In-Room Amenities
Air Conditioning
Bathrobes
Ceiling Fans
Hair Dryers
In-Room Safes
Mini Bar
Satellite Television
Marble Bathrooms
Pillow Menu
Private Terraces
Activities
Fishing
Scuba Diving
Snorkeling
Yachting
Interests
Active & Adventure
Eco Friendly Luxury Vacations
Honeymoons & Romance
Spa & Wellness
Summer Getaways
Reviews for Zoetry Villa Rolandi Isla Mujeres Cancun
---
WOW! We had booked a Junior Suite Superior King Oceanfront room but out third day there we were upgraded to the Presidential Suite! Berenice & Malena, our UVC/VIP concierges were so helpful and made our trip exceptional. They were able to upgrade us to the Presidential Suite and helpful in making plans for us to visit Dreams & Secrets Playa Mujeres. Back to the how awesome this resort is.......Alexander and Josue at the front desk greeted us with a very warm welcome, showing us to our room, pointing out the features of the room. I think that all of the rooms have steam showers. The bathrooms have beautiful black marbled walls. All of the great bath/shower products that Zoetry offers. Our room was beautiful. Of course we had the welcome bottle of Tequila, stocked mini fridge, snacks, etc. We never use the in room coffee/tea maker but if that is something that you like it is an added bonus. Room service was so fast! We ordered coffee in our room each morning and by day number three they knew exactly how much cream, etc. The food was incredible! I can't say enough great things about it. The Casa Rolandi has a menu that is pages long, yet everything is made to order. All of the wait staff were welcoming and truly wanted to make sure that you were receiving great service and that you were pleased with your food. Eggs Benedict was our overall favorite for breakfast but every dish was tried was tasty! For lunch we ate poolside or beach side, where we received the best, and I mean BEST, service from Juan Carlos, Carlos and Juarez. These guys were on it! Every drink was made to perfection, the pizzas were out of this world (made in the "Magic Oven"), and had to have some fresh guacamole EVERYDAY. Our favorite for dinner was their lasagna and a seafood pasta. Le Métissage is a gourmet restaurant with a menu of French/Mexican infusion dishes. Jorge was one of their great waiters that explained in detail what the menu offered. The chicken dish was our favorite, along the the lamb. We both had massages at the spa and were very pleased with their services. I also had a manicure by Laura, excellent! Villa Rolandi is a resort for those that want to relax and be pampered. I can't wait to return!
Laura A - Little Rock, Arkansas, United States
---
Great trip. Was upgraded to Presidential suite on our third day. We are UVC members at Platinum level. Our concierges we awesome(Malena and Berenice). Alexander at the front desk was great and our waiters were fantastic all week. Construction was taking place in 3 different rooms around us and on common ground areas. Lots of banging. Make sure you are prepared for the possibility of rain to and from the Catamaran to the island, you and your luggage could get wet. Overall, best week we have date. Will return
---
We had an amazing holiday at this lovely resort. From the moment we stepped through the doors of the open air lobby, we were treated like treasured guests and family. It's a really beautiful hotel. A bit rustic but very Mexican and exceptional standards of service. If you want a marble palace with 12 restaurants and purple uplighting, go to one of the big Cancun resorts. If you want to eat unbelievable food, feel like you are in real Mexico and be pampered, stay here. Highlights included the hot water pool, delicious poolside Kobe burgers, the fish soup from Cara Rolandis, the room service which was quite as good as the restaurant itself, the free and fast laundry, the comfortable room, the views, the vibe, the staff. You can tell, I absolutely loved this place. Because I liked it so much, I have some ideas for management of this hotel: Embrace your Mexican style and get rid of Le Metissage. The portions were too small, the service too fast and the food did not always live up to expectations. I would love to see this as a high-end Mexican restaurant. Go Adults Only. Although the children we did see were well-behaved, I know that this policy puts couples off. The hotel feels like a couples destination, it's not suitable for children. First rule of marketing is 'find your niche'. Don't try and be everything to everyone. If ever a hotel had an Adults Only vibe, it is this one. The last piece of advice? Don't change anything else. Thanks to Jose on the front desk for always raising a smile and putting up with my terrible Spanish and Hilario in the bar for delivering the most legendary Margaritas in Mexico. Can't wait to return!
---
We had a wonderful relaxing vacation at Zoetry Villa Rolandi located at Isla Mujeres Cancun. We arrived by the Zoetry private yacht transfer to the island. Our suite was beautiful with a fabulous view of the turquoise waters of the Caribbean Sea. It was so romantic. There was a bottle of sparkling wine and fresh fruit waiting for us. We enjoyed eating in their gourmet restaurants. The food and service was excellent. Our favorite was the fresh seafood. Room service was awesome as well as the maid service, which came to our room three times a day. It was so relaxing lounging at the pool and seawater Jacuzzi. We also enjoyed the evening sunset cruise on the private yacht. The best part was staying in the Presidential Suite, which is a luxurious three level suite with a beautiful oceanfront view. You can see every sunrise and sunset. There is an outdoor Whirlpool on the third floor. We would highly recommend everyone to stay there. We totally enjoyed our stay here. Everyone was so helpful from the Front Desk to the Concierge service. We were so pampered. Thank you to everyone at Zoetry for a wonderful vacation!!
kdbrasgalla - West Fargo, North Dakota
---
Wonderful resort. Very intimate. Great couple's destination. Even though there was some construction going on, the staff took care to disrupt the guests as little as possible. The food was amazing too. Definitely will go back!
---