Please select your dates to see prices:
---
Zoetry Villa Rolandi Isla Mujeres Cancun in Isla Mujeres, Mexico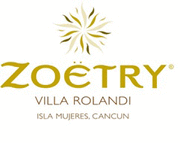 If the mention of "Cancun" conjures images of endless parties fueled by those neon yardsticks of questionable alcohol, consider this: Cancun tops the list of hot destinations for wellness retreats, thanks to Zoëtry Villa Rolandi Isla Mujeres Cancun, which debuts on its namesake island in late 2014. Here Olani Thalassotherapy spa treatments and yoga classes happen in an environment that values serenity and "Endless Privileges" means top-shelf cocktails and gourmet meals made from organic, locally grown ingredients.
Greet the day on your suite's private balcony looking out across the Yúcatan Peninsula's emerald seas. Catch a morning pilates class, snorkel on the second largest coral reef in the world, and unwind on the private dock jutting far into the Makax Lagoon. Order a personalized, unforgettable dinner for two served seaside, raising a glass of chilled zinfandel to a perfect retreat. Keep the wine flowing late into the night with complimentary room service.
Location of Zoetry Villa Rolandi Isla Mujeres Cancun
Zoetry Villa Rolandi Isla Mujeres Cancun
Fracc. Laguna Mar SM 7 Mza 75 Lotes 15 y 16 Carretera Sac-Bajo, Isla Mujeres
Isla Mujeres, Mexico
Nearest Airport: CUN
Amenities for Zoetry Villa Rolandi Isla Mujeres Cancun
General Information
35 Ocean Front Suites
Dining
Outdoor Dining
Room Service
On-Site Amenities
Spa on Property
Laundry Service
WiFi
Currency Exchange Service
Sauna
24-Hour Front Desk
Private Whirlpools
Outdoor Pools
Steam Room
Wedding Planning Services
In-Room Amenities
Air Conditioning
Bathrobes
Ceiling Fans
Hair Dryers
In-Room Safes
Mini Bar
Satellite Television
Marble Bathrooms
Pillow Menu
Private Terraces
Activities
Fishing
Scuba Diving
Snorkeling
Yachting
Interests
Active & Adventure
Eco Friendly Luxury Vacations
Honeymoons & Romance
Spa & Wellness
Summer Getaways
Reviews for Zoetry Villa Rolandi Isla Mujeres Cancun
---
Just left the Zoetry after a second trip to this amazing property! My Husband and I love the tranquility of the Villa Rolandi which is equally matched by the warm and professional staff. The service is 5 Star- the front desk, the concierge, housekeeping and restaurant staff. We travel extensively and Villa Rolandi has quickly become a favorite! The Cat ride over on Cocoon is just one of the many classy touches! This is a 5star Hotel with such personalized attention to its guests, it truly makes for an exceptional experience! Thank you to all- too many names to mention!
---
We arrived with no holds. Airport airport transfer to docks and boat ride to resort was all fantastic. Met a nice couple on boat ride and we spent time with them at the pool almost everyday as well as with a few other great couples. So I guess it depends on what kind of vacation you want and what kind of traveler you are. In my opinion Zoetry Isla mujere was fantastic. The staff is amazing no you don't have to tip but we always do. People work hard to make things perfect for you so we like to return the favor. The room was nice we asked to be moved to main floor after the first night. For us it was the best location to be able to access pool from our room so easily. We had room service a lot went to the restaurants every night and most days ate at pool of pool menu. There were just a few things I did not care for but no real complaints. Marlena I. The front lobby will do anything you need her to catcher in the morning. I don't think she is usually there in the afternoon. She made everything so easy and always called us by our name. Spa was disappointing. I always use the spa it was small and only had a small waiting are and for that it was expensive. It is not like the spas I have been to at Secrets resorts. But this is a 35 room resort. On the topic of the unlimited vacation club. Many people we spoke with wanted to ask us questions about it. Here are my thoughts. It is a little like buying a car, which I find unpleasant. It is a hard sell and unfortunately never seems to be a quick meeting. I think when someone books more than 5 days they should ask you to do the presentation and right there offer you half price on one additional night of you trip. I find the biggest complaint I heard was it took away at least half of my day of vacation. So between that and the hard sell and the feeling that you can continue to bargain all day long I feel it makes people angry. My advice do your homework on the club before you visit an Amstar resort for the second time. Hold out for better offers than where they start with an offer. We walked away happy then went through buyers remorse. Then got really irritated because we felt they were very misleading mainly about the type of rooms we would be offered especially in the case of any free rooms. Now we are happy to say we have figured out how the club works. We have not joined any of their other sister clubs and we will not. We are silver club members and I will say we paid enough. We not only will make the best of it but we will come out ahead. They need to work on their tactics unless they are pleased with their sales. More importantly they need to treat the members a bit more like royalty in front of other visitors so people see that and want to know how to get that extra attention. This would be easy to do with some very small actions on the club/resort's part. I wish other member out their that have stuck with it would speak up because the more positive that is out there the more members and the better we will all be as members. We get a great discount and they will beat any price you find if it is lower than what they give us with our membership. I am not sorry we joined. It has made us vacation more and a good marriage need to be nurtured. That being said this trip was all good. We have stayed at secrets in Riviera Maya years ago then we went to secrets Montego Bay, loved that, last year Secrets Puerto Vallarta and this year Zoetry Isla Mujere. Always a few things that could be better but I believe there is almost always room for improvement. It is the customer service that counts and if they listen and respond to comments. Thanks for some wonderful vacations. One thing that does bug me and I never mentioned is when it says adults only couples resort. I don't care who the couples are as long as they aren't a couple of children. For some reason they allow this. Saw it at all 4 resort.
jacques662018 - South Milwaukee, Wisconsin
---
Zoetry Villa Rolandi is a very small property. 35 rooms, 2 restaurants, 1 bar. Very quiet. Great staff. They treat you like royalty. Very, very small beach with little seaweed. Lovely grounds and 3 small pools. Great pool side service. Close to other attractions. 3 minute walk to Dolphin Discovery, $8 taxi to town. It's about 30 minutes from Cancun airport to the dock and another 25 or so by catamaran to the island and the resorts dock. Overall a lovely experience. If you are looking for serenity and relaxation this is it. If you are after parties and nightlife maybe not so much.
Franklin R - Indianapolis, Indiana
---
We choose Villa Rolandi for our wedding and it was near perfect. The place is beautiful, the service is one of the best I have ever experienced and, you know how all-inclusive hotels always hit that "just good enough not to complain" kind of food? Well, Villa Rolandi did not get the memo and the food is plain delicious (ok, coffee could improve). Big shout out to Cynthia, the wedding planner, who ensured everything went smoothly and was there for any questions we had---and some we did not have. We were able to relax and enjoy our time with family and friends *even* before the ceremony, and she was the one that made it possible.
rocarmenter - Philadelphia, Pennsylvania
---
we ventured into this place by looking for a place to eat. We have not stayed here but look cozy. There was a couple having romantic dinner at the table set by the beachfront,candles etc. The dinner menu was mostly Italian or such was our impression. Amazing food, amazing view. Like classic? Go!!!!!! 6* service
Alex B - Vancouver, Canada
---