---
Sandals Montego Bay in Montego Bay, Jamaica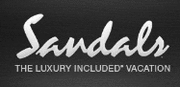 Whe
ther sitting back and relaxing or exploring new adventurous worlds, Sandals Montego Bay sits on the largest private beach in Jamaica and offers everything desirable.
Location of Sandals Montego Bay
Sandals Montego Bay
Kent Ave
Montego Bay, Jamaica
Nearest Airport: MBJ
Amenities for Sandals Montego Bay
Interests
All Inclusive
Beach
Honeymoons & Romance
Reviews for Sandals Montego Bay
---
This was our second time going to Sandals Montego Bay. We absolutely love it and hope to go back in a few years. The first time we went walking into the resort was so breathtaking I could not believe that it was so beautiful. The atmosphere is so fun and carefree. The food is amazing and the staff is so friendly and always helpful! Samantha is our absolute favorite- we love her so much. She mainly works at the beach bar. She is so sweet and attentive! Weather is April was AMAZING... 85 degrees and the ocean and pools were the perfect temperature. The water was crystal clear- much more clear than when we last went in February 2017. We also did the luminous lagoon excursion and it was amazing- once in a lifetime experience! If you are considering going here- do it!! Say hey to Samantha for us! :)
---
Wow, where do I begin? My husband and I wanted a getaway since we hadn't had a vacation in several years. We chose SMB due to it's proximity to the airport, highly praised beach, and because I've always wanted to go to a Sandals. My parents had been to SMB several years ago and raved about it as well. We went the second week of April (the week after Reunion week). We purchased Club Mobay for our arrival mostly to get through customs quickly. I think it was worth it - our customs line was only a few people deep where there were probably 100 people waiting for customs in the regular line. We arrived on a Monday afternoon. Our Club Mobay rep then escorted us to the Sandals lounge while we waited for the bus transfer to the resort. We did tip both the luggage handler and the bus driver, $10 each. They were very appreciative and so sweet. Upon arrival to Sandals, you are greeted by a staff member. We were taken care of by Luckie Ann who escorted us to an air conditioned room to finish our check-in process. She got us drinks from the bar and basically gave us a little introduction of the resort before the bellhop was ready to go with our luggage. Room -We originally reserved a Caribbean Deluxe room (the smallest room that is right above the dining/buffet area) but were unexpectedly upgraded to a Crystal Lagoon swim-out with tranquility tub. This is in the Seagrapes building. We were SO ecstatic about this upgrade - we felt so lucky! We will be forever indebted to Sandals for this! Beach - the beach is beautiful, and the water was calm and crystal clear. Even without a butler, we had no problems finding beach chairs under a palapas even at 10am. We didn't always get in the "main beach" area and sometimes had to wander down in front of the butler villas to get them - but there were always some available. Sometimes a Sandals employee would walk up and down the beach to collect empty glasses and ask if you want anything from the bar. There is a few Jamaicans on paddleboards who will come close to the beach to sell 'conch shells', but they never bothered us. Food - I am easy to please when it comes to food, and I didn't have any bad meal at Sandals. Tokyo Jo's was delicious, but Cucina Romana was my favorite. We went there every morning we could for breakfast. The eggs benedict is perfect. We also ate at Oleander Room, Stewfish, and Cricketer's Pint. All were very, very good. We had no problems getting reservations, but were happy to just eat at each restaurant at least once for dinner. The warm peach crisp with ice cream at Cricketer's Pint is AMAZING! Additionally, we never had any problems with slow service. Sometimes we would be at a restaurant for 1.5-2 hours, but between the drinks, appetizers, main course, then dessert, I never felt like I was wasting time just waiting for food. You are on island time, and we simply just enjoyed the view and each other during the meals. Bars - We had no issue with service at the bars. We were acknowledged quickly and drinks were made immediately. I didn't get very adventurous but my favorite drink was the strawberry daiquiri with Rum Cream. It tastes like a strawberry milkshake. My husband mostly drank Red Stripe, Johnnie Walker's, and Maker's Mark. He had zero complaints! Pools - we had a lot of fun in the swim up bar pool. Aleko always had something going on to entertain us. We also loved the pool attached to our room. We didn't spend much time at the Main Pool although a bunch of people would reserve the cabanas to have a nice place to relax. I don't think if there was a bigger, better pool we would've spent any more time in it - the beach and calm ocean are unbeatable! Entertainment - We arrived on a Monday, which is Beach Party Night. We had a lot of fun! The did a good job of incorporating the guests into the entertainment. The rest of the nights were a little more calm, which we liked. Sometimes there would be live music, a talent show, comedian, etc. There was usually late-night partying going on in Cricketer's Pint. We typically went to bed around 10pm, too early for the true partying! Staff - Every single staff person were so genuinely courteous, polite, and accommodating. Kemario at Tokyo Jo's made us feel so welcome and was so prompt in service. Odain the photographer met my husband the first night and never forgot him through the entire week - even calling him by name. Carl was another photographer who did a quick photoshoot for us (complimentary!) and captured beautiful pictures of us. He was quite talented. Diconia at Cricketer's Pint always accommodated our strange requests without question and worked a full restaurant effortlessly. Thanesia and Peter at Cucina Romana took care of us every morning for breakfast - Peter always seated us so quickly and Thanesia always knew I wanted a mimosa and eggs benedict! Weather - When I looked at the weather forecast, it said it was going to rain every day. It maybe sprinkled for 5 minutes one evening. Personally, I think April may be the best time to go. It's the first month of the "off season" and the resort didn't seem full. The water was perfect and it's not the rainy season or hurricane season. We will definitely be going back in April again. Another thing to note, that I didn't see in other reviews - the guests all wear swim suits and cover-ups throughout the day, then everyone goes back to their rooms around 5pm to shower and change into more of a resort formal wear. I didn't realize this and felt so under dressed some evenings! It didn't particularly bother me but definitely would have upped my clothing game had I known. Either way, this resort is stunning and perfect. We fully anticipate coming back soon - and can't wait to do so!
kochki711 - Chicago, Illinois
---
We loved our walk-out honeymoon room with butler service!! Our butlers, Rolando and Orion, added the extra special touches to make our vacation absolutely wonderful!!! The Sandals staff was friendly, helpful, and made us so welcome in Jamaica.
JMartindale513 - Walnut, Mississippi
---
Spent seven days at Sandals Montego Bay resort in Late March and had a marvelous time. This was our fifth trip to the resort and every time we come, It seems to just get better and better. From the minute we arrived, we were made to feel like this was home. The service was terrific in every area of the resort. We stayed in the Butler Oceanfront for the first time and it exceeded every expectation. Our Butlers, Palmer and Carlene, anticipated our every need and provided extras that made our trip extra special. The food, seven different restaurants and shops, was top quality. Plenty of great entertainment led by the multi-talented Aleko and Scion left much to do each evening. We also already rebooked for next year thanks to the great help that Stacey in the Loyalty office provided. This is a great resort for couples to try, especially if it is their first trip to Jamaica. You will not be disappointed!
EDRENEE440 - Ashtabula, Ohio
---
Loved this trip. My husband and I needed adult time to just rest and relax and this was it. Room was great, service was great, food was great, and view was awesome. Would highly recommend a Sandals vacation to anyone. We have already scheduled to go back next year!
MimiMary52316 - Beckley, West Virginia
---