Please select your dates to see prices:
---
The Westin Golf Resort & Spa, Playa Conchal in Playa Conchal, Costa Rica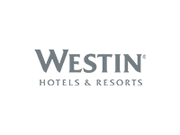 Costa Rica is the new playground for savvy travelers, and The Westin Golf Resort & Spa Playa Conchal is a hotel of choice. This exciting and enticing all-inclusive beachfront resort has it all: eco-adventures, spectacular swimming facilities, a soothing spa retreat, a gaming casino, golf and much more. The only thing missing is the absence of ordinary. Behind the doors of the oversize guest rooms, attention to detail and design includes elevated sleeping areas, conversation corners, spectacular views and vibrant artwork. There are accommodations and areas reserved for adults only, as well as amenities designed with families in mind.
Dining options include a mix of settings and flavors, from Far East edibles and Italian specialties to international buffets and casual poolside noshing. There are also a half dozen bars and lounges, including a swim-up bar plus a nightclub and theater. Relaxation is a key element at The Westin Golf Resort & Spa Playa Conchal, with a spectacular lagoon-style swimming pool flanked with palapas and palm-laden islands. A visit to the spa, with its magnificent menu of treatments, will never disappoint - nor will the 18-hole Robert Trent Jones II-designed golf course with its challenging fairways and lush landscape. Tennis buffs can go at it on one of four lighted courts, and those looking to improve their culinary skills can learn how to make sushi from the best chefs around. Make sure not to miss the tango lessons and yoga as well. Inspired by a vision of an extraordinary paradise, The Westin Golf Resort & Spa Playa Conchal is an elevated resort experience.
Location of The Westin Golf Resort & Spa, Playa Conchal
The Westin Golf Resort & Spa, Playa Conchal
Bahia Brasilito
232-515
Playa Conchal, Costa Rica
Nearest Airport: LIR
Amenities for The Westin Golf Resort & Spa, Playa Conchal
General Information
406 Suites
Dining
Poolside Dining
24-Hour Room Service
Swim-Up Bar
6 Bars
Snack Bar
7 Restaurants
On-Site Amenities
Beauty Salon
On-Site Car Rental
Concierge
Spa on Property
Laundry Service
Casino
Fitness Center
WiFi
Bicycle Rental
Live Entertainment
Boutiques
Nightclub
Tennis Courts
Gardens
Outdoor Whirlpool
Pool Cabanas
Theater
3 Outdoor Pools
18-Hole Golf Course
In-Room Amenities
Air Conditioning
Ceiling Fans
Hair Dryers
In-Room Safes
Mini Bar
Satellite Television
Televisions
Iron/Ironing Boards
Coffee & Tea Facilities
Activities
Bicycling
Cooking Classes
Cultural Classes
Deep Sea Fishing
Excursions
Sailing
Tennis
Wine Tasting
Pilates
Scuba Diving
Snorkeling
Nature Walks
Tai Chi
Yoga
ATV Tours
Billiards
Beach Volleyball
Fitness Classes
Bird Watching
Language Classes
Business
Meeting Rooms
Business Services
Family
Babysitting
Kids Pool
Kids Club
Playground
Nearby
National Parks
Golf
Interests
Beach
Family
Golf
Honeymoons & Romance
Spa & Wellness
Summer Getaways
Reviews for The Westin Golf Resort & Spa, Playa Conchal
---
The service here was very good - everyone was really friendly and helpful. The resort grounds were spacious and the buildings well-maintained. The restaurants were all staffed with attentive servers and the food was much better than expected based on my stays at all-inclusive resorts in the past. The pool wasn't crowded, we were able to get good chairs at any point in the day. Great location, great stay and would definitely return!
---
Just returned yesterday morning. Hotel is VERY nice. Its a big place with a very relaxing atmosphere. Staff were absolutely great. Could not do enough for you. Buffet was way above average for an all inclusive. Restaurants require reservations but even though place was booked for our week we had no trouble getting reservation. Shows were entertaining but night life was a bit lacking. We were the last week when it seemed an entire company sent everyone and when they left it was pretty quiet at the Imperial Bar which is the place to be at night for nightlife Beach is not private and there are quite a few people selling stuff but they left you alone after you tell them you are not interested. Although primary mission was conference we had entire afternoons to enjoy beach, poolside drinks. Gym is nicely outfitted and open 24/7. Great place to go for a quite relaxing vacation.
---
Top 5 reasons to go: 1) service is fantastic (staff are very friendly with a sincere desire to please - best service I have experience in Latin America/Caribbean at an all-inclusive; employees seem very happy) 2) food is terrific - Las Candelas (Latin American) was our favourite but we also loved the buffet; cocktails/mocktails are great 3) we LOVED the pool - it is huge, surrounded by lots of trees 4) the wildlife is a major draw - we saw Howler monkeys (and heard them) and coatis almost everyday; there are also birds everywhere (saw parrots near the pool and Roseate spoonbills in the lagoon) - we have room 4118 which is near large mango trees that the monkeys liked 5) the rooms are lovely - very large, wonderful AC, nicely kept Drawbacks: 1) the heat (we had no choice but to travel at March break, Mar-Apr being the hottest times of year; note only a couple restaurants are inside with AC), which hovers around 36C with heavy humidity - Costa Rica is quite far south so this mostly unavoidable 2) the beach is one of the nicest in the country, but water is somewhat cold and murky (do not expect the clear and warm waters of the Caribbean) Excursions: Use Erik Garcia (not associated with Westin), blue shirt/ball cap/name tag on beach. We did our rainforest excursion through him which was the highlight of our trip (small children or the elderly should not do the rainforest walk, which involves some muddy, slippery sections and 200+ steps), including holding a sloth and seeing frogs - totally reliable and an amazing experience - thanks Pablo. We also enjoyed a snorkelling experience through Erik.
marvinmartian0 - Brampton, Ontario
---
My friends and I have been coming here for 8 consecutive years. You know we have to love it! The best accommodations and amenities. The staff is the best. Couldn't ask for anything more. We especially liked the water aerobics and the nightly shows they put on.
joanbrit - Mahwah, New Jersey
---
(Sorry for the long review) Let me start off by saying what I have said so many times before, I don't expect perfection but what happens after the problem arises is what truly will set a company or it employees apart when the dust settles. When we arrived, as part of a very large group, my wife and I were unfortunately placed in a room with two full size beds. I called the front desk to let them know of the problem and see what options they had for us to change to a queen or king size room. They apologized for the inconvenience and said that they had some different options available for us the following day. The following day they upgraded us to a tower room. It was a beautiful room with a king size bed and many more amenities include. Upon our entering the room we found a bottle of red wine and some beautifully dipped chocolate covered strawberries. Having some coworkers that were already in the tower, we found out that the wine and strawberries were not included with that room normally so we figured it was a very nice and unexpected apology gift. We had great staff treat us like kings and queens anywhere we went on the resort. One instance was when my wife and I had lunch at Spirula Restaurant And Pizza Bar. We sat down and we were greeted by Brando Lopez. As I looked over the menu at my options and ordered off the menu a pepperoni pizza. It was very good. After our meal was finished and we were enjoying some ice cream, I asked Brando if he could make a specialty pizza if I came back. He asked what I was thinking of and I told him a mango and pepperoni pizza. He looked at me like that was an unusual combination. I told him that I had had one in the Dominican Republic once and it was delicious. He said no problem, to come tomorrow and they will make me one. So I did. The next day I walked up to the counter to order one to go and the gentleman there said no they couldn't. I told him my server the day before said they could. He went to the back and a few minutes later came out again and said sorry but no. Again I had just something off the menu. Later that evening we decided to eat at Las Candelas restaurant. Our server happened to be Brando again. I told him about the pizza experience. He said he was very sorry, to come back again tomorrow and ask for him and he would go get the mango personally and that he would be there after 3pm. I guess while we were eating dinner that evening, my wife saw Brando talking to another gentleman in a white shirt that appeared to be his boss or supervisor. She thought by the hand gestures they were talking about the pizza. Anyway the next day I was hungry and eager to get my mango pizza. I couldn't wait until 3pm because we had some friends with us and we we were hungry around 1:30pm. We were seated and I tried again with a different server. I told this server my request and that Brando had said it was possible. A few minutes later a gentleman that I had never seen before (but my wife later confirmed was the same guy Brando had talked to the evening before) came out holding the largest mango I had ever seen. He had a great big smile on his face and presented it to me saying "I knew that you were going to come today so this morning I went and found you the biggest most ripe mango I could find." He asked more questions about the pizza and I found out his name was Josue', he was the supervisor over the restaurant. After my pizza, he came back to check on us and to ask about my pizza. I told him how delicious it was and in conversation he found out I had a picture of the pizza I had in Dominican Republic. He asked to see it. In the picture you can see some green pesto on the pizza. He said he wanted to make it for me again. He wanted to make sure it was the most beautiful and delicious mango pizza I had ever had. When we ordered dessert that day we asked for a couple flavors of ice-cream they unfortunately did not have. He said for us all to come back tomorrow and he would have it. The next day came and my poor wife agreed to "pizza again!" We stood in line to be seated as the restaurant was full. As soon as Josue' saw me he ran over to greet me and shake my hand. He ran to the dinning area and moved a table and chairs from the sunny deck area to a quite cool corner of the restaurant. The hostess told me to follow her, that they had a special table for just us. Josue' came to the table and made sure of our orders and asked to see the picture again to take to the chef to show him. He asked if he could add bacon to the pizza. Of course that was no problem. Let's just say, that was the best mango pizza I have ever had and it was already my favorite pizza, so it was the best pizza I have ever eaten! We didn't even have to ask for dessert and Josue' brought out the mango sorbet, a cup of coconut sorbet and the leftover mango chopped in pieces to add to it. The meal will go down as the best service and food ever! Afterwards I wanted to make sure that Josue's boss knew how well everyone had treated us, especially Brando and Josue'. I found a gentleman (Roger) that looked the part of the "boss" so I stopped him to ask and said he was. I told him how great the two men were and he asked what room number we were. I told him and he said, "ahh you are the mango pizza!". He told me that they might add it to their menu next week as a special, too bad a can't come right back! Sorry for the long review but great service should be recognized. I will leave with this, Brando went WAY above and beyond for me personally, even running to town on his break to get me a stupid souvenir because he knew how bad I wanted jt. He wanted nothing in return nor did he want to be paid for the souvenir itself. I don't know what makes a person so willing to serve when he told me that he couldn't even accept tips, but I hope that the Westin Resort will take note of this incredible employee they have!!! Thank you all for an unforgettable vacation!! If you go, make sure to engoy the mango pizza!
born2becha - Salt Lake City, Utah
---