Please select your dates to see prices:
---
Hacienda Tres Rios in Playa del Carmen, Mexico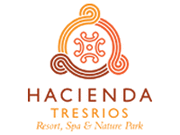 Mexican and Mayan traditions converge to create truly unique experiences at Hacienda Tres Rios, a new luxury all-inclusive resort on the lush Riviera Maya. Nestled in a 326-acre pristine nature park, this paradise is crossed by 3 amazing fresh water rivers and 10 cenotes, and is home to over 90 species of fauna and 120 species of flora. Hacienda Tres Rios brings together luxurious accommodations, gourmet dining and a wealth of outdoor activities on the shores of the glittering Caribbean Sea. Indulge in the resort's latest treasure at the brand-new Ya'ax Ché Spa. Opened in April 2009, this modern oasis fuses spa technology with the ancient wisdom of the Mayan cultures. Further explore beauty and culture in surrounding Playa del Carmen, and discover an authentic vacation experience unlike any other. At Hacienda Tres Rios, a true Mexican retreat awaits.
The resort's 273 spacious suites feature a modern Mexican design, inspired by the hacienda style of yesteryear. Each suite welcomes you with 300 thread-count Egyptian cotton linens, extra-thick luxury mattresses, and a pillow menu. Some suites offer a private whirlpool and views of the turquoise ocean. Dining offers a bounty of choices. There are on-site restaurants serving world-class cuisine, cafés for less formal (but no less delicious) gatherings, delis for special snacks, a pizzeria and 24-hour room service. With two pools, a private yacht club, nearby equestrian activities, activities for kids and teens, a private one-mile beach, guided eco-park tours, snorkeling, rivers for swimming, kayaking, and bird watching - Hacienda Tres Rios activities create the ultimate vacation experience, no matter your age or interest.
Location of Hacienda Tres Rios
Hacienda Tres Rios
Carretera Cancun-Tulum Km. 54
77760
Playa del Carmen, Mexico
Nearest Airport: CUN
Amenities for Hacienda Tres Rios
General Information
273 Suites
Ecologically Sustainable Practices
Dining
Private Dining
24-Hour Room Service
Cafe
Sports Bar
Bakery
Pizzeria
On-Site Amenities
Concierge
Spa on Property
Laundry Service
Gift Shop
Fitness Center
Private Beach
Live Entertainment
Boutiques
Music & Movie Library
Car Rental
Private Whirlpools
Lounge
In-Room Spa Services
Complimentary WiFi
In-Room Amenities
Air Conditioning
Bathrobes
DVD Players
Hair Dryers
In-Room Safes
Mini Bar
Iron/Ironing Boards
Marble Bathrooms
Flat-Screen Televisions
Luxury Linens
Pillow Menu
Private Terraces
Bathrobes & Slippers
Activities
Bicycling
Cooking Classes
Fishing
Kayaking
Pilates
Scuba Diving
Snorkeling
Ecological Excursions
Tai Chi
Yoga
Yachting
Bird Watching
Meditation
Business
Business Center/Services
Meeting Rooms
Family
Children's Programs
Babysitting
Kids Club
Teen Club
Nearby
Historic Sites
Golf
Nature Reserve
Interests
Beach
Eco Friendly Luxury Vacations
Family
Honeymoons & Romance
Spa & Wellness
Summer Getaways
Reviews for Hacienda Tres Rios
---
After having gone to Mexico for over 30 years, sometimes twice a year, this is by far the most awful experience I have ever had there. Worse yet, it was our 32 anniversary celebration and we brought along another couple that had never been to Mexico. Let me say first that the staff was very personable and caring individually, but the little breakdowns added up to being a nightmare. Starting with the rooms, nice enough but if you want to look at something more than trees 10 feet from your balcony you will need to be on the third floor (see photo for our second floor "view". The dense mangrove trees also surround the main pool, allowing little if any ocean breeze through. To make matters worse, there are limited umbrellas to block the sun. Claustrophobia started to settle in and so we made our way to the beach pool, which had a breeze but NO umbrellas. Pick your poison, bake in a sauna or fry in the blazing sun. Moving onto the food; totally tasteless at the Asian and Pizza restaurants (and a 30 minute wait after asking for our bill). It goes from bad to worse when the day after having coconut shrimp at The Grill restaurant, my wife came down with an extremely bad case of food poisoning. It was so uncontrollable that I called the front desk asking for a doctor. I was told that we would need to go to Cancun, a 45 minute drive. Not wanting to be away from a bathroom that long, we opted for getting antibiotics and Imodium delivered by a pharmacy for $65. Two days later my wife's health continued to become more desperate and I decided to call the concierge to see if they could refer us to a doctor. I was told they had a doctor who would come to the room and I was directly connected to him by the operator. The doctor arrived within 45 minutes and treated my wife with antibiotic/anti-spasmatic shots and gave her three medications including the strong antibiotic Cipro (unfortunately, I'd guessed wrong on which antibiotic to have the pharmacy deliver). Due to her illness we cut the pre-paid 7 day trip short by 2 days and had to pay for flight changes. Since my wife couldn't leave the room for 3 days, we searched for a room service menu but couldn't find one. When we asked to have one brought to the room, we were told there were none and had to listen to a short list of options. Needless to say, we won't be going there again. Sadly, the impression it left on our friends tainted their whole view of Mexico. They thanked us for bringing them along, but they won't ever be going back. SAD!!
David G - San Clemente, California
---
We absolutely loved water aerobics and recreation programs around the pool with Johnston; and Diony was so friendly and kind waiting on us by the pool and offering suggestions of places to go and things to do nearby! Love her!!
---
We spent two weeks at Hacienda Tres Rios and have been members for a long time. We enjoyed all of the people who make you feel like home. The butlers Erik, Santiago & Jessica helped with anything we needed. We appreciated Rapheal each day and he works so hard to make sure everyone is comfortable! We also enjoyed our new friend Elvie at the roof top! Thank you all for making our trip special!
---
We just returned and wanted to thank the pool staff including Beatriz and Jonatan for making our stay memorable. I was disappointed as I asked for a ocean view room and was told that did not exist to later find out it did. I also was disappointed in the presentation for the ownership opportunity as Nick didn't give us a complete tour of the grounds. Our cleaning staff was amazing. Our room was cleaned well and stocked well. Our girls got sick and within 45 minutes a doctor was in our room. Being the first time in the area I was surprised at the presentation to learn that this isn't a place we can "normally " book but we they are opening it up to the general public to offer the amazing opportunity and we were told we broke his heart when we didn't purchase. Just as they are upfront it is a sales pitch we were upfront we just wanted a free massage-sounded a bit like a telemarketing scam. The grounds were well maintained lush and tropical. The beach has suffered Erosion from the hurricanes and the seaweed is dead washed up and stinks that said they are working to restore the beach and with the river and the beach across the river it made it alright. Cindy was great with kids programs but as far as the space for the programming it was tiny and I wouldn't want to leave my girls there for long. This was the first all inclusive for our family while fun probably not something we will do again with our kids.
---
If you're looking for frozen grapes, poolside drinks, sunglasses cleaned or a little shade from the sun, look no further than Raphael, who's rocking the adult pool at hacienda tres rios! It's the little things that count and Raphael nails it every day, with a bright smile, willingness to help and hustle! Big shout out for helping make our trip a memorable one!
TheChefsWifey - Woodstock, Canada
---