Please select your dates to see prices:
---
Le Reve Hotel & Spa in Playa del Carmen, Mexico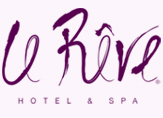 Just southeast of Cancun is the truly remarkable and lavishly appoi4nted Le Rêve Hotel & Spa. Located in Playa del Carmen, on Mexico's sparkling Riviera Maya, this beachfront retreat offers guests an unparalleled stay, directly on the azure waters of the Caribbean Sea. Ideal for couples, families, and friends alike, the intimate resort hosts just 23 rooms with thatched roof, cabana-style design. Private gardens, balconies, and gorgeous ocean views create a tranquil paradise for the senses. With bright whites, warm wood accents, and vibrant splashes of color, the modern rooms have an open and airy atmosphere, plus all the amenities to keep you connected and comfortable. Imagine waking to a whispering morning sea breeze, then strolling only a few yards until your feet touch the soft sandy beach. At Le Rêve Hotel & Spa, this dream is a reality, and the luxury and natural beauty of Mexico creates a wonderland escape.
Begin your days by heading out to Playa del Carmen's renowned white sand beachfront for a relaxing day of sunning and swimming in the sea. For some excitement and play, try your hand at kite surfing, waterskiing, kayaking, or snorkeling and scuba diving along the area's fantastic reefs. If you are feeling truly adventurous, opt for a high-flying zip-lining excursion to take in the view from above. Wind down and enjoy a colorful sunset with a horseback ride down the shore. For those who desire a bit more relaxation, delight your senses at the spa, with an aromatherapy session or deep tissue massage. Le Rêve Hotel & Spa combines a selection of à la carte menus and premium drinks to provide stellar dining experiences, including settings that offer breathtaking ocean views. The finest international cuisine is showcased to please the sophisticated side of your palate, while the staff guides you through extraordinary pairings to make for an epicurean journey and memorable gourmet experience. At Le Rêve Hotel & Spa your days will be full of adventure and excitement, your nights luxurious and tranquil, and your mind and body completely at peace.
Location of Le Reve Hotel & Spa
Le Reve Hotel & Spa
Playa Xcalacoco Fracc. 2A
77710
Playa del Carmen, Mexico
Nearest Airport: CUN
Amenities for Le Reve Hotel & Spa
General Information
23 Guest Rooms
Dining
Restaurant
Wine Cellar
Bar
Room Service
On-Site Amenities
Shuttle Service
Spa on Property
Outdoor Pool
In-Room Amenities
Turndown Service
Air Conditioning
Bathrobes
DVD Players
Hair Dryers
In-Room Safes
Flat-Screen Televisions
Private Gardens
Rain Showers
Activities
Scuba Diving
Snorkeling
Yoga
Nearby
Historic Sites
Shopping
Restaurants
Golf
Nightlife
Interests
Active & Adventure
Beach
Reviews for Le Reve Hotel & Spa
---
This is not my first time in Playa del Carmen but this time I wanted to do it differently, after a short while on the internet I found this cute littel place called Le Reve, I could be here sometime expressing my surprise and experiences in the place after only 4 days, but I will let you find out by yourselves, I will only say this, Gourmeth all inclusive, superv... Service well unforgettable (from Jesus and Juan in housekeeping to Eduardo or Freddy or even the boss Toño), last but not least Hugo B the manager who always made us feel special, also location location location, I fell from my bed to the beach everyday!!! just to put it in words.... There might be things that are not perfect yes I know, the rocks on the water (which I believe prevented the locals to come) and some seaweed, but they told me is seasonal, but our experience and comments are the result of all the things that made our trip GREAT and reaaaally SPECIAL, thank you guys!!!! we´ll be back soon!!!!
mihailhavliczek - Oregon Coast, Oregon
---
Le Reve Hotel is perfect for a relaxing getaway. It's much smaller than other hotels in the area which gives it a more personal and friendly vibe. The staff are amazing and very attentive. Our room was simple but clean and comfortable, with a beautiful view of the ocean. We would recommend this hotel to anyone wanting to switch off from the real world. Only one downside is the restaurant, which feels a little bit like a canteen. The food is good, but the atmosphere is lacking due to the decor. It's only 20 mins by cab into Playa Del Carmen, where you can find lots of bustling restaurants and bars. We will definitely be back!
Stephen F - London, United Kingdom
---
The service staff super nice, but for this room price I don't expect cockroaches. The windows have many places where they can get inside. In the bathroom the moskito net is broken. The restaurant is great, but if the noise is unsopportable even if only 7 tables are occupied (im not referring to the music!, the music was sublime in the background) , couldn't even understand what my partner said without shouting. Invest in soundproofing the ceiling and the walls! Poor waiters, it must be hell working everyday with such noise.
clar0scur0 - Hamburg, Germany
---
Can only say great things about this place. The food is great and made right to order unlike buffets where the food is not made with love. Rodolpho,Eduardo and the other staff attend to your every need. The bartenders mixed the best drinks I can honestly say in my life( Not one bitter or awful tasting drink). The beach is rocky yes but all you have to do is get water socks/shoes at your local Walmart and doggy paddle on the shallow part. I would prefer swimming in front of le Reve because it is much cleaner and is a natural beach compared to the big resort beside that has sand bangs and buoys that keep the spikey sea plants in there swimming area. Also I was highly impressed with the geckos practically keeping the hotel a free mosquito zone. As my first Mexican experience I very much enjoyed it and would not hesitate to stay again there if I ever came back to Playa del Carmen. That is the lasting impression it left on me.
vatoloco933 - Streetsville, Canada
---
We had a very pleasant stay at Le Reve Hotel & Spa in Playa Del Carmen 4/1/18 to 4/5/18. In our opinion, there were definitely more pros then cons. On arrival it was as I expected quaint, charming, perfect for us and just what we wanted. We were greeted by a cool refreshment and check in went smoothly. Our garden room was a bit dated, simple however clean & enough room for the 3 of us. We had a nice sized balcony on the second level. The AC worked fine but could have been a little more dehumidified and a/c vents could have been cleaner. The beds were comfortable. We did not purchase the all inclusive 'American' option since we are not big drinkers so at their rate of 150.00 per guest per night was unreasonable for us (150.00 X 3 = 450.00 per night) vs. the 'European' plan. The end result was that the European plan worked fine for us since the average for the three of us was 270.00 per day for 3 meals, some snacks & liberal amount of fancy drinks (not including gratuities). The food in the restaurant & pool grill was excellent. The staff was friendly and accommodating. The drinks were delicious and we enjoyed both non-alcohol (virgin) frozen concoctions as well as alcohol ones. We enjoyed the Pina coladas, marguerites, fruit daiquiris, etc. The alcohol ones were not made too strong in which we liked. On Wednesday the water aerobics was fun with Emmanuel! He also hosted a watermelon drink demo on Tuesday, very tasty! Many thanks to the wonderful staff; Emmanuel, Eduardo, Rodolfo, and Roberto. Forgive me for not mentioning all! There seems to be a lot of concern about Playa del Carmen & Mexico in general with a level 2 US travel advisory. Many other islands are a level 2 such as Jamaica. Never once did we feel unsafe. Due to are 5 day stay we did not venture out or do tours since we just wanted an R&R this time. However I would not hesitate to explore The area and beyond. Just use common sense. We only went out once to a local restaurant that was suggested here on TripAdvisor (we found a hidden gem). It was a short 2 mile taxi ride. It was well worth it. The owner insisted on driving us back to our hotel. She was very sweet. The other cons is the need for more loungers and chairs for guests for both pool and beach. They were also extremely heavy to move but the staff did help move as needed. Another negative was the barking dogs at night. Not sure what if anything can be done about that??? Still with these few things, it was a fantastic time & very relaxing. The weather was very nice too. Just what my family of three needed! One other suggestion for guests is to pack water shoes in which we did. They are very much needed with the rocky & unleveled ocean floor there. There are many craters (holes). I did scrape my knee twice but not severely. You must walk slow and very carefully getting in & out of the water. We would return here for sure and maybe even get a beach front cassata or ocean view room but honestly the garden was full of lush palms & just fine.
---