Please select your dates to see prices:
---
Secrets Maroma Beach Riviera Cancun in Playa del Carmen, Mexico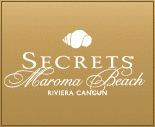 The leaves of tall palms rustle in the gentle Caribbean breeze as the fragrant aroma of tropical flora fills the air, beckoning guests to explore the paradise that is Secrets Maroma Beach Riviera Cancun. This adults-only all-suite playground invites guests to pursue every indulgence while being pampered by an attentive staff in a breathtaking setting along the coast of the Yucatan Peninsula. Suites are designed with a focus on simplicity and romance, with four-poster king beds or two double beds, in-suite Jacuzzi for two, and private, furnished terrace. Swim-out suites provide direct pool access, while all rooms are elegantly appointed with thoughtful amenities. Guests who download the Secrets Resorts and Spas app enjoy Unlimited Connectivity during their getaway, including free wi-fi anywhere on the resort, free calls to the US, Canada, and landlines, and access to dining menus, restaurant times, and facility information. Every guest of Secrets Maroma Beach receives the royal treatment, but Preferred Club members enjoy an extra hint of luxury, including afternoon hors d'oeuvres, daily continental breakfast, and access to the Private Preferred Lounge.
The resort boasts nine eateries and seven bars specializing in everything from Western favorites to Pan-Asian fare, and savory, local seafood. Foodies who favor an even wider variety may find themselves enjoying a different delicacy daily with the Sip, Savor & See Dining Experience, which provides guests with the opportunity to sample the cuisine at 60 surrounding restaurants as part of the all-inclusive Unlimited-Luxury® package. Secrets Spa by Pevonia is a sanctuary for the senses, offering healing hydrotherapy, relaxing aromatherapy, and an array of massages and treatments that focus on pain relief, relaxation, and even skin care. Exciting events and nightlife options include the Stargazing Rock n' Roll Party, Desires Music Lounge, and an endless list of land and water activities. At Secrets Maroma Beach Riviera Cancun guests are welcome to try everything, or do nothing at all.
Location of Secrets Maroma Beach Riviera Cancun
Secrets Maroma Beach Riviera Cancun
Km 324-342, Villas del Mar, No. 3
77580
Playa del Carmen, Mexico
Nearest Airport: CUN
Amenities for Secrets Maroma Beach Riviera Cancun
General Information
412 Suites
Adults Only
Dining
24-Hour Room Service
Swim-Up Bar
Cafe
7 Restaurants
7 Bars
Beach Wait Service
On-Site Amenities
Concierge
Fitness Center
WiFi
Game Room
Outdoor Whirlpool
In-Room Amenities
Turndown Service
Bathrobes
DVD Players
Hair Dryers
Satellite Television
iPod Docks
Activities
Kayaking
Sailing
Tennis
Beach Volleyball
Mini Golf
Nearby
Shopping
Restaurants
Golf
Interests
All Inclusive
Beach
Honeymoons & Romance
Spa & Wellness
Summer Getaways
Reviews for Secrets Maroma Beach Riviera Cancun
---
The resort was Beautiful, clean, the rooms were modern and spacious, set up perfectly. Great view of the ocean. The restaurant choices where great and everything we ate was delicious. The entertainment was great. The staff was very friendly and couldn't do enough for us. I can't wait to return in the near future.
mseppy1223 - West Berlin, New Jersey
---
You will not find a resort in Mexico, or maybe anywhere, that excels in guest relations and warm hospitality, like Secrets Maroma Beach. We read the reviews, heard the compliments, watched the YouTube videos, and it exceeded our expectations. I'm not an easy person to impress, and I was blown away by the people, the atmosphere, the beauty and the absolute warmth that you felt from the minute you stepped off that shuttle. They said,
eyedoc12 - Swansea, Illinois
---
This was a beautiful resort with lovely grounds. I opted for one of the cheaper rooms. It was a junior suite with a partial ocean view. I requested a king bed since it was our anniversary and didn't want the 2 queen bed option. As usual we were approached after check in by the time share/vacation club sales people. I don't enjoy this. It is uncomfortable to have to shut them down right away. We have been through the spiel at the other 3 Secrets Resorts we have stayed at. We take 1 trip a year so the vacation club would not be useful to us and I have heard absolute nightmares if you attend the "90 minute" meeting. In fact, while we were there we saw several couples engaging in the meetings. They didn't look unhappy but we are there a short time and don't want to spend half a day doing this. Now back to the resort....Our room was awesome!! So comfortable and spacious. Humongous tub and nice shower. A sitting area inside as well as table, chairs and built in bench with cushions outside. I spent every morning out there on that bench watching the sun come up. My husband usually gets up about 30-60 minutes behind me and it works perfectly for me to be able to go outside and enjoy the sounds and views. One bad thing....the bed was too hard for me :-( It may be good for some, but I need a little more cushion. Oh the sensor that goes on when you near the step....We put a pillow over after the first night. My husband went to go to the bathroom and it turned on, and he was on the other side of the bed!! I can't say enough about the grounds. Everything looked well maintained. Pools were nice. There were plenty of places to sit in the shade or sun. Spaces near the pool filled up pretty early, but further from the pool there were places to sit. We spent two mornings sitting on the beach. Which was a bit windy. We would eventually move towards the pool and find a place. I spotted some perfect chairs by the pool that faced the beach and decided I would snag those the next morning. We did and we spent the day there. It was perfect!! The food was good at the restaurants. My husband seemed to enjoy his food. I am a little more picky and thought it was ok, not great. We did not go to the Asian or French restaurant. I really liked the buffets at breakfast and lunch. There is so much to choose from. We are not big drinkers. We had some Pina Coladas, Dirty Monkeys and Miami Vices. They were all good. The service was top notch. They try very hard to please their guests. Everyone was friendly and helpful. One morning my husband went to the Gym and I was sitting outside reading and a young girl sat down and started talking to me. Her name was Alina. She probably sat there for 30 minutes. She was part of the entertainment team. She was very friendly and I enjoyed our conversation. The next day I saw a man who was alone get approached by a young man and they talked for about 30 minutes. I don't know if that is part of their job but it was a nice touch for some who may be alone. Lastly, we traveled at a time when safety was questionable. We did not go on any excursions, and that was on purpose. We felt safe in the resort. When we returned home there was news of men on jet skis firing onto the beach in the Cancun Hotel Zone. Scary. Mexico is a beautiful place, however, if they don't make it safer, people will stop traveling there.
stacey f - Houston, Texas
---
Here's the thing, this place is still the high-end, adult resort that it advertises but, it's not the quiet retreat it once was. They had a foam party one afternoon that was an absolute drunk fest. It caused already drunk adults to act like they were at a Spring Break resort. It does not belong here. Go to a lower end resort for the party vibe. I come to this sort of resort for an upscale, classy, casual vibe. With that said, they must inforce a dress code at Dinner. I witnessed two men wearing t-shirts, jersey shorts and shower shoes next to me at Oceana one night. Every other man in the restaurant had on a collar shirt and either nice shorts or slacks. The very next morning, I watch as a man in a t-shirt and shorts get turned away from the World Café (to sit outside) for Breakfast, because he was in gym clothes, and the shirt didn't have a full sleeve. They must have some sort of consistency for this level of resort. And lastly, there were many corporate groups here during our stay. I really don't have a complaint to large groups, as I often travel in them, and get it. But, I don't appreciate the resort allowing 4-5 tables of 10 guests in the restaurants all at a 7pm sitting. It allowed for 2 tables for regular paying guests, and over an hour wait. It just doesn't seem fair to the rest of the resort. Having them sit in smaller tables, or have them all eat as a group function, would make more sense at a resort to full capacity. Everything else was pretty good. New renovations on the rooms are nice, although the air conditioning didn't work great. I always enjoy all the small touches, small bites around the pool, cold towels, popsicle cart, etc. The new pizza station and set up at the barefoot grill is also really nice. Food for lunch was delicious all around. Nice to see many familiar faces on the property from my past visits. Shout out to Marco, Claudia and Paola at the pool for their great service and hospitality.
---
Currently staying here, have stayed at other Secrets previously and at many AI's in the past. This hotel is fine but nothing special in my opinion. The staff is friendly and accommodating for the most part, but the service is often slow. The food is not up to par with other AI's I've stayed at. The pools are very small, too small. The beach is the best part of the resort. Nothing major wrong just enough little things everyday to disappoint.
---