Please select your dates to see prices:
---
Secrets Maroma Beach Riviera Cancun in Playa del Carmen, Mexico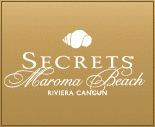 The leaves of tall palms rustle in the gentle Caribbean breeze as the fragrant aroma of tropical flora fills the air, beckoning guests to explore the paradise that is Secrets Maroma Beach Riviera Cancun. This adults-only all-suite playground invites guests to pursue every indulgence while being pampered by an attentive staff in a breathtaking setting along the coast of the Yucatan Peninsula. Suites are designed with a focus on simplicity and romance, with four-poster king beds or two double beds, in-suite Jacuzzi for two, and private, furnished terrace. Swim-out suites provide direct pool access, while all rooms are elegantly appointed with thoughtful amenities. Guests who download the Secrets Resorts and Spas app enjoy Unlimited Connectivity during their getaway, including free wi-fi anywhere on the resort, free calls to the US, Canada, and landlines, and access to dining menus, restaurant times, and facility information. Every guest of Secrets Maroma Beach receives the royal treatment, but Preferred Club members enjoy an extra hint of luxury, including afternoon hors d'oeuvres, daily continental breakfast, and access to the Private Preferred Lounge.
The resort boasts nine eateries and seven bars specializing in everything from Western favorites to Pan-Asian fare, and savory, local seafood. Foodies who favor an even wider variety may find themselves enjoying a different delicacy daily with the Sip, Savor & See Dining Experience, which provides guests with the opportunity to sample the cuisine at 60 surrounding restaurants as part of the all-inclusive Unlimited-Luxury® package. Secrets Spa by Pevonia is a sanctuary for the senses, offering healing hydrotherapy, relaxing aromatherapy, and an array of massages and treatments that focus on pain relief, relaxation, and even skin care. Exciting events and nightlife options include the Stargazing Rock n' Roll Party, Desires Music Lounge, and an endless list of land and water activities. At Secrets Maroma Beach Riviera Cancun guests are welcome to try everything, or do nothing at all.
Location of Secrets Maroma Beach Riviera Cancun
Secrets Maroma Beach Riviera Cancun
Km 324-342, Villas del Mar, No. 3
77580
Playa del Carmen, Mexico
Nearest Airport: CUN
Amenities for Secrets Maroma Beach Riviera Cancun
General Information
412 Suites
Adults Only
Dining
24-Hour Room Service
Swim-Up Bar
Cafe
7 Restaurants
7 Bars
Beach Wait Service
On-Site Amenities
Concierge
Fitness Center
WiFi
Game Room
Outdoor Whirlpool
In-Room Amenities
Turndown Service
Bathrobes
DVD Players
Hair Dryers
Satellite Television
iPod Docks
Activities
Kayaking
Sailing
Tennis
Beach Volleyball
Mini Golf
Nearby
Shopping
Restaurants
Golf
Interests
All Inclusive
Beach
Honeymoons & Romance
Spa & Wellness
Summer Getaways
Reviews for Secrets Maroma Beach Riviera Cancun
---
Beautiful resort, really friendly staff, everything was great! The food exceeded expectations - very well executed. The pastry chef was particularly good. Every dessert was amazing. We booked a swim-out and it was worth the cost. We had our own little retreat away from the main pool when we wanted some quiet and the fun of the people at the pool and bar when we wanted a crowd. Adults only and all inclusive were a plus. Ernesto made sure our mini bar in the room was stocked with what we wanted and Roberto our concierge took care of the rest. Everything exceeded expectations and we will certainly be back again in the future!
---
First, as everyone stated, service is top notch. Everyone is incredibly friendly. The owners/managers should certainly reward every staff member, as they are the best part of this resort. They add special touches, such as cleaning your sunglasses at the pool, making dinners extra special, and even playing chess with you at the pool! Entrainment was fun too! The shows were varied and during the day the music was great at the pool! Loved the foam party too! Fun! Check in was a breeze. Our room was ready early! And no push for the travel club at all! Awesome! Champagne was great too! We stayed in an oceanfront honeymoon suite. These are in Building 17 and 27. Contrary to the answers in this forum BUILDINGS 27 and 17 ARE NOT RENOVATED YET. Having said that, the room was fantastic. Huge! There were two separate rooms, living and bedroom, plus a dining table, small kitchette, and 1 1/2 baths. The main bath was massive! The room was incredibly clean. And it really doesn't need renovating. Only negative of the room was the cheap, scratchy sheets. They need higher end sheets. The cleaning service was fantastic! Our room was spotless! Loved the candy! The balcony was very nice! We had a hot tub on the balcony, plus tons of seating. The ocean view was amazing. Really, this was one of the nicest rooms we have ever stayed in. Loved the room service Secrets Box! Alejandra (Alex) was our concierge and she is phenomenal. She arranged lovely dinner surprises for us, little flowers and notes and checked on us constantly. She is top notch! We really enjoyed the preferred lounge, and went there for upgraded Alcohol several times a day. I liked the breakfast pastries too! So, service and room were TEN STARS! A note on chairs... super easy to get even at 10 am. Tons of open chairs at pool and on beach. But please .... you need more pool floats. It was really hard to get one to use. The pool really is very lovely. The entire resort is clean and lovely. Maybe a bit sterile? Or contemporary? The grounds aren't as lush as some places, and fountains etc are neat, but again contemporary. They had fun things to do. They had mini golf, cornhole, volleyball, chess, etc. very fun. And the grounds are immaculate! There are a lot groups here. Lots of corporate events. These do interfere with other guests. They make you leave your chair at the pool at 3 pm to set up events. And they use the beach a lot for gatherings, often with loud music late at night.... Now, for the food and drinks. This is a big part of enjoying an all inclusive. And here, Secrets falls way short. Sandals, IMO, is much, much, much better. The fruity drinks were, simply stated, terrible. They had lots of alcohol options, many great brands. But the juices or mixers were funny tasting. A lot of people complained about the weird aftertaste. Every type of fruity drink I tried had this weird taste. It was just not pleasant. I tried every kind of juice option in drinks....none were fresh, all in a carton. All tasted terrible, like Saccharine. Since I like these type of drinks, it was a bummer. I definitely didn't drink much, since the drinks weren't good. Such a disappointment. As for food, it was also very disappointing. Service was awesome. But the restaurants are so hot! It was unbearable. You just sweated through dinner in nice clothes. Wine was just ok. But we couldn't even enjoy the lobby bar before dinner, because again it is crazy hot. Food was also just ok. We liked Italian best and actually the regular oriental (not hibachi) was pretty good. Hibachi was good too, except steak was tough. And omg it was hot! You can't enjoy food while you (and all the poor wait staff) are sweating. Please fix the air conditioning! French was decidedly not good. Steak everywhere was so tough. Steakhouse was hot and not good. Lunches were average. Hamburgers were really bad. I did want to note that the Italian and Hibachi restaurants went out of their way with special menus and it was, truly, special and incredible. Just awesome presentation! We loved it! We just wish other dinners and lunches were good... unfortunately this was not the case. So, mediocre food and drinks. Now, the reason you pay this much money....the beach! Not good! Tons of seaweed. It was feet...yes feet...high on the beach a few days. They were using small bulldozers, there was that much of it! Yuck! Even in the "better days" there was a lot. They tried to clean it up, but it just piled up again. And I, for one, don't want to swim in murky seaweed water. I went in the ocean once. The seaweed was all around and it was not clear at all. Several days the water was really rough. I get you make the best of it. Of course we did too. But why go to Mexico and risk seaweed (which i think happens every few years) when other tropical places have better beaches, water and no seaweed. So, while the sand is nice and powdery and the beach is wide and walkable, the water is not nice. We stayed at the pool. The pool was really nice! But, frankly, there are tons of resorts with nice pools for a lot less money. The beach was such a disappointment. So, Beach is a one. In sum, we would not return, merely because of the possibility of seaweed again, or rough waters, compared to other tropical locations. And the food and drinks were lackluster. Too bad, because the resort is really lovely and service is top notch! We enjoyed our stay and are glad we tried Secrets. And our room, concierge and service were worth the trip. Loved vacation, but we would chose another option next time we travel. Just trying to give an honest assessment. There are pluses, and I am sure travelers here will have a nice time!
---
This was our first time in Riviera Maya and our Honeymoon. Secrets Maroma beach was simply heaven on earth. The beach is beautiful with a ton of cabanas. The pool is top notch. Plenty of umbrellas and covered "beds". Cool swim up bar and lots of pool activities. However the pool activities were not at all disruptive if you chose not to participate. We hung out in the same area of the pool everyday because we had the BEST waiter...a shout out to Juan CARLOS Garcia . We wanted for nothing! First thing everyday he took our Yetis and filled them with ice and brought bottles of water...so the ice lasted all day. One day we ate lunch pool side and an Iguana jump on my lap and started eating my fries...Carlos casually swatted him off grabbed my fries took them back an brought new. The whole thing was rather comical... we sure entertained the people in the pool! The food was mostly very good all of the Mexican dishes at any of the restaurants, buffets were delicious (I recommend trying as many dishes as you can). We ate at the French, Italian, Seafood Restaurants - all delicious. The only thing that was not great was the beef but so many things to choose from it didn't matter. Our room was delightful with a view of the Ocean our concierge was extremely helpful. We had a private honeymoon dinner on the beach that was very romantic and delicious and we were very pampered. The alcohol and beer selections are very good and even better if you go to the preferred club room...we had access but hardly used it. as I said the standard stuff was very good. Lots of activities to do and the shows are pretty good. The rock and roll show was really fun and surprisingly the music was great. We have been told that we are now spoiled for any other resort by people that have stayed at a variety of resorts in Riviera Maya and I believe it! One of the cool things was the hot tubs. There was a large hot tub/Jacuzzi at each building and they were very private. Next time I want to stay in a swim up room. The spa is very relaxing. This time we were in a prefered ocean view suite. A beautiful resort all around. The only negative was the aggressiveness of the people selling the timeshares - this was our honeymoon.
duchess2018 - Erie, Pennsylvania
---
This is our fifth trip to Mexico with our 3rd stay at a Secrets resort and I have to say it was an all around wonderful experience. The primary reason for picking Secrets Maroma Beach is for the beautiful beach area. There is a reason why it is frequently rated the best in the world because it is spectacular! They have had in influx of seaweed from years past but I'm not sure if it was the time of year or if it is an ongoing issue. That being said it was not a deterrent for us and they kept it cleaned up so you could still enjoy the beach. Service,as was at all Secrets resorts, was top notch and we were not disappointed with any of the workers we encountered. The time share pitch seems to be the norm at these resorts however and we learned a lesson to just give a firm NO. I understand completely that the VIP representatives work on commissions and that this is their livelihood so I did not take it personal but honestly if you do not intend on purchasing I would just not waste your time or theirs and avoid any hard feelings all the way around. The lobby bar Rendezvous was a great place to grab a drink before dinner with some extremely talented live music. They have a list of specialty drinks and our personal favorite was the chocolate berry martini, it's fantastic! The shows were great and the Beatles show was outstanding. Our timing was off for the Rock Show but we have heard good reviews on that as well. The night club Desires is probably the nicest disco we have seen so far in our prior resort stays with a fun DJ. We enjoyed the mini golf course and watching the animals that are all over on the resort. We also used the onsite gym and although it is a little small they had plenty of equipment for us to get a good workout. The grounds itself are very beautiful and lush with some paths through nice shaded areas.The food for the most part was very good with the Italian restaurant being our favorite. Our room was on the top floor or building 22 and we had a great view of the resort and the ocean. We enjoyed watching some pretty amazing sunrises from our balcony and was a great way to start the day in paradise. This resort is definitely our favorite so far and we would absolutely consider returning for another stay. If you want luxury, fun activities and top notch service on the most beautiful beach in the world this is the place! Highly recommend!
---
If you are searching for a great resort, book here. We came 2 years ago to celebrate our 20 year wedding anniversary and decided to return with family members in April. They were thrilled and so were we. The service is fabulous and it's all the little details that make all the difference. They make you feel special and pampered everywhere you go. From door banners, to champagne, to seating you in restaurants, to the beach waiting. The service is their major strong suit. The restaurants are gorgeous and a nice size. The food is delicious. We particularly loved Oceana, but also the french and italian. The resort itself is just the right size. Not too big, so no need for shuttles and you can get to your room fast. All the grounds and the beach are very clean. This resort is situated in Playa Maroma on a beautiful stretch of fine soft white sand and feels secluded because there is a limited amount of resorts here, about 3. You can walk for miles and feel safe. The water is usually pristine, with no rocks and no algae like 2 years ago, but this spring has brought a few Sargassum weeds. Don't worry, you can still swim most days and the algae will subside. The resort is doing a great job cleaning the weeds that washed up on the beach. Playa del Carmen is about 10 minutes away by taxi, but we didn't feel the need to leave the resort, not even for a few hours. We were just happy to stay here. As for entertainment, it is great. Not boring like other resorts. There are very fun foam parties, concerts on the beach (a must with Coco and his wonderful singer), angry birds game by the ocean on friday afternoons and lively evening shows with great production. Thumbs up to the band and the dancers! Wonderful! And don't miss karaoke night. We had fun participating and we just hoped they had another karaoke night! There is a small disco with a very good DJ. And in the day, a saxophonist and sometimes a harpist will entertain you. Secrets Maroma is a quiet, romantic place but definitely not boring. A perfect balance in my opinion. The only annoying points I have to mention is the timeshare or participation plan presentation that they pitch to you at the moment you check-in. Most people don't want a timeshare (or any type of commitment to a brand) because they want to be free to choose the resort they want in any destination they want with any company they want. There are too many resorts to choose from now and people don't want to commit to AM resorts. Not us, anyway. Secrets VIP people, please just mention that there is a presentation and then let it go. If your guests want to adhere to AM resorts, they know where to find you... in the lobby everyday. This type of insistance that we must assist to the presentation moments after we get off the plane is quite annoying and takes away from the carelessness we want to feel when we arrive, and finally get to decompress from our hectic lives. Also, sometimes sketchy WIFI, but not always a bad thing. And drinks at the beach bar are inconsistent and questionable. Example: a singapour sling that is clear? Definitely not a singapore sling hihi. This is the only bar that had sub-par drinks. We jokingly named it the « Shut up and drink » bar. The rest of the resort bartenders were perfect. And the showerhead in room 1447 was just sprinkling water. Needs to be replaced. Now I am just being nick-picky. Just book this resort. It is gorgeous, relaxing, clean, safe, fun and simply amazing!! Thanks to Alejandro (both), our concierge in building 14, Paola, Enrique and whole entertainment team, Lucy at the night bars, Alvaro and Paulino and all beach waiters, Edgar, Maria and Guillermina (best omelet cook ever) at breakfast buffet. And we want to thank every employee. You all make a difference. Thanks for making our vacation a memorable one. We will return. We are not keeping this a « Secret ».
Levisgirl - Quebec, Canada
---