Please select your dates to see prices:
---
Secrets Maroma Beach Riviera Cancun in Playa del Carmen, Mexico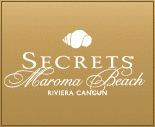 The leaves of tall palms rustle in the gentle Caribbean breeze as the fragrant aroma of tropical flora fills the air, beckoning guests to explore the paradise that is Secrets Maroma Beach Riviera Cancun. This adults-only all-suite playground invites guests to pursue every indulgence while being pampered by an attentive staff in a breathtaking setting along the coast of the Yucatan Peninsula. Suites are designed with a focus on simplicity and romance, with four-poster king beds or two double beds, in-suite Jacuzzi for two, and private, furnished terrace. Swim-out suites provide direct pool access, while all rooms are elegantly appointed with thoughtful amenities. Guests who download the Secrets Resorts and Spas app enjoy Unlimited Connectivity during their getaway, including free wi-fi anywhere on the resort, free calls to the US, Canada, and landlines, and access to dining menus, restaurant times, and facility information. Every guest of Secrets Maroma Beach receives the royal treatment, but Preferred Club members enjoy an extra hint of luxury, including afternoon hors d'oeuvres, daily continental breakfast, and access to the Private Preferred Lounge.
The resort boasts nine eateries and seven bars specializing in everything from Western favorites to Pan-Asian fare, and savory, local seafood. Foodies who favor an even wider variety may find themselves enjoying a different delicacy daily with the Sip, Savor & See Dining Experience, which provides guests with the opportunity to sample the cuisine at 60 surrounding restaurants as part of the all-inclusive Unlimited-Luxury® package. Secrets Spa by Pevonia is a sanctuary for the senses, offering healing hydrotherapy, relaxing aromatherapy, and an array of massages and treatments that focus on pain relief, relaxation, and even skin care. Exciting events and nightlife options include the Stargazing Rock n' Roll Party, Desires Music Lounge, and an endless list of land and water activities. At Secrets Maroma Beach Riviera Cancun guests are welcome to try everything, or do nothing at all.
Location of Secrets Maroma Beach Riviera Cancun
Secrets Maroma Beach Riviera Cancun
Km 324-342, Villas del Mar, No. 3
77580
Playa del Carmen, Mexico
Nearest Airport: CUN
Amenities for Secrets Maroma Beach Riviera Cancun
General Information
412 Suites
Adults Only
Dining
24-Hour Room Service
Swim-Up Bar
Cafe
7 Restaurants
7 Bars
Beach Wait Service
On-Site Amenities
Concierge
Fitness Center
WiFi
Game Room
Outdoor Whirlpool
In-Room Amenities
Turndown Service
Bathrobes
DVD Players
Hair Dryers
Satellite Television
iPod Docks
Activities
Kayaking
Sailing
Tennis
Beach Volleyball
Mini Golf
Nearby
Shopping
Restaurants
Golf
Interests
All Inclusive
Beach
Honeymoons & Romance
Spa & Wellness
Summer Getaways
Reviews for Secrets Maroma Beach Riviera Cancun
---
This was our first visit to Secret Maroma, we flew to Cancun from LAX we were 3 couple, good friends and we had a wonderful time. the food at the specialty dining restaurant was amazing spacificly for an all-inclusive hotel. the beach was very nice and the service was impeccable. I will definitely come back here to pay another visit me and my wife loved it. we had a great time.
marcfamily6 - Orange County, California
---
This was our 8th visiit to Secrets Maroma, and they just seem to be getting better with each visit. They listen to what guests suggest and and act. We contact the resort to advise them when we will be arriving and request a particular location and down pillows. Done! Monica Morales, Ivan Santos, Yanin Rodriquez, and Yessica do their best to make each visit is memorable. In addition, our concierge, Alejandra Uribe and Andres Suarez, the Sous Chef, pampered us so much that it was hard to leave when our stay ended. Rolando Miranda,made sure things ran smoothly from the moment we arrived at the resort. After all the years, one of our favorite people is Edgar Hernandez, the maitre di at the World Cafe. He always greets us and make makes sure that we have everything we need and are happy. He always starts our day off with a smile. I watch him work tirelessly, multi-tasking to make sure guests are seated, glasses filled, empty plates removed, and the food is satisfactory. I would take him home, but he can't fit into my luggage! Also, at the World Cafe, Guillerma, makes the best omelettes I ever had! Moises and Francisco,at the Seaside, could not do more for us than they did. The sevrice was excellent and they paid attention to every detail. They went out of their way to make sure everything was to our liking. The chef, Ezquiel, is the best. He knows how to cook, be it meat, fish, poultry, or vegetables. Salmon is very difficult and he did it perfectly. Domingo, at the French Restaurant is one of the best severs at the resort, Always making sure everyting was perfect when he waited on us. The rooms have been updated and are absolutely gorgeous. Orquedia, who took care of our room, was the best. We asked that our room be make up between 9 and 9:30 in the morning, and it was always done. This could easily be our first home, but that would mean that my wife could not use her vacuum! I just can't say enogh about this resort and its people.
Bryan W - Los Angeles, California
---
We were really happy with our stay at Secrets Maroma beach and would highly recommend it. It was our first time there and the resort was beautiful and the staff were extremely friendly and helpful. They go well out of their way to exceed expectations and you will feel very pampered for the whole trip. The location was great (not too far of a trip from the airport), the food/drinks were wonderful, and they offer many great amenities and activities there. There were very few negatives for us but I would say the sea grass problem on the beach was one of them. This is something they cant control and do their best to manage. We were still able to enjoy time in the ocean though so it didn't take away from the trip at all. The only other negative would probably be some of the restaurant and buffet hours. For the most part you could always find an option but because we did a couple excursions we had some times where the hours they were open just weren't ideal. Overall, this is an absolutely amazing resort though and I would highly recommend it to anyone I know! We did not want to leave!
ehoffman575 - Chicago, Illinois
---
Overall the resort was immaculate. Staff members were very friendly and food was excellent. BRING ALL TYPES OF EMERGENCY MEDICATION. My husband got travlers diarrhea and coincidentally the resort did not have any Imodium in the gift shop ( imagine that.) We had to order Imodium from local pharmacy and pay an extra delivery charge in addition to $21.00 for 8 tablets. Beach was covered in seaweed (sand and water). We stayed 5/10 to 5/17 and only on 5/10 was beach free of seaweed. I totally understand it's Mother Nature and the resort can not be blamed for what's in the water, however, there was sooo much seaweed on the sand, it extended over 4 feet wide and staff basically gave up as it was uncontrollable. The water was comparable to NJ Atlantic Ocean water, and you couldn't see your hand in the water. My swimsuits were stained yellow and brown from the beach water. The resort sits in on curve and seaweed just keeps on the shore line. Yes, you can swim past the seaweed, however, blooms and blooms kept coming in and I didn't notice a change in the water color, still brown when you got in. The smell of the seaweed is at times overpowering.
---
Having previously stayed at Secret Silver Sands we had high expectations for our stay at Secrets Maroma Beach. All of our expectations were met and exceeded from the moment we arrived until we left ten days later. Every member of staff that we met greeted us with a smile on their face. The hotel was immaculately clean. The room was a preffered club swim out suite which was very clean and well appointed. The food at all the resturants was a very high standard and served with a smile. The daily activites provided by the entertainment staff were fun and professionally delivered. The beach was well kept and the sea weed was cleared every morning to leave a beautfiul beach unlike other hotels in the area. Although every member of staff gave 100%, a few went beyond this, I would like to point out Paola on the entertainment staff, she seemed to have an endless amount of energy. Roman, the waiter in the Occana resturant was one of the best waiters we have ever had in any resturant anywhere. The fun way that he does his job helped make our meals a great experience. Sarahi the hostess in the Occana grill was also very proffessional. Roberto our concierge could not have been anymore helpful and made sure everyday that we were having a good time. I'd also like to mention Lucy in the coffee shop and Mayra on the entertainments team. These members of staff are a credit to your hotel.We look forward to our next visit to Secrets Maroma Beach.
Andy H - Ipswich, United Kingdom
---