Please select your dates to see prices:
---
Secrets Maroma Beach Riviera Cancun in Playa del Carmen, Mexico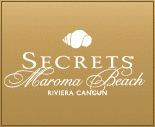 The leaves of tall palms rustle in the gentle Caribbean breeze as the fragrant aroma of tropical flora fills the air, beckoning guests to explore the paradise that is Secrets Maroma Beach Riviera Cancun. This adults-only all-suite playground invites guests to pursue every indulgence while being pampered by an attentive staff in a breathtaking setting along the coast of the Yucatan Peninsula. Suites are designed with a focus on simplicity and romance, with four-poster king beds or two double beds, in-suite Jacuzzi for two, and private, furnished terrace. Swim-out suites provide direct pool access, while all rooms are elegantly appointed with thoughtful amenities. Guests who download the Secrets Resorts and Spas app enjoy Unlimited Connectivity during their getaway, including free wi-fi anywhere on the resort, free calls to the US, Canada, and landlines, and access to dining menus, restaurant times, and facility information. Every guest of Secrets Maroma Beach receives the royal treatment, but Preferred Club members enjoy an extra hint of luxury, including afternoon hors d'oeuvres, daily continental breakfast, and access to the Private Preferred Lounge.
The resort boasts nine eateries and seven bars specializing in everything from Western favorites to Pan-Asian fare, and savory, local seafood. Foodies who favor an even wider variety may find themselves enjoying a different delicacy daily with the Sip, Savor & See Dining Experience, which provides guests with the opportunity to sample the cuisine at 60 surrounding restaurants as part of the all-inclusive Unlimited-Luxury® package. Secrets Spa by Pevonia is a sanctuary for the senses, offering healing hydrotherapy, relaxing aromatherapy, and an array of massages and treatments that focus on pain relief, relaxation, and even skin care. Exciting events and nightlife options include the Stargazing Rock n' Roll Party, Desires Music Lounge, and an endless list of land and water activities. At Secrets Maroma Beach Riviera Cancun guests are welcome to try everything, or do nothing at all.
Location of Secrets Maroma Beach Riviera Cancun
Secrets Maroma Beach Riviera Cancun
Km 324-342, Villas del Mar, No. 3
77580
Playa del Carmen, Mexico
Nearest Airport: CUN
Amenities for Secrets Maroma Beach Riviera Cancun
General Information
412 Suites
Adults Only
Dining
24-Hour Room Service
Swim-Up Bar
Cafe
7 Restaurants
7 Bars
Beach Wait Service
On-Site Amenities
Concierge
Fitness Center
WiFi
Game Room
Outdoor Whirlpool
In-Room Amenities
Turndown Service
Bathrobes
DVD Players
Hair Dryers
Satellite Television
iPod Docks
Activities
Kayaking
Sailing
Tennis
Beach Volleyball
Mini Golf
Nearby
Shopping
Restaurants
Golf
Interests
All Inclusive
Beach
Honeymoons & Romance
Spa & Wellness
Summer Getaways
Reviews for Secrets Maroma Beach Riviera Cancun
---
We stayed at the property for 8 nights. We've been to several other Secrets properties in Mexico, Jamaica, and the DR, so we knew what to expect. There is a lot to love about this place, but the 'romantic getaway' aspect does not mesh with the 'loud party' large group atmosphere that prevailed for better part of our stay. First, the good stuff - The staff. You'd be hard pressed to find people who are harder working or more hospitable. It was common to see same people working breakfast at 7 am and cleaning up after 10:30 pm. Each greeted us with a genuine smile. A waitress at the beach said she remembered my husband because he was nice and said 'thank you' and 'please'. This seemed like the basic human courtesy. Please remember to treat these hard working people nicely and do tip. The property itself. Lovely in every way. Well manicured, clean, beautifully maintained. The rooms are well designed, views are terrific, and the a/c will keep you cool. Power went out a few times during our stay, but the outages didn't last for long. The beach. White, powdery sand, gorgeous blue colors, sun and palapas - what more can one ask for. With all that said, our experience was diminished by several large groups who were there to party and weren't afraid of being loud and rude. Don't get me wrong, we are social people and enjoy casual conversation with other guests. But there is a big difference in expectations and behavior from couples who are looking for some rest/relaxation/romance, and large groups (200+ people) who are looking for a slightly more grown-up version of spring break. Secrets tries to be two things at once - a restful, romantic beach spot for couples, as well as the corporate party place for people who want to blow off some steam. The two are just not compatible, and it comes at the cost of quieter people. We will save our hard earned vacation dollars and days, for locations where we don't have to call the front desk at 10:45 pm to find out when the corporate party in the courtyard outside our room was going to stop playing 'back that thang up' with speakers blasting and the party goers hooping and hollering.
RoadLessTrvld - Omaha, Nebraska
---
Yes, we went back for a two weeks stay in this Great resort. We enjoyed the the surroundings and high quality of the overall quality of service. We do enjoy the beach and I think that more efforts should be made to clean the sea weeds which were plentifull this year. I understand that all the rooms will be renovated this year and this really needed. Hope to gent back next year.
368rafika - Montreal, Canada
---
Ok so the Maroma beach is in one of the best locations in Mexico. If you are a couple looking for a holiday here you should absolutely avoid Cancun of course. Also the coast line of Mexico along the front at Cancun is not the best largely due to the lagoon water mixing with the sea water. You won't see the crystal clear waters that Mexico is so famous for along this front. At the Maroma however the beach is perfect and the Caribbean sea at its best. The service here is impeccable and they are very accommodating. If you have any issues don't be afraid to speak up and they will endeavour to resolve them for you. The hotel itself has a great layout, particularly at the beach end with the pool. Cabanas on the beach and in the gardens offer privacy and a luxury experience. The food here however is not great in the restaurants. The food is not bad its just not of a high standard and has portion control written all over it. Starters tend to be a small token offerings with some average presentation. The grill is probably the best option but be aware that some of the steaks appear to be soaked in brine. The buffet option however is my pick with the best food. It always has an Incredible selection of lovely food particularly at breakfast. There is literally everything you would want. The rooms are lovely with a modern fresh feel with a couple of blocks still being refurbished. Opt for the lagoon swim up room - it's worth it! As for the premium experience with the Maroma members offering... it's not. You don't really get anything that's of any value in my opinion. Overall a great hotel with friendly helpful staff that go above and beyond. Definitely a hotel that I will be visiting again.
mark5ames - London, United Kingdom
---
Resort grounds, service staff, level of service provided, beach, rooms, and everything else - Excellent. Did not live up to expectations at all when it came to food and delivery of food. Took for ever to get food from any location except buffet or course. Staff continually apologized for delay - Grade on this was D. Food - Very average at best, if that. Very disappointing. Keep in mind I am a vacation club member and am loyal to the brand, until now. Will not visit again.
Scott K - Cumming, Georgia
---
This resort is wonderful! I can't recommend this place enough. You will not be disappointed regardless of the room you stay in. We have stayed in the honeymoon suite as well as the tropical room and they both have exceeded our expectations. The staff will take great care of you and the activities will keep you engaged if you desire.
---