Please select your dates to see prices:
---
Valentin Imperial Maya in Playa del Secreto, Mexico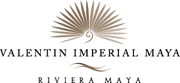 If your tropical dreams involve having a tiki drink in hand at all times, Valentin Imperial Maya does not disappoint. Guests can while away the days seaside on the wide, half-mile-long Playa del Secreto or float down a meandering pool almost that long – in peace, since the resort is adults-only. Roomy suites outfitted in creamy neutrals have marble floors and a hydrotherapy tub for two. At night, a choice of eight restaurants and 11 bars keep options interesting.
Relax on your balcony with a frittata and orange juice delivered to your room. Take a walk among the canals, lagoons and manicured gardens of the property, then stroll to the beach and snorkel among colorful tropical fish. Return to the pool and don't leave for the day – the margaritas are fresh, and they're free-flowing. Watch the teppanyaki spectacle at Ginger, where entrées are prepared with flaming flourishes before your eyes.
Location of Valentin Imperial Maya
Valentin Imperial Maya
Carretera Federal 307 Chetumal Puerto Juarez KM 311
77710
Playa del Secreto, Mexico
Nearest Airport: CUN
Amenities for Valentin Imperial Maya
General Information
540 Suites
Connecting/Adjoining Rooms
Adults Only
Handicap Accessible Rooms
Pets Not Permitted
Non-Smoking Rooms
Dining
Outdoor Dining
Private Dining
Pool Bar
24-Hour Room Service
Swim-Up Bar
Spa Cuisine
Sports Bar
9 Restaurants
11 Bars
Oceanfront Dining
Waterfront Dining
Coastal Cuisine
On-Site Amenities
Beauty Salon
Concierge
Shuttle Service
Spa on Property
Laundry Service
6 Pools
Gift Shop
Fitness Center
Sauna
Live Entertainment
Gazebo
Boutique
Tennis Courts
3 Pools
Gardens
Cigar Lounge
Beach Access
Car Rental
Theater
Steam Room
Chapel
Outdoor Spa Treatments
Complimentary WiFi
In-Room Amenities
Private Patios or Balconies
Turndown Service
Air Conditioning
Bathrobes
Ceiling Fans
Direct Dial Telephones
DVD Players
Hair Dryers
In-Room Safes
Mini Bar
Satellite Television
iPod Docks
Iron/Ironing Boards
Marble Bathrooms
Flat-Screen Televisions
Whirlpool Bathtubs
Coffee & Tea Facilities
Pillow Menu
Luxury Bath Amenities
Private Terraces
Complimentary WiFi
Activities
Kayaking
Tennis
Pilates
Scuba Diving
Snorkeling
Yoga
Paddle Tennis
Water Sports Programs
Business
Business Center/Services
Meeting Rooms
Conference Facilities
Interests
All Inclusive
Beach
Summer Getaways
Reviews for Valentin Imperial Maya
---
This was my first time to Mexico, my husbands second. We stayed for 1 week March 2-9th. This place is paradise. Everything from the staff, service, rooms, beach, restaurants etc. PHENOMENAL. Special shout out to Naomi and Luis at Le Marche. Daniel, Roger, and Romon who were the golf cart guys...Cornelio in the ginger, Alfredo, Antonio...Carlos and Armando at the L'Olive...and Jesus at the French restaurant. YOU WERE ALL AMAZING. We felt heartbroken to leave and we cannot wait to come back!
xm3lx - Lexington, Michigan
---
We have visited several resorts in the Cancun area. This was our favorite. First of all, we liked the fact that it was 25 minutes south of the airport. We booked private transfer from the airport ahead of time and our ride was available right when we exited the airport. Customs, etc. took us less then 1/2 hour! I would suggest private transfer ahead of time. Upon arrival at the resort, we were greeted with a drink and a cool cloth and were escorted to our check in. Check in was easy and they provided the information that was necessary. I researched the hotel on Trip Advisor so I already had an idea of procedures, etc. It was lunch time so we headed to the restaurant (buffet). After lunch we were able to check into our rooms to settle in by 3:00. Here is some general information about the resort that I hope will help you: Restaurants: Great choices! For lunch you have the buffets or every day, they grilled something out on the pool deck. This was light lunch but very welcome. They also have a soft serve ice cream machine daily for you to use. If you would prefer some choice, you can go over to the lazy river pool area and there is a small menu with panini's, nachos and salads available. We did this several times and just sat at the little bar area to enjoy a drink while our food was being prepared. Nice break from the fun of the big pool area. We LOVED the Italian and French restaurants. The Indonesian was our least favorite. We did not try the Mexican restaurant but it looked fun! At the French restaurant try the Baked Potato soup! It was the BEST! You really can't go wrong at any of the other restaurants but I suggest ordering the appetizer, salad/soup and entree' at each of the restaurants. Dessert too! (why not...its vacation!). If you do not want to have to wait to eat, I suggest going between 6-6:30. No wait! Night life: The night life was perfect for us. There is always a band in the square in the early evening. Great place for a drink prior to the shows. The shows were ok. Fun to watch but typical of any other resort. The Sports Bar was a hopping place nightly following the shows. There was karaoke one evening and the DJ is there nightly. Lots of fun to dance or just hang out. Great drinks and fun times! Pools: The lazy river is really just a long pool. Its very quiet and relaxing and it appeared that there were a lot of chairs available all the time. The big pool was the happening place to be. Mid morning there was cycling in the water, yoga looking exercises on mats and Zumba. Really fun. The entertainments staff was great. Not too pushy but fun. You do have to sign up prior to attending the classes at the little booth with the entertainment staff. Get there about 10 min prior to the classes to do so. There is a biking class at 10:30 and another at 11. One day there was a foam party. That was a blast! Everyone participated and people came out of the woodwork! Really fun! Chairs: If you want chairs in the water (on the edge) you need to get out to the pool by 7:15 to put out your towels. We were up and out walking at that point anyway so it was not a big deal for us. Bars: Lots of places to get a drink. Never an issue. Good drinks at all the bars. Top shelf liquor if you ask for it. They can make you just about anything. The only thing I couldn't get was a good lemonade! Beach: Beautiful but windy. The water was clear and cool. The staff was out there daily cleaning the seaweed. We walked the beach across the entire property. Its huge. We also noticed the guards at the ends of the property watching to keep everyone safe. This was a relief as there has been a lot of talk about this area being safe. Its VERY SAFE! Nice beach bar. Walk up to get your own drinks though. Its faster then waiting for a server. Lay out of the resort: This was a very unique lay out. The buildings are very spread out and connected by little roads. The restaurants are in a central location. The walking was very welcomed for us. It was nice to have that be an option any time of the day. The walk ways are lit up in the evenings and there is always relaxing music playing. You can walk all over the resort. Its really not far but if you want a ride, there are always golf carts to take you. Just dial "0". Extra tips: Bring a beach bag for your stuff, take insulated cups for drinks, be willing to try new foods, walk around the resort the first day and figure out the lay of the land. Overall, we will go back to this resort. Liked everything about it. I would highly suggest it for anyone. There is quiet if you want it and night life/fun if you want that.
---
Just came back yesterday from Valentin and it was spectacular! First, the resort itself is absolutely beautiful. The grounds are stunning and there is beautiful music piped in everywhere. It is extremely well kept and manicured so the whole resort is a 10/10. The staff are wonderful. Very accommodating and helpful. There are tons of fun activities at the pool led by a great crew-yoga on paddle boards (if you didn't have a strong core before you started, you will at the end!), water spin (shout out to Benito!) water Zumba, cooking classes, Spanish lessons and more. So you can relax by the pool and read a book or join in some of the fun activities or both. the foam party was especially fun! And we never had trouble finding seats at the pool. There are many to choose from so not a problem The food is really good. We enjoyed the French restaurant the best but the Italian restaurant and and mar a terra for breakfast and dinner was great. And we never waited to be seated (and this was March break so presumably a busy time) although we usually went around 6:00 or 7:00 The entertainment was wonderful. The Valentin has a beautiful courtyard that is lit up at night and features different entertainment each night. The tenors were especially good and sitting outside sipping a cocktail while being serenaded by first class singers was lovely The Don Miguel piano bar was also great. They make really different martinis (picture dry ice and cotton candy!) to enjoy while pianists play great music. It was like being in a posh bar in New York! Some of the other terrific perks-they brought around fruit kebabs mid morning at the pool and small sandwiches late afternoon so you were never hungry Our room was beautiful-large, clean and very comfy. We're booked a deluxe junior suite through air Canada vacations which Air Transat guests said was a silver suite. We were on the second floor, facing the gardens which was wonderful for an early morning coffee before we went down to breakfast Just before we left there were reports about violence in Playa do Carmen that had me a little unnerved but we were blissfully unaware once we got to the resort. Not sure I would feel comfortable leaving the property to go into town because of the reports, but with so much to do at the resort, why leave anyway? The only downside of the property is the beach which had a red flag advising you not to swim, each day. We just came back from Punta Cana in Feb which was the same so we're thinking if you want a beach vacation you go to Aruba! We would definitely return to Valentin. We have been to many resorts but this was truly one of the best. Highly recommended and we can't wait to go back!
BabsD212 - Oakville, Canada
---
We stayed from Feb 24-Mar 3. I will start off by saying that out of all the other resorts that we have been to the Valentin is my favorite. It has everything you need. We have also stayed at Secrets Maroma, Capri, and Akumal; Couples Swept Away, Excellence Punta Cana, Dreams, and others. If you're trying to decide whether or not to book here, do it, you'll have a great time! This resort has everything that you could want. A great beach, a lively pool, a quiet pool, a great beach bar and swimup bars, nightly entertainment, a plaza with live music,and if you consider this a plus a no reservation system for dinner. In my previous review of the Valentin I had felt that the food had slipped a bit, but not this time, the food was as good as my earlier visits. We ate at all the restaurants and the food was delicious, although we weren't thrilled with the Mexican. Since our 2017 visit the Mexican and Indonesian restaurants were remodeled and they came out great. They've also added some more palapas on the beach. They are definitely doing a great job of maintaining this beautiful resort. All of the employees do a great job, some of the ones that stoodout for us this trip include Angel, Luis, Miguel, and Jorge from Mar and Tierra. Victor and Karla at the beach bar and from the go team Dora, Sairy and Benny. A friend that joined us on this trip was looking for someone to play tennis with and Benny made an announcement at the pool to try and find someone interested in playing. No one responded and the next day Benny actually volunteered and played tennis with our friend. Now, the problem that we encountered and the reason for my downgrade from 5 stars to 4. On the evening of March 1st the four of us decided to go to the Mexican restaurant in hopes of dining outside. However, upon our arrival the outside area was closed due to a private party so we had to eat inside. Then on the afternoon of March 2nd the resort closed the beach bar for a wedding's cocktail party. One of our favorite things to do in the later part of the afternoon is to finish our day with a couple of drinks at the beach bar and we were not allowed to do this. When I voiced my displeasure to one of the employees involved in making sure that no one entered the bar she told me that " well, they paid for it". All of the guests pay for access to the bars and restaurants that the resort advertises on their web site and I don't believe that the resort should close these areas. In my 5 visits here I have never encountered this before and I hope that the Valentin is not going to make this a standard practice going forward. In closing, the Valentin is still my favorite resort but if this issue continues we may have to find a new favorite.
---
My wife and I just got back from our honeymoon week spent at Valentin Imperial and can not wait til we go back! We reserved the Golden Superior Junior Suite which came with an awesome view of the lazy river and was centrally located for most of our daily activities. Upon check in, we added the Privilege Package — worth every penny. Besides having private cabanas at the pool and beach, we were able to have a custom bar in our room, have dinner reservations set to avoid long wait times, and much more. We have to give special recognition to Gilberto at Mar y Tierra, Luis at Le Marche, and Jose, the concierge who took care of us in our cabana at the beach. These three gentlemen made sure we always were taken care of, greeted us by name, and would take our taste and preferences into thought to tailor their services to us. 5 Star service!
---