Please select your dates to see prices:
---
Valentin Imperial Maya in Playa del Secreto, Mexico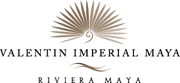 If your tropical dreams involve having a tiki drink in hand at all times, Valentin Imperial Maya does not disappoint. Guests can while away the days seaside on the wide, half-mile-long Playa del Secreto or float down a meandering pool almost that long – in peace, since the resort is adults-only. Roomy suites outfitted in creamy neutrals have marble floors and a hydrotherapy tub for two. At night, a choice of eight restaurants and 11 bars keep options interesting.
Relax on your balcony with a frittata and orange juice delivered to your room. Take a walk among the canals, lagoons and manicured gardens of the property, then stroll to the beach and snorkel among colorful tropical fish. Return to the pool and don't leave for the day – the margaritas are fresh, and they're free-flowing. Watch the teppanyaki spectacle at Ginger, where entrées are prepared with flaming flourishes before your eyes.
Location of Valentin Imperial Maya
Valentin Imperial Maya
Carretera Federal 307 Chetumal Puerto Juarez KM 311
77710
Playa del Secreto, Mexico
Nearest Airport: CUN
Amenities for Valentin Imperial Maya
General Information
540 Suites
Connecting/Adjoining Rooms
Adults Only
Handicap Accessible Rooms
Pets Not Permitted
Non-Smoking Rooms
Dining
Outdoor Dining
Private Dining
Pool Bar
24-Hour Room Service
Swim-Up Bar
Spa Cuisine
Sports Bar
9 Restaurants
11 Bars
Oceanfront Dining
Waterfront Dining
Coastal Cuisine
On-Site Amenities
Beauty Salon
Concierge
Shuttle Service
Spa on Property
Laundry Service
6 Pools
Gift Shop
Fitness Center
Sauna
Live Entertainment
Gazebo
Boutique
Tennis Courts
3 Pools
Gardens
Cigar Lounge
Beach Access
Car Rental
Theater
Steam Room
Chapel
Outdoor Spa Treatments
Complimentary WiFi
In-Room Amenities
Private Patios or Balconies
Turndown Service
Air Conditioning
Bathrobes
Ceiling Fans
Direct Dial Telephones
DVD Players
Hair Dryers
In-Room Safes
Mini Bar
Satellite Television
iPod Docks
Iron/Ironing Boards
Marble Bathrooms
Flat-Screen Televisions
Whirlpool Bathtubs
Coffee & Tea Facilities
Pillow Menu
Luxury Bath Amenities
Private Terraces
Complimentary WiFi
Activities
Kayaking
Tennis
Pilates
Scuba Diving
Snorkeling
Yoga
Paddle Tennis
Water Sports Programs
Business
Business Center/Services
Meeting Rooms
Conference Facilities
Interests
All Inclusive
Beach
Summer Getaways
Reviews for Valentin Imperial Maya
---
Just visited with my new wife for our Honeymoon! It was the best all-inclusive we have stayed at of any country. All of the employees were super pleasant and very helpful. All of the restaurants were delicious, as well as the buffets at breakfast and lunch time. The club sandwich from room service was awesome, all of the bartenders were awesome and got you drinks as quickly as possible. Best of all was the Entertainment Go-Team, they made the trip a blast with awesome aqua classes and games they put on. Dora, Sayri, and Bryan were the best. Thank you VIM for everything.
chadparsley - Columbus, Ohio
---
I don't even know where to start... this place is freakin amazing! It is all inclusive and adults only which was great! Don't get me wrong, I like and have kids, but sometimes you just wanna get away. The rooms are beautiful and very clean and up-to-date. The people and service are excellent! We didn't have one single complaint about the staff. Everyone is super nice and accommodating, and every single person says hi to you. It is very evident that they are there to assist and put a lot of pride into their work. The dinner restaurants are all excellent with top notch quality and service, most on par with 5-star and Michelin Star restaurants I have been to. For breakfast and lunch, the buffet restaurant by the beach has more selections than any person will ever need. You can easily eat there for a week and not have the same things twice. The property is quite large and very lush as if you were in the middle of a tropical forest. I'm told they had a high occupancy rate when we were there yet it didn't feel like it. The variety of rooms are good with plenty of different types and therefore experiences... On the beach, off the crescent pool, off the main pool, or in the middle of the forest... all different choices with their own experiences. The crescent pool is a great location and is more on the quiet side for chilling and relaxing. The main pool is amazingly huge! It has two swim up bars which is fantastic. At one end of the pool they have their social coordinators doing activities whether it's water aerobics or a foam party (yep, that's right) or various fun things to keep the crowd alive and having fun. The other end of the main pool is quieter and more chill. The beach is good, but you should know a few things... half of it is rocky, the other half is for going in and hanging out. The buildings with rooms on the beach are at the rocky side. Don't get me wrong, the atmosphere and beach there is still very nice, but you prob don't want to go in the water there due to the rocks. Just walk down to the north side of the beach and you're good. They have cabanas each with two chairs all up and down the beach, first come first serve. The magic time is 9am. Get to beach before 9am, you have your pick of cabanas. Between 9-9:30am is when it starts filling up. They also have Bali Beds which you either get included if you pay for the Privilege package or you can rent them for like $42/day. If you just try to rent, the Privilege package people have first priority. If that is not full then it is first come first serve and you can rent for several days straight... so when you go to the concierge to rent one, they may only have one day available during your stay or maybe they have multiple. My thoughts are the beds are absolutely worth it, hands down, end of story. If you like hanging at the beach, do whatever is necessary to get one... you won't regret it. Privilege Package? I've seen a lot of debates on whether this package is worth it... my opinion is it is 100% worth it just to get a Bali Bed. I don't care about lobster with every meal or some special lounge with top shelf liquor... but after jumping through hoops to rent a bed for one day, I will definitely spring for the Privilege package on my next trip there simply just for the Bali Bed... it makes the whole experience much more worthwhile and is worth every single penny. They have live music and shows and other events that go on every night as well as an open air market with local vendors. They also have waters sports and tours. There are no shortage of things to do there. In summary, if you want quiet, they have it... if you want to party, they have it. It's an amazing place, super nice, and all the other guests we socialized with were super cool. Everyone is just there to relax and even have a little fun. If you are even remotely considering this place, just stop and go book it right now. No other place nearby compares. Even at the airport and in the shuttle we had people saying "oh, you are staying there? you're gonna love it, we've stayed several other places and Valentin is the best by far." Take their advice and mine... do it! You won't regret it.
---
This is a beautiful place with extremely friendly staff. Clean and spacious feels like you are in the jungle. The beach front is phenomenal and very clean. Would highly recommend it to anyone 21 and up! Food choices are great.
---
My husband and I are repeat customers and I just about cry tears of joy once we get out of our transport. The staff there are like a second family to us, we are greeted by hugs and are so welcomed by Jesus, Juan Carlos, Carlos, Abraham and Gerardo. There have been changes with staff but we still are treated with a lot of respect. All the restaurants have excellent menus, the food is always great. We always eat early so we never have to wait and we love that you don't have to make reservations. Our room was perfect, the house keeper Luis was great, left him a note asking for extra envelopes and he took care of request. Our favorite beach concierge Francisco was away on vacation for the first 4 days we were there so Jose took good care of us, when Francisco came back to work he didn't skip a beat, he already knows our likes and dislikes. The beach is heavenly, it takes my breath away. The pools are always nice and clean, Nelson does a good job along with his coworkers. The bartenders are all great and they each can make you their specialty drink or drinks, there is nothing that they can't make. Would like to recognize Alphonso, Victor (beach bar) Veronica (funsize), Antonio, Eduardo (lazy river), Ervin (lazy river, Jorge ( Mexican restaurant), Carlos (lazy river), Miguel (beach bar), Sonia/Sandra at martini bar and Gilberto (martini bar). I wish that I could name them all . For breakfast we always go to LeMarche, never disappointed. Isidro Mena, Luis, and Melina and all others do a wonderful job . These people have touched our hearts and they are one of the reasons we keep going back. If you get a chance chat with Imelda and Mickey, they are so nice. Many many thanks to Mr Jose Vazquez, Ms Yolanda for seeing to it that everyone is having a great time.
Livingthelife2015 - Cibolo, Texas
---
Me and my girlfreind Casey and myself Michael would just like to say a massive thank you to VIM and it's team first of all our whole holiday was made so special and casey was spoilt on more than one occasion by your fantastic team on her birthday by Luis Escutia he was just amazing and was our favourite waiter by far!! He brought her over a birthday cake and the whole team on the day sang happy birthday and she just so happened to be on the phone to her mum on video chat at the time which made things even more special she could share that moment with us and he also supplied us with shots of Tequila to celebrate her birthday in style. Secondly your entertainment team were fantastic always warm and welcoming Dora, Sairy (hope I spelt her name right!) Benny, Bryan the Mayan and Iris and all the others just made every day fun every one of them woupd take time out of there busy schedule to make sure we was having fun and enjoying ourselfs. Our two lady's that took care of our massage on the beach on Casey's birthday on 11/5/18 and all the spa team who done her hair and nails were amazing too and work so hard and deserve praise. After this the romantic meal I planned on the beach was amazing we were picked up and dropped off at the spot on the beach and the waiters even made sure we was taken care of and as if by magic our glass of wine was never empty lol and the 7 course meal as just amazing Our maids who worked night and day to make sure we were looked after unbelievably they cleaned our room like 3 times a day !!!! We're used to 3 times the whole holiday in Europe!! We couldn't believe how amazing they were!. And last but not least Eduardo our concierge at block 3 we were staying in room 3121 and he went out of his way to make sure every detail was taken care of from first to last minute of our holiday we couldn't believe the unbelievable and unforgettable service he and the rest of your team provided Eduardo was simply fantastic and in my opinion every one of your staff are absolute abasadors to your company simply put in one word... WOW!!! Thank you so so so much this is a holiday we will never forget and recommend everyone to add this hotel to there list of must things to do we will be forever comparing future holidays to your high standard we will definitly he looking to return in the near future. Many thanks Michael and Casey xx
---