Please select your dates to see prices:
---
Secrets Playa Mujeres Golf & Spa Resort in Playa Mujeres, Mexico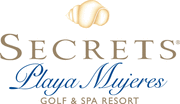 A brand new resort, Secrets Playa Mujeres Golf & Spa Resort is elevating the Mexico beach vacation experience. Featuring all-suite ocean view accommodations and a location just 10 minutes north of Cancun, this adult-only resort boasts a signature Unlimited-Luxuryź approach - meaning everything from gourmet dining to top shelf cocktails and live entertainment is included with your stay. The beautiful, modern guest suites are furnished with the utmost style and contemporary amenities, including sleek marble flooring, soothing and sultry color palettes, private balconies, and views of the sparkling Caribbean Sea. There is even a Secret Box system for discreet room service, available 24 hours a day, and your own well-stocked mini bar. Should you pine for anything further, the concierge is on call round-the-clock, ready at your whim to make your time here all the more perfect. Find your slice of paradise along one of the the most renowned beach destinations in the world, at Secrets Playa Mujeres Golf & Spa Resort.
With powdery white sand beaches and crystalline ocean waters beckoning right before you, it may be difficult to decide whether to sun or swim first. The resort offers a bevy of activities to better enjoy the spectacular shoreline environment, including snorkeling, sailing, kayaking, and beach parties. If you are seeking a more serene way to indulge your leisure time, allow The Secrets Spa by Pevonia to be your gateway to a world of relaxation and sensory bliss. With its menu of world-class treatments, massages, and beauty therapies, this luxe oasis is not to be missed. Throughout your stay at Secrets Playa Mujeres Golf & Spa Resort, delight in the luxury of all-inclusive meals and beverages, and a selection of varied dining venues to suit your every pleasure. Be it international cuisine or locally inspired favorites, the à la carte restaurants and lounges at the resort will tantalize your taste buds.
Location of Secrets Playa Mujeres Golf & Spa Resort
Secrets Playa Mujeres Golf & Spa Resort
Carretera a Punta Sam KM 5.2 Mz 1, Lote 1, Smz 3
77440
Playa Mujeres, Mexico
Nearest Airport: CUN
Amenities for Secrets Playa Mujeres Golf & Spa Resort
General Information
Adults Only
Non-Smoking Rooms
Dining
24-Hour Room Service
Beach Wait Service
Pool Wait Service
On-Site Amenities
Concierge
Laundry Service
Fitness Center
In-Room Amenities
Air Conditioning
Direct Dial Telephones
Hair Dryers
In-Room Safes
Mini Bar
Satellite Television
Iron/Ironing Boards
Coffee & Tea Facilities
Interests
All Inclusive
Beach
Honeymoons & Romance
Reviews for Secrets Playa Mujeres Golf & Spa Resort
---
We had a fantastic experience. My wife and I particularly enjoyed the Catamaran trip ran by Cancun Adventures. They were very accommodating, and watching the sunset on they way back from the island was incredible. I personally enjoyed the cigar rolling class the resort had on Tuesdays and Saturdays. Simply because, not only do you learn so much about how the cigar is made, but you also got to roll your own cigar with the assistance of a cigar rolling master. My wife and I also really enjoyed spending time with Julio Vasquez from the Entertainment department. He not only made our experience more enjoyable with the activities he participated in, but he also was willing to point us in the direction of the best restaurants, as well as, going out of his way to make sure that we were satisfied in our stay. The resort was very clean. The pools were always in great condition. The beach was always cleaned every morning so there was no worry of seaweed or trash being seen. The beachside and poolside service was spot on. Overall, my wife and I had an amazing time and are definitely planning on going back again!
---
This is a top notch resort that caters to the quests exceptionally! Very clean ,accommodated is in every way , the food is great and one of the best all-inclusives we have stayed in. The beach and pool are beautiful .. Highly recommend this resort !
---
Our trip was 11 women escaping work, husbands, and reality! The resort is gorgeous. The grounds and pools are immaculate, and poolside seats were readily available. The resort staff did an excellent job addressing any of our needs or special requests. The food was delicious, and the entertainment was so much fun! Because we are such a large group, we typically have a difficult time finding seats together for dinner. However, Alejandro ("Alex"), the chief concierge went out of his way to make sure a table was ready and waiting for us every night. He also helped us celebrate our friend's 40th birthday by having a special cake ready at one dinner, and having her room specially decorated for her once she arrived. This was a fabulous trip and I would recommend this resort for a friend getaway weekend or even a romantic getaway. You will not be disappointed!
---
This was our first stay in an all adult resort and we loved it. My daughter and I enjoyed a quick get away in Cancun. The staff was over the top compared to other resorts we stayed in. We enjoyed being Preferred Club members as it gave us access to their club house which provided a quiet get away from the resort. Appetizers were replenished all day and provided a light lunch instead of going to the buffet. We did breakfast at the Oceana most mornings. Beautiful view of the beach and the ocean. The food was far superior than the buffet. We also did Oceana for lunch and highly recommend it. Never had a problem getting a table in their restaurants for supper. We tried the French restaurants twice, service and the food was excellent. Highly recommend you try the Mussels Rockefeller as an appetizer. We were going to book a spa package but we got stopped by the golf carts and were offered a discount package if we went today. 1 hour of hydra therapy, 50 minute Swedish massage, and a 25 minute facial for 139.00 USD, how can you go wrong. We checked out the sister resort Dreams, more family oriented, it was impressive too. I think we'll be planning a trip there with our grandchildren. We never had a problem finding a lounge chair by the pool or on the beach even late in the morning. Overall, a very relaxing vacation and would highly recommend this resort to anyone. Very impressed by the staff and by the service we received. A special shout out to Erubey the bartender at the Preferred Club and Argensis the waiter at Oceana restaurant, both were way above what you would expect from a 5 star resorts.
---
I have given this beautiful resort 5*, but that doesn't mean it was perfect. However, I believe that most venues have small irritations or things that could be done better, but if they're small, I shouldn't be petty. Nobody is perfect. Check-in was smooth and efficient, probably because I was the only one checking in. Guests at Secrets also have access to the "family" resort adjacent, called Dreams. It just opened this year and is gorgeous. It is a 5 minute or less walk if you depart from the Secrets 'watersports' location path, and head over. More restaurants, more pools and slightly nicer. But has kids 😊 Dreams has slightly superior restaurants and an Ice Cream Parlour. Secrets has the usual fare, but unusually the buffet is not available for dinner. Breakfast is open until 11:30, which is nice, although service suffers terribly if you arrive after 11, as staff seem to be under a lot of pressure to get the place ready for lunch, which is not until 12:30. It would be helpful if they had cocktail menus available at the bars and restaurants. They do not. Portions at restaurants are very modest, which is excellent, it means you can order a variety of items and not feel wasteful, and perhaps take a chance on something that you are not sure if you will like. There's not much in the vicinity besides the two resorts, but if you're looking for a short 'power walk', I found that a loop of Secrets/Dreams could be done every morning at a brisk pace in about 30-40 minutes. The paucity of other hotels means that the beach is never crowded, and makes for great walks. Gym is excellent, but people seem to leave the door open a lot, when coming/going or stepping outside to take a phone call. This means the air-con doesn't keep it very cool
. I think there might have been complaints, because one day there was a guy stationed at the door whose sole job seemed to be ensuring that the door was shut! Secrets does not have any cabanas/palapas/beds-on-beach available to you unless you are a Preferred Club guest. However, you can go over to Dreams and there are TONS available, at beach and at pool. Spa is beautiful, and the usual outrageous resort-spa prices apply. There are usually a couple of spa guys down by the entrance to the resort promoting the daily specials, so be sure to talk to them and see what you can negotiate, rather than pay rack rate. Any service there also includes use of the general areas for the day, and I had an entire massage-jet-pool to myself for an hour, it made my day. I killed 3-5 mosquitos in my room every day, and I don't know how they were getting in, I never had a door open. So bring your spray. They don't have 'Do Not Disturb' signs for the door, instead it is a button by your bed that you press
. It took me several days to figure this out. Toiletries in bathroom are heavily scented/perfumed, so if that does not appeal to you be sure you bring your own. I loved my stay here and would not hesitate to return.
---