Please select your dates to see prices:
---
Secrets Playa Mujeres Golf & Spa Resort in Playa Mujeres, Mexico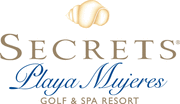 A brand new resort, Secrets Playa Mujeres Golf & Spa Resort is elevating the Mexico beach vacation experience. Featuring all-suite ocean view accommodations and a location just 10 minutes north of Cancun, this adult-only resort boasts a signature Unlimited-Luxuryģ approach - meaning everything from gourmet dining to top shelf cocktails and live entertainment is included with your stay. The beautiful, modern guest suites are furnished with the utmost style and contemporary amenities, including sleek marble flooring, soothing and sultry color palettes, private balconies, and views of the sparkling Caribbean Sea. There is even a Secret Box system for discreet room service, available 24 hours a day, and your own well-stocked mini bar. Should you pine for anything further, the concierge is on call round-the-clock, ready at your whim to make your time here all the more perfect. Find your slice of paradise along one of the the most renowned beach destinations in the world, at Secrets Playa Mujeres Golf & Spa Resort.
With powdery white sand beaches and crystalline ocean waters beckoning right before you, it may be difficult to decide whether to sun or swim first. The resort offers a bevy of activities to better enjoy the spectacular shoreline environment, including snorkeling, sailing, kayaking, and beach parties. If you are seeking a more serene way to indulge your leisure time, allow The Secrets Spa by Pevonia to be your gateway to a world of relaxation and sensory bliss. With its menu of world-class treatments, massages, and beauty therapies, this luxe oasis is not to be missed. Throughout your stay at Secrets Playa Mujeres Golf & Spa Resort, delight in the luxury of all-inclusive meals and beverages, and a selection of varied dining venues to suit your every pleasure. Be it international cuisine or locally inspired favorites, the ŗ la carte restaurants and lounges at the resort will tantalize your taste buds.
Location of Secrets Playa Mujeres Golf & Spa Resort
Secrets Playa Mujeres Golf & Spa Resort
Carretera a Punta Sam KM 5.2 Mz 1, Lote 1, Smz 3
77440
Playa Mujeres, Mexico
Nearest Airport: CUN
Amenities for Secrets Playa Mujeres Golf & Spa Resort
General Information
Adults Only
Non-Smoking Rooms
Dining
24-Hour Room Service
Beach Wait Service
Pool Wait Service
On-Site Amenities
Concierge
Laundry Service
Fitness Center
In-Room Amenities
Air Conditioning
Direct Dial Telephones
Hair Dryers
In-Room Safes
Mini Bar
Satellite Television
Iron/Ironing Boards
Coffee & Tea Facilities
Interests
All Inclusive
Beach
Honeymoons & Romance
Reviews for Secrets Playa Mujeres Golf & Spa Resort
---
I found a Deal of the Day on Apple and had our Travel Agent book us. It was $1509 pp with a non stop out of Cleveland, March 5th - 12th. It was our first time in Cancun airport on a Monday and it was so nice and quick. It took 20 mins, to get our bags and get to the non stop transfer. We arrived in 40 minutes and were greeted with cool towels, sparkling wine and a cookie. Our room was ready, which is nice since we were early. When we arrived, I was pleasantly surprised to see a beautiful ocean view. We had paid for a garden view and it may be due to the new construction next door. We only saw it when we stepped onto the balcony and we were never disturbed by any noise. My husband actually liked watching the progress they made during the week. We were at Silversands last March and I'll make some comparisons. This was a newer room and I liked the decor better. The bathroom was large and had a full frosted door on the water closet instead of SS's partial. They had shutters here in place of the sliding mirror that divides the bathroom and sleeping area. It worked very well at keeping the bathroom private and yet I could open them and have my ocean view. The bed was comfy and we loved the electronic "Do not Disturb" sign. At SS we had the card board door sign blow off a few times. We loved the layout of the resort. The pool, beach and breakfast/lunch spots were very close. We never had a problem finding a chair. The beach is much better than SS. We took long walks everyday in the white, powdery sand. Food was comparable to SS. We had breakfast at the buffet everyday. Their omelette set up is much more efficient. There a couple dozen choices for fillings that you put in your bowl and take to the chef. He had a 5 foot round flat top that could handle a crowd. They had your standard breakfast offerings and also a Mexican corner. This was the first time at any resort buffet that I was able to get fresh raspberries, blueberries and blackberries every morning. They also had tropical choices like passion fruit and some I was not familiar with. Service was exceptional. Our glasses were always filled and plates promptly removed. We had lunch at the buffet a couple times, lots of great choices. Barefoot Grill had nice burgers and fries. Quick & Easy. Seaside Grill was a nice option. We got a few apps so we weren't too full. Oceana had a great shrimp torta. The view is a wonderful treat. They set up a poolside BBQ. The seafood one was incredible. I loved it and even my husband was impressed. (Not a seafood lover.) For the dinners, we didn't mind the drive back to the lobby area. This time of year the walk wasn't bad either. We did the Mexican twice, Italian, Asian, Oceana and French (at Dreams). We like the small portions. It enabled us to get the app, soup, salad and entree. We were too full for desserts. Coco Cafe is a nice treat, however, at SS you can get specialty coffees 24 hours a day. Here, they have regular coffee 24/7 but full menu starts at 10 am. They do have a Nespresso machine in the room, so that helped. The pool was amazing and Alex was always checking to make sure we were happy. The water was a bit chilly on some days, but there are hot tubs up by the infinity edge. The servers were fabulous, keeping our glasses full and suggesting new drinks. This is a resort that we would gladly return.
---
I liked our room location for the balcony view of the resort and beautiful sunrises. We were in 4207. I enjoyed watching the evening activity from the balcony. Beautiful views all day long as well. I always get a great room location when visiting Secrets resorts. Just lucky I guess. Select your restaurants well. As in many all inclusive resorts getting good service seemed to depend on which restaurant we attended. It can be hit or miss. We were with a large group and that presented some challenges for some of the servers (but they can misunderstand with small groups too). Two times I was served entrees that I did not order. While at Oceana restaurant the service was AWFUL. I ordered the mahi. Server brought me the grouper. I explained that I would never order grouper. My wife verified that I had ordered the mahi. Server began to argue with me and showed me his notes (in waiter code) and became angry with me and told me that I ordered the grouper. Such treatment made me angry but I did maintain my composure. This made one of the ladies at our table uncomfortable so she said that she would give me her plate of mahi (that had been sitting in front of her for a minute or two) and she would take the grouper that had been placed in front of me. The waiter quickly and without words switched our plates. BAD FORM in my book. Four, maybe six bites of mahi. very thin slice. Very small serving. I may go back to this resort but I will never visit the Oceana restaurant again without some strong persuasion. .Why should such a stinky experience ruin an otherwise wonderful trip. Management, you have some training to do. Someone in management needs to help the service staff to stop blaming the guests for the service staffs screw ups. This is a management and training issue in my mind.That event ruined my evening. The night at Portofino had a few glitches with getting food that was different than what had been ordered but the staff gladly worked quickly to get things right and for the most part they succeeded. Best appetizers that I had on the resort that week. The food was much better as well. The night at Bordeaux was excellent. The service was excellent and the food was as well. I wish that I could remember our servers name and give him accolades but I cannot seem to recall it. He was an amazing professional. Everything went well and we were able to enjoy the outdoor seating. If you do not want to "go out to dinner", the assorted outdoor, buffets that show up in the pool area were always excellent. Maybe the best food of all. Closer to local cuisine at the pool side lunch buffets and the servers at the lunch buffets work hard to be helpful and accommodating. The omelette bar at the Market Cafe was popular with most people. The selection at the Market Cafe was more limited than the Market Cafe at other Secrets Resorts that I have visited but there was still plenty to choose from. Among the others in my group the most well reviewed were Fusion (next door at Dreams Resort) and Himitsu and Barefoot grill. If you stay at Secrets you, as a Preferred guest, will have full access next door at Dreams as well. Dreams is NOT adults only so you may run into many families with children and more noise. It was an amazing resort for families with children in my mind. The water park at dreams is worth an outing because even an old guy like me can enjoy the water slides and lazy river, right? The BEACH,,,, very nice. Plenty of sexy cabanas and umbrellas. More than a mile of open beach with no other resorts in each direction. You are out in the middle of nowhere and security is fantastic. You will not notice the security fences and walls unless you go looking for them. "unmarked" security personnel are all over the place, especially at the beach, again, you will need to be very observant to notice them but they are everywhere. The resort is so isolated from the outside areas with enormous perimeters I cannot imagine how crime could get to the resort. Check it out on google maps and you may see what I mean. Dreams as well as Secrets are so isolated and so protected that it would create terrible logistics for criminals or bad actors to operate here. The entrance is a good half mile or even more from the pools and hotels. You have to take a shuttle cart from the entrance to the guest areas. This makes these resorts a FANTASTIC VALUE right now as far as all inclusive's go. Prices are depressed because of travel warnings in Quintana Roo but the crime is MILES away to the south. We encountered nothing sketchy from the airport to the resort and multiple gates and walls and lots of ocean were separating the resort area from the outside world. If you should choose to mingle with the locals, Isla Mujeres is a short ferry across the sound from the resort. Many in our group enjoyed a day trip to the Isla. For my tastes, staying on the resort and not over planning was the ticket. The day at the golf portion of the resort was nice but unnecessary. The course is forgiving for those of us that need to work on our game. The course was also beautiful (subject to taste). The crocodiles (not alligators but crocodiles) are not statues or art. Give them room. They are few and far between but they are there. It is illegal to harass them so you may need to take a penalty stroke to give them space. Lucy runs the beverage cart and is wonderful. She helped with our group photos at the first tee. Take good care of her and she will take great care of you. Marcellina kept our room perfect and worked around our schedules. She was like a ninja sneaking in and out and keeping things nice and helping with special requests as different things were needed in our room. She was very helpful working around our napping schedule and being in and out of the room to keep things nice. Electronics and valuables were usually left out and any and all valuables were still where we left them. Would I visit here again? Yes, I would. Would I encourage a friend to try this resort? Yes, I would. The facilities are all neat, clean and up to date. The staff are hit or miss but for the most part they were friendly and helpful. There were a few gems among the staff. Buy a hat at the trinket cart that is next to the pool in the daytime, not in the boutiques. Tell him that Kelley from Charlotte sent you. I liked his hats the best and he invited me to sit and chat with him in the shade every day. It is fun to meet new people.
coolbreeze1957 - Charlotte, North Carolina
---
I can not say enough about this vacation!! The resort was amazing, the staff went over and above! The entertainment crew was awesome. We can not wait to go back! Made so many new friends there!!! Thanks for the best time !!! See you again soon.!
---
My wife and I stayed here March 12th for 5 nights. I honestly cannot say enough about the entire stay. We were there for my wife'Äôs 'Äúspring break'ÄĚ 'Äď we are such partiers (not) 'Äď just a much need break from nursing school & birthday. From the moment we arrived 'Äď every single person was so friendly. Our transfers were private with Lomas Travel 'Äď do not go any other way! PRIVATE SUV with Lomas or AMStar is the best. Even though nonstop transfers are included, having your own driver and a couple adult beverages 'Äď THE way to stick the landing! We stayed in the Preferred Club 'Äď which I highly recommend! I do not think I'Äôd go any other way. First the preferred staff is amazing! They go WAY above and beyond and always with a smile! More on that to come. Walking around the resort to get our bearings 'Äď spotless. Grounds were so well maintained and even the ground crew as friendly. Love the pools 'Äď slightly chilly and I thought they were heated, but we got over it. Then we arrived at our room 'Äď which was the Preferred Master Oceanfront with private pool 'Äď WOW! Overkill'Ķokay yes 'Äď but it is so beautiful! Separate living room & bar area. 1.5 bathrooms. Not just a 'Äėplunge'Äô pool. It is legit. Small backyard. Access directly to the beach (short walk in the soft sand) 'Äď Barracuda'Äôs here we come (the beach bar). We dined at everywhere but Portofino 'Äď did not have 1 bad meal! Including room service. Which is so easy as each room has its own tablet you can order from. One that sticks out is Oceana 'Äď we ate there 2 times. Our favorite staff member is Filipe 'Äď a waiter there. We only met him on this trip and he went WAY ABOVE AND BEYOND! We got there Monday and met him then. My wife'Äôs birthday was Friday. I had mentioned it on Monday and not again. The Preferred Club staff knew of her birthday as I noted when we arrived to try to get a cake and door banner thing. The next day they secretly asked me if I wanted to do something special. I told them just the cake. They said 'Äėno'Äô 'Äď haha 'Äď and that they had more planned. They said on Friday be at the sports bar at 7:30. We did 'Äď and they had balloons, cake, several staff members 'Äď and all sang happy birthday! WOW! We had a quick dinner, but as we were leaving the restaurant manager asked what our plans were because Filipe from Oceana was looking for us. Of course we went down to see him. He had a special table set up - flowers, balloons, d√©cor'Ķ..all just to sing happy bday! All on his own! Incredible!!!! Really hard to describe how much they made us feel like family and we were just regular old people. I met the head concierge Alex just to say thank you and convey that to ALL his staff. They are amazing. Some things I heard before going 'Äď 1) construction next door. Yes there is 'Äď but if you are just sitting in your room waiting for noise or looking for something to complain about 'Äď they yes you'Äôll have something. By 9:00 a.m. we were in the main resort area 'Äď I literally stopped to see if I could hear it 'Äď and BARELY heard and that was with no people or music or daytime noise at all. It is nothing! 2) Having to take golf cart to main lobby area for dining. This only impacts 3 options and it is a 1 minute ride and the carts are on nonstop rotation. Non-complaint! One item I think IS a complaint 'Äď people 'Äď you do NOT need to wake up at 8:00 am and put towels on pool chairs and then not show up until noon! Or use your seat for 10 minutes and leave you dirty towels so no one knows you left! If people respect each other there are MORE than enough chairs. Just don'Äôt be rude. Do NOT hesitate to stay at this resort!!! Great area 'Äď oh and amazing beach too! We will be back!
---
I just returned from secrets playa mujuses in Cancun Mexico... let me start by telling everyone if u want beautiful beaches, clean rooms, AMAZING staff people, unbelievable food, bottomless top shelf drinks, then Secrets Resorts is for u....playa mujuses ....ok i will miss some names in this post but i will follow up with more name... let me start with entertainment staff, i was sad that Diana was not here but Sexy Ross was a perfect replacement... Sexy Ross n Marco (polo) n their team were energetic, fun, and kept everyone motivated ..they told us about all the events n fun for the day.. everyday.. Sexy Ross always found time for a hug , a smile n to take pics with us, amazing team n great ppl staffing the entertainment team .... Market place cafe team ( Carlos n Erik)always made sure our table (of 18) was set n ready for us at 8:30 am, they kept our coffee hot and filled, n kept the mamosa's & bloody marys coming, great way to start the day in paradise, they always gave us hugs n smiles...today is day 1 home n believe me when i say i miss them most of all right now . Yessica n ur team thank u for having us set up either by the pool or on the beach to accommodate our very large group. No request we asked of u was to big or to small, u were happy to met it, n u exceeded it!!!! Our housekeeping team (Leo) kept our room clean n welcoming, every time we walked in our room was freshly cleaned n mini bar stocked. Our pool/beach staff... (i will have more names to add but Bonito, Blanca, Miguel) omg i cant fins the words to express how amazing they are,we were a very large group n sometimes rowdy, but this team handled us well, they served us with smiles n warmth..they gave us great ideas of colorful n very tasty drinks also they told us the drink of the day to keep us trying new things. They were fast n helpful i can't say enough about these Drink angles...the Unlimited staff, Karina n Gabriella n julio are knowledgeable n informative n so so helpful with any question or concern about our membership n our stay... keep up the great work ( karina even let me down genrly and with grace when giving me not so great news - my 3 couples joined the club but me n my hubby only received the 3 free days for them Using share program NOT the free week for them joining :( - but Karina let me down easy lol ). The Restaurant n bar staff were accommodating to our large group...they were professional n helpful, they helped us choose items of food or drinks that we would love n Definitely enjoy the new taste.. our group had a few "Special Dinners" set up with the concierge (i will post names later) all were amazing but one stands out above the rest.... a special dinner on the beach for 14 ppl... planned by suellen (an amazing trave agent) who also was on holiday with us.. (i hope i get this name correct) Marcello had this set up n we all were floored, we had a photographer,, n we were greeted with specialty drinks n escorted to a dinning experience like no other we had 2 hostesses , 3 chefs n an amazing wait staff ... there was Steak, Lobster, Salmon , octopus , shrimp, roast beef, Fishes, all on ice n we choose what we want n the grill chef prepare our food right there.. there was 2 tables filled with salads n sides (including the best sweet potatoes i have ever had) huge table of dessarts that was decadent ..i cant say thank you enough to suellen n JL for including me n Neil. We will Never forget that magical night..everyone if u want an experience of a lifetime put this resort on ur bucket list.. Secrts Playa Majusus.. call suellen,for first class service... she will make sure ur travels need are met n exceeded.. she also has me, to help with info on the unlimited program i am pattiing my own back here but me n my husband are one of the founding members... check it out and remember, suellen at Premier Travel in Springfield!!!!!
---