Please select your dates to see prices:
---
The Reserve at Paradisus Palma Real in Punta Cana, Dominican Republic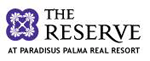 The Reserve at Paradisus Palma Real is a quiet, spacious resort-within-a-resort for families who want a memorable vacation for all of their members. Adults enjoy all the privileges at the neighboring Paradisus Palma Real, including cuisine prepared by Michelin-starred MartÓn Berasategui and DJs that heat up the beach 'til late into the night. Children, however, get their own set of luxuries: climbing walls, arts and crafts, pizza-making workshops, treasure hunts, and experiences custom-designed by a family concierge.
Sleep in, if possible. More likely, your little ones will wake you at dawn, excited to explore the mile-long shore. Take them swimming in the ocean, where the water is as calm as a lake. Spot tropical reef fish and make up crazy names for them. Back on shore, tour the eco garden, where tomatoes, okra and bananas grow, and learn about helping the environment. While the kids join a volleyball game, order a mango-colada and soak up the sun in a beachside hammock.
Location of The Reserve at Paradisus Palma Real
The Reserve at Paradisus Palma Real
Playa de BŠvaro
Punta Cana, Dominican Republic
Nearest Airport: PUJ
Amenities for The Reserve at Paradisus Palma Real
General Information
190 Suites
Connecting/Adjoining Rooms
Dining
3 Restaurants
24-Hour Room Service
3 Bars
Snack Bar
Beach Wait Service
Pool Wait Service
On-Site Amenities
Beauty Salon
On-Site Car Rental
Concierge
Spa on Property
Laundry Service
Casino
Fitness Center
Private Beach
Currency Exchange Service
Live Entertainment
Boutiques
Gazebo
Golf Course
Tennis Courts
3 Pools
Private Whirlpools
Golf Academy
Complimentary WiFi
In-Room Amenities
Private Patios or Balconies
Turndown Service
Air Conditioning
Ceiling Fans
DVD Players
In-Room Safes
Mini Bar
Flat-Screen Televisions
Espresso Machine
Activities
Cultural Classes
Excursions
Tennis
Pilates
Scuba Diving
Snorkeling
Yoga
Beach Volleyball
Table Tennis
Horseback Riding
Golf
Dance Lessons
Aqua Fitness
Family
Children's Programs
Cribs
Babysitting
Kids Pool
Children's Amenities
Teen Activities
Interests
All Inclusive
Beach
Family
Golf
Reviews for The Reserve at Paradisus Palma Real
---
We've been to several all-inclusive Carribean resorts, and the Reserve with a Family Concierge tops our list. Our experience was immediately first-class with the private Reserve check-in and dinner reservations already made for us. A poolside cabana was also reserved for the next day, and all made possible by our concierge Sofia. The food exceeded our expectations, and even the buffets had very nice meal options. We took a peek into the kitchens which were clean and professional. Each day you can see their care and attention to cleanliness at the pool, restaurants, landscaping, and our room. Of course, Sofia had several surprises for the kids, and she made their stay remarkable. Both of our kids said they will miss her most! All the staff were very friendly and always looking for fun ways to incteract with the kids, giving high fives, joking, etc. Also, the surrounding environment while being inside the reserve made for beautiful views. The Reserve beach is also nice, and we split time here and the pool. The beach is very clean, and not too many merchants. You are on the Atlantic side, so you will get the waves that come with it. Mole was our favorite restaurant, and try the passion fruit margarita. Be sure to get a mojito at the beach lobby in front of The Grill. Also, Mario the Outdoor Photo rep took some great pictures, and we sprung for a couple. FYI -They told us the Reserve will be closing for renovations, but not sure when. Overall, a great experience!
Josh H - Sycamore, Illinois
---
Visiting Punta Cana is always a very pleasant and comfortable option since we have the advantage of a direct flight from Lima. With my wife we 'Äč'Äčvisited the Paradisus Palma Real for the second time and this time we stayed at La Reserve. I ordered an Ocean-View-Suite and really enjoyed my seven night stay. We had a sensational week: intense sun every day, lots of activities and great service at the hotel. I recommend it a lot. Special attention has Bolivar, our concierge-butler who was always there for us all week and organized our dinners in the various restaurants. Very good. When we arrived at the hotel we found out that our Suite was not enabled and that they could only give it to us the next day so the first night was spent in a smaller ocean-view-suite. The issue was treated by their managers in a very professional manner and they apologized in all possible ways. I did not care and I am sure that my travel agency in Peru will successfully manage the hotel to readjust the price paid for the first night. I have no doubts about that. The area of 'Äč'Äčthe pool, the beach, the gardens, everything spectacular. I would definitely go back.
patrick_peru - Lima, Peru
---
We stayed at The Reserve at Paradisus Palma Real. I just want to help explain the difference. There are TWO Paradisus properties in Punta Cana. One is called Paradisus Punta Cana. One is called Paradisus Palma Real. They both have a sister section called The Reserve which has access to the main property but is a bit separate. The kid zone and kid pool was here at the Reserve, so this is probably the better section to be in if you have kids. Slightly better booze here than the main resort but that resort is bigger and more lively. The Reserve does NOT have direct beach access. But, the golf cart ride is quick to the main resort. Can even walk in about 10 minutes.
---
Another fabulous experience. We loved Rudelania - our assigned concierge. She was fabulous. Everything done to perfection and with an infectious smile. Being away from the beach is not for everyone, but we love that you get away from the hussle bussle and can really relax in a serene environment. Perfect for us!
---
Once we got there and checked in, we smelled the beach. We had worn our suits in hopes to run and jump in, but we checked out our awesome room first. Anyways the white beaches were epic. If your looking to get away for a few days and want to do nothing...this is your place! *Make sure you ask for Zenovia as your concierge. We had the pleasure to be with her. She was soo helpful and nice. She was always making sure we were using what was offered with our stay. Zenovia talked to each chef each evening to make sure we ate like kings and queens. It's like she knew everyone, which she does. She helped us when we needed to speak English and some cool new Spanish as well. Anything we asked of Zenovia was top notch, even boarding pass questions. Lastly, I went golfing basically across the street. Posted some pics. It was prestige and wide open so a beginner or an experienced person can play. It was a great time! Oh ask about the hotel covering your greens fees.
---