Please select your dates to see prices:
---
Marquis Los Cabos in San Jose del Cabo, Mexico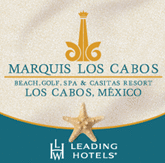 Imagine the shimmering beauty of Baja, Mexico, gentle waves caressing golden sand beaches, and open your eyes to the natural beauty and modern elegance of Marquis Los Cabos. On the tip of the Baja Peninsula, where the Pacific meets the Sea of Cortes, this fabulous, Unlimited-Luxury® all-suite resort invites you to live and play in the lap of luxury. Stunning rooms are bright and spacious, one whole wall opening to the outdoors, creating a soothing and flowing space that brings the tranquility of the beach right to you. Plush king sized beds or two double beds wrap you in comfort each night, while stylish bathrooms offer enticing hydro-massage tubs, and all the modern entertainment options are available for your enjoyment. Step out onto your expansive private and furnished balcony and stretch out as you gaze out over sweeping views of the coast, sinking into complete relaxation. At Marquis Los Cabos, enjoy each exciting day and peaceful night to the fullest.
In the early morning, as the sun is still warming the shore, venture out for a full day of exciting deep sea sport fishing in one of the most abundant fishing spots around the globe. For a more personal look at the vibrant sealife of the Pacific and Sea of Cortes, enjoy a fabulous snorkeling and diving adventure to stunning reefs, coves, and drop-offs just off the coast. In the afternoon stretch out on the beach and enjoy the warm sun, or make your way to a number of championship golf courses for a wonderful round. Get your adrenaline pumping with an exciting ATV ride through the nearby sand dunes of the Los Cabos Desert, then return to the resort to pamper yourself and unwind at the spa by Pavonia. Later that night, after relaxing with friends and cocktails, watching the sun set over the shore, sit down to the perfect evening meal. Enjoy the abundant catches of the sea at Dos Mares, or fine French cuisine at Canto del Mar. Or venture outside of the resort with the Sip, Savor & See Dining Experience, which provides guests with the opportunity to sample the cuisine at nearby participating resort restaurants. With your stay at Marquis Los Cabos, discover the true wonder and beauty of Baja as you sink into the relaxing escape you were searching for.
Location of Marquis Los Cabos
Marquis Los Cabos
Km 21.5 Carretera Transpeninsular-Fraccionamiento Cabo Real
CP 23400
San Jose del Cabo, Mexico
Nearest Airport: SJD
Amenities for Marquis Los Cabos
General Information
235 Suites
Adults Only
Dining
Poolside Dining
Outdoor Dining
24-Hour Room Service
Cafe
Bar & Lounge
On-Site Amenities
Beauty Salon
Concierge
Spa on Property
Laundry Service
Gift Shop
Fitness Center
Theme Nights
Live Entertainment
Art Collection
24-Hour Front Desk
In-Room Spa Services
In-Room Amenities
Bathrobes
Hair Dryers
In-Room Safes
Mini Bar
Whirlpool Bathtubs
Luxury Linens
Luxury Bath Amenities
Private Pools
Activities
Cooking Classes
Excursions
Fishing
Wine Tasting
Pilates
Scuba Diving
Snorkeling
Yoga
Beach Volleyball
Whale Watching
Yachting
Archery
Dance Lessons
Aqua Fitness
Business
Business Center/Services
Meeting Rooms
Interests
All Inclusive
Beach
Cool Pools
Golf
Honeymoons & Romance
Hotels
Spa & Wellness
Summer Getaways
Reviews for Marquis Los Cabos
---
This resort truly went above and beyond for my husband an I on our honeymoon. We were warmly welcomed by staff as soon a we arrived and we greeted by Champaign and strawberries in our room. The rooms were impeccable and kept that way for us during our entire stay. The food was fresh and delicious everywhere we went. Lots of activities that the front desk helped us to navigate through for our excursions. We could not have asked for a better experience on our honeymoon. Thank you all for your incredible service. (Karen, Adriana, Maria, Arturo, Dj Johnny)
---
Service is the selling point at this adult only all-inclusive resort. Upscale and beautiful resort.You do have to have a car or take a cab if you want to go out of the resort to another restaurant. We were adventurous and took the local bus into town. We highly recommend the resort.
---
Marquis Los Cabos offers amazing facilities and rooms. You know that you are in for a treat from the moment you check in at their outdoor lobby with panoramic views of the sea. The rooms are also terrific! I really recommend upgrading to the ocean front suites on the higher floors---it's worth it. The food options are also great. What really sets this resort apart, though, is the staff. We had consistently excellent service from Marco and Rigoberto at the Dos Mares restaurant and poolside. It can be overwhelming to choose a resort from the endless choices in Cabos, but trust me that you won't go wrong with the Marquis Los Cabos.
---
We had such an amazing time here, from the first impression until the final day. All the staff is amazing, Hilda and Christian that arrange all the activities, to Jose and David the chefs at Saake, Alex the bartender that made the best drinks, and Juan the manager. I will definitely return here next year. The food was awesome and the atmosphere was even better.
---
This place is the bomb! Period, enough said. Alright I'll elaborate as I do have a lot top say: The resort is beautiful and perfectly clean. interesting thing, they are ALWAYS cleaning it. Its spotless. The infinity pools were absolutely gorgeous and great for lap swiping in the early am while everybody was sleeping (it's about 80 yards end to end in the sunrise pool), why I was up that early swimming on vacation is another story. I'm just a very early riser shaking out the tequila, what can I say. They raked and cleaned the beach daily and even watered down the volley board court sand after raking it smooth before the games, very nice touch. The staff was fantastic. Everybody and I mean everybody. If you looked at them they came over to serve you. WOW! As for the restaurants the food was a solid 8 in all places. The folks in the Sake restaurant, Juan, Jose and David were awesome and the sushi very good. The breakfast staff with Diego, always smiling first thing in the morning and willing to get you anything you requested. Tania the hostess was always greeting me by my last name. Very nice. Not to forget the little smoothie, coffee and sandwich bar with Ana and Vero. Thanks again for always accommodating and smiling. You ladies rock! Whenever I asked for something and thanked them most staff members would reply with " Its a pleasure" How nice. Then there was Hilda and Christian the sport counselors so to speak. Their job was to get you involved in the daily activities which included, Yoga, beach and pool volleyball, water aerobics, corn hole competition, miniature golf, and other fun actives and trips If you felt incline to play or were not too buzzed from the endless cocktails you probably had while sitting by the pools or on the beach. They made it loads of fun. Thanks guys. All in all, the place was great. We lucked out as there was very low occupancy the week we were there so our experience is a bit jaded as we had zero wait times at any of the restaurants, no problems getting chairs at the beach or pool and there was always staffing to serve you while relaxing in the sun with drinks and food. I can see the experience being a little different when it is more crowded but that is not a negative reflection on the place just an observation. The one thing I wished was different however is the setup of the bathroom. I "assume" all rooms had the same setup except perhaps the master bedroom suites. The bathroom had a large, tub with jets, which is nice (if you use it) however the wall next to the tub had a huge cutout, so it was open and not a "real wall". Therefore, it looked out into the rest of the suite. I can see how that could be nice if you were in the tub and wanted to look out the sliding doors to the ocean (which you can't as sitting in the tub makes you too low down to really do that) however not being solid meant that if you were using the bathroom while your partner was sleeping in the morning, or napping for example it was noisy for them due to the lack of separation. Not a great design as the bathroom seemed almost part of the suite. Why, they designed it this way i don't know. Perhaps some will like it I would have preferred a solid wall to create a true separation from the bedroom part of the suite which would have allowed for greater privacy and quietness while using the sink, shower or toilet. The shower and toilet did have their own doors and were self-contained within the larger bathroom area, however you could still hear if they were being used due to the lack of separation from the large cut out in the wall by the tub. Just an FYI. All in all, we will be returning as it was a FANTASTIC vacation. Muchas gracias, Senor Oro
dafos2 - San Francisco, California
---