Please select your dates to see prices:
---
Marquis Los Cabos in San Jose del Cabo, Mexico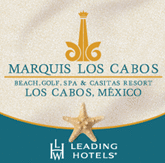 Imagine the shimmering beauty of Baja, Mexico, gentle waves caressing golden sand beaches, and open your eyes to the natural beauty and modern elegance of Marquis Los Cabos. On the tip of the Baja Peninsula, where the Pacific meets the Sea of Cortes, this fabulous, Unlimited-Luxury® all-suite resort invites you to live and play in the lap of luxury. Stunning rooms are bright and spacious, one whole wall opening to the outdoors, creating a soothing and flowing space that brings the tranquility of the beach right to you. Plush king sized beds or two double beds wrap you in comfort each night, while stylish bathrooms offer enticing hydro-massage tubs, and all the modern entertainment options are available for your enjoyment. Step out onto your expansive private and furnished balcony and stretch out as you gaze out over sweeping views of the coast, sinking into complete relaxation. At Marquis Los Cabos, enjoy each exciting day and peaceful night to the fullest.
In the early morning, as the sun is still warming the shore, venture out for a full day of exciting deep sea sport fishing in one of the most abundant fishing spots around the globe. For a more personal look at the vibrant sealife of the Pacific and Sea of Cortes, enjoy a fabulous snorkeling and diving adventure to stunning reefs, coves, and drop-offs just off the coast. In the afternoon stretch out on the beach and enjoy the warm sun, or make your way to a number of championship golf courses for a wonderful round. Get your adrenaline pumping with an exciting ATV ride through the nearby sand dunes of the Los Cabos Desert, then return to the resort to pamper yourself and unwind at the spa by Pavonia. Later that night, after relaxing with friends and cocktails, watching the sun set over the shore, sit down to the perfect evening meal. Enjoy the abundant catches of the sea at Dos Mares, or fine French cuisine at Canto del Mar. Or venture outside of the resort with the Sip, Savor & See Dining Experience, which provides guests with the opportunity to sample the cuisine at nearby participating resort restaurants. With your stay at Marquis Los Cabos, discover the true wonder and beauty of Baja as you sink into the relaxing escape you were searching for.
Location of Marquis Los Cabos
Marquis Los Cabos
Km 21.5 Carretera Transpeninsular-Fraccionamiento Cabo Real
CP 23400
San Jose del Cabo, Mexico
Nearest Airport: SJD
Amenities for Marquis Los Cabos
General Information
235 Suites
Adults Only
Dining
Poolside Dining
Outdoor Dining
24-Hour Room Service
Cafe
Bar & Lounge
On-Site Amenities
Beauty Salon
Concierge
Spa on Property
Laundry Service
Gift Shop
Fitness Center
Theme Nights
Live Entertainment
Art Collection
24-Hour Front Desk
In-Room Spa Services
In-Room Amenities
Bathrobes
Hair Dryers
In-Room Safes
Mini Bar
Whirlpool Bathtubs
Luxury Linens
Luxury Bath Amenities
Private Pools
Activities
Cooking Classes
Excursions
Fishing
Wine Tasting
Pilates
Scuba Diving
Snorkeling
Yoga
Beach Volleyball
Whale Watching
Yachting
Archery
Dance Lessons
Aqua Fitness
Business
Business Center/Services
Meeting Rooms
Interests
All Inclusive
Beach
Cool Pools
Golf
Honeymoons & Romance
Hotels
Spa & Wellness
Summer Getaways
Reviews for Marquis Los Cabos
---
My husband and I just came back from the Marquis Los Cabos last weekend and have been raving about our experience to everyone we know. We felt truly transported and relaxed and literally didn't leave the resort once in the 4 days we were there. Our room was perfect, with Oceanside views and a stocked fridge. We loved the room service (order the green chilaquiles for breakfast!). My only recommendation to the hotel would be for more vegetarian/vegan options as we found ourselves having to order the same thing a few times—wasn't an issue since our trip was short but for those staying longer it can get a little repetitive. Overall, great, relaxing trip, highly recommend!
---
My Wife and I visited Marquis in Feb 2017.Our overall experience was excellent .We had no hesitation booking this resort again.We arrived Feb2018 It all started with me Sending a e-mail to the resort 2 days before our arrival . We're leaders club members and thought that this had some benefits . Upon arrival the resort lobby was not busy,After a couple of minutes of standing around with our luggage we were offered a welcome drink.I myself was becoming some what impatient.I informed the front desk that we were leader club members and if I was going to be offered a upgrade. Of course the answer was the typical come by tomorrow, I also asked about my e-mail. No response .Our bell hop informed us that the resort was at 30 % capacity.Room quality is average. Balcony rails paint peeling off. Starting to look dated. Gym was above average.Food quality is consistently good not great.It was refreshing to see some staff that remembered us and treated us well.What really change our whole experience was the effort that the front desk /lobby area made. Zero effort ! Talked to Concierge desk on three different occasions about how to apply resort credits. Was told three different things.Talked to front desk manager Ms Rivera I believe and asked her why I hadn't received a response from my E -mail. She had no answer,no apology , no nothing. Talked to an asst mgr named Mr Fernando about these issues credits, upgrades ,ect. He just talked in circles like I was trying to get something I didn't pay for,and this was half way thru the trip so I do feel that the management team did have the opportunity to make things right or at least explain. I contacted the leaders club and informed them about the treatment I received at marquis Los cabos. This resort is not a property that exemplified a leaders club member.. Total disappointment . I have read reviews that the resort hotel director states that they are leaders club member ect ect . We will not return to Marquis. We have traveled to Los cabos every year for the last eight years and feel That we received a good value at several different resorts. Marquis has failed the test of time and your money would be better spent at another resort. Adios Marquis ! P.S. Never was able to spend those resort credits.
jgtrouthunters - Albuquerque, New Mexico
---
The Marquis Los Cabos was a wonderful property. Very clean throughout. We spend most of our days lounging at the infinity pools. The water temperature was perfect. I've heard they are not heated so that could be an issue in the cooler months but they were perfect in March. This isn't your crazy loud party resort which was great because we wanted to avoid that anyway. While it was laid back, they had activities most nights. The food was well above average for an all-inclusive. We enjoyed the Japanese restaurant but our favorite was the Italian Restaurant down by the pools. What sets this property apart from all other resorts was the staff. They were wonderful! Our hostess at breakfast was usually Adriana. She knew everyone by name and was such a joy. We usually had Tania as our waitress. We loved her too. Our other favorite was Jose, our host at the Italian Restaurant and our waiter, Gaylord. Before booking this trip, I read other reviews and was a little worried by the construction noise others complained about. During our week it wasn't an issue. What little construction you could hear was drowned out by the sound of crashing waves. We can't wait to plan another trip to the Marquis!
---
Perfect view from the balconies. The Staff kind, doting and friendly. The ceviche is amazing. We had it every day for lunch. This was a return trip for us and we brought another couple. I would go back again!
---
My wife and I have just returned from a 5 night stay at this wonderful resort and I've gotta say, it's been the most relaxing Cabo trip we've had. We are members of Unlimited Vacation Club, and usually stay at Secrets. We decided to try a new spot, and The Marquis did not disappoint. We love the staff/resort at Secrets and can honestly say we loved it here as well. It is a little more relaxing and quieter. The Marquis is a beautiful resort, with great views from the rooms. We booked an Oceanfront Jr. Suite and probably would've got the same room as an oceanview room. They all seemed to be Oceanfront. The food was delicious, with the ceviche bar being our favorite. Seafood tasted fresh. We did take advantage of the room service a few times and loved it. Great choices for food at all times of day/night. Our biggest compliment goes to the amazing staff here at the Marquis. Some of the staff that REALLY stood out for us personally begins with Adrianna, the hostess at Vista Ballenas. It's the breakfast spot, and she goes above and beyond her duties to make sure everything is perfect. She is in many reviews and now we know why. Alfredo at the pool made sure we stayed fully hydrated (wink-wink) during our time at the pool. We never had a problem locating lounge chairs. Ricardo at the Suspiros Bar was very attentive and we enjoyed his company and talents on more than one occasion. This was the main bar that stayed open til 1:30 AM and was not as busy at I would've imagined, being the only late bar area. We met some great couples from Jersey and Montreal that we plan on keeping in contact with. In closing, we would definitely recommend this resort, if beach, sun and relaxation are what you are looking for.
GB3VLO - Chula Vista, California
---