Please select your dates to see prices:
---
Marquis Los Cabos in San Jose del Cabo, Mexico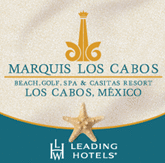 Imagine the shimmering beauty of Baja, Mexico, gentle waves caressing golden sand beaches, and open your eyes to the natural beauty and modern elegance of Marquis Los Cabos. On the tip of the Baja Peninsula, where the Pacific meets the Sea of Cortes, this fabulous, Unlimited-Luxury® all-suite resort invites you to live and play in the lap of luxury. Stunning rooms are bright and spacious, one whole wall opening to the outdoors, creating a soothing and flowing space that brings the tranquility of the beach right to you. Plush king sized beds or two double beds wrap you in comfort each night, while stylish bathrooms offer enticing hydro-massage tubs, and all the modern entertainment options are available for your enjoyment. Step out onto your expansive private and furnished balcony and stretch out as you gaze out over sweeping views of the coast, sinking into complete relaxation. At Marquis Los Cabos, enjoy each exciting day and peaceful night to the fullest.
In the early morning, as the sun is still warming the shore, venture out for a full day of exciting deep sea sport fishing in one of the most abundant fishing spots around the globe. For a more personal look at the vibrant sealife of the Pacific and Sea of Cortes, enjoy a fabulous snorkeling and diving adventure to stunning reefs, coves, and drop-offs just off the coast. In the afternoon stretch out on the beach and enjoy the warm sun, or make your way to a number of championship golf courses for a wonderful round. Get your adrenaline pumping with an exciting ATV ride through the nearby sand dunes of the Los Cabos Desert, then return to the resort to pamper yourself and unwind at the spa by Pavonia. Later that night, after relaxing with friends and cocktails, watching the sun set over the shore, sit down to the perfect evening meal. Enjoy the abundant catches of the sea at Dos Mares, or fine French cuisine at Canto del Mar. Or venture outside of the resort with the Sip, Savor & See Dining Experience, which provides guests with the opportunity to sample the cuisine at nearby participating resort restaurants. With your stay at Marquis Los Cabos, discover the true wonder and beauty of Baja as you sink into the relaxing escape you were searching for.
Location of Marquis Los Cabos
Marquis Los Cabos
Km 21.5 Carretera Transpeninsular-Fraccionamiento Cabo Real
CP 23400
San Jose del Cabo, Mexico
Nearest Airport: SJD
Amenities for Marquis Los Cabos
General Information
235 Suites
Adults Only
Dining
Poolside Dining
Outdoor Dining
24-Hour Room Service
Cafe
Bar & Lounge
On-Site Amenities
Beauty Salon
Concierge
Spa on Property
Laundry Service
Gift Shop
Fitness Center
Theme Nights
Live Entertainment
Art Collection
24-Hour Front Desk
In-Room Spa Services
In-Room Amenities
Bathrobes
Hair Dryers
In-Room Safes
Mini Bar
Whirlpool Bathtubs
Luxury Linens
Luxury Bath Amenities
Private Pools
Activities
Cooking Classes
Excursions
Fishing
Wine Tasting
Pilates
Scuba Diving
Snorkeling
Yoga
Beach Volleyball
Whale Watching
Yachting
Archery
Dance Lessons
Aqua Fitness
Business
Business Center/Services
Meeting Rooms
Interests
All Inclusive
Beach
Cool Pools
Golf
Honeymoons & Romance
Hotels
Spa & Wellness
Summer Getaways
Reviews for Marquis Los Cabos
---
Beautiful hotel for adults looking for a quite understated all inclusive property. And also for corporate groups (of which there were many during our stay.) Impossible to swim in the water due to dangerous undertow but the hotel has a series of lovely infinity pools. And a long beach for walking. Particularly enjoyed the Italian restaurant overlooking the beach. Luis was a very hospitable Maître d' and Freddy our favorite waiter. Service was a little inconsistent at breakfast otherwise very happy with staff and food service. Nothing in the immediate area except hotels but short drive to San Jose de Cabo which we much preferred to Cabo San Lucas as it is an older town with Mexican character and beautiful art galleries and restaurants.
---
Arriving at the Marquis, your breath is taken away by the most gorgeous check in I've ever seen. A totally open environment, where the business office is located... looking out onto the Sea of Cortez! Our room was a perfect 5th floor ocean front, that was immaculate. We had maid service 2 times a day and awoke to a pot of hot coffee and pastries in our "magical door" that is accessed from outside and is only for the coffee! The fridge and snacks were kept well stocked and, of course, you could always order room service 24/7. We did this once, but found it more fun to be out among the guests at the restaurants, or order at the pool. Our breakfast and lunch go--to was the Visa Ballenas. It was awesome...we tried just about everything after our 9 day stay. The manager, Karla made sure we were always happy. Our hostess, Adriana, was a doll and knew our names by the 2nd day, she was so sweet and accommodating. I wanted to take her home with me! Brian and Mari were also awesome to us. We loved them all and they made our trip much more enjoyable!! The bartender that works the bar upstairs and at the Italian restaurant with Julio were super!! The only con we had was one night we went to the Italian restaurant and there were plenty of open tables, but the manager was saving them for some people to come from the bar. This is not supposed to be policy, and we were a little angry because we were turned away while there were empty tables. We ate at all of the restaurants and the service was impeccable, as was the food-with the one exception. We did go back to Italian and it was very good. There are many nightly special themed meals on the beach, bands, dances, local artists, etc. you really don't have to leave the resort. At the pool during the day,I think Rigoberto took care of us mainland did a great job, and there are two young activity instructors who do a wonderful job trying to get you up and involved! But not pushy! They even do a bar tour in Cabo!! I can't say enough great things about this resort. I just wish I had remembered more names because the staff are really a main part of what makes your trip memorable. It was a terrific choice and would love to stay here again.
Sdedmon - Shelby, North Carolina
---
You cant get better service, food and location in Los Cabos! We stayed for our honeymoon and were welcome with champagne, flowers and chocolates! The room had ad a perfect view of the azul waters and a balcony to soak up the rays - we were on the top floor! The food was delicious and the range of cerviche was exquisite! I loved the room service menu and concept - each item was consistently good and technically you could order the entire menu! Drinks were fantastic! TIP: It may be worth booking tours online rather than through the hotel! Found it much cheaper online!
AlwaysonAdventure - United Kingdom
---
This is a beautiful resort with amazing views throughout. Cleanliness exceeded expectations. I Cannot say enough good things about the entire staff. From our initial greeting at check in by Gabriella, the activity directors Lilianna and Johnny, the wine/tequila sommelier Alejandro, all the wait staff in restaurants and pool/beach, and the most cheerful Anna in coffe shop. I was concerned by other reviews about construction noise but haven't a clue what that was all about. An entirely excellent vacation!
---
Arrived on a Thursday via Super Shuttle - which was awesome, btw. The resort is about 20 minutes drive from the airport, so I was the first drop off, yeah! Upon arrival, I was greeted with a nice frozen lime drink and escorted to my room #118. It was at the end of the resort closest to the construction. On Friday morning, at 7, I was woken by the beep beep sounds of trucks, and by GREAT luck, they were able to move me to room 242, on the opposite side of the hotel, nearer to the Hilton (ahhh). I like to sleep with the patio doors open, otherwise, one would never have heard the construction. The food here was satisfactory, I'm a bit of a foodie, so while everything tasted okay, the typical buffet food was adequate. Service was AMAZING, never needed to ask for a drink as the poolside servers were fabulous. I was disappointed to see that I seemed to be the only person tipping, huh? The ceviche is definitely fabulous, as was the grilled fish (Sea Bass) on the pool menu. The sushi restaurant was quite good, and it was wonderful to get room service included, on the one night I had had enough of people. The breakfast restaurant / buffet but one can order from a menu as well was lovely. The hostess remembered my name, and being a solo traveler, that just made me feel special, to be greeted each morning by someone who remembered me, excellent. I've stayed at other Leading Hotels and while the service here was on par, some amenities could be better. Yes, they have L'Occitane products, but the linens on the beds, meh? Scratchy. The beds are okay, but hard and not up to standards. The breakfast breads served daily, in the little dumbwaiter is just a fantastic treat, as is the excellent Nespresso coffee in room. I enjoyed the pools and the chaises by the sea. I enjoy a swim, however the water was too cold for me. I DID love the daily activities, stretching, noontime water aerobics, beach volleyball, lots of wonderful things to do. I did not take advantage of the trips to Cabo for nighlife, nor the rifle target shooting, but how great that they are offered. My goal was to get 'away from it all' and the Marquis delivered. Not sure I'd go back, but I am confident most adult travelers would love this place.
Tina E - Santa Monica, California
---