There are no rooms available for this property, at this time.
---
Awasi in San Pedro de Atacama, Chile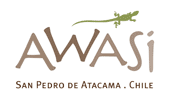 San Pedro de Atacama used to only be a stop for weary Chilean travelers needing to replenish their supplies before continuing on with long journeys. Today however, it has become an international travel destination for seasoned sojourners seeking to sequester themselves behind walls of seclusion and luxury. At the all-inclusive boutique hotel Awasi, an al fresco reception area welcomes you to your temporary home with comfy sofas and a enticing fire pit. The eight adobe casitas are configured in a circular fashion, and were inspired by the region's ancient desert dwellings. They also embrace British Colonial overtones, with teak furnishings, floors cloaked in hardwood, and rattan accents. Each harmonious space is crafted from stone and wood, with indoor and outdoor showers, as well as private walled-in patios perfect for sunbathing. Modern amenities are also present for your contemporary convenience.
The common outdoor areas, enjoyed only by you and a only handful of other privileged guests, feature a lovely pool surrounded by cabanas and lounge chairs. At night, the space is transformed into an outdoor living room, illuminated by a veil of stars and the soft glow of candlelight. Guests can relax and mingle over a glass of fine red wine produced by a local vintner, or sip a sweet mojito as the sun slips below the horizon. In addition to luxe surroundings and priceless privacy, your stay at Awasi also includes transfers, all meals, beverages and private outings. Awasi is the only hotel in South America that assigns you your own 4x4 Jeep and private guide for adventures, making your experience intimate and enthralling at once. Take in such striking settings as towering volcanoes, dry salt lakes, lizard-filled landscapes, and hamlets brimming with rich culture and fascinating pasts.
Location of Awasi
Awasi
Tocopilla 4
San Pedro de Atacama, Chile
Nearest Airport: CJC
Amenities for Awasi
General Information
8 Guest Rooms
Dining
Private Dining
Bar
Room Service
Dining Room
On-Site Amenities
Spa Services
High-Speed Internet Access
Outdoor Pool
In-Room Amenities
Private Patios or Balconies
Outdoor Showers
Activities
Bicycling
Hiking
Ecological Excursions
Nature Walks
ATV Tours
Wildlife Viewing
Four-Wheel Drive Excursions
Horseback Riding
Interests
Active & Adventure