Please select your dates to see prices:
---
Dreams Tulum Resort & Spa in Tulum, Mexico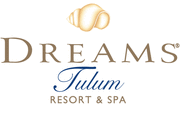 In a place once enchanted by ancient Mayan civilizations, a modern tropical oasis now exists, and is home to Dreams Tulum Resort & Spa. On Mexico's Riviera Maya, with its turquoise Caribbean waters and world-famous white sand beaches, this remarkable hotel welcomes you to Unlimited Luxury®. With everything included - from gourmet dining, to beachside beverages, to endless entertainment - your cares can be left behind as you settle into your vacation sanctuary. Bright and inviting guest rooms and suites feature cool marble flooring, private terraces with hammocks, iPod docks and DVD players, and a regularly refreshed mini bar with all your favorite snacks. Views vary, from sweeping panoramas of the lush gardens and sparkling pool, to the scenic ocean waters and sand. The resort's 24-hour room service and concierge can attend to any additional needs, but with so much luxury in front of you, it is difficult to imagine wanting for anything more.
Your pampering and relaxation are taken to a new level at Dreams Spa by Pevonia, where a highly professional and world-class experience awaits. Hydrotherapy pools, cleansing saunas, vichy showers, and couple massage rooms make it possible to unwind in whichever way suits you best. And a fully equipped fitness center, offering classes as well as state-of-the-art equipment, is always available for your use. Dreams Tulum Resort & Spa hosts two beautiful swimming pools, and a children's pool, for you to splash and sun to your heart's content. Of course, the beachfront is just steps away, so take full advantage of water sports such as sailing, snorkeling, kayaking, and even an ocean trampoline. Take an afternoon to journey on an excursion to the ancient Mayan ruins, just 30 minutes away, and discover the mystical qualities that make Tulum such an alluring destination. Or stay right at home and participate in fun and exciting activities like dance lessons and weekly beach parties. When you have whetted your appetite for some fantastic cuisine, the resort's eight restaurants and a café offer anything and everything you crave. From the friendly and accommodating staff, to the array of wonderful amenities and the scenic splendor surrounding you, Dreams Tulum Resort & Spa is an unforgettable stay.
Location of Dreams Tulum Resort & Spa
Dreams Tulum Resort & Spa
Carretera Chetumal-Puerto Quintana Roo
Tulum, Mexico
Nearest Airport: CUN
Amenities for Dreams Tulum Resort & Spa
General Information
458 Guest Rooms
Dining
Outdoor Dining
Private Dining
24-Hour Room Service
Swim-Up Bar
6 Bars
Beach Wait Service
9 Restaurants
Pool Wait Service
On-Site Amenities
Beauty Salon
Spa on Property
Laundry Service
Fitness Center
WiFi
Game Room
Currency Exchange Service
2 Pools and a Children's Pool
Boutique
Tennis Courts
24-Hour Front Desk
Car Rental
24-Hour Concierge
ATM
In-Room Amenities
Private Patios or Balconies
Turndown Service
Air Conditioning
CD Players
Ceiling Fans
Direct Dial Telephones
DVD Players
Hair Dryers
In-Room Safes
Mini Bar
Satellite Television
iPod Docks
Iron/Ironing Boards
Marble Bathrooms
Flat-Screen Televisions
Coffee & Tea Facilities
Activities
Deep Sea Fishing
Kayaking
Sailing
Tennis
Windsurfing
Scuba Diving
Snorkeling
Ecological Excursions
Table Tennis
Bocce Ball
Volleyball
Shuffleboard
Business
Business Center/Services
Meeting Rooms
Family
Babysitting
Kids Pool
Kids Club
Playground
Interests
All Inclusive
Beach
Family
Honeymoons & Romance
Spa & Wellness
Summer Getaways
Reviews for Dreams Tulum Resort & Spa
---
As an experienced traveller/in all inclusive user I was underwhelmed by my stay... especially for the price. PROS * Suemy, Alfonso & Ivan (pool wait staff) were non-intrusive and fun to chat with, as well as great servers. The guys were only too happy to help you find good loungers or lounger positions by helping you move them to shade or locating a parasol * Room was cleaned to good standard and all maids were super friendly * If you called room service they were quick and happy to help CONS * Every morning during 10 day stay, The World Cafe had a lack of properly laid tables (Coffee cups, water glasses cutlery, Salt and pepper shakers missing or incomplete for seating) so you/other guests had to go raiding other tables... a couple mornings we lost our cups whilst up getting food! * Food variable - Italian restaurant awful, pool bar food very low quality * Insufficient loungers vs guests so you ended up wandering around even at 9am to find two together with a parasols for the blistering heat * Insufficient parasols (for when you needed a break from the sun) * Too many weddings/events either blocking off areas of the beach or pool... *... rowdy drunken wedding groups (think Spring Break MTV 2001) in main pool almost daily with lots of yelling and whooping (hardly relaxing)... not helped by foam party... * Event set up noisy (one, two, one, two....followed by a nice sound of drills/screwdrivers) * First come first serve lounger principle not applied; loungers being reserved frequently with no occupants * Quiet pool not quiet as full of kids, inflatables and Zumba on the beach etc * Had to ask for replenishment of bathroom products * Wash cloths removed but not replaced * Room mini bar not always restocked * Excessively expensive spa - charged in USD and often more than double the price of GBP spa treatments in UK!! * Cocktails at Rendezvous bar were overly sweet * Excessively expensive shop - $416MEX (£16/$22.50 USD) for sunlotion if you run out ... same bottle in UK would cost less than £8 in Superdrug/Boots... or you could get the low cost public bus in to Tulum, go to a pharmacy and buy it for $97MEX * Repairs/renovations left odd remnants of previously operation items ... ie a bug sliding door screen which wasn't able to be moved, a shower head in the bath area with no button or lever to turn on
LondonLover8699 - Abbotts Langley
---
Go to the Dreams Spa for hair and makeup and ask for ELIA. She is very talented! I am in the beauty industry and have high expectations....ELIA totally delivered a stunning look for me. My husband was really pleased and I felt so beautiful for the wedding! Thank you Elia.
---
I went to Dreams with 3 girlfriends. The resort is beautiful and we found the staff extremely nice and helpful. We only swam in the family pool as the big main pool was cloudy looking and full of drunk adults. The drinks were ok but the wine was disappointing. We found the food mediocre at best and sometimes downright bad. We liked the Italian restaurant the best and the FRESH guacamole at the Mexican restaurant. So, about the pitch...I believe everyone gets approached to attend a "90 minute pitch over breakfast" within the first 30 minutes of arriving. We were stuck longer in the lobby when we arrived than we should have been because they did not have our rooms next to each other like we had requested, ugh. We were approached and convinced to do the chat because the guy offered us steep discounts on the massages which run $195 each for 50 minutes! Anyway, the "90 minute pitch over breakfast" for membership to their vacation group turned into a 3 hour hard sell that moved from breakfast to their membership lounge. We had to say no to 3 different people before we could leave politely with our massage discounts. We felt misled and hoodwinked. They up the prices of extras so they can bribe you with discounts to hear their pitch. The memberships run $25,000 and up! Of course hey don't tell you that until 2.5 hours in. Besides that and the mediocre food, it is a beautiful and peaceful resort.
---
We prepped for a family wedding for nearly nine months. We were beyond excited to finally arrive at the resort, but upon check-in, we were quickly deflated. Due to a communication issue with our travel agent, we were booked one night too few. Instead of alleviating our concerns and allowing us to check-in and deal with the extension over the next 24 hours, front desk staff turned us away and told us to contact our travel agent. Good thing we had my father-in-law's internationally-capable phone. We returned to the front desk 20 minutes later and checked-in. Our room was beautiful, the non-front-desk staff were genuine, kind, and courteous. The views, both from our room and from the beach, were stunning. The wedding was gorgeous and went off without a hitch. (use your own photographer, though) Pool was great - not too chilly, but it did get cloudy as the day went on and post-thunderstorm. Grounds are gorgeous and there are plenty of places to either catch the sun or stay out of it. The World Cafe is alright. It's a buffet, so... The fish is lovely, but the desserts lack flavor (and sugar). Breakfast is the best time to hit the buffet. Choose Portofino or the French restaurant for a better selection. We chose to do an excursion to the cenotes, ziplines, and ATVs- worth the money, but be aware there is the possibility of a rain-out if thunder and lightning strike. More front desk problems arose when we touched base with the manager Sunday before we left for the excursion. I thought I'd check in to make sure we didn't need to do anything to confirm our one-night extension. I was told that the extension was added, but that we would need to move rooms! We have a nearly 3-year-old and were heading out for an excursion that would bring us back after the hotel's extended check-out time. I asked Jorge what exactly his plan was for letting us know. He didn't have an answer. He attempted to guilt me into accepting the move and other room by mentioning that we received a free upgrade and were currently in an Deluxe Ocean View room. Pretty sure it wasn't MY fault that THEY gave us an upgrade. I explained that we had a young child, would be gone for the day and would not be having anyone touch our things. I told him he needed to FIX IT....and magically, what had been, only a few moments ago, impossible, was now fixed. Don't let front desk staff give you the run around. Multiple people in the wedding group had issues at check-in, too. Unfortunately, our troubles were not over. We phoned Sunday night to have our shuttle reservation moved to 10 from 8:45 so we wouldn't be at the airport 4.5 hours early. My husband confirmed, multiple times, the 10AM reservation. We arrived in the lobby at 9:40 only to be given a "missed pick-up" slip for a 9:30 departure...and the slip was time-stamped at 9:45 (5 minutes into the future?!). The concierge desk was unhelpful and did not attempt to reschedule or help. The woman from Mayaland/Greyline accused me of lying after I stated we had been there for 20 minutes when she stated the shuttle waited until 9:50, meaning we could have caught it and they instead left us. We had friends on that shuttle who said it waited until 10AM and our friends told the driver they knew us. Also, somehow, the reservation was in my 3-year-olds name!? We finally had to take a $100 cab ride to the airport. Overall, while I would return to Tulum, I would NOT stay at this resort again, even though it smells heavenly (seriously, there are scent infusers everywhere). There is no respect for the customer and there is minimal service from the front desk.
---
Excellent hotel with good rooms and great location. We stayed in junior suite before switching to adjoining rooms, they are available, but again cannot be reserved until on site. The resort is on a white beach and built in local style. Impression is a small village. There is seaweed on the beach on a constant clean up, but its all part of an eco-system that sees pelicans cruising above your head and big iguanas strolling past your bali bed (can be reserved). The choice of restaurants is good as is the quality. There is no reservations apart from the teppanyaki tables, there are 2 each seating 10, book 2 days in advance, its worth it. The unlimited luxury aspect is more then satisfying, pretty much anything anytime, if they do it you can have it, constant (kids and adults) treats left in your room every night a bonus via expedia. The entertainment team work very hard and that's what makes this hotel...the staff....they all work very hard to help you have a good holiday. You never have to search for someone and the fact that money is not needed, any tipping is really about that extra service. One of the pools can get a bit loud, but there is a quieter one. Some of the best sites and attractions are a short ride away. Chichen Itza, Tulum, Xcaret, Xel-Ha, Rio Secreto, Cirque de Soleil Joya and swimming with dolphins and turtles at Akumal beach.
jwaihoong - Suffolk, United Kingdom
---