Please select your dates to see prices:
---
Keyonna Beach in Turners Beach, Antigua and Barbuda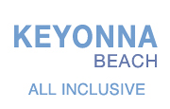 Take a different approach to your next Caribbean vacation, with a stay at the intimate Keyonna Beach all-inclusive hotel. Set on the spectacular shores of Antigua, this boutique retreat hosts just 15 rooms, each outfitted with four poster beds, simple Caribbean style, and private verandas from which to enjoy the tranquil coastal views. Although Keyonna Beach is located on a quiet strip of white sand beach, it is also within close proximity to local restaurants and attractions, making it the perfect place to start and end your days' journeys and adventures. It boasts what is considered the best view of neighboring Montserrat, a volcanic island that frames fantastic sunsets each and every evening. The all-inclusive program at Keyonna Beach allows worry-free relaxation, including full meals with wait service. Stretch out under the tropical Caribbean sun, or splash in the cool crystalline waters. Everything here at Keyonna Beach is simple and idyllic, just like your trip is guaranteed to be.
The island of Antigua offers an incredible array of activities, sure to please every taste and interest. For snorkeling and kayaking, South Coast Horizons is just a short walk away. Paddle through protected mangroves out to Cades Reef, or stay on land and trek through exotic palms to view gorgeous flora and fauna. More intensive hikers will love nearby Boggy Peak, where a one-hour climb leads to the highest point on Antigua—as well as panoramic vistas of neighboring islands and sun-kissed seas. Further explore your adventurous side with a zip-line tour of the rainforest canopy, which will crisscross you over plunging gorges, through verdant forest, and along towering treetops. Back at the hotel, the perfect ending to your fun-filled days awaits on the beach restaurant's multi-tiered terrace. Special daily dishes, along with indulgent three-course menus, will provide the ideal complement to a cool cocktail and sunset view. For a break from ordinary, where you will find peace in the extraordinary, stay at Keyonna Beach in Antigua.
Location of Keyonna Beach
Keyonna Beach
Johnson's Point
Turners Beach, Antigua and Barbuda
Nearest Airport: ANU
Amenities for Keyonna Beach
General Information
24 Cottages and Beach Houses
Only 12+ Years Permitted
Dining
Outdoor Dining
Restaurant
Bar
On-Site Amenities
Housekeeping Service
WiFi
Car Rental
In-Room Amenities
Air Conditioning
In-Room Safes
Private Verandas
Mini Refrigerators
Nearby
Restaurants
Golf
Beaches
Marina
Interests
All Inclusive
Beach
Spring Break
Reviews for Keyonna Beach
---
What can I say. My husband did really well with this and he absolutely blew me away. Keyonna Beach resort exceeded all my expectations and continued to stun me every step of the way. The staff were amazing and were always ready to help. I suffered from 8hrs of flight sickness and as soon as we got to the resort, the staff were very hands on helped me get better. They bought ginger tea, home made recipies and ive got to say, it works!!! We went all inclusive and the meals were divine!!! The fish that was served was the catch of the day and beautifully prepared. Every minute of the trip was worth it!! Definately worth 5 stars in my eyes!!!
---
I can't begin to say how wonderful this resort and the staff were to us. We got married at the resort and the staff treated us like royalty - they were professional, friendly and nothing that we asked for was overlooked. The resort is beautiful. Both the regular rooms and the cottages are perfect and clean. We loved the outdoor showers. The beach was kept perfectly clean, there were plenty of cabanas for everyone to enjoy. Acare, the beach waiter, was top notch. My husband wanted coconut water which they did not have. Acare, went in search of a palm tree, climbed the tree and brought us a coconut - he came with a machete and chopped it open fresh for my husband to drink! Georgette kept our room perfectly clean and welcoming. Henry - oh, Henry, he is amazing. He took us on a personal tour of the island. We wanted to see all the local places - not just the normal touristy stuff. He spent about 4 hours with us and we couldn't have been more pleased. Henry even came to our room personally on the afternoon of our departure to say goodbye to us. Chiquira and her team in reservations planned my wedding day! Every little detail was perfect - just as requested, actually better than I requested since my requests were very simple - I just wanted to marry my best friend - and they all made the day spectacular for me. I'll never forget it. Enrico in the bar, Savio at the front desk, oh gosh.. there are just so many amazing employees! Kareem (Head chef) and his team cooked amazing meals - breakfast, lunch and dinner never disappointed! Cheers to all of you. keep doing what you are doing. keep smiling. And remember, you all made my wedding week amazing. So grateful to you all.
kandice5821 - Dallas, Texas
---
The service from all the staff from the gate man to the waiting staff was excellent. Nothing was too much trouble. There was a good selection of food on the menu; we really enjoyed the fish. The rooms are spacious and the beds are comfortable. There were mosquitoes but the net over the bed was effective at preventing us being bitten at night. We had a lovely time and hope to stay at the same hotel next year.
Ruth C - Northampton, United Kingdom
---
We just checked out today having spent the last ten days at Keyonna Beach Resort. We enjoyed every minute of our stay here. The food, drinks, beach, Bali beds, entertainmentand staff were just wonderful. We could not fault it. Keep up the good work, you are doing a great job.
---
Another relaxing holiday in this perfectly situated and characterful hotel. As with last year, the staff all went that extra mile to ensure that our every need was attended to. The food however, did not live up to our expectations as we considered there was too much of a Caribbean influence, which was missing last year. Although I appreciate you cannot please all of the people all of the time, I sometimes struggled to find a dish that was to my taste. On three occasions, I also had to return dinners and a breakfast that were at the best tepid if not cold. These comments about the food were echoed by two other guests. Don't get me wrong, we thoroughly enjoyed our stay and would still highly recommend Keyonna Beach. It was a pity the food was not up to the expected standard set by the guest chef last February. We would also recommend Creole Antigua Tours if you would like a speedboat trip to Bird Island, with a lobster barbecue lunch (delicious) and the opportunity to snorkel both off the boat and in shallow water off a beach.
Scooprutland - Oakham, United Kingdom
---