Please select your dates to see prices:
---
Keyonna Beach in Turners Beach, Antigua and Barbuda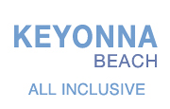 Take a different approach to your next Caribbean vacation, with a stay at the intimate Keyonna Beach all-inclusive hotel. Set on the spectacular shores of Antigua, this boutique retreat hosts just 15 rooms, each outfitted with four poster beds, simple Caribbean style, and private verandas from which to enjoy the tranquil coastal views. Although Keyonna Beach is located on a quiet strip of white sand beach, it is also within close proximity to local restaurants and attractions, making it the perfect place to start and end your days' journeys and adventures. It boasts what is considered the best view of neighboring Montserrat, a volcanic island that frames fantastic sunsets each and every evening. The all-inclusive program at Keyonna Beach allows worry-free relaxation, including full meals with wait service. Stretch out under the tropical Caribbean sun, or splash in the cool crystalline waters. Everything here at Keyonna Beach is simple and idyllic, just like your trip is guaranteed to be.
The island of Antigua offers an incredible array of activities, sure to please every taste and interest. For snorkeling and kayaking, South Coast Horizons is just a short walk away. Paddle through protected mangroves out to Cades Reef, or stay on land and trek through exotic palms to view gorgeous flora and fauna. More intensive hikers will love nearby Boggy Peak, where a one-hour climb leads to the highest point on Antigua—as well as panoramic vistas of neighboring islands and sun-kissed seas. Further explore your adventurous side with a zip-line tour of the rainforest canopy, which will crisscross you over plunging gorges, through verdant forest, and along towering treetops. Back at the hotel, the perfect ending to your fun-filled days awaits on the beach restaurant's multi-tiered terrace. Special daily dishes, along with indulgent three-course menus, will provide the ideal complement to a cool cocktail and sunset view. For a break from ordinary, where you will find peace in the extraordinary, stay at Keyonna Beach in Antigua.
Location of Keyonna Beach
Keyonna Beach
Johnson's Point
Turners Beach, Antigua and Barbuda
Nearest Airport: ANU
Amenities for Keyonna Beach
General Information
24 Cottages and Beach Houses
Only 12+ Years Permitted
Dining
Outdoor Dining
Restaurant
Bar
On-Site Amenities
Housekeeping Service
WiFi
Car Rental
In-Room Amenities
Air Conditioning
In-Room Safes
Private Verandas
Mini Refrigerators
Nearby
Restaurants
Golf
Beaches
Marina
Interests
All Inclusive
Beach
Spring Break
Reviews for Keyonna Beach
---
Lovely, peaceful and relaxing - just returned after 10 days at this lovely resort. Stayed in 2 room types, the first a standard beach bungalow set back off the beach. As others have said all very rustic and traditional so don't expect marble and all the bells and whistles. Second room was a pool villa which really did remind us of trips to the Maldives.. amazing! Super staff and food/drinks. Notable mentions to Akare, Rohan, Alridge, Odeana, Akeem and Ruel. Clint on the front desk was a very nice chap too! No problems with Bali beds, sun loungers or dirty pool like others have mentioned... would definitely return. Didn't book any trips but did hire a car for the day which had more warning lights on the dash board than a Christmas tree.... The perfect place to go to chill out and do nothing. 😎😎😎
Kevo1978 - Maidstone, United Kingdom
---
A second visit for two of the couples and a first for the third couple. Sometimes it's hard to describe a holiday to friends and then convince them to spend serious money on a holiday like no other they've ever experienced. We regularly holiday together as a group and it's always a full on activity sort of holiday. Keyonna is the exact opposite - total relaxation, in a perfect & peaceful location. We only wore shoes to dinner - all other meals, drinks & snacks were either had on the beach or we wondered off the beach and into the restaurant area. Dinner was as dressy or casual as you like. However, we and most guests changed for dinner. There were a couple of bands during the week and particularly on our last night was a fabulous, party feel singer who had us all on our feet. Brilliant night. Lots of honeymooners but equally we did not feel out of place in our small group. Because the hotel is so small, other guests tended to be really chatty & sociable. Lots of trips were available to those who wanted it ( as the other reviews show) but we just swam, snorkelled, read and stayed on the beach all day. Don't go here if you like big faceless hotels with pristine facilities and air conditioned restaurants. It's all outdoor. You may get a bite from a bug (some of us did and some didn't). You may come across sun beds with cushions that may not match (yes-one review did really say that!?). Make your choice: Our experience- on both occasions: every meal will be fresh and absolutely delicious ( our coeliac friend was carefully talked through every dish at every meal that was suitable for her and this was most of the choices ). Wine & all cocktails were superb and plentiful. Rooms were air conditioned, clean, comfortable and bedding changed every single day! The location is truly stunning. Every member of staff I came into contact with was at the very least helpful & polite and the majority were that and more - friendly, chatty and more than happy to make sure you had everything you needed. We were looked after from the moment we arrived until the moment we left. It was heaven on earth and although you won't have my fabulous friends with you I think you'll still have a truly memorable time. Thank you to everyone at Keyonna.
SnorklersOnTour - Plymouth, United Kingdom
---
Three couples stayed a week and we all really loved it. As other reviewers have said this is a comfortable place in a great location with amazing staff and the best hotel food we have ever had. It's a bit rustic and shabby in places, like many Caribbean resorts, but we didn't mind that at all, in fact it helps you relax. No one needs to dress to impress here or feel overwhelmed by any aspect of it. It's chill time. Yes the biting insects can be a problem at night, although I wasn't bitten. The open air showers are amazing. Paul
Paul C - Plymouth, United Kingdom
---
I'll just break this down by different aspects of the resort.... Food 5/5... This food was some of the best I have had ever.Breakfast doesn't have a lot of variety but you they have a different special everyday which was always great. Lunch is amazing and you can lay on the beach and they will bring it to you and it's very romantic. Lunch menu is has tons of options. Seafood cakes were amazing every time! Dinner is just so wonderful.Every single night dinner was spectacular. The wine pairings along with the food was great. Dinner also has a special and I usually got that because it was always something I never tried before. Overall, all the food is amazingly good here. Keep in mind it is a la carte, not one of those lazy buffet style resorts so kudos to Keyonna for all food Staff 10/5 Yep that's a 10 out of a possible 5!! The staff made this trip what it was and I honestly have never seen customer service practiced so flawlessly and effortlessly.Every single staff member made us feel warm inside everyday just by a simple greeting and they always sparked up conversation. We are usually introverts but they made us friendly for 6 days. Acare is the answer to everything wrong with this world. He kept everyone happy all the time no matter what time of day it was.I had a few hangovers and he always made me feel awesome with his singing and overall positive approach to everything. Clint I believe was the manager, that guy deserves a raise.If I ever get to build my own company he will be at the front with me.Professionalism at its best. Even offered to take me and the fiancée out sightseeing on his day off.Wonderful guy.Sean seemed to be the nighttime manager and checked on every single couple every single night.Him and Clint couldn't be a better tag team for management.Miss geriann(sorry if I spelled the name wrong) was our first server and I wasn't too high on her at first.In about 15 minutes she changed my mind and became one of my favorites.Always had solutions to everything and overall a model of consistency.Miss Francine was outstanding as well.For Mother's Day I asked her if something special could be done for my fiancée and she said sure be here at 730.I completely forgot about it and came down to the most romantic thing ever.The picture is below.She really made me feel great and in the process convinced my fiancée that we are getting married here later this year! Rohan was definitely one of my favorites.He is the wine connoisseur for the resort Every night with different bottles to every table.But I also seen him doing other things around the resort just like everybody else so multitalented.Rohan always kept a great smile on and always kept me entertained.When I told him I needed more wine he always ignored me and looked at my fiancée because he knew she is really the boss!! Haha it was always so funny. Special thanks to miss odeal as well and savio and miss georgette for all their contributions.If I'm missing anybody I'm sorry.Everybody is great there This is overall a very relaxing and tranquil setup.You have the options to go on trips close to the resort.We went horse back riding and it was the most romantic thing we have done.I definitely recommend that along with the sunset tour with Denzel and Aaron.They really are knowledgeable with everything and you get lunch and get to snorkel on the reef and get to watch a beautiful sunset while sailing the islands. For a thrill we rode jet skis.Not expensive at all.Just overall fun. Sorry my review was so long and if I'm missing anything or if anyone needs additional pushes to go here I will convince you!!! But I love this resort and I had no desire to go home yesterday but we will certainly be back in he future.Thank you to all the staff and everyone who stayed at the resort as well.Never been in a more friendly atmosphere.Please keep up the great work!!!
jamieroberson1989 - Richmond, Virginia
---
Lovely laid back resort small and comfortable.rooms seem basic but have everything you need one quibble no shower gel.all food is a la carter and at all times exceptional .drinks were brought to you on sun beds on the beach never left wanting.sometimes we like a night out but didn't as food was so good here.
Linda F - Cambridge, United Kingdom
---