There are no rooms available for this property, at this time.
---
Mustang Monument in Wells, Nevada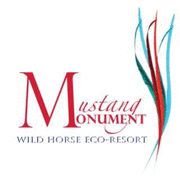 A place unlike any other, a breath of all-American wilderness and wild, Mustang Monument is a horse-centric eco-resort whose property spreads over 900 square miles in northeastern Nevada. Blending luxury with the unbridled outdoors, Mustang Monument's accommodations are set in deluxe individual tipis, each with over 300 square feet of living space. Featuring hardwood floors, leather chairs,and custom-made beds, there is a decidedly lavish feel, and yet you are at the same time situated quite literally amidst the landscape. Creature comforts like air conditioning, 24-hour butlers, an adjacent specialized bathroom facility, and amenities for any urgent situations are provided, leaving you to relax and enjoy this unique and fantastic experience for all that it is worth. Your stay is all-inclusive, with all food and beverages as part, and you can opt for extra services like in-room spa treatments to add a bit of pampering to your trip into the American outback. At Mustang Monument, your adventure is endless, and the opportunities for lasting memories are equally infinite.
With an array of outdoor activities and recreation, the resort helps you easily take advantage of your surroundings, not to mention witnessing the wild Mustang horses that roam these beautiful lands. From guided walking tours and hikes, to bike rides and off-road adventures, you will relish the mountain views and sweeping fields across the property. Indulge in the local culture by learning about the heritage of the destination, taking a Western culinary lesson, or even participating in a Mustang training seminar. With every experience tailored to your needs, interests, and desires, you are sure to have the kind of trip that leaves you fulfilled in every way. Furthermore, your time at Mustang Monument contributes to preserving America's Mustang populations, by supporting a certified charitable organization dedicated to protecting the remaining wild populations that roam the United States. Take a step out of the ordinary on your next vacation, and discover the beauty that lies within the great American wilderness, with an inspiring experience at Mustang Monument.
Location of Mustang Monument
Mustang Monument
Highway 163 Navajo Market
Wells, Nevada
Nearest Airport: EKO, SLC
Amenities for Mustang Monument
General Information
Only 12+ Years Permitted
On-Site Amenities
Housekeeping Service
24-Hour Butler Service
In-Room Spa Services
In-Room Amenities
Air Conditioning
Bathrobes
Luxury Linens
Interests
Active & Adventure
All Inclusive
Eco Friendly Luxury Vacations
Honeymoons & Romance
Lodges & Ranches
Summer Getaways
Reviews for Mustang Monument