Please select your dates to see prices:
---
Yasawa Island Resort & Spa in Yasawa Island, Fiji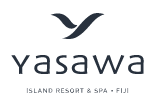 Imagine a beautiful island gem resting in crystalline seas under sunny skies, glowing with 11 private white sand beaches and shimmering emerald forests, and open your eyes to the wonders of Yasawa Island Resort & Spa. On a magnificient, tranquil Fijian island surrounded by the warm Pacific Ocean, this fabulous beachfront retreat invites you to cast off from the world and relax in tropical splendor. Luxurious private bungalows are hidden amidst swaying palms, dotting the powder-soft white sand beaches just outside their doors. Step into your private oasis, and enjoy a stylish modern take on classic Fijian thatched roof bures. Open to the beauty of the island, sunlight streams through plantation-style windows while the crisp, refreshing ocean mist drifts past your plush king sized bed. Private sun decks offer the perfect place to relax, while outdoors showers are enticingly elegant. Enjoy your own private beach hut and warm hammock, and soak in the sunshine and the stunning weather. At Yasawa Island Resort & Spa, less is more than enough.
As the morning sun warms the surf, step out onto the soft sands of your quiet beach, and dive into the refreshing waters. Spend the day splashing in the waves and soaking in the sun, or enjoy a scenic kayaking adventure along the coast. Delight in a gorgeous catamaran sail in the afternoon, or fly across the ocean on a windsurfing adventure. Cruise out for an amazing scuba diving excursion and discover the vibrant undersea wonders of Rainbow Reef, Magic Wall, or Shallow Bay, or visit the legendary Blue Lagoon and snorkel in its crystalline waters. Lose yourself in the natural tropical beauty as you hike along picturesque trails crisscrossing the island, and even visit the amazing local village of Bukama to learn about their fascinating culture. Delight in a picnic on the beach or a friendly volleyball match, then relax and sip your favorite cocktail as you watch the sun set beautifully over the sea. Dine that night at the al fresco restaurant, and enjoy fabulous cuisine under breathtakingly clear starry skies. At Yasawa Island Resort & Spa, each day is an adventure in paradise.
Location of Yasawa Island Resort & Spa
Yasawa Island Resort & Spa
P.O. Box 10128
Yasawa Island, Fiji
Nearest Airport: NAN
Amenities for Yasawa Island Resort & Spa
General Information
18 Bures
Dining
Poolside Dining
Outdoor Dining
Private Dining
Restaurant
Bar
Room Service
Picnics
Oceanfront Dining
On-Site Amenities
Spa on Property
Private Beach
WiFi
Outdoor Pool
Beach Access
Tennis Court
Complimentary WiFi
In-Room Amenities
Air Conditioning
Hair Dryers
In-Room Safes
Mini Bar
Iron/Ironing Boards
Luxury Linens
Luxury Bath Amenities
Outdoor Showers
Hammocks
Bottled Water
Private Decks
Indoor/Outdoor Sound System
Activities
Cultural Classes
Deep Sea Fishing
Excursions
Fishing
Hiking
Kayaking
Sailing
Tennis
Windsurfing
Scuba Diving
Snorkeling
Stargazing
Nature Walks
Boat Excursions
Beach Volleyball
Cultural Tours
Boating
Paddleboarding
Nature Hikes
Interests
Beach
Honeymoons & Romance
Reviews for Yasawa Island Resort & Spa
---
From start to finish our stay at Yasawa Island Resort was wonderful, filled equally with activities and relaxation. To fall asleep and awaken to the sea every day was magical, and walking to breakfast every morning with your feet sinking into the most amazing sand was certainly no hardship! The staff were wonderfully welcoming and the food outstanding and dare I say, with grown up children, having 'done' children's holidays, it was a pleasure to be childfree (apart from one month a year I think). The other bonus was the lack of wifi and tv in the buras. It was amazing to have to let go (which we did) and great to escape the tinnitus of technology. Might take a while but we are already saving for our next trip! Thank you so much to everyone at the resort, Eve and Crispin
EvieB999 - Adelaide Hills, Australia
---
We were first there several years ago. It was wonderful until our last day when I sustained a major ortho break. There was no basic first aid available. So my husband and I ( both docs) created one "patch" til major surgery done 2 days later in N.J. We were to return 2 weeks ago. On our way to LAX a waitress informed us of Cyclone Josie. We then called the resort directly. They stated that the "stranded guests" were hopefully to be "evacuated" the next day. The scheduled plane from Nadi to Yasawa was to be replaced with a seaplane since the grass landing field was "too wet." Nadi had atleast 4 dead due to the cyclone by then. Since we had first hand experienced Superstorm Sandy in an urban area, survived a medical issue occurring at Yasawa in good weather (the management never called in regard to my later well being), and now a cyclone with the management again not seeming to regard the guests as little more than a $2500 per day meal ticket ( no offer for a credit or refund); spend your hard earned money elsewhere
sngdoc - Little Silver, New Jersey
---
This place is indulgent. Food is world class 3 meals a day. Staff wonderful and inviting. Accommodation good. Limited couples on island at any one time. No children. Resort is remote and herein lies the issue. MAKE SURE YOUR TRAVEL INSURANCE COVERS EVERY POSSIBLE LOSS YOU COULD INCUR DUE TO BAD WEATHER. I doubt that you find one. Being remote it relies on air travel to get there. AT $475FJD per person is it already exorbitant. The island has a land airstrip very susceptible to the weather elements. Remember you are in a tropical climate. If it is closed due to the wet (very high risk) you will need to fork out extra $500FJD each for a sea plane. If planes cant land at all there is a 7hr round trip by the Yasawa Flyer boat to Denarau. Additional travel expenses wont be covered properly when excess is taken out. We were delayed 1 day due to the airstrip being closed. Had to find accommodation overnight at Nadi. Managed to get sea plane next day. Lost 1 nights accommodation on island. YASAWA HAS A NO CANCELLATION POLICY so bad luck. Claim it on Insurance is the attitude. Insurance dont cover delays due to weather unless you are delayed in returning to your home destination. Internal delays are not covered due to weather. Read the fine print and watch out on the excess. It is per person and per item category !! Not per entire claim. Most people staying there were worried about delays getting off the island due to weather. If there are delays and you need to stay longer, thats probably not covered either. So an already $$$$$$ holiday can get out of control.Not really resorts fault but the cancellation policy is a bit rough. This should be a consideration when checking out various islands. Ease of access is important. I have raised this with Management and even though they are sympathetic not much can really be done for me.
davidlagats - Sydney, Australia
---
We just spent 5 glorious nights at Yasawa and loved every minute. It all begins with a breathtaking flight over several islands known as the Yasawa island group and the spectacular reefs on which they sit. We arrived to a beautiful welcome and song by the staff and were then escorted to our Deluxe Bure. It did not disappoint. The bures are huge and are finished beautifully with tasteful soft furnishings and little extras that you would expect from a quality resort. The indoor bathrooms have been renovated recently and are modern and stylish with a double shower looking out over the water. There is also a stunning outdoor shower surrounded by tropical plants and foliage. My husband loved it so much he didn't even have a shower indoors. We found the rooms to be very private. Unlike other resorts where the rooms are built way too close to one another, we could barely see the next bure and certainly never heard any of the other guests. It felt like we had the whole resort to ourselves! The bure was located beachfront and wow, what a beach!! Beautiful white sand as far as the eye can see. It's worth travelling to the Yasawa's just to experience their beautiful beaches. Must do's are the caves, private picnics at more stunning locations and heavenly treatments in the spa. The food was world class. They have a new Executive Chef and we were really impressed with both the quality and presentation of the food. Lobster appeared regularly and the desserts were delicious. A special treat was the lovo night. We have experienced lovo many times in Fiji before and I have to say I'm not usually a fan but at Yasawa they do it very differently and it was delicious. We loved it. We thoroughly recommend.
---
8 days in an experience that had everything we asked for. Plus more . The island is pure beauty .... so this is Fiji , eh ? The flight over ..... breathtaking to say the least . The staff .... just easy to get along with and so keen to teach us about their culture . The massages (included in price ) just bliss . The activities ....... a secluded beach picnic ..... just unbelievable and remote . The food ... 3 x meals a day ...... 2 to 3 courses of master chef extroidinaire indulgence . Wow . Our host Manasa took us to his village and the school kids stole the show . Pure Fijian . Finally , no TVs and no jets skis ... yes .
MalleeR - West Wyalong, Australia
---