Please select your dates to see prices:
---
The Abaco Club on Winding Bay in Abaco Island, Bahamas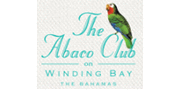 Tropical breezes blow in off the Atlantic and brilliant skies stretch over white sand beaches as The Abaco Club on Winding Bay welcomes you to its tranquil oasis. On the 500 acres of Great Abaco Island just off the Florida coast, this spectacular island club captures authentic luxury and supreme tranquility. Sea breezes blow through airy cabanas and 3-bedroom Club cottages with elegant vaulted ceilings and gorgeous bamboo floors. Bright tropical décor and plush beds offer endless charm and serenity, and furnished verandas invite alfresco enjoyment of spectacular views of the coast. An unforgettable experience awaits on each and every stay at The Abaco Club on Winding Bay
As the sun warms the sugary beaches, enjoy the on-site 18-hole golf course or rejuvenate with a visit to the spa. After an afternoon on a sun-kissed beach lounger, take a dip in the sea or grab a board to surf or windsurf. Cruise along the island's picturesque coast by kayak, or head out for a catamaran sail or deep sea fishing excursion. You will find amazing diving at Treasure Cay, Green Turtle Cay, and Marsh Harbour, and snorkeling along reefs in Land and Sea Park and Preserver is breathtaking. All-weather tennis courts are perfect for an evening match, and The Clubhouse serves excellent Bahamian cuisine. With the sun setting magically over the island stroll down to Busters on the Beach, and sip a delicious cocktail as the stars come out over The Abaco Club on Winding Bay
Location of The Abaco Club on Winding Bay
The Abaco Club on Winding Bay
Cherokee Road on Winding Bay Marsh Harbour
Abaco Island, Bahamas
Nearest Airport: MHH
Amenities for The Abaco Club on Winding Bay
On-Site Amenities
Spa on Property
Housekeeping Service
Fitness Center
WiFi
Tennis Courts
Beach Club
18-Hole Golf Course
24-Hour Concierge
In-Room Amenities
Vaulted Ceilings
Activities
Kayaking
Sailing
Tennis
Windsurfing
Interests
Active & Adventure
Beach
Family
Reviews for The Abaco Club on Winding Bay
---
I go here often. Love it. Most beautiful beaches, all houses less than a minute walk from the beach or directly on the beach, with shallow turquoise water,most friendly people, always smiling, best diving, fishing, sailing, the houses have breathtaking views and are beautiful designed, bright light with totally equipped kitchen, bathrooms, terrace with grill, great restaurants and bar, most relaxing place .... barefoot luxury .. just your dream come true
---
This is the place to stay, literally, to get away and enjoy the beach, the spa, golf or just relax and enjoy this resort. Service was excellent, staff very friendly and attentive. We were going into Marsh Harbour to celebrate my wife's Birthday however due to the weather (rain) we decided to have dinner at the resort at the Cliff Restaurant. To our surprise they had Birthday balloons and champagne at the table and provided a "whole" cake after our dinner and sang a nice Birthday song. Wow…totally unexpected. Food at the Cliff restaurant reasonably priced...and oh my...just delicious! We stayed in a Cabana and the room was contemporary and comfortable with all the necessary accommodations. Recommend stopping at the Grocery store in Marsh Harbour to pick up a few things. Fridge and microwave in the room. We made a few trips to Marsh Harbour to visit friends but selfishly wished we had just stayed at the resort. Can't wait to visit again! Thank you team Winding Bay.
golfone09 - Houston, Texas
---
Amazing! Great accommodations, service, exclusive, great food and drinks! Theresa and Max were the best bartenders! We stayed in a cottage and its was clean, huge, with great views. Definitely want to go back and highly recommend!
caravera91 - Providence, Rhode Island
---
My boyfriend and I had the pleasure of staying at The Abaco Club last week (Dec 8 - 15) and it was a fantastic trip. Every aspect of our stay, from the resort to the service to the food, was excellent. The resort itself is gorgeous and the grounds are well-kept. It's a short distance from the Marsh Harbour airport and in a very quiet and secluded spot. We stayed in a villa that was just steps from the beach and everything the resort has to offer is easily accessible by golf cart. The beach is gorgeous and there are a ton of water toys to keep you busy (kayaks, paddle boards, snorkeling gear). There's a small island (Sugar Cay) across the water that you can kayak or paddle board to that is great to relax on and snorkel around. Plenty of turtles, fish and other creatures to see. We spent our entire time at the beach and only got to the pool once but it's an equally relaxing spot with gorgeous views of the beach and water below. Highly recommend it after a workout (the gym, by the way, is fantastic). We ate at both Flippers and The Cliff House and we enjoyed both. The breakfast at Flippers is delicious as well as the cocktails served up by Max. Order the Bushwacker and thank me later. The various dinners we got at The Cliff House (Especially the plantain side dish. Best thing ever) were also amazing. I have to single out the service because it was something we were consistently impressed with at the club. From check in with Charles, to dinners with Sharon and everything in between, we felt welcome and a part of the whole resort community. The service is truly second to none. We highly recommend The Abaco Club to anyone visiting this part of the Bahamas. We can't wait to plan our next trip back!
vicdhima9 - Boston, Massachusetts
---
October 15 - 17, my husband, son and his girlfriend stayed at The Abaco Club. We had 2 luxurious cabanas which were located just a few steps away from a beautiful, 2-1/2 mile, pristine, private beach surrounded by crystal clear turquoise waters teaming with turtles and fish. Before our arrival, "Super Star" Concierge Manager, Anitha Cooper helped us with rental car and excursion information. She was an unbelievable help to us since we had never been to Abaco before and had no idea where to rent a car or what to do on the island. We ultimately rented from Rental Wheels, per Anitha's recommendation. The car was ready when we arrived at the Marsh Harbour Airport (a very quick, easy 25-minute trip from Nassau), was full of gas, in fantastic condition, and ran well! The Abaco Club is about a 30-minute drive from the airport. Upon arrival, we were treated like royalty. Freshly baked, chocolate chip cookies (unbelievable!!!) waited inside as we were checked in by Bri. After check-in, Bri gave us all a wonderful resort tour by golf cart. FYI...cars are left at the clubhouse and each couple is given a golf cart to get around the property. As we toured the resort, Bri told us about the history of the resort, pointed out rare, exotic plants, showed where the restaurants were, and gave us an overview of the property amenities and golf course. Our beautiful, octagon-shaped cabanas were very large, and each had a screened-in veranda surrounded by a tropical paradise. The bonus was a large contingent of rare and colorful parrots, which we saw ever day. The grounds around the cabanas were impeccably maintained and swept daily. After unpacking, we immediately headed to Flippers (on the beach!) for a quick lunch and a few afternoon cocktails. We were warmly greeted by Max, bartender extraordinaire, who created some of the best strawberry pina coladas and margaritas that we have ever had! There is a small island within swimming (kayaking or paddleboard) distance from the beach that we went to each day just to explore. The area around it was incredible for snorkeling and we saw many turtles, large grouper, conch and zillions of colorful fish since it butted up next to a reef. We spent most of our time in the water, beachcombing (collected some incredible seashells!), or just enjoying the sun. Dinner at the Cliff House was such a fantastic experience that we ate there 2 nights in a row! The view from the restaurant is quite simply breathtaking. We went just before sunset and were able to marvel at the way the colors in the sea changed while the sun went down. Service was friendly and helpful, and the waitstaff works together to ensure you and your guests are well taken care of. The blackened grouper was the best any of us had ever had, but everything was wonderful! Dessert was also amazing...we all shared! The chef has a special way of preparing cheesecake...it was creamy and smooth as silk. We did not play golf, but drove around it the last day and wished we had played it. The views over the ocean are spectacular. We will definitely come back to the Abaco Club! Perfect vacation and very highly recommended.
MsSunriver - Tetonia, Idaho
---