Please select your dates to see prices:
---
Amberley Castle in Amberley, England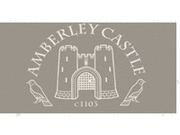 For 900 years, Amberley Castle has enjoyed a quiet existence near the picturesque village of Amberley in England's West Sussex countryside. Today, it remains a prime example of medieval architecture--complete with moat--while serving as a lavish small hotel. This member of the prestigious Relais & Chateaux collection boasts just 19 bedrooms and suites, each individually transformed to complement the architecture. Every day here is a keepsake, ending with the spectacle of the awesome, two-ton oak portcullis being lowered for the night.
Reflecting the property's exciting history, with innovative contemporary influences, 4 distinctive dining venues range from The Great Room adorned with suits of armor, to the thatch-roof Mistletoe Lodge treehouse, where you might indulge in a private dinner for two. On the grounds, pursuits include tennis, croquet, strolls through landscaped gardens and practice on the 18-hole professional putting course. Out and about, you can compare your home away from home to magnificent Arundel Castle, or visit inviting regional villages, such as the market town of Battle.
Location of Amberley Castle
Amberley Castle
Church Street
BN189ND
Amberley, England
Nearest Airport: LHR
Amenities for Amberley Castle
General Information
19 Guest Rooms
Nearby
Historic Sites
Shopping
Reviews for Amberley Castle
---
Amberley Castle is a glorious hotel set in immaculately maintained grounds. The staff are professional yet friendly, affording us a memorable experience. Our cut price (!) Secret Escapes deal did not appear to render us second class citizens, 'tho a different 5 course tasting menu on each of the 3 nights we stayed would have been preferable to the recycled first offering, necessitating an up-grade to a la carte.
I411LFjanew - London, United Kingdom
---
What a stunning, intimate and romantic place to stay. The history is just awesome of who may have stayed or passed through here in a thousand years. We were upgraded to the Arundel suite due to the General Manager appreciating a momentous occasion for us. Oh how absolutely stunning it was. Total castle feel which is what we wanted. Fireplace, mullioned windows, antique furniture and sumptuous bathroom. The grounds are serene to wander around with the lake and castle ruins. The staff are simply wonderful, inattentive yet unobtrusive. The food is amazing, beautifully presented and cooked and catering for gluten and dairy free was a doddle. Such glamour and panache when they introduce the dishes to you. Oh and love the gorgeous choice of reception rooms to sit in before and after dinner. Adorable hotel and a credit to all the staff. We asked the staff to light our fire while we were havibg dinner. Returning to our room with a roaring fire was amazing. My only point for improvement is the gluten free bread - please consider nice crusty, seeded wholegrain warmed rolls rather than sliced white supermarket bread.
Groovytravellers - Surrey
---
I had purchased a dinner, bed and a breakfast gift voucher for a Christmas present for my partner.. we decided to redeem it once the weather perked up... On arrival the drive, lawns and ponds and the castle gateway were breathtaking in the spring sunshine. The chap who checked us in was friendly and engaging, our room within the castle walls, over looking the dry moat and main square was charming, but in need for some TLC. Paint scraped off of the wall where a table had been moved, a leaky towel holder which must have been like if for some time as the bathroom tile was discoloured where the puddle was forming. The vanity light cover around the mirror in the bathroom was smashed at one corner.. Very hard/rough towels (as were the robes, which we didn't bother using) just little things but when you are paying quite a bit of money for this room, you would expect things to be a little nicer. We knew in advance that the evening meal would be in the 'nouvelle cuisine' style, which we are not that keen on, but was anticipating to come away partially converted... my chicken starter had some sort of powder on it which to be frank tasted of dried vomit - I couldn't eat any more of it due to this turning my stomach. Our main courses where as expected very small with no potatoes or vegetables but alas they were cold and quite tasteless.. I am not a dessert person but this was the redeeming part of the meal - very beautiful and very tasty - I did joke that I would have preferred to have had three desserts!! I must stress that all staff were attentive and pleasant. We had a comfortable nights sleep and a disappointing breakfast - omelette was overcooked and had a metallic tang (cheese in it tasteless) and my partners full English was very average. We did not mention this as to be honest we just wanted to leave as we were a little deflated at what should have been a special night with exciting food turned into a very average one albeit with lovely surroundings. At least I was presented with a lovely show near the carpark by your beautiful albino peacock; that gave me a smile for the way home! All in all after spending Ā£700 for the evening for the 2 of us (including wine) I just felt some of it was lack lustre and not what I was looking forward to. Perhaps we should have just come for afternoon tea - as we had heard rave reviews about that.
Mellas9 - Rochester, United Kingdom
---
My wife and I went to Amberley Castle on a bright sunny Sunday afternoon for the Full Afternoon Tea. It was amazing! The castle, the grounds, the service, the staff -- all perfect. We are planning to bring some friends of our there for the three course champagne lunch very soon. Truly an experience not to be missed.
---
We visited this location as a trip away to enjoy the opportunity for sampling some fine dining. The castle itself is lovely and the drive up the drive is stunning. Walking around the grounds they are equally lovely, and the room we stayed in was very comfortable full of character. The food is amazing! Very, very good and some of the best we have had. The dinning room is spectacular and had a lovely atmosphere. We would recommend this time and again.
Somenameintheuk - Bedford, United Kingdom
---