Please select your dates to see prices:
---
Pandawas Villas in Bali, Indonesia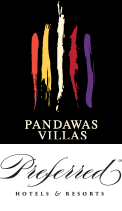 In the heart of Bali, Indonesia, surrounded by lush forests and an enchanting atmosphere discover the resplendent Pandawas Villas. Named for the five brothers of the Hindu Mahabhrata legend, and designed and colored around the themes of each, this wonderland offers a harmonious blend of modern luxury and natural beauty. Imagine stepping out to a beautiful pavilion and infinity pool directly through your glass doors, or waking up as the warm morning sun invigorates you on your oversize chaise. Or perhaps the king-sized chiropractic mattress and silk sheets will tempt you to stay in bed and appreciate the comfort of simply being on vacation. At the Pandawas Villas, the ideal of comfort and luxury will become your reality.
Take part in the beauty of Bali, and its Hindu heritage, and experience the many wonderful traditions Pandawas Villas has to offer. Center yourself with a deep tissue massage while enjoying the calming surroundings of the gardens or koi pond. Or perhaps take a Yoga lesson before dressing up to take part in a traditional Balinese dance. For a glimpse of Bali's culture, plan a trip to the Neka Museum and marvel at the amazing collection of artworks. Or if you are feeling adventurous, walk through the sacred Monkey Forest and come face to face with some of the local wild life. For a family meal or romantic dinner, head back to the villas to dine at the Arjuna Restaurant. Here western, Indian, and Indonesian cuisines are crafted by gourmet chefs and can be enjoyed ŕ la carte or as part of a festive buffet. After an amazing day, relax and reflect at Buddy's Bar, located at the highest point of the villas. Overlooking the koi pond, with coconut trees swaying in the distance, this is the perfect place to watch the sun gracefully dip below the horizon while you delight in a cocktail created by the bar's mixologist. Welcome to the Pandawas Villas, where the natural beauty of Bali is right outside your door and tranquility is a lifestyle.
Location of Pandawas Villas
Pandawas Villas
Jl. Raya Kendaran No. 1 Banjar Kepitu
Bali, Indonesia
Nearest Airport: DPS
Amenities for Pandawas Villas
General Information
5 Villas
Dining
Private Dining
2 Bars
On-Site Amenities
Spa Services
Outdoor Pool
Gardens
In-Room Amenities
Ceiling Fans
Televisions
Luxury Linens
Outdoor Showers
Activities
Excursions
Nature Walks
Yoga
Nearby
Historic Sites
Shopping
Art Galleries
Reviews for Pandawas Villas
---
We stayed 2 nights here on our first visit to Bali. Taxi from Denpasar airport was a bit thick and couldn't find it until I booted up Google maps. So make sure you know where it is, just a few km north east of UBUD Centre. It was worth every second of the extra hour he took to get there. We were amazingly the only ones staying there (think there are only 4 rooms), so it was like our own private hotel. Charming helpful staff who drove us into dinner in Ubud for our first night, and then back to the hotel. Complimentary shuttle. Lovely breakfast outside our huge and luxurious room. Fabulous enormous bed. I could go on and on. Would stay again without question. Beautiful place, wonderful pool, glorious tropical setting. Good wifi too. Just go there.
Simon G - Kent, United Kingdom
---
This property blends nature with modern amenities to perfection The rooms are huge with open skylight washroom, Jacuzzi, surrounded by tall trees,a little distance away from the hustle and bustle of Ubud market.
---
I can't say enough good things about the staff and property at Pandawas Villas! First of all, the villas are quite large and the outdoor bathroom is really unique and enjoyable. There are only 4 villas at the property so it's very quiet. The villas face the large pool and the jungle. We even saw about dozen monkeys up in the trees as we were sitting by the pool! Breakfast was included and it was fantastic. They serve it to you wherever you'd like to eat, be it in bed or by the pool with views of the jungle at whatever time you'd like. Eggs cooked to order, fresh squeezed juices, tea or coffee, fruit, bread or croissant. Contact the staff in advance if you need transportation from the airport. They arranged it for us at a good price. Same for a tour of the Tegallaland rice terraces, elephant cave, a temple & a coffee plantation as well as our ground transportation to our next stop, the Hilton in Nusa Dua. We also booked several massages while we stayed here and they were very reasonably prices and good. I believe it converted to be around $15 for an hour massage. They also have a shuttle that will take you it to town. We found it was often more efficient to just take a taxi back to the villas from Ubud but great option for getting into town, and it's free. I would recommend Pandawas Villas to anyone traveling to Bali. It is a great value for the price, the staff & grounds are fantastic and the cooked to order breakfast can't be beat!
Erin S - Denver, United States
---
We can't say enough about this lovely property. The 4 villas are spacious, well appointed and the common areas are tranquil and well maintained. We had to spend a few extra days in Bali due to the eruption of Mt. Agung which closed the airport. The staff took tremendous care of us and made what could have been a very stressful situation into a pleasant experience. We will definitely be back!
---
Great place , lovely staff - friendly and helpful . Wonderful for a quiet retreat . Adding on a few more Villas - current ones are very spacious. Points to improve - pressure in our shower was weak. Tea coffee water at anytime all gratis and transport into town also included. Wifi good .
---