Please select your dates to see prices:
---
Culloden Estate & Spa in Belfast, Ireland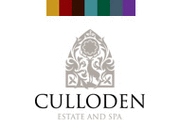 Although it's just 6 miles east of Belfast's vibrant city center, Culloden Estate & Spa feels like a secluded country retreat. This Irish landmark was originally built as an official palace for the Bishop of Down, and is tucked into 12 acres of gardens and woodland. With their cozy country house furnishings, many guestrooms and suites gaze over the grounds toward Belfast Lough. Savor fresh Irish produce at Mitre Restaurant, and enjoy a convivial drink with fellow guests in the garden setting of the Cultra Inn. To soothe away the cares of modern life, Elysium Spa offers an indulgent selection of specialized treatments.
Right in your neighborhood, you'll discover a wealth of enticing activities, beginning with the Royal Belfast Golf Club. Offering privileged tee times to guests, this 18-hole parkland course, founded in 1881, is Ireland's oldest golf club. Also, right on your doorstep is the Ulster Folk and Transport Museum, a re-creation of a northern Irish village from a century ago, complete with transplanted historic houses, schools, churches and mills. Enriching your holiday even further are the boutiques and antique shops of Holywood, the seaside pleasures of Bangor and the bars, theaters and lively music scene of Belfast.
Location of Culloden Estate & Spa
Culloden Estate & Spa
Bangor Road Holywood
BT18 OEX
Belfast, Ireland
Nearest Airport: BHD
Reviews for Culloden Estate & Spa
---
We were not disappointed with this 5 star Hotel. All staff were most helpful and very friendly and could not do enough for you. The room was spacious, clean and very well furnished. The catering was excellent and the whole place had a relaxing feel.
---
A very friendly hotel where we were made to feel very welcome. The service was excellent and our room was fresh and clean. The breakfast in the morning was worth getting up for and the service and helpful of the staff was commendable.
cmcdonnell274 - Ballymena, United Kingdom
---
Culloden is my wife's favourite local hotel and would sacrifice a longer, cheaper stay elsewhere for a couple of nights at this luxury hotel. Staff all very friendly & attentive. Our room was in excellent condition.
_samuel_ingram - Belfast, United Kingdom
---
Wow! Great room on 7th floor, the Amethyst Suite. Double floor room with massive bed and 2 single beds upstairs for our 6 year old daughter who was ecstatic. There was a wedding there and we met an old colleague who worked with me and it was great to see. The views were stupendous. The dinner in the Mitre is incredible as they served halal food (amazing) never ever been to a hotel restaurant which catered to that and also they had vegetarian and not animal gelatin in panna cotta and marshmellows which were prepared freshly. Wow! Wow! This is amazing catering to the international crowd. Well done. Because of this, I think a massive market previously untapped will flood in. The spa is amazing too and my wife had a really relaxing time; ESPA products galore there. The pool is octagonal in shape, nice indeed for my daughter. We loved it.
---
Once again, a truly lovely experience to stay at the Culloden, had the pleasure to stay for 3 nights and was upgraded to a beautiful suite overlooking the sea, pure luxury, wanted to bring the bed and pillows home, the room had a beautiful view overlooking the sea from the bedroom and from the lounge overlooking the gardens. The breakfast was of a very high standard freshly cooked and plenty of choice. The staff are very friendly and helpful. I look forward to my next stay in the next few months. Feeling so chilled out after a few days relaxing at the Culloden.
NerysJones2014 - Dublin, Ireland
---