Please select your dates to see prices:
---
Castello di Magona in Campiglia Marittima, Italy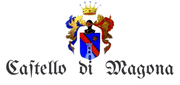 Tucked between Lucca and Siena and looking out over Tuscany's Maremma coastline, Castello di Magona was built at the beginning of the 16th century and is the historic home of Leopold II, Grand Duke of Tuscany. The goal of present-day host Cesare Merciai is to give discriminating travelers the opportunity to live the sumptuous life of ancient nobility amid the comforts of the new millennium. This spectacular castle features charming bedrooms and suites, an indoor/outdoor dining room and a gorgeous swimming pool. It also offers a full staff, including chambermaids, a chefs and a private concierge.
Surrounded by olive groves, the castle is a sublime base for activities such as cooking demonstrations or guided tours to the local medieval villages of Carducci and Volterra. Visits to Pisa, Siena and Florence make for pleasant day trips, while excursions closer to home range from olive oil mills to the famous Sassicaia and Ornellaia wineries in Bolgheri. One of the most exciting optional opportunities is the chance to discover the beautiful coastline of the Tuscan Archipelago and the island of Elba on board a private 11-meter sailboat with skipper.
Location of Castello di Magona
Castello di Magona
Via Venturina 27
57021
Campiglia Marittima, Italy
Nearest Airport: PSA
Amenities for Castello di Magona
General Information
10 Bedrooms
On-Site Amenities
Spa on Property
Art Collection
Outdoor Pool
Gardens
Outdoor Whirlpool
In-Room Amenities
Air Conditioning
Direct Dial Telephones
In-Room Safes
Mini Bar
Satellite Television
Individually Designed Rooms
En-Suite Bathrooms
Activities
Cooking Classes
Wine Tasting
Wine Tours
Boating
Nearby
Historic Sites
Golf
Interests
Culture & Arts
Family
Reviews for Castello di Magona
---
We were 20 people traveling together and had a great time in the castle! The rooms are unique, great beds (a bit hard mattress but it did our backs good). Very clean everywhere, the breakfast was delicious. We had one pre-ordered 4 course meal made for us, and it was heavenly! Alberto is the best host and he would do anything to make us happy. Close to the great beaches, local supermarket and the cosy village in the mountains, just a few minutes away. The thermal spa is a few hundred meters away and a nice walking distance. Would recommend a stay here to everyone; couples, families and friends. We'll be back 😀
---
On our 3rd and most memorable trip to Italy with friends, we stayed in Tuscany at Castello di Magona, a castle built in the XVI century which was the home of The Grand Duke of Tuscany Leopoldo 11. The castle is located just outside Venturina, close to the Tyrrhenian Sea with beautiful beaches within a 15 minute drive. We rented a car in Rome for the 3 hour drive and stopped for lunch half way at the seaside town of Porto San Stefano. Castello di Magona should be on every traveler's bucket list. The splendor of the building, the views, the warm and sincere hospitality of owner Alberto Merciai and his staff, the history and atmosphere combine to create a dreamlike, never to be forgotten experience. While history and antiquity are apparent, splendor and comfort with exceptionally spacious bedrooms and bathrooms provide exceptional comfort. The food presentation and authentic Tuscan prepared selections are over the top. Each day's breakfast was a feast for eye and pallet. On two nights Alberto's staff, under the direction of Paola, the chef, created a banquet based on our preferences which included calamari stuffed with tuna, salmon, roasted rabbit with potatoes, pasta with local mushrooms, cake with Chantilly cream and on and on. The castle is the perfect starting off point for day trips (driving your rental car) to hill towns like Marittima, Monticiano, Bolgheri, Siena, San Gimagnaro; all of them having exceptional restaurants and spectacular scenery. Being located in the heart of Italy's most notable and exceptional vineyards, wine tasting at any one of the many wineries should be on your itinerary. We had a private tour at Ornellaia Vineyards, arguably the finest Italian wine available. The tour was very informative and included artwork commissioned specifically for wines from this vintner. Alberto can arrange vineyard tours, boats to Elba, private beach club reservations that include alfresco dining and suggest local restaurants. One standout was Otello in Ventorina my wife and I visited alone when our group decided to split up for an evening. If you are fortunate to be able to score a reservation at Castello di Magona, make certain to take time to get to know Alberto Merciai, the owner – you just may make a friend for life.
Bob46890 - Vineland, New Jersey
---
If you want to feel the true essence of holiday in Tuscany - Castello di Magona is THE Place. Your breath is taken away as you drive through the main gates, and the view of the castle, walls neatly covered in ivy with grand main entrance is revealed. Impressive views on the Tuscanian landscape, traditional portraiture on the walls and authentic feel really add to the romantic atmosphere. Alberto and Paola make it contemporary with their energy and best advice on the sightseeing, foodie places and beaches to visit, and there is so much to see and taste around. The staff are very hospitable making the holiday that much more relaxing and upkeep of the property is of high standard. Evening setting of candlelight dinners under the brightest stars is the most magical. We visited as a family with a group of friends, and everyone found something special for themselves, whether it was chilling in the jacuzzi, splashing in the pool, reading and dozing under the tree branches or conversing in the main hall, the Castello is planned to provide enough space for everyone to spread out and be secluded, and then have big social gatherings in the evenings. Awesome for celebrations and special events! Feast for the eyes and happy energy guaranteed!
---
Exquisite castello. A true gem that is both stunning and well managed. Attentive staff, superb views, great food and lovely rooms full of character and original features. A true gen not to be missed! I loved every bit of it.
Pintik - London, United Kingdom
---
Castello di Magona is a magic , beautiful place to be with your family and a big group of friends . The service was great and the authentic Italian food was super tasty . Alberto, the owner, was very welcoming and did a grand job of looking after us all week. I would highly recommend this as a special place for unforgettable holidays !!!!!
grinkova - London, United Kingdom
---