Please select your dates to see prices:
---
Byblos Art Hotel Villa Amistà in Corrubbio di Negarine, Italy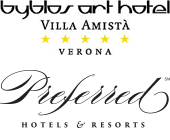 With all the grandeur of the 15th century villa from which it was converted, in beautiful Valpolicella, Italy, the enchanting Byblos Art Hotel Villa Amistà is a truly luxurious escape. Just northwest of Verona, this fabulous hotel seamlessly blends contemporary and classic for an atmosphere that is as stylish as it is comfortable. Plush rooms with vibrant colors are bright with abundant natural light, and warmly inviting with a pleasant countryside feel. Marble bathrooms are stunning and soothing, and all the modern technological amenities will keep you connected to the world. With your stay at Byblos Art Hotel Villa Amistà you will experience all the luxuries of the contemporary world amidst the natural splendor, and enchanting essence, of historic Italy.
Begin your stay at Espace Byblos spa, a special venue of wellness, and free yourself from all the stresses of the world. With a beautiful day ahead, venture into Valpolicella to tour the renowned wineries, sampling marvelous local creations paired perfectly with delicious cheeses and charcuterie. For a fabulous day under the summer sun hike to the shimmering waterfalls of Cascate di Molina Park, then spend a relaxing afternoon sailing across placid Lake Garda and riding horseback along its picturesque shores. In the warmer months stroll through the gorgeous gardens of Villa Rizzadi, or make your way to Giardino di Sigurta, where the enchanting scent of blossoming roses and tulips add a fairytale touch to your exploration of the labyrinthine evergreen maze. Visit the charming village of San Giorgio to see the 1300-year-old Pieve San Giorgio hilltop church, or marvel at the fascinating historic architecture and breathtaking cathedrals of Verona's ancient city center. As evening sets in, dine at the hotel's Atelier Restaurant, where modern interpretations of regional cuisine are perfectly crafted with fresh organic ingredients, or take to the winter garden, Giardino d'Inverno. End the night with a cocktail at Peter's Bar, and breathe in a contented breath as the stars gently sparkle over Byblos Art Hotel Villa Amistà.
Location of Byblos Art Hotel Villa Amistà
Byblos Art Hotel Villa Amistà
Via Cedrare, 78
37010
Corrubbio di Negarine, Italy
Nearest Airport: VRN
Amenities for Byblos Art Hotel Villa Amistà
General Information
60 Guest Rooms
Dining
Restaurant
24-Hour Room Service
Wine Cellar
Bar
On-Site Amenities
Shuttle Service
Spa on Property
Laundry Service
Fitness Center
WiFi
High-Speed Internet Access
Wellness Center
Art Collection
Outdoor Pool
Gardens
In-Room Amenities
Air Conditioning
Bathrobes
In-Room Safes
Mini Bar
Satellite Television
Marble Bathrooms
Flat-Screen Televisions
Individually Designed Rooms
Business
Meeting Rooms
Business Services
Interests
Culture & Arts
Holiday Hotel Deals
Spa & Wellness
Reviews for Byblos Art Hotel Villa Amistà
---
Totally OTT hotel, a bit like Las Vegas inside a beautifully restored Italian villa (but in a good way)! All facilities, we had a superior room which was a good size, huge bed (a bit hard for me), super breakfast - rather expensive restaurant but so many to chose from in Verona and villages around and about. Lovely grounds with some unexpected surprises in the hedgerows (Darth Vader) and some lovely views. Lake Garda not too far, with Lazise our favourite small town. Verona is a lovely place, interesting, ancient and fun - some must see sights, an arena older than the one in Rome, Castel Vecchio, the Basilica of Sta Anatasia, a market in the piazza at the bottom of the Via Roma and so on. Lovely sunny days with an early morning haze that could be a bit slow to clear but great for October.
Andrea H - Redditch, United Kingdom
---
Ah... well, the hotel looks stunning from the outside, and the staff are all very, very lovely (aside form the pool person who did not seem to grasp the job duties of making guests comfortable and providing towels... and also told us we were only allowed 1 towel each, outrageous for such an overprices hotel). We were given a "suite", which felt like a prison, one window, facing a bush. Pitch black, "to enjoy the interplay of light", we were told. What nonsense. We changed to an even more expensive "suite", this time with a lovely view and light. No mosquito nets on the windows, so we had to keep the windows hermetically sealed at all times, a great shame. The WC and the bidet were hillarious, or they would have been if we had not been paying so much for the pleasure. Photos attached, I am guessing noone in the hotel management team had actually tried to use one. We couldn't, so traipsed down to the lobby to use some normal loos when the need arose. This hotel made me angry... honestly. I will never go back. It is a disgrace to have the cheek to charge that much for something that poor, claiming it was "art".
Petra J - Geneva, Switzerland
---
There are four hotels that stand out in my life that to me are unique in the world. The Carlyle hotel New York Hotel costes Paris Allila villas ubud. Bali Peninsula hotel Los Angeles And the Byblos hotel is right up there with that group Everything is without fault The beautiful interiors The staff The gardens and pool The food It's is the most wonderful ,beautiful, hotel That brings a smile constantly to your face . Pure heaven Thank you
greenygreeny - London, United Kingdom
---
This is a nice villa with incredible decoration and service. The hotel has beautiful gardens, gourmet restaurant in a quiet atmosphere. It is a lifetime experience in an exceptional hotel. The place deserves 7 star after all.
---
We stayed at the hotel in preference to staying in the centre of Verona during the Opera Festival because the hotel had a swimming pool and garden. We were delighted with the hotel, all the staff were very welcoming, the modern art and furniture collection is wonderful and the food is very good. The pool bar staff could not have done more to ensure that we had what we wanted. The hotel shuttle into the centre of Verona was excellent, and the driver was waiting to take us back when the performance finished. We will certainly stay at the hotel again during our annual trip to the Verona Opera Festival as it makes such a difference during the heat of summer to be able to swim and enjoy the shade of a garden, which also having the convenience of a shuttle service into and out of the city.
Philippa G - Monte-Carlo, Monaco
---