Please select your dates to see prices:
---
The K Club in Straffan, Ireland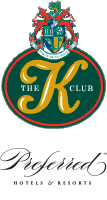 A sprawling resort estate in the heart of Ireland's countryside, The K Club is an award-winning destination offering unparalleled amenities, on-site activities, and luxurious accommodations. Just a half hour outside of Dublin, sitting on the verdant banks of the River Liffey, this palatial hotel echoes the style of a French chateau and is certain to impress even the most discerning of travelers. Touted as one of the country's superior hotels for service and facilities, The K Club offers just under 70 rooms, each of which is outfitted with plush robes, satellite television, wireless Internet access, and 24-hour room service. European-style décor, hand-painted trimmings, and spacious layouts have you feeling comfortable and pampered at once, making it easy to relax in this historic and beautiful place. Take a stroll around the premises, walking the gardens or taking an art tour to discover the myriad fascinating pieces throughout the estate, all the while discovering everything there is to offer. With its own wine cellar, duo of championship golf courses, full-service spa, and array of on-site recreation, The K Club has everything Ireland's countryside can to offer.
Golfers delight at the opportunity to play The Palmer Ryder Cup Course and The Smurfit Course, both considered to be among the world's very best, home to more than a dozen European Open championships. The resort's golf academy also provides individual lessons and day schools for every skill level. Those looking for a more pampering experience can head to The K Spa, an acclaimed wellness sanctuary offering a menu of sublime spa and beauty treatments. Enjoy the array of on-site activities, including falconry, clay pigeon shooting, horseback riding, and bicycling or walking around the extensive grounds. With its four specialized restaurant venues, The K Club has something for every taste or occasion, including The River Room Restaurant in the main hotel, Legends Bar and Restaurant in The Palmer Clubhouse, and Kwan Suk Royal Thai & Orient and The Riverside Cafe in The Smurfit Clubhouse. Globally trained chefs prepare menus that focus on flavor and modern interpretations of classic cuisine, delivering delicious meals morning through night. With so much to see and do, and such comprehensive service to make the best of it all, The K Club is an ideal Ireland getaway you will soon not forget.
Amenities for The K Club
General Information
69 Guest Rooms
Dining
Private Dining
2 Bars
24-Hour Room Service
Wine Cellar
4 Restaurants
On-Site Amenities
Spa on Property
Fitness Center
WiFi
2 Golf Courses
Indoor Pool
Valet Parking
Art Collection
Gardens
24-Hour Concierge
In-Room Amenities
Bathrobes
Direct Dial Telephones
DVD Players
Hair Dryers
In-Room Safes
Satellite Television
Iron/Ironing Boards
Flat-Screen Televisions
Activities
Bicycling
Fishing
Wine Tasting
Nature Walks
Fly Fishing
Clay Bird Shooting
Golf Lessons
Wine Tours
Horseback Riding
Golf
Sporting Clay Shooting
Business
Meeting Rooms
Business Center
Conference Facilities
Family
Children's Programs
Babysitting
Playground
Children's Menus
Teen Spa Treatments
Nearby
Art Galleries
Museums
Interests
Active & Adventure
Family
Golf
Reviews for The K Club
---
I must say so disappointed with our recent trip to the k club for a wedding. On arrival, our room was not ready so we had to get ready down in the spa changing rooms where we were dropped off only to be told that we had to walk back to reception after getting ready. There we were transported by bus eventually to the venue of the marriage to find we had to stand as there was no seating for us, very unprofessional. My partner was left very distressed by all of this and a day in which we saw 2 friends of ours share there special day we had a taste of fierce dissatisfaction. Can honestly say the poorest of service I have witnessed in a hotel for a very very long time. So disappointing
bridget325 - Cork, Ireland
---
A group of 4 of us travelled from Dublin for a dinner and overnight stay. The hotel was excellent, comfortable and luxurious and the rooms were spacious and traditional with superb bathrooms - lots of room for two women and their toiletries! Dinner was included and we had an excellent meal though many items on the menu carried a substantial supplement. I made the mistake of ordering port with the cheese and saw a charge of over 20 euro added to the bill, though I stressed I didn't want vintage. Wines were unnecessarily expensive. Overall we had a most enjoyable stay and were very impressed that the staff in the bar did not make us in any way unwelcome as we talked into the wee small hours!
T00shka - Dublin, Ireland
---
We stayed here on a winter warmer deal bed breakfast and evening meal. The hotel is beautiful surrounded by fabulous gardens, although we were there just as storm Emma was approaching we did not see the grounds at their best. There is a ramp for wheelchairs at the main door but there is one high step which has to be crossed by a ramp put down by the porter, this would be very inconvenient for anyone in a wheelchair who would need help every time they went in or out. The rooms are very spacious and the beds are amazing. The bathrooms have plenty of room and the accessible bathrooms are as good as you can get. Dinner was lovely salmon for starters and suckling pig with crackling for main and as you would expect in a five star establishment a very varied wine list. Breakfast is served to your table and all you could want. It is the staff that make this hotel amazing, everyone of them are so pleasant and helpful and nothing is too much trouble for them. I would love to stay here again, especially in the summer when the gardens are in full bloom and the sun is shining, I am sure the hotel would be spectacular.
maureen r - Dublin, Ireland
---
We came for a birthday celebration and got upgraded to a suite! (Thanks K Club) We were just blown away by our amazing luxurious room and the beautiful surrounds. The staff were all very attentive and kind. We are in the restaurant and both agreed the food was amazing, for me the foie gras, pig (pork belly) for main followed by choc fondant for dessert. The flavours were really incredible. We visited the pool and jacuzzi which were lovely too, views were awe inspiring.... don't know what else to say but we really really didn't want to leave and hope the next 'significant' birthday comes around soon so we might be sent once again to the club of K!
bryanoooo - Dublin, Ireland
---
We stayed here for one night bought in the Black Friday sale. It's been a few years since we were here and we were looking forward to our stay. Our room was beautiful, on the second floor so it had a sloped ceiling, nice view of the Golf course. Huge bathroom with double sinks, shower and bath. Nespresso coffee machine in the room so my husband was pleased. We wanted to have tea and scones in the bar but it was full of people as the rugby was on, went to the small bar next door and tried to order there but he said there was no food allowed and we would have to go to the bar, when we pointed out it was full he said he would make an exception and we could have tea and scones 😀 Five minutes later he was back to say we couldn't have them here but he took us to a room down the other side of the hotel near where they serve afternoon tea, he had a table sorted for us there. He really went above and beyond to be helpful I'm only sorry I didn't get his name so I could give him a proper mention. (Youngish Barman with glasses working on Saturday 24th Feb) The Dining room was full so we booked dinner in Legends restaurant, we didn't realize until later that this was down at the golf club. We were driven down in the mini bus and collected afterwards. Legends is a nice restaurant and the food was good if a little overpriced. My husband had the steak, which he said was perfect and I had the free range chicken. Breakfast the following morning was good, I ordered the poached eggs, which were served fresh and the rest was a buffet. Pleasant helpful staff. We didn't do much exploring as it was very cold but the grounds are very impressive.
Terrianne_10 - Dungarvan, Ireland
---