There are no rooms available for this property, at this time.
---
Tahiti In Style in Tahitian Islands, French Polynesia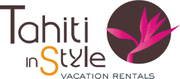 Stretch out under warm, sunny skies, listen to the gentle sound of the South Pacific as waves roll across golden shores, and immerse yourself in pure tropical bliss with your stay at Tahiti In Style. Private villas invite you to relax in complete luxury and comfort. With four bedrooms on two levels, and two amazing terraces, Villa Green Valley on Tahiti is a stylishly sleek modern home in the mountains overlooking the west coast of the island. Complete with an infinity pool set against a dazzling backdrop, a gourmet kitchen, and elegant bathrooms, enjoy both modern living and island life at this amazing villa. In wonderful contrast, Villa Miki Miki in Moorea is crafted in a relaxed beach bungalow style with thatched roofs, an open, breezy design, and four bedrooms opening right onto the beach. With peaceful tropical ambiance, gorgeous wood-crafted kitchen, and a tranquil terrace overlooking the sea, discover the escape you have been looking for with Tahiti In Style.
In the morning wake to the warm aroma of fresh coffee and breakfast, crafted by private chef, and make your way down to the beach for a day of fun in the sun. Find the perfect spot to relax and soak in the day, or dive into the crystalline surf and spend the afternoon swimming, surfing, and riding jet skis and water skis to your heart's content. In the afternoon venture out on the open ocean and relax aboard the decks of a beautiful sailboat while you cruise the Pacific, or head out on a deep sea sport fishing excursion. Take part in a scuba diving or snorkeling tour, and travel to vibrant reefs, deep drop offs, and stunning coves to come face to face with Tahiti's amazing sea life. Take some time to experience local culture in the capital of Papetee, on the island of Tahiti, and shop for some world-class black sea pearls after a delicious local lunch, then return to your villa for an amazing sunset dinner on the terrace. With Tahiti In Style, each day in is this exciting, and you will create memories that will last a lifetime.
Location of Tahiti In Style
Tahiti In Style
Tahitian Islands, French Polynesia
Nearest Airport: MOZ, PPT
Amenities for Tahiti In Style
General Information
15 Vacation Rentals
Non-Smoking Property
Pets Not Permitted
Dining
Private Dining
Private Chef
On-Site Amenities
Concierge
Shuttle Service
Spa Services
Housekeeping Service
Complimentary Self-Parking
Garden
Butler Service
Terrace
Personal Trainers
Car Rental
In-Room Spa Services
Barbeque Area
Provisioning Service
Complimentary WiFi
In-Room Amenities
Air Conditioning
Satellite Television
Televisions
Fully-Equipped Kitchen
Coffee & Tea Facilities
Microwaves
Dishwashers
Activities
Bicycling
Excursions
Fishing
Hiking
Water Skiing
Windsurfing
Scuba Diving
Snorkeling
Parasailing
Nature Walks
Whale Watching
Jet Skiing
Surfing
Wildlife Viewing
Bird Watching
Badminton
Boating
Sightseeing
Aqua Fitness
Nature Hikes
Water Sports Programs
Family
Cribs
Children's Amenities
Nearby
Shopping
Museums
Restaurants
Golf
Beaches
Marina
Public Transportation
Interests
Beach
Family
Group Travel Luxury Vacations
Reviews for Tahiti In Style