Please select your dates to see prices:
---
Anantara Desert Islands Resort & Spa in Abu Dhabi, United Arab Emirates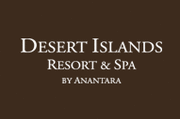 Set against the bold beauty of the Arabian Gulf, where rich desert sunsets become shimmering beach sunrises, the Desert Islands Resort & Spa by Anantara is your fabulous destination. On the north shores of Sir Bani Yas Island, just off the coast of Abu Dhabi, this luxurious hotel is equal parts adventure and relaxation. Overlooking the sea, with spacious private balconies, each stunning room is your personal serene haven. Plush king-sized beds are graced with fabulous Egyptian cotton, elegant bathrooms present enticingly stylish rain showers, and floor-to-ceiling glass doors allow natural sunlight to cast your room in a tranquil glow. Beginning with gorgeous tile or hardwood floors, brushed with the gold, tan, and deep reds of the desert, and completed with all the modern entertainment options, sink into the lap of luxury and enjoy true bliss at Desert Islands Resort & Spa.
On this tiny island paradise, where the Arabian Wildlife Park beckons to be explored, spend your first day on a fascinating adventure as you discover the island. Hike or mountain bike through the park's wonderful trails, come face to face with some of the local wildlife, and enjoy the beauty of nature. Cool off in the afternoon with a dip in the hotel's seaside infinity-edge pool, or snorkel and dive amidst the vibrant coral reefs in the island's marine sanctuary. For a leisurely day on the gulf, take out one of the sailboats and glide along the Arabian Sea, breathing in the invigorating ocean air. In the evening, ride horseback along the beach as the sun sets over the sands, or pamper yourself with a trip to the spa to unwind after an adventurous day in the park. After the warm Arabian day turns into the magical Arabian night, sit out under the stars and enjoy amazing seafood and the casual beachside setting of Samak. Later that night, retire to your cool, peaceful room and drift off to sleep surrounded by the complete and luxurious comforts of Desert Islands Resort & Spa by Anantara.
Location of Anantara Desert Islands Resort & Spa
Anantara Desert Islands Resort & Spa
Sir Bani Yas Island P.O. Box 12452
Abu Dhabi, United Arab Emirates
Nearest Airport: AZI, AUH
Amenities for Anantara Desert Islands Resort & Spa
General Information
64 Guest Rooms, Suites and Villas
Connecting/Adjoining Rooms
Ecologically Sustainable Practices
Dining
Private Dining
2 Restaurants
Pool Bar
Room Service
Lounge
Waterfront Dining
On-Site Amenities
Beauty Salon
Spa on Property
Hiking Trails
Library
Fitness Center
Sauna
High-Speed Internet Access
Boutique
Horse Stables
Gardens
Beach Access
Steam Room
Boat Shuttle Service
Tennis Court
Infinity Pool
Complimentary WiFi
In-Room Amenities
Air Conditioning
Ceiling Fans
Mini Bar
Satellite Television
iPod Docks
Marble Bathrooms
Flat-Screen Televisions
Luxury Linens
Luxury Bath Amenities
Private Pools
Individually Designed Rooms
Rain Showers
Kitchenettes
Espresso Machine
Private Terraces
Work Desks
Activities
Bicycling
Cultural Classes
Excursions
Hiking
Kayaking
Sailing
Mountain Biking
Snorkeling
Nature Walks
Wildlife Viewing
Cultural Tours
Archery
Four-Wheel Drive Excursions
Bird Watching
Game Drives
Horseback Riding
Nature Hikes
Business
Business Center/Services
Meeting Rooms
Conference Facilities
Family
Kids Club
Teen Club
Arts & Crafts
Nearby
Historic Sites
Beaches
Parks
Marina
Nature Reserve
Interests
Beach
Eco Friendly Luxury Vacations
Family
Honeymoons & Romance
Reviews for Anantara Desert Islands Resort & Spa
---
A totally enjoyable experience - service, facilities, dining and activities were top class. highly recommended to anyone. The staff were exceptionally nice and professional. the food was wonderful safari was great
Heather_and_Paul2014 - Dubai, United Arab Emirates
---
We had been really excited about the visit to the Dessert Island resort, however the front office staff are not fit for the roles they have been given. Reception staff have no clue about the services the hotel offers, yet they argue at every opportunity. As a family of 4 (2 adults and 2 children), staff first constantly argued at checkin that half board was only for the adults and the children would have to pay extra, even though our booking confirmation clearly confirmed 4 persons (all named individually) booked for the half board. They then showed us to a double room, and argued that the 4 of us would have to share the one bed!! Seeing four guests the staff then had the cheek to advise there were 2 bath towels and if we felt we would need extra!!?? After lots of arguing we were finally given a room with twin beds and 4 bath TOWELS!! Before we booked I wrote to the hotel asking about their Wildlife Ride and the minimum age age of 14, I advised that my two children were very experienced riders. The response was that they would conduct an assessment of my children riding abilities and if they knew how to control a horse this would not be a problem. On this basis we made the booking. After checking we thought we would book our activities. The staff member (Sara) advised my kids would not be allowed to ride. I showed her the message from the hotel yet was adamant and continued to argue that the message was not correct. I insisted to speak to a manager, manager confirmed that they would conduct an assessment of my children riding abilities. I will add that the assessment was carried out and the stables guide agreed my children were experienced riders and that he was comfortable to take us on the wildlife trek. Turned up for the assessment early wanting to go and visit their stables which we had heard a lot about. Apparently its a sanctuary for the Sheikhs retired race horses. Sara would not allow us to go early and that we had to wait for our pick up. The General Manager Nico overhead her responses and came over and told her that was not correct and that if we wanted to go out she should not stop us. This obviously put her out as her ego seemed to be dented. Kids loved the stables so wanted to ride every day. Turned up the following day and Sara was at reception, no acknowledgement, no greeting and would just blank me. Walked past me on a few occasions and shockingly did not even acknowledge I was there and would go to speak to reception staff to pass the message on us. Again we were not allowed to go early to the stables. The stables staff also confirmed there were no bookings that day so no reason why we could not have visited early. Reception staff in-turn would then come over to us and make a big issue infront of of other guest on why we were wearing slippers. I had to advise the reception staff not to embarrass me infront of other guests and that the stables provides riding shoes to all guest. Having no idea on what is provided at the stables she continued to argue with me. I asked to speak to Nico the general manager, however he was not available and his second incharge came to speak to me the following day. Got the usual lip service from this manager. That evening going to dinner game across Sara again, who gave me a arrogant stare stare whilst passing me, obviously management did not do anything. Clearly this stems from incompetent management at the resort where guests (paying guests!) are treated in such a manner. Would I visit again : Simple terms NO. Not worth the money for the level of service they provide. The only thing unique about the resort is the reserve and activities which they promote, however being a 5 star resort, front office successfully make this is a Butlins type resort. There are lots of hotels in the UAE, that know how to treat a paying customer, which this resort fails at miserably! Seeing responses to negative comments not this website, it is clear they provide standard responses.
MAC_CAM_10 - Birmingham, United Kingdom
---
The whole family had an amazing time here and loved every minute. From the time we checked in at the reception centre on the mainland to when we got back off the boat we were looked after so well. The room was spacious enough for all 4 of us and and was really comfortable with a great view of the Arabian Sea. We ate in the Italian restaurant on the first night and the African one on our second. This was especially dramatic as we were there during Earth Hour, when the bush was producing all sorts of weird and wonderful noises. The nature drive was a highlight, especially the Giraffe! Very amusing. Thank you for a wonderful stay!
iainbalfour77 - Dubai, United Arab Emirates
---
A wonderful resort providing the VIP standards in luxury and service. We very much enjoyed the wildlife drive which was as good as some of the safari experiences we have had in other parts of the world.hospitality is the best in desert island hotel .. .. staff is very helpful and have a lot of gratitude.. and specially thanx TO SARA & the free biking offer to every one, excellent restaurants, SPA and more facilities.
davidalex2018123 - Emirate of Abu Dhabi, United Arab Emirates
---
I have been to many anantara hotels but this one really disappointed us, the only reason we stayed is because the babies enjoyed the pool and the kids play area. Other than that, major renovations needs to be implemented and more In house facilities for adults should be available like a nice chilled bar with music for example
---