Please select your dates to see prices:
---
Qasr Al Sarab Desert Resort by Anantara in Abu Dhabi, United Arab Emirates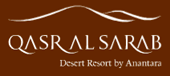 Qasr Al Sarab Desert Resort by Anantara is an exotic retreat located in the legendary Liwa Desert of the United Arab Emirates. Anantara is a company known for its luxe concepts and incredible locations, and this property most certainly lives up to these highly coveted standards. The collection of rooms and suites at Qasr Al Sarab Desert Resort features earthy color palettes, ultra-plush beds, rain showers, and expansive living room-style terraces - all certain to seduce the senses. The experience is heightened when staying behind the doors of freestanding villas, which feature private entrances, personal butlers and select units with individual plunge pools.
A quartet of casual-to-elegant restaurants ensures you will always find the perfect complement to your craving. Each dining venue offers its own tasteful setting, superb service, and menu of Middle Eastern and international fare. The resort's spa, Hanging Gardens, is where guests are introduced to an array of ancient elixirs and traditional rituals that enhance your well-being and provide soothing comfort after a day in the desert sun. Additional amenities include a freeform infinity-edge pool, tennis courts, and Teens & Kids Club programs for vacationing family-style. As for off-site exploration, consider camel trekking through the Empty Quarter, traversing sandy dunes. Or take part in a unique desert walk for a great workout and memorable experience.
Location of Qasr Al Sarab Desert Resort by Anantara
Qasr Al Sarab Desert Resort by Anantara
1 Qasr Al Sarab Road Liwa District
Abu Dhabi, United Arab Emirates
Nearest Airport: AUH
Amenities for Qasr Al Sarab Desert Resort by Anantara
General Information
205 Guest Rooms
Dining
Poolside Dining
Private Dining
24-Hour Room Service
Wine Cellar
4 Restaurants
On-Site Amenities
Spa on Property
Library
Fitness Center
WiFi
Butler Service
Outdoor Pool
Tennis Courts
Gardens
Lounge
In-Room Amenities
Air Conditioning
DVD Players
Satellite Television
Flat-Screen Televisions
Luxury Linens
Coffee & Tea Facilities
Pillow Menu
Private Pools
Floor-to-Ceiling Windows
Rain Showers
Work Desks
Activities
Tennis
Nature Walks
Yoga
Bike Tours
Archery
Camel Trekking
Business
Business Center/Services
Meeting Rooms
Family
Kids Club
Teen Club
Interests
Culture & Arts
Family
Reviews for Qasr Al Sarab Desert Resort by Anantara
---
Spend some time at this amazing property after traveling the UAE for 8 days. THIS PLACE IS AMAZING. There are two sides of the hotel, adult and family. The suites on the adult side are incredible. They are nicely appointed rooms that can easily accommodate couples with a beautiful private plunge pool over looking the dunes. The spa is beautiful and food is amazing. One thing that is important to point out is that this is a RESORT. There is no town, no shopping...nothing for miles and miles. The rooms are stunning with beautiful views, there are plenty of activities, camel rides, sand boarding and dune rides. I highly recommend the outdoor dinner in the dessert. I have not stopped thinking about this resort since we left. Absolutely stunning & total relaxation
Mel_wanderlust - Manalapan, New Jersey
---
Firstly how anyone can review this place and give it 1 or 2 stars is beyond me. Really. I've travelled the world for 25 years and stayed at many many hotels from 1 to 5 star and this hotel was one of the most memorable stays in my life - alongside the Belmond Iguacu or the Taj Lake Palace in Udaipur. The setting is incredible with towering dunes all around. The views are fabulous. Rooms spotless, there's 5 excellent dining options, plenty of activities on offer and the staff are genuinely friendly and enthusiastic. It's one of those bucket list places, a hotel to visit before you die kind of place. So ignore the handful of negative reviews and go visit.
---
Easy to get to although the drive down from Dubai is not so interesting, Tarmac roads all the way to reception where valet parking awaits and where the experience begins. Right from the start the hotel staff are very attentive and helpful. We chose a suite which was simply brilliant. The resort is very large but it does not really feel that way. Covered walkways to all the rooms help to stay out of the direct sun. Choice of 4 restaurants. The Al Falaj restaurant was just perfect. Set out in front of the main buildings in the sand. Other highligh was the Suhail Steakhouse. Kobe and Mayura beef taken to a new level. The Ghadeer pool restaurant was my personal favorite due to the fact it was more informal, no dress code. The Spa treatments are also first class as are the activities on offer. This is not a budget resort but worth every penny spent. I can only say go and experience. Great resort, quiet and calm.
MarkandSteph2014 - Hamburg, Germany
---
We stayed for 3-nights in a deluxe terrace room. We'd long wanted to visit the desert and also try the Anantara hospitality - the desert didn't disappoint, we'd definitely recommend a stay in such a unique location. Disappointingly, our stay did not start well: after a long flight from Australia and drive from the airport, we arrived in the early hours to find the reception area in a state of pandemonium, a large group of people noisily larking around with drinks in their hands, the hotel staff (including a security person) eyeing the scene warily, too distracted to greet us or show us to the check-in desk - not quite the arrival we'd anticipated! Having found the check-in desk, we could hardly hear what was being said to us because of the surrounding chaos - it was a bizarre and somewhat intimidating experience, which prompted us to wish we could get straight back into the car and head back to the city! The reception supervisor apologised profusely to us, and said that he would ensure that, during our stay, the hotel made up to us for such a bad arrival experience, explaining that the people were a party of friends who'd just finished dining. We waited throughout our stay for the hotel manager, or one of the management team, to contact us about the incident but no-one did - leaving us to conclude that no-one really cared, or that maybe it wasn't that unusual an occurrence.We had intended to mention our experience, and intention to post this review, on leaving but our departure was rushed as the assistance we'd requested with our bags did not materialise so we had to leave in a rush as we risked being late for our onward flight. We found the food good, of a high standard with an attractive and varied selection, and the hotel staff we met were lovely: very friendly and obliging. The building and grounds showed evidence of the harsh environment in which it is sited, it could've been maintained a little better which is a shame because it could be stunning. It's a very family-friendly hotel - what a great environment to share with your children! - but it seemed to lack the polish and management standards of other '5-star' hotels in this lovely part of the world.
lizaeth22 - Sarasota, Florida
---
Qasr al Sarab is a luxury resort in the Liwa desert about 2 hours drive from Abu Dhabi city. This is a location where you can relax, far away from everything, also a place where it is great to stay with a beautiful swimming pool, excellent restaurants, a SPA and more facilities. I stayed in a suite with a very spacious terrace and a breathtaking view over the Liwa desert. Room and bathroom were equipped with all comforts and facilities that one can expect at this level. The main building of Qasr al Sarab looks like a fortress on a hill in a small village. Everything built in the Arabic style. The resort has a number of excellent restaurants, including a bedouin style restaurant in the desert. Qasr al Sarab has a beautiful garden with flowers and palm trees. The showpiece is a large swimming pool with sun loungers at terrace level. It is a large complex, where as the buggy service is highly appreciated by people who have difficulty walking. Qasr offers an extensive program of activities, everything is very worthwhile. This time I chose a cooking class arabic style. Many thanks to the chef for a very instructive session. I can wholeheartedly recommend this cooking class. Depending on the day in the week or the time in the year it can be very quiet, relaxed or very busy with families with children or large groups from Asia who celebrate their holidays in the mid-east. This can make a big difference as I have experienced over the years. This was my 5th stay at Qasr and I have clearly noticed a change. With a new management, unfortunately, the "warm hospitality" of Qasr al Sarab has disappeared, at least for me it was no longer noticeable. Too bad, because that was precisely why I always returned. Hopefully, that hospitality will soon return. I really hope so.
Khangela - Groningen, The Netherlands
---