Please select your dates to see prices:
---
Las Terrazas Resort in Ambergris Caye, Belize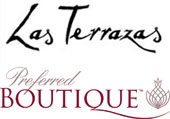 Located on the island of Ambergris Caye, in breathtaking Belize, is the exclusive Las Terrazas Resort. As a Preferred Boutique property, part of the Preferred Hotel Group, this tropical retreat has the distinct advantage of being located on one of the island's largest private beaches. With 38 fully-furnished townhomes scattered across nearly 5 acres, Las Terrazas Resort provides guests with a truly relaxing seaside sojourn. The individual adobes offer modern luxury behind an alabaster exterior, with features such as full-size kitchens and spacious balconies or patios.
Las Terrazas Resort also gives you great options when it comes to dining. Choose to create a gourmet meal within the confines of your townhome, or savor a special meal at O Restaurant. This all-new culinary venue offers a menu with a mix of international specialties and Central American fare familiar to the region. You can also choose to be as active or leisurely as you want during your days. Lounge by the infinity-edge pool flanked by palm trees and a central palapa. Or take a scuba dive in the brilliant blue ocean. Skilled divers can experience the "Blue Hole", a 1000-foot circular coral reef with a depth of over 400 feet. Take an eco tour or do some angling - whatever strikes your fancy, you are sure to find it in Belize. The country is blessed with hundreds of bird species and exotic flora to enjoy. Charming hamlets and villages are filled with friendly people, while Mayan ruins are a testament to the region's rich history.
Location of Las Terrazas Resort
Las Terrazas Resort
Barrier Reef Drive San Pedro
Ambergris Caye, Belize
Nearest Airport: BZE
Amenities for Las Terrazas Resort
General Information
38 Townhomes
Dining
Pool Bar
Restaurant
On-Site Amenities
Concierge
Spa on Property
Fitness Center
Private Beach
High-Speed Internet Access
Outdoor Pool
In-Room Amenities
Private Patios or Balconies
Air Conditioning
DVD Players
Satellite Television
iPod Docks
In-Unit Laundry Facilities
Flat-Screen Televisions
Coffee & Tea Facilities
Fully-Equipped Kitchens
Activities
Bicycling
Fishing
Kayaking
Sailing
Scuba Diving
Ecological Excursions
Canoeing
Wildlife Viewing
Bird Watching
Interests
Beach
Family
Honeymoons & Romance
Reviews for Las Terrazas Resort
---
This is a really great property just north of San Pedro. The entire experience exceeded my expectations. At least during my stay the property was very quiet and restful. Rooms are large, food is good, there is access to U.S. television, and internet. I would say the staff is very impressive. I would highly recommend this property. If you want a little more excitement town is just a few minutes away by golf cart. I had the hotel take care of all my transfers and it was a breeze. I would also note that all of Belize is struggling with sea grass at this time. Las Terrazas keep 3 men working all day every day to remove sea grass from the beach. The beach was always raked clean and beautiful. Ambergris Caye however is not a location where you will wade out into the ocean and play in the waves. All of the island beaches are protected by a barrier reef so there are never any waves.
---
I rarely write reviews but the friendliness and service of the staff at Las Terrazas is so above and beyond that I had to. I've traveled around the world and have found this property to be a true gem- never have I experienced such great people. From the moment you arrive to the very last day we had nothing but absolute wonderful, genuinely kind service from everyone. The wait staff at the pool, at the restaurant, the front desk, the maids service EVERYONE- was so pleasant. We were here with a large group related to a work event for a week however we brought our 6 year old son. He had a wonderful time because of the kind helpful staff. Jennifer at the front desk was wonderful and Leroy who helps with the recreational stuff would be a reason to come back or visit this resort in it of himself. Words don't describe how much he contributed to our stay. Thank you Leroy!
Elanafg - San Juan Capistrano, California
---
Okay, this is a beautiful property and most of the staff members are very friendly/ welcoming. We booked through the resort and used their arrival service. Had a beautiful entrance onto the property by boat, along with cold alcoholic and non-alcoholic drinks available. Stayed here for 4 nights with a group of friends in room 227- 3br, 2 br. Everyone on here says to run away from 227, but when we checked in, I was soo excited and completely forgot about 227 horror stories. Anyways, we stayed in 227 at the back end of the property "lagoon view". The townhome style accommodations were nice. Beds were very comfy, and everything is upgraded. Only issues we had were with the weak Wi-Fi and Ants! The WI-Fi in 227 is very iffy. Your best bet is to go to the front desk and use your phone. From the time we stepped foot into 227 until the time we left we had an issue with ants being in the kitchen and master bathroom (which is outside). We hadn't lived in the space yet so we knew this was a pre-existing problem. My friend left her MacBook on the counter, and it had stopped working out of nowhere. She took it to Apple the day we got back to the US and turns out ANTS had gotten into her laptop. These Belize ants are on another level lol. BRING ANT SPRAY and you'll be fine! Outside in the dining area, there were a lot of ants on the dining tables. I guess that's unavoidable when you are in the tropics, but dining furniture and dining areas should be sprayed down. There was some confusion with the all-inclusive deal. The staff told us there was a limit on the things we could order for breakfast, lunch, and dinner. Then come to find out on our last day, through management, there was never a food limit. The food was delicious, but the drinks were very weak. Spa- AMAZING service Beach- too much seagrass to walk directly into the water from the resort. Go to Secret Beach using a gold cart or use one of their mini sailboats to go out and swim. We did both and had a blast! Thank you LeRoy, an amazing staff member! The resort is very relaxing. Not much of a party vibe, no music, and very quiet. Some may like it some may not. I found it to be nice. Overall this was a great vacation, the resort is quiet and beautiful. Would go again and recommend to others.
---
My husband and I chose to have our wedding at Las Terrazas and we couldn't have asked for a better wedding week/weekend. We worked with several key members of the resort team to plan the wedding we had envisioned. Carolyn Stone, Ovel Leonardo and Lorraine Smiley all made it a very smooth process and no matter how many times I called or emailed, they were there to help. Carolyn assisted during the planning process and creates a detailed itinerary of our entire stay and most importantly the day of so that both the resort and my husband and I knew what was happening and when. Lorraine handled all the reservations and flight transfers for each of our guests (we had about 60). There are three different means of transportation to get to the resort from Belize City but Lorraine made it effortless for all of our guests. Ovel was on site and helped coordinate the flowers, the music (we had a DJ and live band), the food, the officiant and so much more! Our guests loved the entire resort team, they were very friendly and always willing to help. As a bride who is very organized, detail oriented and always feel the need to control everything, I couldn't have been more calm on my wedding day because I knew the resort had it all under control. Again, we love everything about Las Terrazas and it will always hold a special place in our hearts. Our wedding day was more perfect than we could have ever imagined and we can't wait to return in the future.
Shelley L - Houston, Texas
---
We recently stayed at Las Terrazas Restort for a wedding (for 4 nights) and we all had such an amazing experience and the best time!!! I highly recommend staying here whether you are vacationing with your partner or a large group or by yourself. The staff is super friendly, very accommodating, and will go out of their way to ensure you have a great stay and make you feel right at home. The resort itself is beautiful and well maintained. The rooms are very spacious, comfortable and clean and come with everything you could possibly need (washer/dryer, refrigerator, full kitchen with cooking/kitchen utensils, paper towels, coffee maker, yoga mats, etc.) The O Restaurant & Bar located on the property had consistently delicious food for breakfast, lunch and dinner and a wide variety to choose from, including healthy items! We ate there at least once a day and never got tired of it! They also have a gift shop where you can buy snacks, bottled water, or anything that you may have forgotten to pack. The pool is to die for - we laid out by the pool just about every day and the pool-side service was great. One of my favorite things is that they have a "Chief of Fun Officer", also known as Leroy, who is there to make sure all the guests are happy and having a blast. He took my mom out for a peaceful sail boat ride at no cost! The resort provides all sorts of complimentary activities/water toys (kayaks, paddleboards, bikes, etc.). They can also arrange and coordinate any sort of adventure you are interested in. They planned a snorkeling trip for us that was incredible - they provided everything we needed and all we had to do was show up at the dock next door with a towel and sunblock. The snorkeling was incredible and they also took us to Shark Ray Alley which was the coolest experience!!! We got to be in the water surrounded by tons of nurse sharks and sting rays and we even saw a giant sea turtle. Several of my family members got massages at the Spa located on the property and they raved about how good they were. They also have golf carts for you to rent so you can go explore the town. If you are interested in have your wedding here...DO IT. I could keep going on but my point is that Las Terrazas is the best you will not regret staying here! This was one of the most memorable vacations and we thank the staff so much for everything!
LeanneSaint - Portland, Oregon
---