Please select your dates to see prices:
---
Villas at Sheriva in Anguilla, British West Indies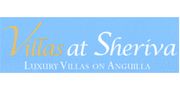 Overlooking the shimmering waters of the Caribbean, the award-winning Villas at Sheriva embodies the natural splendor of Anguilla, and the warm, welcoming spirit of the British West Indies. Stretched across a breathtaking waterfront, flanked by the lush canopy of palm trees, Sheriva combines the sophistication of a five-star boutique hotel with the eclectic soul of the Caribbean. The hotel's exterior calls to mind images of palatial manors on an old-fashioned sugar plantation, while the common areas come alive with bursts of vibrant, tropical colors and plush, luxuriant furnishings. The new Game Lounge offers a relaxing space for everyone in the family, complete with arcade games and a Tiny Tots Corner, while the Viewing Deck atop the main house is the perfect place to steal away for a moment of romance.
Awash in granite, marble, and dark hardwood floors, the hotel's exquisitely designed guestrooms, suites, and villas offer exceptional privacy and spacious layouts. If you are looking for unparalleled elegance and contemporary style, look no further than Sheriva's Grand Villa Suites, with infinity-edge bathtubs and double granite sinks you have reached the pinnacle of luxury. A private chef is available upon request to pamper your palate, and for those who hope for an authentic taste of the island, many nearby restaurants offer food delivery right to your door. Unwind in a chaise as you dip your toes into the tepid waters of one of the hotel's seven cerulean swimming pools, or hit the fitness center to perfect your beach body. When it comes to getting around, try something uniquely tropical: Villa guests enjoy exclusive use of one of the hotel's road licensed golf carts, while guests in suites enjoy complimentary shuttle service to nearby Maundays Bay Beach and Cap Juluca Hotel. Sheriva Boutique Villa Hotel boasts a gated property in a serene, tropical setting where the entire family can relax, and just outside the gates a lively, inviting community calls, ready to show you how to truly enjoy paradise.
Location of Villas at Sheriva
Villas at Sheriva
Maundays Bay Road West End
AI-2640
Anguilla, British West Indies
Nearest Airport: SXM
Amenities for Villas at Sheriva
General Information
20 Guest Rooms
Dining
Private Dining
Private Chef
On-Site Amenities
Concierge
Shuttle Service
Spa Services
Housekeeping Service
Laundry Service
Fitness Center
WiFi
Game Room
Butler Service
Music & Movie Library
Outdoor Whirlpool
Private Whirlpools
Lounge
7 Pools
Beach Amenities
In-Room Spa Services
Provisioning Service
In-Room Amenities
Air Conditioning
Bathrobes
Ceiling Fans
Direct Dial Telephones
DVD Players
Hair Dryers
In-Room Safes
Satellite Television
iPod Docks
Flat-Screen Televisions
Luxury Bath Amenities
Private Pools
Fully-Equipped Kitchens
Work Desks
Activities
Deep Sea Fishing
Scuba Diving
Snorkeling
Business
Meeting Rooms
Conference Facilities
Business Services
Family
Babysitting
Waterslide
Rollaway Beds
Interests
Beach
Family
Honeymoons & Romance
Spring Break
Reviews for Villas at Sheriva
---
This was our 6th time staying at Sheriva. From the first time to our most recent vacation a few months ago the experience only gets better. The Villa's are all stunning and we have now stayed in all 3. This trip we stayed in Mystique which we all loved. For us Sheriva and Anguilla is such a special place. The staff and owner of Sheriva have maintained the property so well over the years. Sheriva is one of the few places we stay where we can honestly say we see improvements and re-investment in a property year after year. We can't wait until we return again next year.
---
My husband and I stayed at Sheriva villa Mystique. The feeling you get when you stay there is of beauty and tranquillity. The villa was pristine yet still comfortable. The staff is wonderful, willing to help you with anything that you may need. We had a wonderful breakfast prepared for us each morning in our villa and also a fabulous business dinner one evening. The food was excellent. Beach chairs, towels and coolers of water were waiting for us on Cap Juluca whenever we wanted to head to the beach. We can't wait to return.
LisawBeachbuff - Rockledge, Florida
---
We stayed at Sheriva in a 1 BR Pool Suite for 10 days in March. I hesitate to write this review for fear that we won't be able to continue to stay at this wonderful place because it will get too crowded! We loved everything about Sheriva. My husband and I were traveling with our 2 1/2 year old daughter and it was wonderful to have our own pool and patio so we could still enjoy ourselves while she was napping or after she went to bed at night. And, with a potty training toddler, having our laundry washed for us every few days was invaluable. We had the Sheriva staff prepare a lobster dinner the first night we arrived and it was probably the best we had on the island (and my husband prides himself on eating A LOT of Caribbean lobster in Anguilla). Generally speaking, the staff was friendly, attentive, and made the guests feel like family. We had a small issue with noise from some other guests staying above us in the villa (who were there on business) and the staff - which included the owner - really went above and beyond to remedy the situation. Beach setup is about as good as it gets. Chairs are set up daily with a cooler full of bottled water and a sign with your name on it. We had family staying at Cap Juluca while we were there and Sheriva was kind enough to set up extra chairs for them so we could all sit together. We left some personal items in the cooler one day and the next day those items were placed back in the cooler in the morning. Talk about service! My only "complaint" (and I wouldn't even call it that) was that the wifi was pretty spotty. It would be great if you could access it out at the pool. Obviously, this is a minor concern and we didn't really *need* the WIFI. We are already looking forward to our visit next year!
---
First time in Anguilla and we hit the jackpot by Choosing Sheriva (& its exquisite Maundays Beach) 8 days at Villa Mystique (4 super spacious Bedrooms & 5 Bathrooms , pool, hot tub, daily breakfast, laundry, housekeeping). The staff Couldn't do enough for us. SO lovely, warm and accommodating. Anything we needed they delivered and addressed. Sheriva's Maundays Beach (with CapJuluca as the backdrop , is a WINNING combination that can not be beat). Absolutely amazing. As an OCD person, I very much appreciated the cleanliness of our living space & the whole villa itself. Really loved the whole beach set up everyday for us - umbrellas, towels and water in the cooler. Maundays Beach is undeniably drop dead gorgeous. Everyday I was overwhelmed by its beauty. Can't wait til next time. SHERIVA- Maundays Beach - You. Are. Beautiful. 🌴😘💖🌴
---
This is no ordinary place. When our friend recommended 3 Anguilla properties she thought we would like, we immediately picked Sheriva. It was our first time to the island and we wanted a very private property but also wanted to be spoiled a little. This was a dream come true. We stayed at Mystique and had an unforgettable experience. There are three things that make Sheriva memorable: 1) the service staff 2) the location 3) the suites 1) Service staff: Who wouldn't want to wake up every morning with the smell of freshly brewed coffee and sizzling bacon coming under your bedroom door? And when you open that door, you are met by smiling faces. This is the right way to start every day. We took the continental breakfast option, but loved the full breakfast menu. Try the Sheriva version of hash browns which is sauteed onions, bacon, and potatos- very addictive! We had housekeepers who washed our clothing twice a week and they cleared our rooms every day. Daily our room looked just as it had when we checked in. If you leave a pile of shells (or clothing) strewn throughout the living room, they make a neat pile or fold for you without moving things about too much. Just wonderful! We thought of nothing. The concierge team was amazing and arranged everything for us and made suggestions that were spot on. We took a boat excursion out to Prickly Pear, dined at many of the restaurants everyone raves about (and rightfully so) such as Veya, Mangos, Tasty's, Dolce Vita, Smokey's and Beach Shack. Whenever we called the office for assistance, we were greeted warmly and never felt we were a bother. Our children enjoyed playing in the game room which is in the office on the second floor. After enjoying the many breakfasts and evenings at the fabulous restaurants, we were grateful for the gym at Sheriva which is quite comprehensive for a small property. Be sure to hit the gym during your vacation. You will need it. 2) Location is everything. Sheriva is in West End which appears to be the second capital of the island. We were only five minutes from almost anything we wanted to do. This was convenient. The property itself is gated and has security and we felt very safe here. We had a very big golf cart that we used and went to the beach every day. It is only about 3 minutes away (always drive on the LEFT!) and I agree that Maundays Beach is the nicest one on the island. We went to Shoals Bay, Meads Bay, Sandy Ground and Prickly Pear. All were nice, but we thought "our" beach was the best. Because of proximity to Cap Juluca, Sheriva has a partnership with the hotel which allowed us to sign at restaurants, watersports and the shops there. We really liked Spice restaurant. The Moroccan theme is beautiful and sitting right at the water's edge with lights shining into the ocean was so remarkable and romantic. 3) Our suite was beyond large. We had a living room, kitchen, additional bathroom, our own private pool and a jacuzzi. Our bathrooms were so large, we could actually have used only the bathrooms as bedrooms. There was a separate area with toilet/bidet, a daybed, a dressing room, two showers, two sinks, AND a bathtub. The master closet ...well, that is no closet. There are many shelves, drawers, plus additional luggage closet where there is a safe and more shelving for extra pillows and linens. Finally, there is also a tiny closet for our laundry basket. I could twirl and dance in the master closet. Absolutely bigger is better and Sheriva masters this well. I felt at home from the moment we checked in. The staff is very professional, friendly and genuinely happy to have you visit. We have no doubt that we will return to Sheriva to visit our new friends. Sheriva, we love you!
Palomanomad - Syosset, New York
---